I don't know how to begin, I can't accept how it ended; it didn't shock me but it's just unacceptable to me. It is a fine movie nonetheless whether or not it's agreeable. Perhaps my desire for a different ending was overwhelmed by how it summed it; it was befitting. Vertigo (1958) happens to be one of the finest movies that has ever been made, although not his own favorite, but Hitchcock's best work. I think over the past few months, I have seen more Alfred Hitchcock's movies than any other directors in question. You can say, I'm a fan but not really; possibly his movies made more sense to me.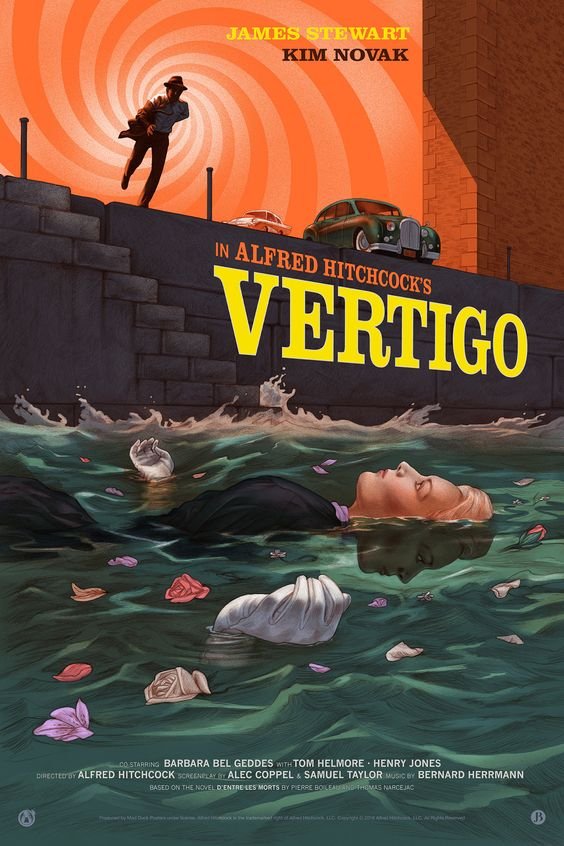 Image Source
Vertigo (1958)
It's a film-noir, a psychological thriller, based on the1954 novel "D'entre les morts (From Among the Dead)" by Boileau-Narcejac. Alec Coppel and Samuel A. Taylor. has written the screenplay. The movie is centred around the character played by James Stewart; he's the leading actor here. There's always a femme fatale in a flim-noir and in this movie is Kim Novak. Also in the supporting roles are Barbara Bel Geddes, Tom Helmore and Konstantin Shayne. Let's see the characters first. James Stewart plays the role of John Ferguson a police detective and Kim Novak is Madeline Elster, the wife of John's old college mate Gavin Elster played by Tom Helmore. John is known by Scottie by his acquaintances and John by his close friends including his former fiance Midge, the role of Barbara Bel Geddes. There's also a mystery related to Madeline which I'll try to explain as vaguely as I can; yes, vaguely, because there's all the mystery lies.
The movie starts where a man is trying to climb up through the emergency exit stairs of a building and a police officer chasing him; behind them is John who also tries to catch that running man. He slips up and was hanging on the edge of the roof, he started to feel dizzy; seeing that, the police officer gives up the chase and tries help John get up but he falls and dies. Probably out of guilt and his new found Acrophobia and Vertigo, John quit the police force (forced or self imposed). He goes to Midge's apartment and tells her if she remembers Gavin Elster an old college acquaintance of theirs but she doesn't. As the conversation went on, he tells her about how he's going to cure his phobias by taking a little step at a time but when he tries to stand up at a tool he starts feeling dizzy; Midge helps him not to fall. Later on John meets Gavin who's now handling a shipping empire which he got to handle due to his marriage to an heiress, Madeline. As old friends, Gavin starts telling "Scottie" how unnatural his wife is behaving for the last couple of weeks. Madeline seems to space out in the middle of a conversation or go out and has no clue of where she went or what she did but she doesn't tell her husband about any of this. Gavin requests John to follow her and find out what's going on with her and although hesitant, John agrees to help him.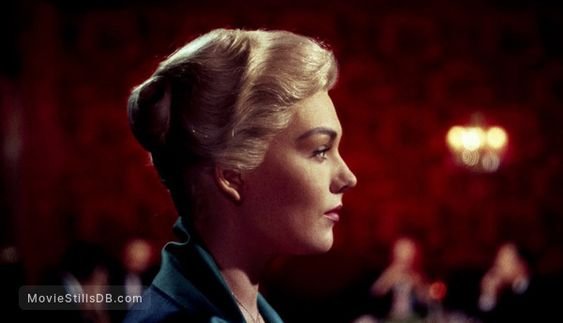 Image Source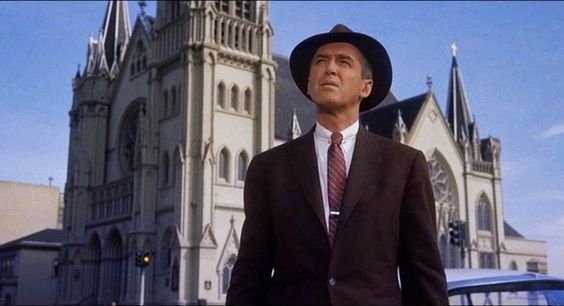 Image Source
Madeline comes out of her apartment building, goes to the florist through backdoor and picks up a bouquet; John keeps following from afar. Then she goes to Mission San Francisco de Asís and stands in front of the grave of one Carlotta Valdes (1831–1857) for some time; and from there to the Legion of Honor art museum where she sits and stares at the Portrait of Carlotta for hours. She drives to McKittrick Hotel and John tries to find out from the concierge about Madeline but finds out that she has reserved the room under the name of Carlotta; John asks the concierge for more information about what was Madeline doing there but she says Madeline aka Carlotta hasn't stepped inside the hotel that day; John finds the room empty and it confuses him because he saw her by the window. He goes to Midge and asks if she knows any historian who has knowledge about local legend that isn't recorded in any historical books or ledgers; she suggests Pop Leibel (Konstantin Shayne) and so they both make a trip to his store. Pop tells them the tragic story of Carlotta Valdes, a mistress of a wealthy childless man, who discarded her after giving birth to a daughter and Carlotta took her own life. On the way back, John explains Midge about everything and talks to Gavin about what he found out; Gavin tells him about his suspicion that Carlotta possessing Madeline and the fact that she's Madeline's great-grandmother and also committed suicide. The next day while John is tailing her, Madeline jumps to the bay and he saves her, bringing her to his apartment. He roughly gives her idea about himself and what went down but never revealed about his connection with Gavin. The next morning, John again tails her but they end up in front of his house; they go for a drive together to Muir Woods and Cypress Point on 17-Mile Drive where Madeline spaces out again and becomes Carlotta. Madeline gets too upset about her condition and tries to jump into the ocean and John stops her, embraces her; later that night she tells him about her nightmare about a church and carriages to which John identifies its setting as Mission San Juan Bautista.
The following afternoon they drive there where Madeline starts recalling old memories and starts unraveling while they both declares their love for each other; she heads towards the bell tower and John follows her a little later. But he couldn't follow her to the top as his acrophobia sets in and she falls to her death; her death was declared suicide. Gavin doesn't blame John for anything and decides to leave the country selling everything; John goes off the rails, clinically depressed and gets admitted to a mental hospital. After release, John revisits the place he and Madeline frequented to; he starts seeing her faces everywhere but then he meets Judy; now that leaves him startled. Judy is a spitting image of Madeline except for her hair color and background as she's from Salina, Kansas. She tries to convince him that she's not Madeline and he believes her; in truth, she was playing the role of Madeline. John tries to make her look like Madeline, buys her the clothes and shoes similar to Madeline's and changes her hair color too; Judy agrees to all that with much reluctance. At last, the truth somehow finds it's way to the light and the end is justifiable.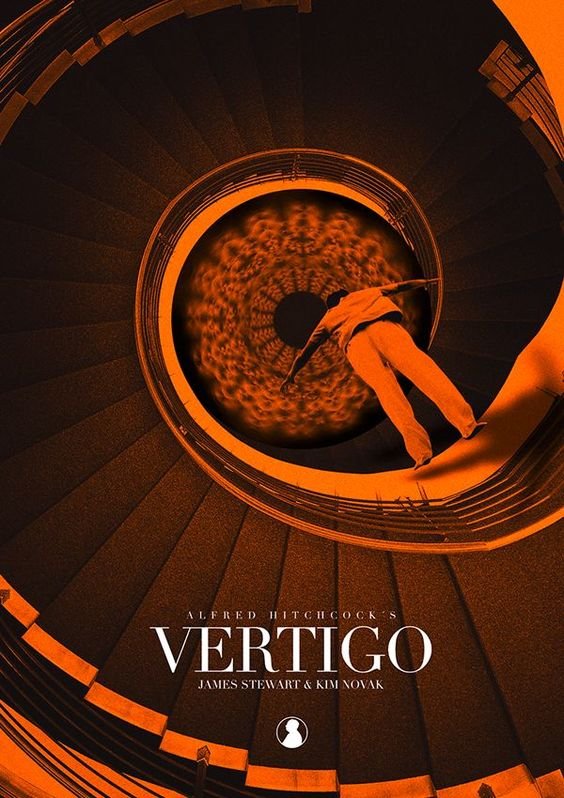 Image Source
I'm not going to ask you to give this movie a chance; that's up to you. The fact that it is considered as the greatest film ever made in the 2012 British Film Institute's Sight & Sound critics' poll and the best films by the American Film Institute says a lot.