When I think about writing about Tarkovsky I feel small, kind of unable to do it the way I really deserve. Firstly, because I was a failed spectator of two of his great classics: Solaris and Stalker. Great "hype" movies, it is practically a crime that you have not watched these films by the great and renowned Soviet director who transforms poetry into incredible filming. Well, the truth is that I slept in both films! Yes, I know, it's sad. But it is the reality. It could be that I was not ready at the time to feel amused enough, it could be that I was just too tired and the long hypnotic scenes that this guy is capable of creating are great for taking down unprepared people. But what matters is that I ended up misjudging him. Until one day I watched Mirror, a very fragmented and spectacularly directed film, filmed and edited. And it was there that I realized how far this man could go in the cinema and why, after all, he had something special. But still, I didn't think much of "Ivan's Childhood" from 1962, for example. But a director of many films and several years of career has phases, and that is certainly a detail that I have not yet understood. Tarkovsky's 1960s phase is completely that of the 1970s and 1980s. It seems that the best are from the 1970s in the Soviet Union. And yes, I do and I will re-watch all of his films, just as I still need to do with the absurdly incredible Bergman.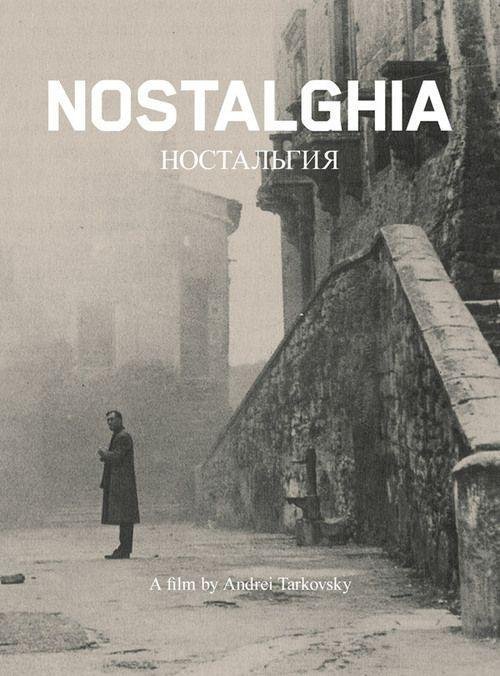 source
But today, I'm going to talk about the film that touched me and made me re-consider everything I thought about it. 1983's Nostalghia, his penultimate film. I honestly know little about the details behind Tarkovsky's life, so I will tell you what I heard from my girlfriend while introducing me to the film, and I, dazzled by the pure art it absorbed from my eyes, I assimilated in a very simplified way. Tarkovsky's post-Soviet phase, his last, occurred when he "needed" to leave Russia, and spent years isolated from his family, his acquaintances, in a foreign world (I am not sure where, but during the time he created Nostalghia, he was in Italy, and, and in that language the film was composed), decided not to return to the Soviet Union, he ended up experiencing a melancholic phase, which was made very explicit in numerous passages in the film and even in his own title. The protagonist (who happens to be called Andrei), a Russian poet travels through Italy looking for information from a (fictional) figure, a classical composer, to write about his life and death (he committed suicide after returning to Russia). Andrei ends up diving deeply into the simple and inland region of Italy, with its classic constructions and a cozy yet melancholy bucolism. The characters that get involved with him are incredible, some of them inconic, unforgettable.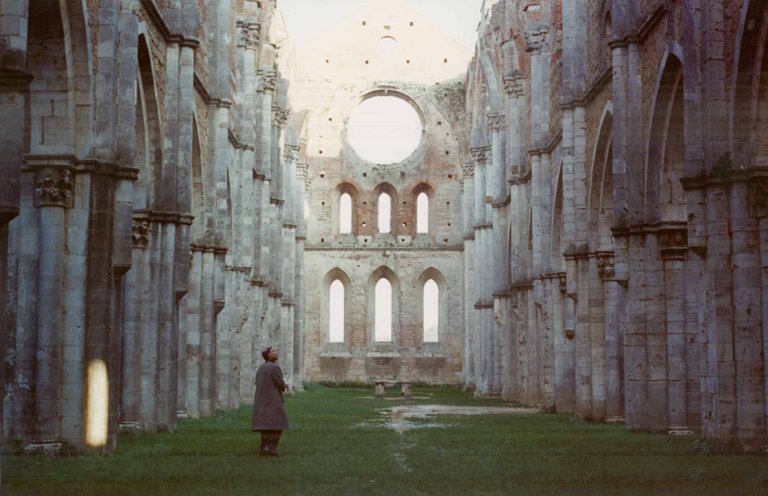 source
Tarkovsky's sensitivity in getting the best out of each film shot is clear throughout the film, perfect framing, long takes and extremely well done, landscapes clearly handpicked, with full attention to angle, light, weather, everything! As much as the film gets a little confusing at first, the story becomes clear and quite linear, leaving no difficulties for the comprehension and absorption of the script, even though, without a doubt, the 125 minutes of it are full of poetry and profound symbolisms (hardly understood or absorbed in a single audience). It seems that, who knows why, Nostalghia was not very successful and is not considered one of his great films. Which makes me think that either people didn't give the necessary attention and were in a "nostalgic" (LOL) phase waiting for the 1970 Tarkovsky, or else, the films considered classic are even better, which makes me even scared of how good the movies that I have denied as a fool in the past can be! In the end I will only be able to discover the truth after actually watching them. And for now, what I have left is to indicate with great sincerity Noltalghia for everyone passionate about quality cinema. Tarkovsky is indeed a master of the art of filming, directing and materializing impeccable works! Thanks for your vote and your reading!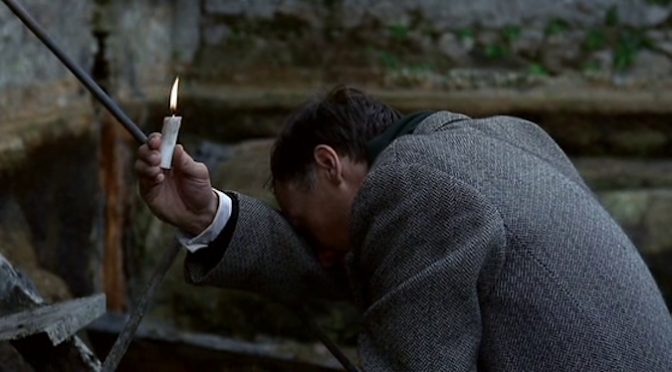 source
Movie: Nostalghia
Year: 1983
Genre: Drama
Length: 125min
Director: Andrei Tarkovsky
Thomas H N Blum

Quando penso em escrever sobre Tarkovsky sinto-me pequeno, meio incapaz de faze-lo da forma que realmente mereça. Primeiramente por que fui um expectador fracassado de dois de seus grandes clássicos: Solaris e Stalker. Filmes de grande "hype", é praticamente um crime você não ter assistido esses filmes do grande e renomado diretor soviético que transforma poesia em filmagens incríveis. Pois bem, a verdade é que dormi em ambos os filmes! Sim, eu sei, é triste. Mas é a realidade. Pode ser que eu não estava pronto na época para me sentir suficientemente entretido, pode ser que eu apenas estava muito cansado e as longas cenas hipnóticas que esse cara é capaz de criar são ótimas para derrubar pessoas despreparadas. Mas o que importa é que eu acabei julgando mal ele. Até que certo dia assisti Mirror, um filme bastante fragmentado e espetacularmente dirigido, filmado e editado. E foi ali que compreendi o quão longe esse homem podia ir no cinema e por que afinal ele tinha algo de especial. Mas ainda assim, eu não achei grande coisa de "Ivan's Childhood" de 1962, por exemplo. Mas um diretor de muitos filmes e de vários anos de carreira tem fases, e isso certamente é um detalhe que eu ainda não havia compreendido. A fase dos anos 60 de Tarkovsky é completamente da dos anos 70 e dos anos 80. E ao que tudo indica, os melhores são da década de 70, na União Soviética. E sim, eu preciso e irei re-ver todos os filmes dele, tal qual ainda preciso fazer com o absurdamente incrível Bergman. Porém hoje, vou falar do filme que me tocou e fez eu re-considerar tudo que pensava sobre ele. Nostalghia, de 1983, seu penúltimo filme.
Eu sinceramente sei pouco sobre os detalhes por trás da vida de Tarkovsky, então vou falar o que ouvi de minha namorada enquanto me apresentava o filme, e eu, deslumbrado pela arte pura que absorvia pela retina, assimilei de forma bastante simplificada. A fase pós soviética de Tarkovsky, sua ultima, ocorreu quando "precisou" sair da Russia, e passou anos isolado de sua família, seus conhecidos, em um mundo estrangeiro (nem sei ao certo onde, mas durante o tempo que criou Nostalghia, esteve na Italia, e, e nessa lingua que o filme foi composto), decidido a não voltar para a União Soviética acabou vivenciando uma fase melancólica bastante explicitada em inúmeras passagens do filme e inclusive em seu próprio título. O protagonista (que por acaso se chama Andrei), um poeta russo viaja pela Italia atrás de informações de uma figura (fictícia), um compositor erudito, para escrever sobre sua vida e sua morte (ele suicidou-se após retornar para a Russia). Andrei acaba mergulhando profundamente na região interiorana e simples da Italia, com suas clássicas construções e um bucolismo aconchegante e ao mesmo tempo melancólico. Os personagens que envolvem-se com ele são incríveis, alguns incônicos, inesquecíveis. A sensibilidade de Tarkovsky em tirar o melhor de cada tomada cinematográfica é nítida o filme todo, enquadramentos perfeitos, takes longos e extremamente bem feitos, paisagens claramente escolhidas a dedo, com total atenção ao ângulo, luz, clima, tudo! Por mais que o filme começe um tanto quanto confuso no primeiro momento, a história se torna clara e bastante linear, não deixando dificuldades para a compreensão e absorção do roteiro, ainda que, sem dúvidas, os 125 minutos dele sejam repletos de poesias e simbolismos profundos (dificilmente compreendidos ou absorvidos numa única assistida).
Parece que, sabe-se lá por que, Nostalghia não fez grande sucesso e não é considerado um dos grandes filmes dele. O que me faz pensar que, ou as pessoas não deram a atenção necessária e estavam em uma fase "nostalgica" (KAKAK) esperando o Tarkovsky de 1970, ou então, realmente os filmes considerados clássicos dele são melhores ainda, o que me faz ficar até mesmo assustado imaginando o quão bom podem ser os filmes que neguei como um tolo no passado! No final das contas só poderei descobrir a verdade depois de assisti-los de fato. E por hora o que me resta é indicar com muita sinceridade Noltalghia para todo apaixonado por cinema de qualidade. Tarkovsky é sim um mestre da arte de filmar, dirigir e materializar obras impecáveis! Obrigado pelo seu voto e sua leitura!
Filme: Nostalgia
Ano: 1983
Gênero: Drama
Duração: 125min
Diretor: Andrei Tarkovsky
Thomas H N Blum