Just completed voting the contributors on #cinetalkies initiative. I am glad that we are getting a big support from the #pob whales like @interpretation and @teapassion.
Today is a special day and I have completed my target of 10000 CINE Power. Though there is no official richlist like it gets published on #pob by @interpretation, i am guessing that I would be on the first 20 rich account holders on #cine now.
Their votes are matter a lot. Its just one month back when I made the announcement of launching this initiative and to be honest the response is quite encouraging. On one day the total comments went off to touch all time high of 65.
That was a big number to begin with this initiative. I am hoping that some of the good contributors on the #pob and #leofinance platforms may also join in to make a good rewarding activity.
CINETalkies is now becoming known. @vickbuddy , @raymondspeaks, @wiseagent have already extended their support for this initiative. There are many others who are regularly contributing to this and are winning big fat #pob as well as #cine votes.
You can write about any movie that you recommend others to watch. Lets start the engagement on CINE.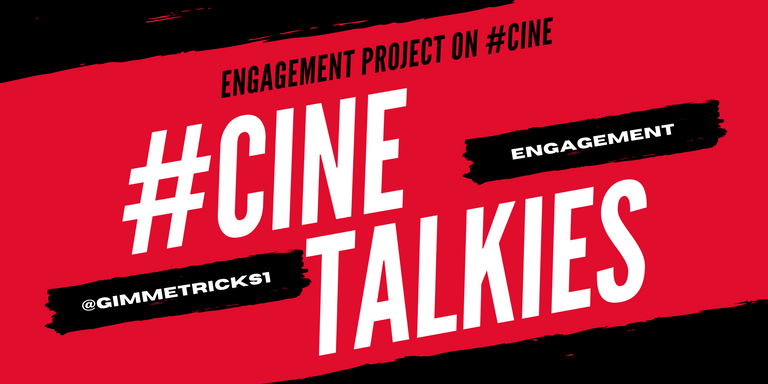 A CINETalkies post will be created daily, and anyone can participate in the #cinetalkies initiative by simply commenting on this post. Try to interact in the comments with other users. Want to talk about a movie, but still don't have enough data to post about? There are many topics getting discussed here like the IMDB 250 movies, favorite regional movies.
We can probably discuss our views on funding a small movies using the #cine tokens. Today's discussion topic is moving towards the used case of tokens in real life application. I am putting the comment to begin the discussion thread on the same.
Rewards are discretionary. Spammers are not welcome but if you really want to talk about a movie (whether english or a regional language), web-series, movies, channels, shows then this is the place.
Lets us boost overall comments and the same would not be in vein.
Thank you @raymondspeaks for encouraging this initiative.
Good luck to contributors for rewarding engagement.