Name of film: The Lost Daughter
Director: Maggie Gyllenhaal
Year: 2021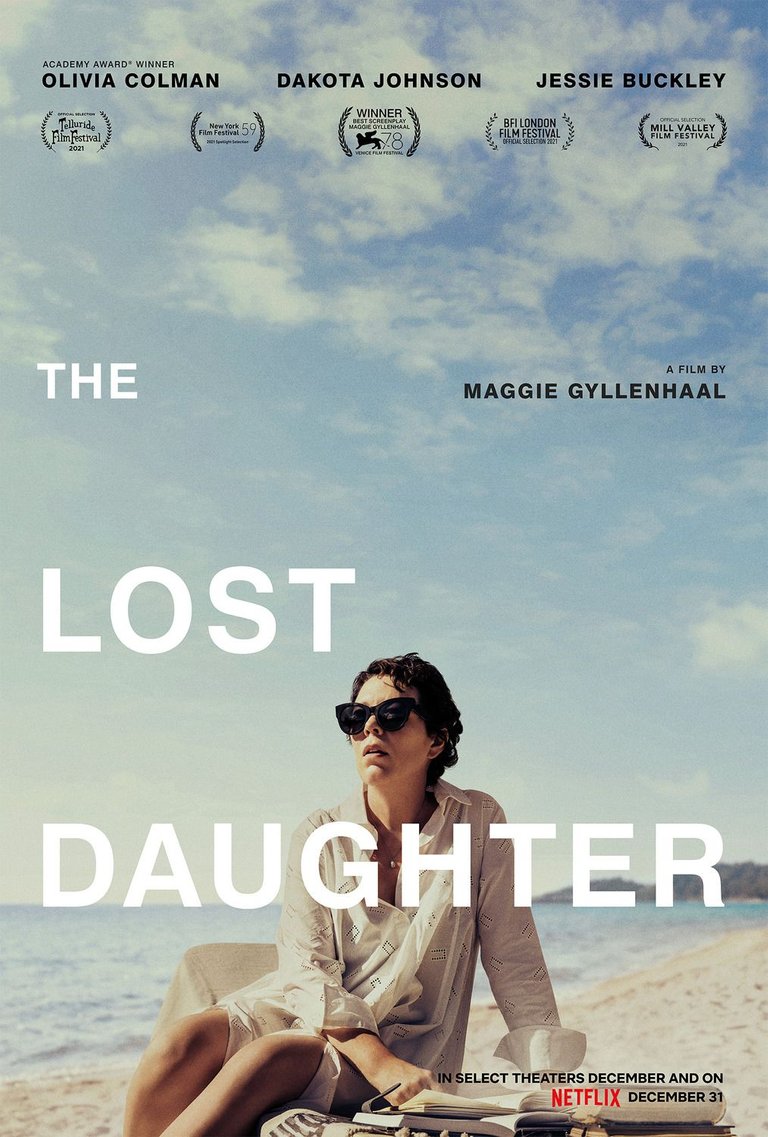 Official Trailer
Review
A slow burning, sparse psychological drama when secrets about a mother's past slowly reveal themselves during a Greek beach holiday. Directed and written by Jake's sister - Maggie Gyllenhaal, the cast includes Olivia Colman, Jessie Buckley, Dakota Johnson, Ed Harris and Peter Sarsgaard.
The film focuses mainly on Colman, all twitches and mercurial changes of mood, written on her face. With sparse dialogue, she plays Leda, a 48-year-old English literature professor. Her holiday on a Greek island is not as quiet as she would like when a loud Italian American family from Queens disrupt her peace and reading. When the young daughter of beautiful Nina (Dakota Johnson) one of the Queen's crew, goes missing, Nina's panic induces a flashback to twenty something Leda's (Jessie Buckley) frantic search for her own daughter, Bianca at a beach. From then the core of the film is revealed
Leda was a loving, selfish, caring, but unnatural mother, who could not shift easily to care-taking and resented her mothering role towards her two young boisterous daughters.
The Lost Daughter, adapted from a short novel by Elena Ferrante, builds a lot of tension with very little. The book is written entirely in Leda's internal monologue, which Gyllenhaal, supported by Colman and Buckley's fabulous performances, convey through little dialogue and flashback. The action is nothing on paper. Leda goes to the beach alone, eats alone, interacts with an older man, a virile Ed Harris, in a clumsy way and watches an exhausted Nina struggling with the demands of her restless daughter Elena. This triggers her own feelings towards her two daughters who once got in the way of her desperate need for reprieve and personal recognition and what she did to alleviate it.
The Lost Daughter is unsettling and compelling as it questions the idea that motherhood is all encompassing - that it will give everything without taking anything away.
With an unobtrusive bluesy music score, a strong atmosphere is created as Leda and Nina become interested in each other.
The Lost Daughter is not about regret - but emotions like guilt, desperation and pride, are all conveyed by Colman without her saying a word, while Gyllenhaal makes sure to portray young Leda as a thoughtful, loving person as well as an unreasonable and vindictive one, so the viewer cannot condemn or hate her easily.
In the present, Leda at one point tells another pregnant member of the Queens family, that motherhood is, "a crushing responsibility." The ending might leave you wanting more, but as a piece of worthy work, The Lost Daughter could appeal to women who think that peace will never be theirs after motherhood, natural mothers who might write Leda off as an incomplete woman and men for an insight it will bring into the responsibility and struggle young mothers really take on.
The Lost Daughter is on Netflix
My favorite scene: Nina and Leda bond
Number of SUBs 7 out of 10
If you want to find out more about us click here - https://linktr.ee/StickUpBoys or give our main account a follow @stickupboys on hive!
Thanks for reading my review, always up for comments and a chat about films and TV.