A hype train is on the way!


Source: Disney+
I just opened Disney+ this morning and look what I found! Switching from Marvel to Star Wars for todays post.
We already knew, that the Book of Boba Fett, the new Star Wars show, was starting this month. But as far as I know, the release date wasn't fix.
Now we do know! Book of Boba Fett will come after the holidays. Very likely only the first episode will run this year. But if it lives up to the expectations, it will be amazing and I am really looking forward to it!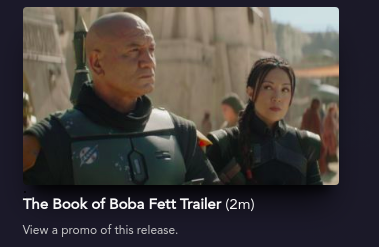 The trailer looks dope! The pictures are amazing and let me expect an awesome underground story.
Yes, finally we get more of those dark places of the galaxy far far beyond. Finally we can immerge into the syndicates and crime cartells. Judging from the trailer, we are going to see, how Boba is becoming a great and maybe the biggest Crime Lord in the Outer Rim. I am really looking forward to this!
After they did a wonderful job with The Mandalorian, my expectations for The Book Of Boba Fett are probably too high. Although I am sure, that at least regarding the pictures, we won't be disappointed. But they are definitely going another route as they did with The Mandalorian.
The Book of Boba Fett is one project I did await for quite a long time - and I am very happy, that it is just around the corner!
Are you also excited for it? What do you expect from it?
Cheers,
@andy-plays