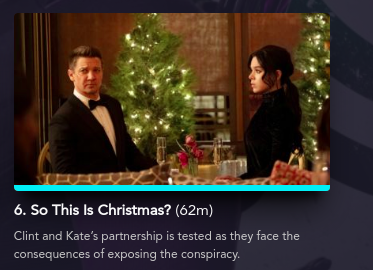 I started here at CineTV with Hawkeye and I want to do a post about the end of the series. So yes, this is going to contain some spoilers. But I am trying to keep it calm.
Yes, the last Marvel series of this year came to an end. And yes it was an amazing year for Marvel fans:
Starting with WandaVision, The Falcon and The Winter Soldier and Black Widow, continuing with Loki, What if, and Shang-Chi, and ending the year with The Eternals, Spider-Man No Way Home and Hawkeye it was really packed.
And Hawkeye was a great conclusion in my opinion. I haven't seen The Eternals and Spider-Man so far, but I did watch every other project, so I am not sure, how good they really are. But Hawkeye was a fun, lovely and still deep series, that could be a new Christmas season series. Yes it has some connection to other movies, but it is still a good stand-alone series. The dynamics between Clint Barton and Kate Bishop is great. They grow and help each other grow throughout the series. The series isn't aiming to solve a world threating problem. It is not about the big problems in the MCU. Just some "normal" New York problems and personal problems.
There is a huge personal development of the main characters. And it is still a very soft series.
Some periods got me some "Home Alone" vibes. Also the side characters do fit great into the series. I love Yelenas character. She has an amazing humor and works great with Kate's naiveté. It helps if you have seen Black Widow and Endgame to understand some parts, but to be honest: It works also without it. If Yelena would be just a "normal" assassin, it wouldn't be a lot different.
This is the same for many other characters and plots. It helps and gives more depth that everything is part of the MCU and interconnected, but in my opinion it isn't really needed. You can understand how and why the characters acted also without it.
Am I disappointed with some things? No, not really. I heard, that how Kingpin was handled, did disappoint some (re-)viewers. I do not think this way. Most viewers probably never heard of him, but Kingpin is the "Big Bad" in many New York related Marvel comics and movies/series, and is part of the Netflix "Daredevil" series, as well as Sony's "Into the Spider-Verse". And of course many more. Did he die in the end of series? Not clear. Is he stronger than usual? Maybe - but I also thought that he was stronger in "Into the Spider-Verse", than he was in "Daredevil". I don't think that this is a problem. It isn't the same character.
Is it a problem that Laura Barton is an old Shield Agent? No, not really. Whether she really is Mocking Bird, is to be seen, but that is not a problem in my opinion.
Hawkeye is good entertainment. It is really an amazing series, if you liked Clint Barton in the other Marvel series. And it is a must see if you are a true Marvel fan.
Cheers, @andy-plays