Today I want to take you right back to the eighties, and remember a Movie with a truly stonking playlist of songs that play throughout the entire Movie. Often with films you only hear a "start" song and another song played at the end of the Movie.
However "Pretty in Pink" is an exception to that rule, as there are so many great songs that just keep coming. All the songs fit the scenes perfectly, adding huge viewing enjoyment. A delightful spectacle of pure "Sound & Vision" you might say.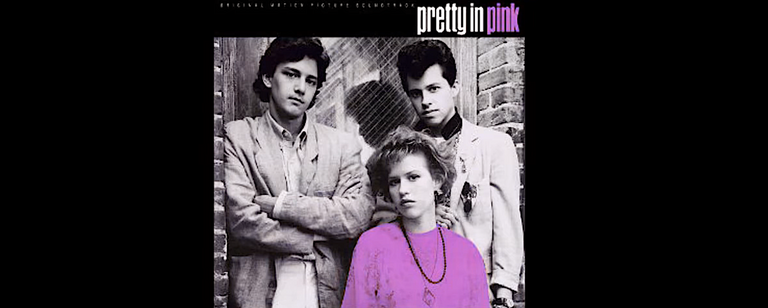 Image Source: Screen Shot from YouTube [here]
The first song below is the tile song "Pretty in Pink" sung by the bank "The Psychedelic Furs". I agree it's a weird name for a band, but who cares LOL (it was the 80's).
Song: Pretty in Pink
Artist: The Psychedelic Furs
Lyric Writers: Duncan Kilburn, Richard Butler, John Ashton, Vincent Paul Davey, Tim Butler, Roger Morris
Licensed to YouTube by:
SME (on behalf of Sony BMG Music UK); CMRRA, LatinAutor - SonyATV, BMI - Broadcast Music Inc., LatinAutorPerf, UMPG Publishing, SOLAR Music Rights Management, Sony ATV Publishing, UNIAO BRASILEIRA DE EDITORAS DE MUSICA - UBEM, and 7 Music Rights Societies
Video Source: From ©YouTube [here]
Another great song on the playlist from this Movie is "Shell Shock" by New Order. I've always loved anything performed by this old Indie band. Have a listen...
Song: Shellshock (John Robie Remix; Substance Album Edit)
Artist: New Order
Album: Shellshock
Lyric Writers: John Robie, Peter Hook, Gillian Gilbert, Stephen Morris, Bernard Sumner
Licensed to YouTube by:
WMG (on behalf of Warner Music UK); SOLAR Music Rights Management, PEDL, UMPG Publishing, UNIAO BRASILEIRA DE EDITORAS DE MUSICA - UBEM, CMRRA, Downtown Music Publishing, ASCAP, UMPI, LatinAutor - SonyATV, LatinAutor - UMPG, LatinAutorPerf, Sony ATV Publishing, and 13 Music Rights Societies
Above Video Source: From ©YouTube [here]
Many thanks for your kind attention, I really hope that you enjoyed my "Sound & Vision" Blog for Today!
See you all again very soon... 🙋‍♂️