Have you ever been watching a late night scary Movie on TV, and be interrupted by real events that also seem scary at the time? This has happened to me, and I will tell you more about it in this #CineTV article.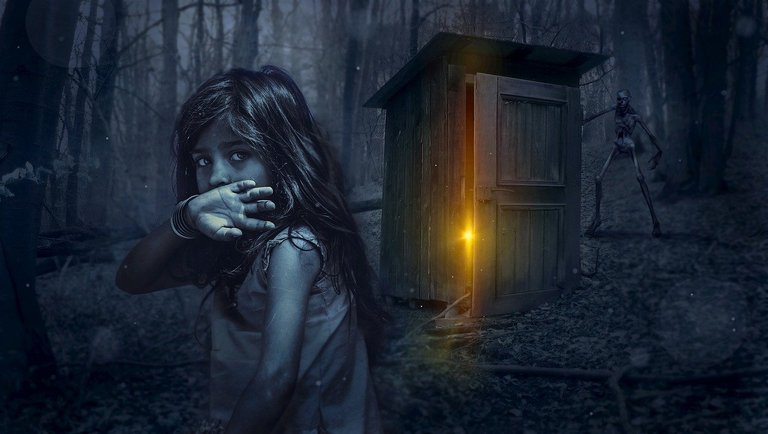 Image Source: From Pixabay [here]
Now let's begin my personal TV Movie scary story...
Usually once a month my Wife goes to stay with her Girlie friends, for a weekend of popcorn 🍿 & Romantic Comedy / Drama 🎭 films on Netflix and other subscription "Sky channels" (that we don't have at home). This gives me the Weekend free to drink beer and watch what I enjoy: Bad Boy's Movies ~ Suspense, Horror and anything connected with "Marshal Arts" are my personal favorite kind of viewing, when I'm home alone.
This one particular Saturday night, approximately 2:00 AM I was flicking though "Horror Channels" and found the older Japanese original version of "The Grudge". I had seen the newer English re-make before with (Sarah Michelle Gellar). I'm sure everyone has seen that English version it at some time!
I'm not normally a huge fan of watching foreign Movies with annoying sub-titles, but I really wanted to see how different the Japanese version was. Also watching late night, I don't want to annoy neighbors with loud TV noise, so I can easily turn the sound down a bit.
As the Movie progressed, there came a point where a scary moment was about to unfold. I could feel the tension building, as I paused the TV to visit the bathroom ( TOO much BEER 🤣 ). On my way out of the bathroom I heard a loud noise coming from the back garden. Grabbing a torch (flashlight) from the Bedroom wardrobe I went to investigate. A part of me expected to see a FOX or perhaps a large dog climbing over the back garden wooden gate. The gate is always bolted at the top from the inside, so it's very hard for anyone to gain entry without climbing over the gate.
As I got closer to the gate, I was feeling a bit scared at this point to be honest. A "fear of the unknown" is a very real and tense emotion, I think. Suddenly, I saw a hand come over the gate and undo the bolt, as the gate swung open loudly I shinned the torch. To my total surprise it was my "Grand-Daughter", the last person on earth that I expected to see at 3:00 AM in the morning.
I immediately went to help her get down safely, as she was only about 10 years old at that time. So many questions I had for her, and wanted reasons why she had "run away" from home. It seemed a simple "Grudge" with my daughter was the reason, which was sorted out the next day. She spent the night on my Couch and I never got to watch the end of the film...
Many thanks for listening to my "Grudge" Movie story,
I hope it made you smile... 😎 Enjoy... @notacinephile √
See you again very soon... 🙋‍♂️