Quick question: what comes to your mind whenever you come across the phrase "Things Fall Apart" either in a drama or a book?
Yeah, your guess is right - the famous Chinua Achebe's novel about the pre-colonial life of the Igbo people of Nigeria. However, watching this American drama starring popular names such as 50 Cents (Curtis Jackson), Ray Liotta, etc., has supplemented this idea!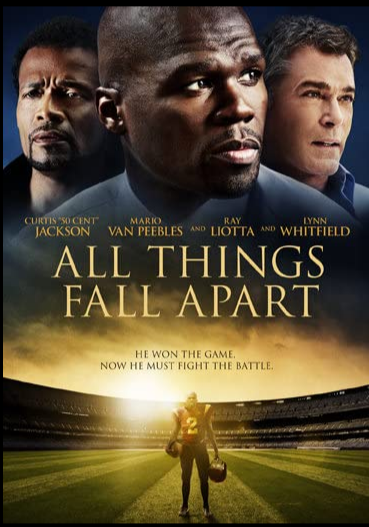 Photo Source
Things Fall Apart is centred on Deon (Curtis "50 Cent" Jackson), a college student blessed with speed and outstanding power. With his dream of being a professional NFL player been a match away from actualization, an unexpected event happened that made a naturally attainable dream unachievable. Realizing this is the end of his football career (and also a step closer to the end of his life), Deon decided to utilize the little time he has in uniting his family and creating a long-lasting memory in both family and friends. For the full gist, kindly look up the movie.
For my hive family, this is a victorious and emotional story that clearly demonstrates the uncertainties of life even at stages of the highest clarity. Hence I urge everyone to be open-minded and efficiently utilize our today with the hope of a better tomorrow.