---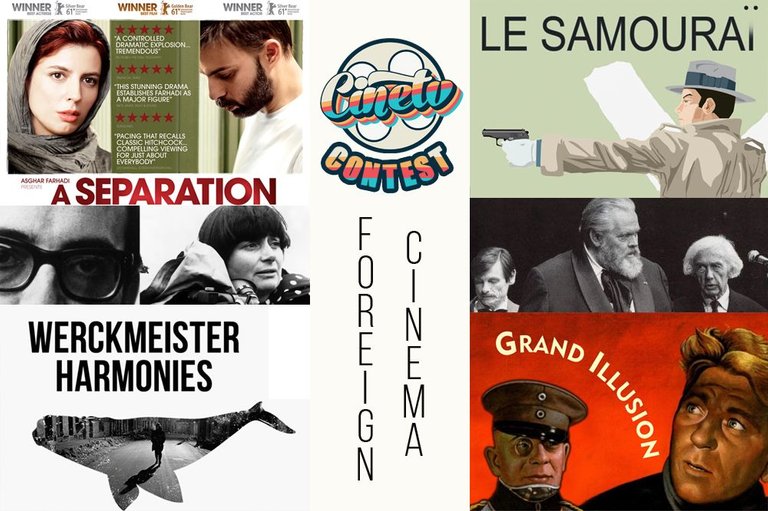 ---
Welcome to CineTv periodic contest.
The last contest was a tremendous success! We got to read some great recollections from people of many ages and it was a blast!
We've selected the winners and the associated post can be found here.
1000 CINE COINS have been transferred to the winners.
dagger212 — Long Summer Nights and My First Drive-In
mafalda2018 — ¡Zorro, Zorro! , my first love!
surrealfia — Childhood in a nutshell
Congrats! Great entries!

And now, we're launching the second contest. Foreign cinema.
We all watch films in our native languages and also films made in our second language.
But the world of cinema is vast and there are numerous prolific film industries around the world.
Naturally, we have hardly any intimacy with them. But it doesn't have to be so. We should also see films from all around the world.
I understand the reluctance
The language barrier is quite intimidating, but as someone who has seen films from every industry, let me assure you, once you start watching them, soon you won't notice the language difference at all! Cinema is a visual art form after all!
True, reading the subtitle takes some practice, but consider this —
There are gems in every industry, we're only doing us a great disservice by not trying them out!
Now, what is foreign might be subjective.
If you're from the US, anything made out of the US is foreign to you.
But it's not that simple in other cases as people from all over the world have some basic understanding of English and watch Hollywood stuff. For example, I know for a fact, many south Asians think of European cinema when they think foreign, not Hollywood.
The point is, you only know what is foreign to you, so it's up to you what you choose!
Contest #2: Foreign Cinema
Write about your unforgettable experience with a foreign language cinema (or TV etc).

Winners and prizes
This contest will have 3 winners and 1000 CINE in prizes, sponsored by @notacinephile and @zayedsakib. They will be distributed as follows.
1ST Place — 500 CINE

2ND Place — 300 CINE

3RD Place — 200 CINE

Rules
You have to post from our frontend https://cinetv.io
The entries should be written only in English (manual translation is okay, however auto-translation using an automatic machine like deepL will not be accepted.)
Entries should contain at least 350 words.
The post title should include [CineTV Contest: Foreign Cinema]". For example, [CineTV Contest: Foreign Cinema] Your Title Here.
Use #cinetvcontest among your tags.
Include a link to this post somewhere in your entry.
Put down a comment with the link of your entry on this post below.
Deadline
The deadline is 28th June 2021, 11:59 PM, UTC time.

Evaluation and Some Tips
Posts containing only the plot will be disregarded.

You can use these prompts as a helping hand but you're free to go however you want.
► The language barrier and how did you conquer it.
► What you loved or hated about it (movie, tv, etc).
► What is the prime difference in comparison to your native cinema.
► What part of it you found most interesting.
► Any particular perks of the foreign film that you don't see in your native cinema.
► The difference in the Filmmaking process the foreign cinema incorporates.
You're free to include multiple films/shows in your entry.

There's no need to be mechanical. Write with a free hand. We might overlook if you forget to do a step or two stated in the rules (except the first one).
We'll evaluate the posts based on the writing quality, title selection, sincerity, and faithfulness to the spirit of the contest.
The winners will be announced on 2nd July and new contest will be announced promptly.
Happy Writing then! Blog on!
The cover photo is edited in photoshop.
---

---
Join CineTV on Discord - Invite Link