CineTV COMMUNITY NEWSPAPER | #15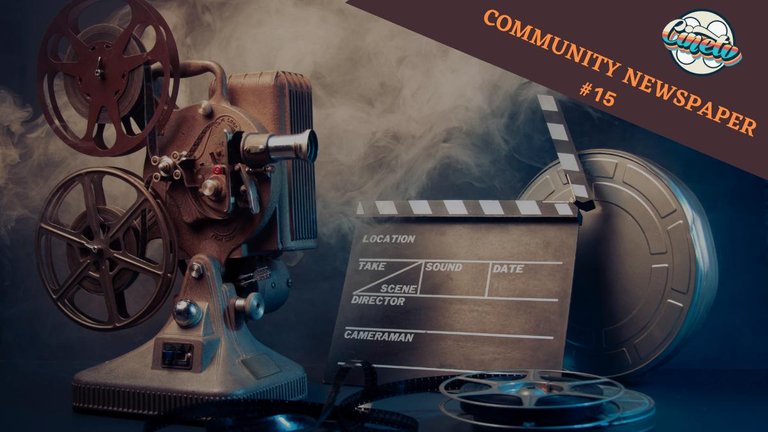 Image created with CANVA PRO


Welcome to this week's new CineTV Community Newspaper. I hope you are all enjoying your weekend and having an awesome Sunday?
And maybe you find time and inspiration to join in on one of the many writing prompts that our social media manager @thisismylife posts on twitter almost every day. Are you already following our twitter?
This week was an extremely busy week for our Social Media Manager as she's prepping for a big move, so it is quieter on our Twitter account. But despite that, she still managed to give you guys an interesting writing prompt this week;
Which releases are you looking forward to
If you don't like this writing prompt, you are free surf to our twitter, and let your mouse wheel work. If you take the time to scroll you will find many more. And since these writing prompts are purely meant to give you some inspiration, you can always use them. Also if the prompt was posted a while ago. Any prompt is always usable​. We'd love to see you do that!



CINE COMMUNITY UPDATE
And we have another quiet week in terms of community updates. But that doesn't mean that we don't have any news. Last week I told you that you guys shouldn't forget to check your badges. Did you keep an eye on the badges? If you did, you probably have seen it already. Our bot is up and running, and everyone who has 1000 or more CINE staked, should have received an awesome CINE badge. Isn't that cool? Yeah, now everyone can see that you're wasting your time in front of the TV instead of working. Oh no, I'm sorry! I'm saying it wrong. Now everyone can see that you are an intelligent social person who likes to be informed about all the first world problems that are highlighted in the movies and TV series. Just keep on doing that, and don't forget to write some awesome blogs about that!

CINE CONTEST UPDATE
Like every week, our contest is up and running, in which a number of people have already participated. But there is still time for you to climb into your keyboard too, and write that fantastic blog that can make you a winner too.
This week's contest asks you to write a blog about your favorite underrated TV series.
If you're a sucker for TV series, here's your chance! You still have two days to participate. The submission deadline is 17th May, 2022, 11:59 PM, UTC time. Go, go, go!

A little note. We would love to read your personal stories. Why is that one movie or series so special to you? What impact has it had on you? Did a movie or series change your mind about certain things? Just to name a few examples.
Now that we said that, let's move on!



And of course, feel free to browse over all blogs written under the #cinetv tag. There are so many awesome blogs, and if your blog is not highlighted that does not mean it is not awesome. We appreciate each and everone of you, who takes the effort to write up a unique, original blog with movie or tv-related content.



FIRESTARTER
Horror lovers can pick up this film. A girl with extraordinary pyrokinetic powers has been kept hidden by her parents for more than a decade to protect her from a shadowy federal agency that wants to turn her unprecedented gift of fire into a weapon of mass destruction.
When an incident reveals the family's hiding place, things get tense. The shadowy federal agency is determined to control Charlie, and Charlie is determined not to suffer that fate. As an eleven-year-old girl, can she avoid this?


LOVE IN KILNERRY
In this comedy, directed by Daniel Keith, the residents of a small remote town panic when the EPA announces that mandatory changes to their chemical plant could cause a dramatic increase in their libido. You can imagine that this can lead to hilarious situations.


A PERFECT PAIRING (NETFLIX)
Lola (Victoria Justice), a hardworking sales manager in LA, quits her job in hopes of starting her own wine distribution business. She books a plane ticket to rural Australia to track down her first potential client, Vaughn Family Wines. Unfortunately for Lola, the Vaughn family isn't interested in doing business with a fledgling company. Lola sees an opportunity to prove herself by filling an open position on Vaughn's sheep farm, even though she doesn't seem fit as a farmhand at first. Yet she and rambunctious station manager Max (Adam Demos) befriend while he trains her. And as they open up to each other, Lola discovers that Australia has introduced her to much more than just a love of entrepreneurship with a newfound love for Max. But will Max's secrets keep Lola from reaping what she sows romantically?
MOVIE & CELEBRITY GOSSIPS

This is it for this week.
WE WILL RETURN!

Note about plagiarism. We have seen some really great posts that failed to source their pictures and so we were not able to curate them properly. Remember to only post YOUR OWN work and to properly source the photos that you use that are not your own. We have an entire team dedicated to finding and reporting plagiarism and abuse. Plagiarism is THEFT and has no place in our CineTV family! Thanks...we love you all!