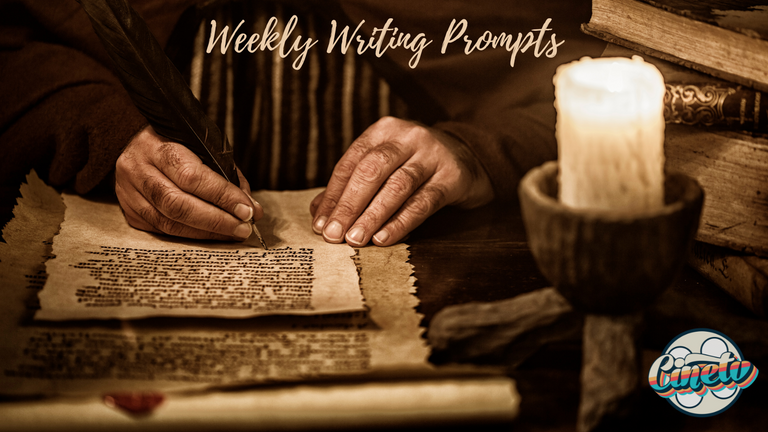 Created in Canva Pro
Weekly writing prompts
Those that follow CineTV on Twitter know that we try to inspire you by publishing writing prompts. Sometimes these prompts are created randomly, but lately, I've been focusing on famous quotes as well as famous movie quotes. There are so many that could be linked to a movie you've seen that I suspect we will read many cool blogs as an answer to these prompts. From now on, I will share three writing prompts from our Twitter with you every week in a post on Hive.
Although it could be that I share the most recent ones with you most weeks, I will probably also pull out some older writing prompts that have a cool idea or story behind it. You wouldn't believe how these ideas come to live sometimes and these are the stories that are cool to share with the community.
No deadline
When I started creating writing prompts on Twitter, I decided that these prompts won't have a deadline. They are there to inspire you whenever you read something and suddenly feel a story brewing that you wish to share with the community. It doesn't matter if you pull out a prompt that I published 6 months ago, you are always welcome to use them for your CineTV blogs.
There have been quite a few popular prompts and I think some of those will be shared again in the future to see if we can collect even more blogs about these topics.
Let's get inspired!
For this first week, I will share the last three writing prompts that can be found on our Twitter account as they are three completely different prompts so you have a few options to choose from.
1. STEM day
This writing prompt came to life by keeping track of special days that appear during the year. We have so many to choose from and every now and then I make sure to use this special day's topic for a writing prompt. I do this to hopefully make people think about movies from a totally different angle. Normally, one would not immediately think about a movie related to one of the STEM topics, but as we are all about film related topics, I use these topics to inspire you and hopefully find one you'd like to share with the community.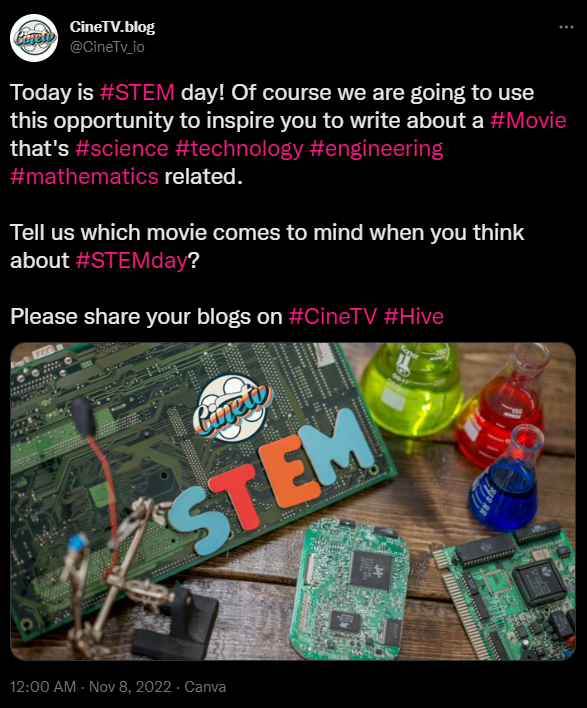 Link to Tweet
The fun thing about these special days pulled from all sorts of calendars is that the topics are so divers that there will be something nice to find for every person at some point. I'm looking forward to read your blogs about #STEM related movies!
2. Julia Roberts
I had to laugh sharing this screenshot below because as you can see, the screenshot doesn't contain the full tweet. Why? I used an image from Julia Roberts that's so big that it will make the text unreadable if I zoom out to take the screenshot. Oh well, lesson learned!
You could think that I pulled a random actress here to inspire the community with this writing prompt but this isn't the case. I often notice birthdays from celebrities and then browse to see if the person is talked about much. If this is the case, I can decide to use the birthday for a writing prompt. Although Julia's birthday was October the 28th, you are still more than welcome to pick a movie you love (or hate!) with Julia Roberts in it. Never feel pressured to only write about those movies that you are thrilled about, we are always looking for your personal stories and this doesn't always have to be from a positive angle!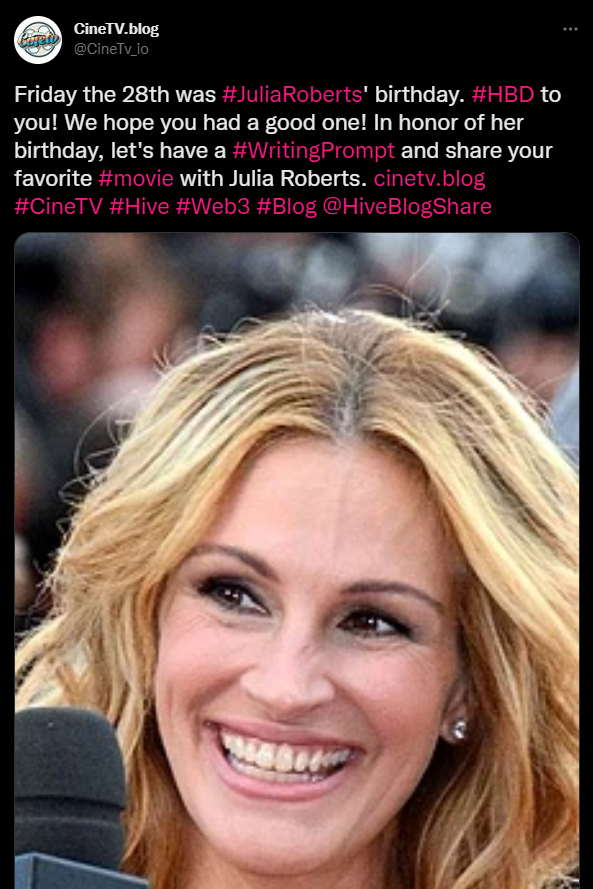 Link to Tweet
3. "There's no place like home"
Something fairly new in the CineTV writing prompts series, are the movie quotes. This idea actually started when I used regular famous quotes for a prompt (you will find these another time), and then I mixed that up with some famous movie quotes most people know or at least heard of. Some of you may not know from which movie it came, which is completely fine as the prompts are there to inspire you to write a blog, this doesn't have to be the actual movie where the quote came from.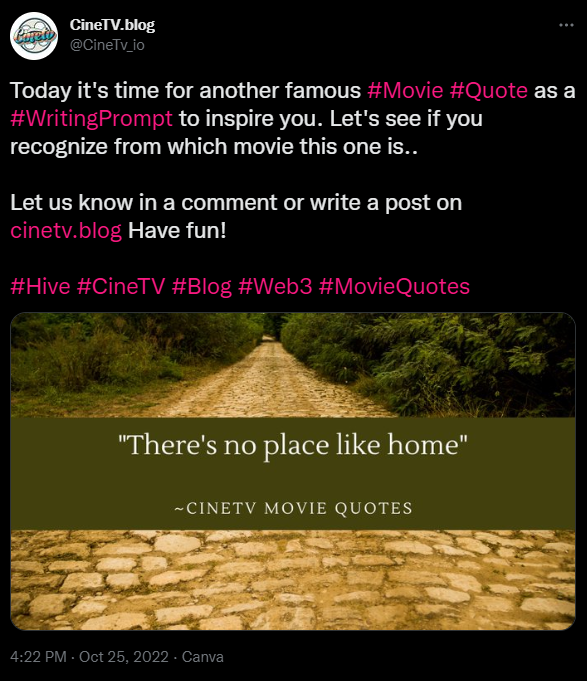 Link to Tweet
That's all for today!
I hope you will follow these weekly posts with the writing prompts and that you will enjoy reading how I got inspired to create that particular writing prompt as well. Needless to say that we appreciate all the support we get from the community and definitely love your engagement, may it be from joining one of the contests or getting inspired by a writing prompt. If you haven't followed our Twitter account yet, please do. Every like and retweet counts towards better numbers and hopefully more eyes on our content.
Thank you for reading and see you next week!