I browse through my gallery and realized the movie "The Courage to Love" is the most underrated movie from my list of movies, so I decided to write about it in the cinetvcontest, to join, click the linkContest Link and read the rules.
The Courage To Love 𝓫𝔂 𝓚𝓪𝓷 𝓢𝓴𝓸𝓰𝓵𝓪𝓷𝓭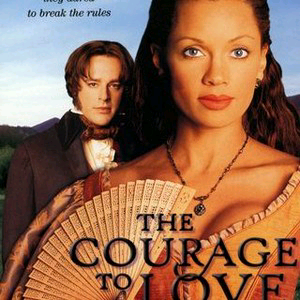 Photo source
Orleans, a woman in a society of racism was left with the choice of either working for the church or being with the man she loves. The choice-making was not going to be easy as there's great opposition to her ideas of breaking tradition.
I love the fact that Orleans was not discouraged by the oppositions, she was ready to change the status quo, and this means giving up the french man she loves,
the wealth, freedom, and embracing to live amidst the poor. Orleans' father turned out to be greedy, neglecting his family and supporting the evil men- a part I dislike. I was hoping Orleans' family will support her but that didn't happen, they were comfortable with the racist and didn't care as long as they were not affected.
The movie " the courage to love" is a movie of love and sacrifice that helps portray the difficulty and obstacles one face in a society with opposing belief, sometimes there's dilemma of choosing between choices and others times we stand alone. If we are bent to achieve our goals especially in a tradition where our ideas are strange and against the status quo, there's need to make sacrifices that's painful. Sometimes we maybe hated by our families because of our faith, people we are helping may despise us when they face hardship, but we get strength going back to our creator in prayer or to what we believe.
The part I find most interesting was when Orleans agreed with the mother nun of her human feelings, she didn't hide her affection for Williams (?) But confessed how hard she finds it choosing between working in the Church and being with him. Yes, we are humans and we have affection, to be strong, we need embrace our humanity first then decide what we want. I only wondered why Williams (?) Still helped Orleans raise money to start the new place for worship and refugee for the poor despite he was aware that Orleans was never going to get married to him. It showed he had interest toward her goal and his love for her was above his wants.
The movie is significant in our society today where there are lot of hate, oppositions, and racism. It will help us prepare our heart to the challenges forehand, and understand that sometimes in life we may only succeed through sacrifice.