The movie "Love don't cost a thing" is a movie of love and reconciliation. Cannon a nerd wanting to gain recognition hired Christiana Milan, a popular girl in school to be his girlfriend for a period of time. Cannon as anticipated got popularity when he started to hang out with her.
Sometimes the heart can't be tamed from loving, though been a contract, Milan started to have feelings for cannon who was neutral about the relationship-contract. Grooved in the euphoria of his new status, he neglected Milan and started hanging around other girls and also became too busy with friends.
The movie tried to portray the fact that love cannot be bought, no matter the level of pretense the heart cannot be deceived. Maybe that's a display of the fragile heart of the female folks.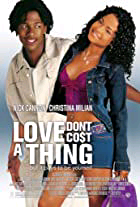 Milan started to seek cannon's attention who became too busy for her with the believe that their contract has ended. Milan felt neglected. Cannon must have gone too far when he claimed the music written by Milan was his original work and she went ahead to expose the truth behind the album.
Things started to fall apart for cannon, gradually he lost the fame he had gained over the period of time and he shreked into being how he started, this made him pondered and he was sure he had loved Milan, the fame and popularity must veiled these feelings.
At the end, he humbled himself to apologize over his wrong and this is how their love story started.
I ought you to remain unmoved emotionally after watching this movie.