Is it a passionate tale of romance? Or should we call it a gothic story? Tall Girl by Zhingha Stewart in my opinion is an interesting movie of romance. It is a tale of love, jealousy, self-discovery, and pain, focusing on the main characters of Jodi Kreyman, Jack Dunkleman and Stig Mohlin. The atmosphere at Orleans high school clearly mirrors jealousy, ridicule and love.
Jodi Kreyman is a girl of 16, 6.1½ft tall, slightly abnormal for a girl of her age. She became a thing of ridicule among her age mates and hated herself for that. Jack Dunkleman a young boy Jodi met in high school seems to see her differently, he had feelings for her but decided to maintain the friend zone after discovering Jodi has a taste for taller guys. Jack Dunkleman is a short guy, he carries a milk crate around and always try to talk Jodi Kreyman into loving herself. Jodi Kreyman believes she abnormal, this make her isolate herself from her peers. Her family tried to help her accept who she by inviting people as tall as she is but Jodi Kreyman became offended.
Jodi Kreyman believes she had finally found a guy who will understand her when Stig Mohlin, a student transferred to her high school from Sweden was enrolled. He was her spec, tall and handsome and had a long hair but Kimmy a popular female student in the same high school had eyes for him.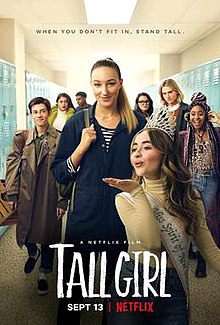 Kimmy was all over Stig Mohlin but Jodi Kreyman finally had time with him in a piano room and they had a casual relationship, Stig Mohlin loved Jodi Kreyman but was intimidated by people's opinion so he was not open about their relationship.
Kimmy and Schipper became jealous of Jodi Kreyman but continued to ridicule her, they even played a prank on her pretending that Stig was the one calling.
Jodi Kreyman has a sister , Harper, she had won multiple beauty pageant award, she was Jodi Kreyman best friend and confidant, as well as Jack Dunkleman who remained her best friend. Jack Dunkleman gifted Jodi Kreyman a high heel shoes which seem ridiculous for already a tall girl, but he advised her to keep it because she would need it someday.
Jodi Kreyman was shown a video of Jack Dunkleman fighting Stig Mohlin after making jest of her in a party among group of people. It was then she realized she don't need to be intimidated about her height, she was beautiful and unique the way she is. She appeared at the pageant in her school on the heels jack Dunkleman gifted her, ''how's the sky up there" people asked, confidently she smiled and walked up to the stage where she declared her status and how she now accept her height .
She gave Jack Dunkleman a chance and enquired why he always carry the milk crate around him.
" For a day like this when I will need it" , he climbed on it and gave her a kiss.
Nevertheless, I persevered and all in all, I recommend Tall girl. I challenge you to change your perspective about yourself over what people ridicule you of after watching the movie.