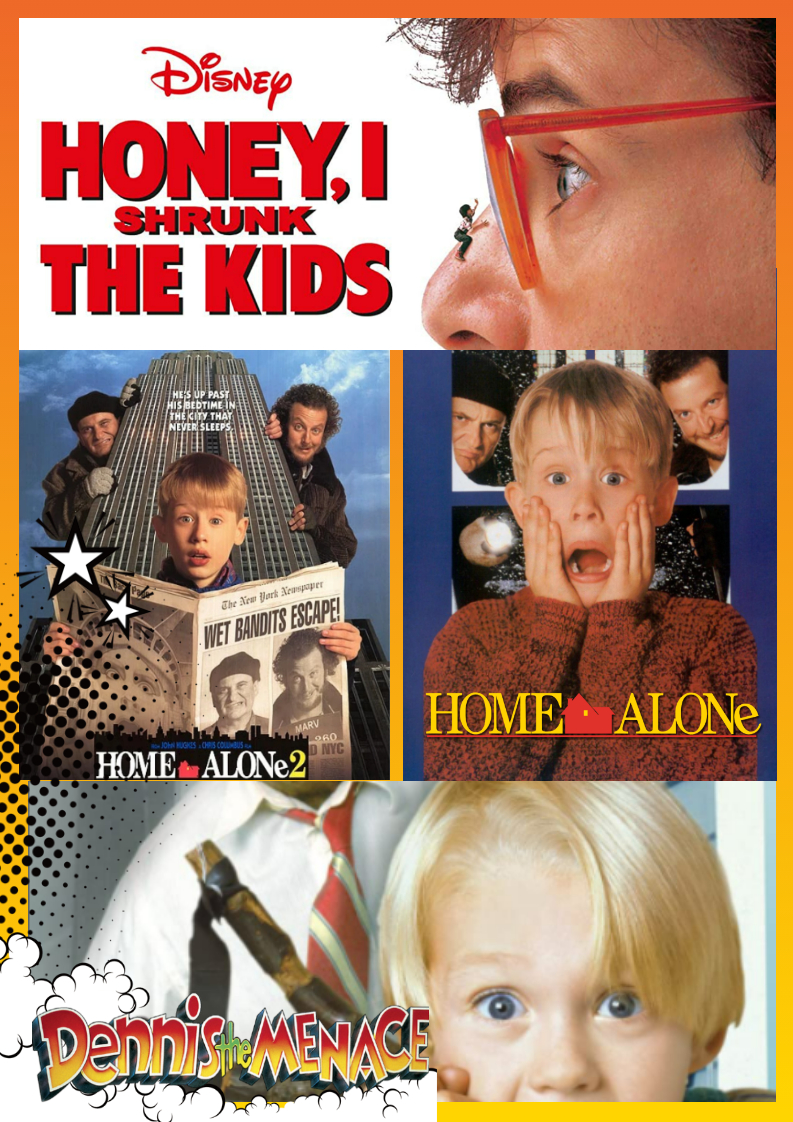 In this publication, I will go back to the late '80s, early '90s, the time of my childhood and adolescence. At that time there were no technological wonders of today, nor think of digital TV, much less streaming platforms, in my house we only had access to the open signal of analog TV with a single TV channel available in my area, therefore, my memories are subject exclusively to the programming that was transmitted on it.
Talking about this to the current generation could be synonymous of boredom, my children, for example, cannot conceive their day-to-day life without the presence of the internet, I remember my childhood as the happy time when I enjoyed to the maximum that sacred hour of watching TV.
Unforgettable movies from my childhood
Honey, I Shrunk the Kids
I'll start by talking about a movie that I loved very much: Honey, I Shrunk the Kids, a Disney family comedy in which an inventor creates a machine with which he tries unsuccessfully to shrunk objects, however, in a fortuitous way the machine ends up working to shrunk his own children and his neighbor's children.
I don't know how many times I saw this movie and I always felt the same emotion, I immersed myself in its story to live the adventures of these kids that from a tiny perspective tried to overcome the obstacles of an environment that was gigantic, just imagining to live something like that seemed fascinating to me. The peaceful lawn of the garden became a kind of jungle full of dangers, where there was no fearsome lion, but a simple and harmless little ant could represent a huge enemy.
I remember that there is a scene in the movie, which is a classic, in which the children try to get the father's attention so that he sees them, then one of them jumps into the bowl of milk with cereal while the father is having his breakfast, being about to eat it... how I suffered with that scene hahaha.
I believe that for the time, this type of special effects captivated the audience without a doubt, besides the story as such is pleasant to enjoy not only for children, which was obviously its target audience but even for adults. Such was the success of this movie, that nowadays we are waiting for the release of a sequel again by Disney, I am anxious to see it, while that happens you can watch this 1989 gem on Disney+ programming.

Home Alone
The next movie I enjoyed and still enjoy watching is Home Alone, of which 5 parts were released I believe, however, my favorites are the first two that starred Macaulay Culkin (Home Alone and Home Alone 2: Lost in New York).
Both are by far a great Christmas classic that has come from generation to generation, although these movies date back to 1990 and 1992 respectively, today are still a Christmas reference. I used to enjoy them as a child, and now I enjoy them as a mom, my kids love them.
In Home Alone, the whole family organizes their Christmas trip to another city, and in the rush to get to the airport in time to take the flight they forget Kevin at home, in the first movie, while in the second one they take the flights to different destinations and the boy ends up lost in New York. In both cases, this boy lives great adventures being a little adult for a moment and facing dangers in which he shows great cunning and intelligence.
When I was a child I enjoyed the movie with the thought that it would be great to stay home alone and do whatever I wanted without the control or supervision of adults, it was fascinating to think about living Kevin's adventures; not to imagine what it would mean for me to be able to be in a big city with my parents' credit card hahaha.
However, now that I'm a mom, I see the movie from another perspective, from the reflection of telling my children that we have to be very careful with what we wish for, we don't know when it will come true, and if that wish is like the one Kevin had of not wanting to see his family anymore, it would be very sad and painful to wake up one day and be really alone.
I doubt that there is anyone without seeing these movies, but if there is, you can enjoy them at Disney+.

Dennis the Menace
In the same vein, I will tell you about another movie that I loved because it was really very funny, it still is, plus the protagonist is simply adorable, I mean Dennis the Menace, the first movie that was released in 1993 because the second one did not make me fall in love.
A very sweet-looking boy who in his innocence and naivety is able to do many pranks and drive crazy Mr. Wilson, who is his neighbor, a super grumpy but kind-hearted old man, who at first thinks he hates Dennis and ends up adoring him.
In this movie, it is very difficult to contain the laughter because that kid was coming up with every new mischief that was super funny.
There is a very funny scene where he is in Mr. Wilson's bathroom and he picks up Mr. Wilson's dentures, starts playing with them, and inadvertently loses the two middle teeth of the dentures which end up falling down the sink drain.
Dennis, nervous, trying to solve the incident, comes up with the brilliant idea of replacing the teeth with a pair of Adams Chiclets; the next day, when Mr. Wilson smiles for the cover photo of the press, the first thing you see is his huge teeth that made him look like Uncle Rabbit hahaha. I always tell my kids about this scene, because I enjoyed it so much.
The really captivating thing about the character of Dennis the Menace is that his face really transmitted tenderness making his mischief look like the consequence of his innocence, I think the performance of this child who was interpreted by the actor Mason Gamble managed to captivate the audience with his sweetness. If you haven't seen it yet and want to know why I love this movie, you can watch it on Amazon Prime.

Many years have passed since the release of these movies, but continue to be great, worthy to enjoy with the family, are enjoyable, fresh, with good themes. These movies represent such nice memories of my childhood that I try to share the experience with my children, although I don't always succeed hahaha.

This post is my entry for the first contest organized by the CineTV community, if you want to know more about the contest, click here.
---