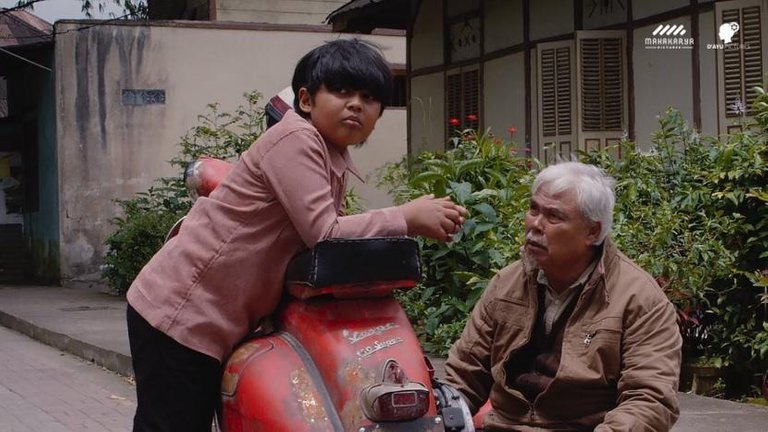 Source Picture
---
---
Hello everyone and all members of CineTV Community, how are you today? I hope and pray that all of us are always given health and happiness in living this life. This time, I would like to participate in CineTV Contest which has a very interesting theme Favorite Movie in Young Lead and this is my entry for Cine TV Contest #31 - Favorite Movie with a Young Lead.
There is one movie that I watched this year with a very prominent young lead character. At the beginning of 2022, I had the opportunity to watch a screening of the Indonesian film entitled "Perjalanan Pertama" or the English version: The Wheels of Life.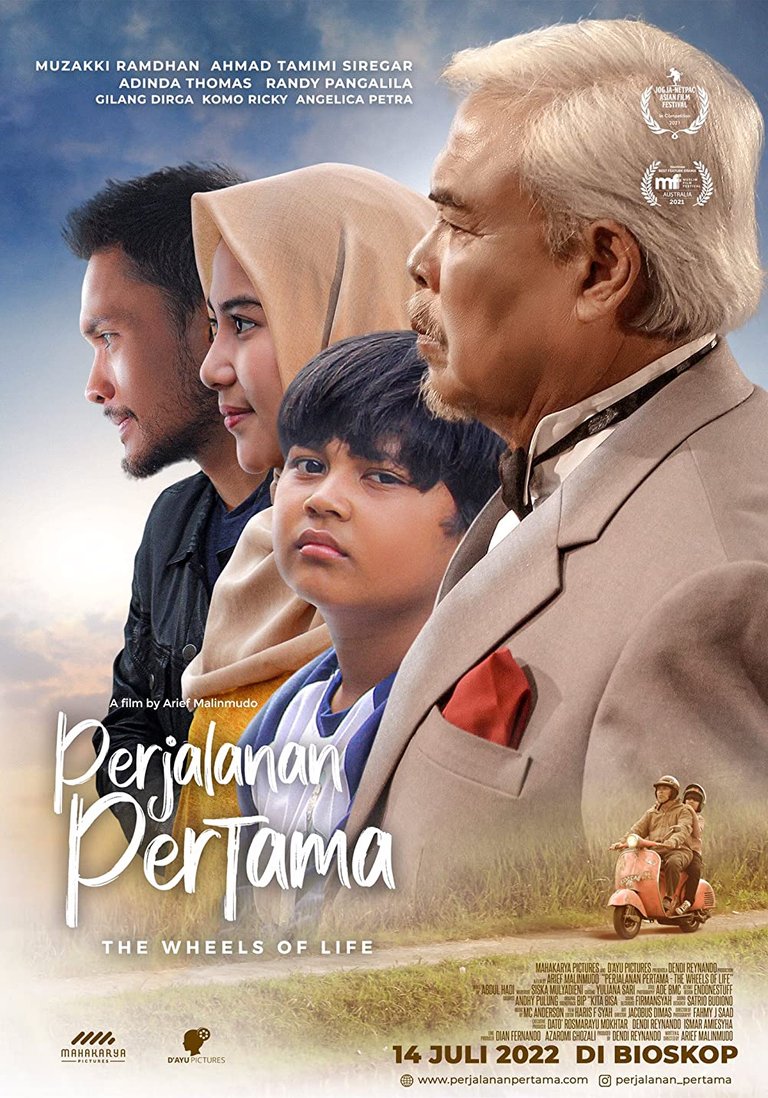 Source Picture
Synopsis
Yahya (Muzakki Ramadhan) is a boy who lives with his grandfather in a small village in West Sumatra, Indonesia. Grandpa Yahya is usually called the old man Tan (played by Ahmad Tamimi Siregar) who, to his knowledge, works as a local craftsman at an art outlet not far from the village where they live. The lives of Yahya and Tan's grandfather are like the lives of other grandfathers and grandchildren, calm and peaceful. Yahya is a critical person, and full of curiosity. Curiosity and curiosity brought Yahya to know the truth about his life so far.
---
---
The Wheels of Life uses a "road trip" movie formula where the story of this movie follows the journey of Grandpa Tan and Yahya who delivers a painting by Grandpa Tan to the customer. They walk on the old red Vespa and the dynamics occur during the delivery process. The journey of this grandfather and grandson answered the big question in Yahya about why he came to this village, where his parents were, and who his grandfather really was. Road trips in this film have often been used to describe a movie for learning life and the development of the characters.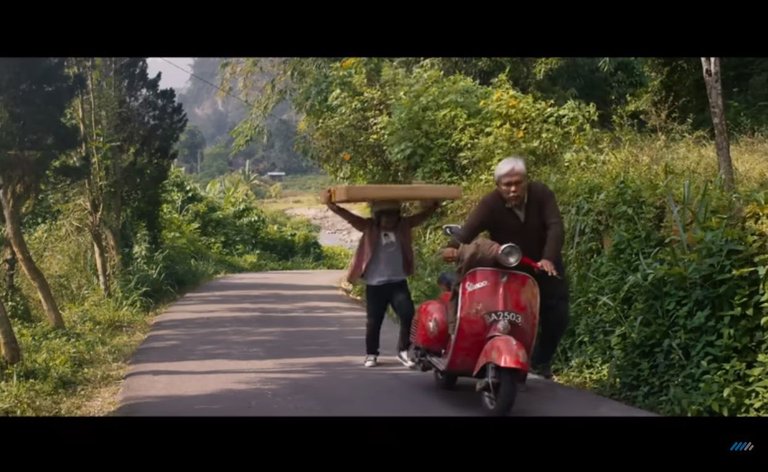 Source Picture
In terms of story, and the development of the actual conflict, The Wheels of Life is too standard and very weak. The idea of the story, the introduction of the characters, the resolution of the conflict feels very cliché and long-winded. However, sometimes a movie script with a scenario that is too standard can look cool if executed by the right actor.
This movie is very memorable for me because it brings together two actors of very different ages from two different countries. Ahmad Tamimi Siregar is a senior actor from Malaysia who has played in various film titles and genres. Meanwhile, Muzakki Ramadhan is an Indonesian child actor who is currently popular in 2022. Muzakki Ramadhan started his career in 2019 with small roles and is increasingly becoming the best-selling child actor in Indonesia, this year alone he has starred in 6 movies, with one main character and two supporting characters. In addition, several other supporting actors are no less popular, Adinda Thomas and Randy Pangalila who are also the top actors in Indonesia.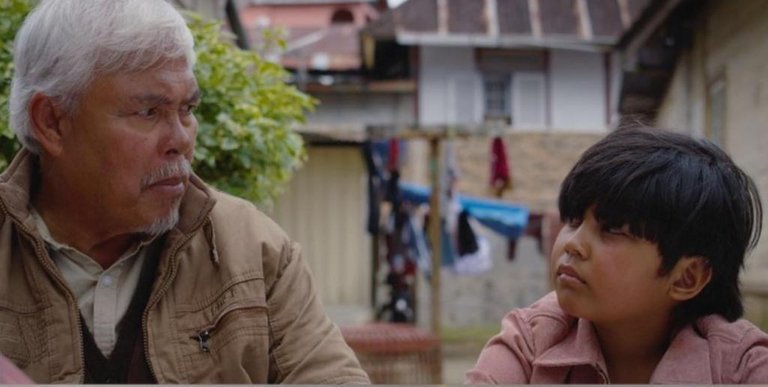 Source Picture
I am very impressed with Muzakki Ramadhan, he does not look stiff and awkward when acting with his co-stars, even though he is a legendary actor. I wonder what this movie would be without acting from Muzakki Ramadhan. Muzzaki Ramadhan, can show the figure of a grandson who is very obedient to his grandfather and of course the debate between grandfather and grandson is displayed very nicely in this movie. The chemistry of the two is the strength of this film, sad, happy, and various other moments can be displayed by both and felt deeply for the audience.
In addition to the chemistry and acting that is cool, apart from a rather weak storyline. The Wheels of Life features a very enchanting setting. The scenery and natural beauty of various locations and places in West Sumatra make us want to vacation there.
If CineTV members want to watch the best acting that is shown by Muzakki Ramadhan and see the beauty of West Sumatra - Indonesia, friends can already watch this movie on Prime Video.
---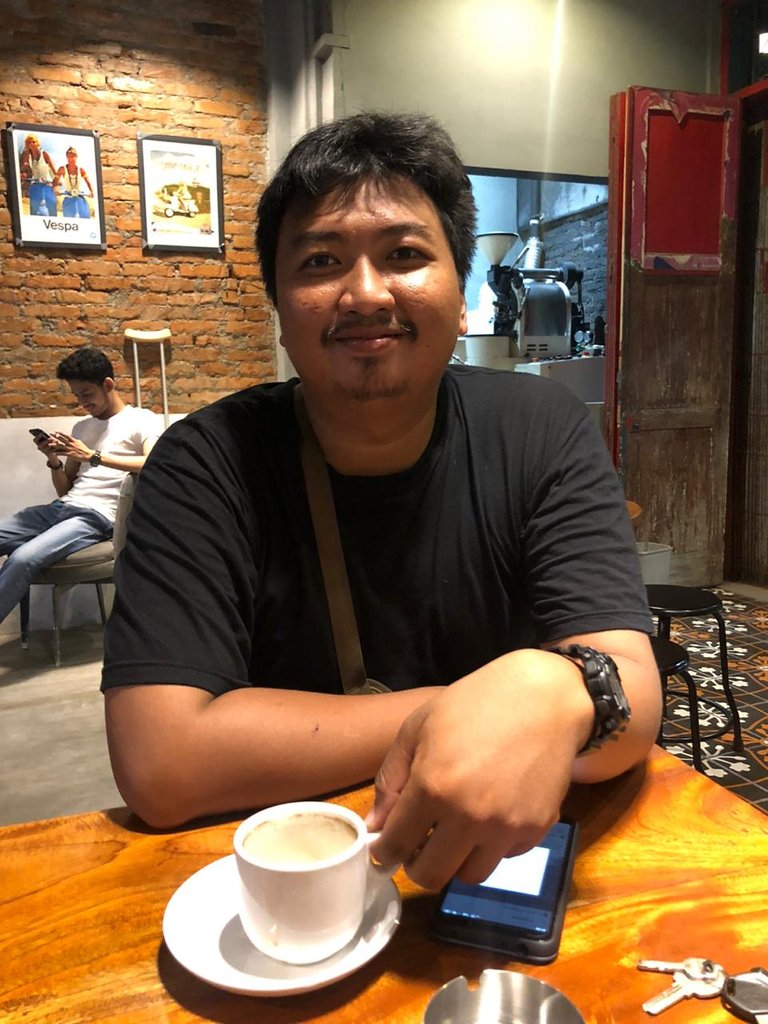 About Author

Call me Isdarmady, because I have a full name that is very long, namely Isdarmady Syahputra Ritonga. I am a head of the family who work as Farmers Vegetables Hydroponic and Consultant Hydroponics, sometimes I also sell coffee from various regions in Indonesia.
I have expertise dispensing coffee with a variety of techniques and tools brewing, because I have the desire to make a coffee shop with hydroponics as centerpieces. Help me realize that dream.
Thanks for read, vote, re-blog and support me in Hive. Maybe god will reward the kindness, let's success together.