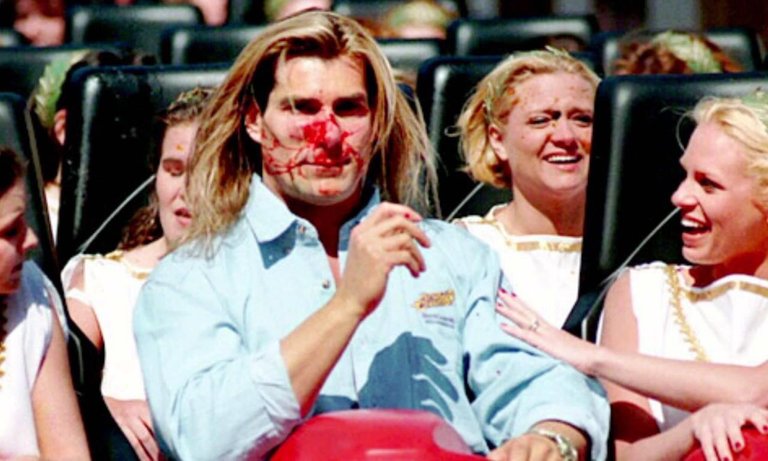 When I want to take a lightning fast trip to funny town, there is nothing better than television bloopers, especially LIVE tv and home shopping bloopers.
---
FABIO MURDERS A GOOSE WITH HIS FACE
     Fabio is known for being flawless, so that's why this is a priceless video. I don't know the background story fully, but I think this was the inaugural ride of a rollercoaster named "Apollo's Chariot," so that explains the way his co-passengers are dressed. The look on his face is one of total disbelief, and one of the ladies seems to be quite amused by the mishap.
A FARM/FAINT COMBO
     I don't know if I had even seen a fart/faint combo before, but the fart was violent enough to warrant a fainting spell. I know nothing of the background story on this one, and I of course hope she pulled through injury-free. If you dare watch this a second time, do focus on the other female anchor, she seems to be completely uninterested in the fart/faint fiasco.
LEPRECHAUN VISITS ALABAMA
     Alabama isn't exactly known for its intellectuals, and this "news story" couldn't be better proof of that. The guy with the body armor and a several thousand year old flute is easily the highlight for me. The woman that suspects a crackhead might be responsible could be onto something.
AN ACCIDENTAL SWIM-TERVIEW
     Across the pond in the Netherlands, and this breeding ground for intellectuals doesn't seem to prevent basic human stupidity. There was no need to grab the rope at all, but she just couldn't resist. If you watch it second time, notice the guy makes sure to first remove his special necklace before offering some very passive assistance.
THE REALEST GUY EVER
     If you're a professional reporter, you better be ready for raw truth at any moment, cause that's what this guy delivered. This guy stayed true to himself on camera, answering with "buncha hookers and cocaine," which made the reporter seem very ingenuine all of a sudden. It's obvious she wasn't ready for some raw truth on this particular day.
CALIFORNIANS ARE RIDICULOUS
     Even though my Cambodian family has never been to the USA, I have tried to explain to them that Californians are an entirely different breed of American, particularly white Californians from the "the valley." Even before the interview is over, something inside of me wants something bad to happen to this couple. I can't think of a better way to bring this overly optimistic couple back to Earth than what happened moments after the interview.
MOST AUSTRALIAN-EST THING EVER
     The opposite of the above the Californians is this guy, the most Australian-est man alive. I don't own property, but I can assume having the ridiculous Californians from above as your neighbors would likely increase your property value. Luckily money has never been a priority in my life, because I would much rather have this bloke as my neighbor. His authenticity is refreshing, and I'd actually watch television if there were more stories like this being covered.
EASIEST WAY TO STUMP A REPORTER
     This little man is painted up like zombie, so you'd think he might be a zombie enthusiast, or at the very least have zombies on his mind. Well, turns out this lad loves turtles, and the reporter wasn't prepared for his answer at all. You can see she falters a few times before recomposing herself and continuing the story.
ACTUALLY IT WASN'T LOCKED
     QVC and other home shopping networks provide some of the funniest clips of all-time, and I think this clip easily reigns supreme. Back in day LIVE tv was broadcasted with nearly no delay, so there used to be a "the show must go on" kind of attitude. This guy clearly didn't lock the ladder properly, or perhaps something mechanically failed, but there is no turning back, and he accepts his fate.
JUST THE TIP GOT ME ODELL
     This is another LIVE broadcast from a home shopping network, and this guy obviously believes in his product. His faith is so unwavering he slams the table a few times with the katana, but obviously a few times too many. It's hard to see, but a piece of the blade flies off and stabs him in the belly, but luckily Odell steps in and recommends emergency surgery be conducted on-site.
BEST PRANK CALL EVER?
     I am not sure which African country this preacher's program is based in, but it seems to be Ghana or perhaps Nigeria. The guy is obviously a native English speaker, but it's just as obvious he's never seen an episode of the "Fresh Prince of Bel-Air." There are more pranks to this same show than what I've shared, and all are worth watching.
CLICK HERE TO JOIN HIVE AND START EARNING CRYPTO LIKE US