There are always some movies that strike our minds first if someone asks for movie recommendations. In my case, if someone asks me for thriller genre movie suggestions my list would start with a movie named "Don't Breathe" directed by Fede Alvarez, which was a true horror-thriller movie to me.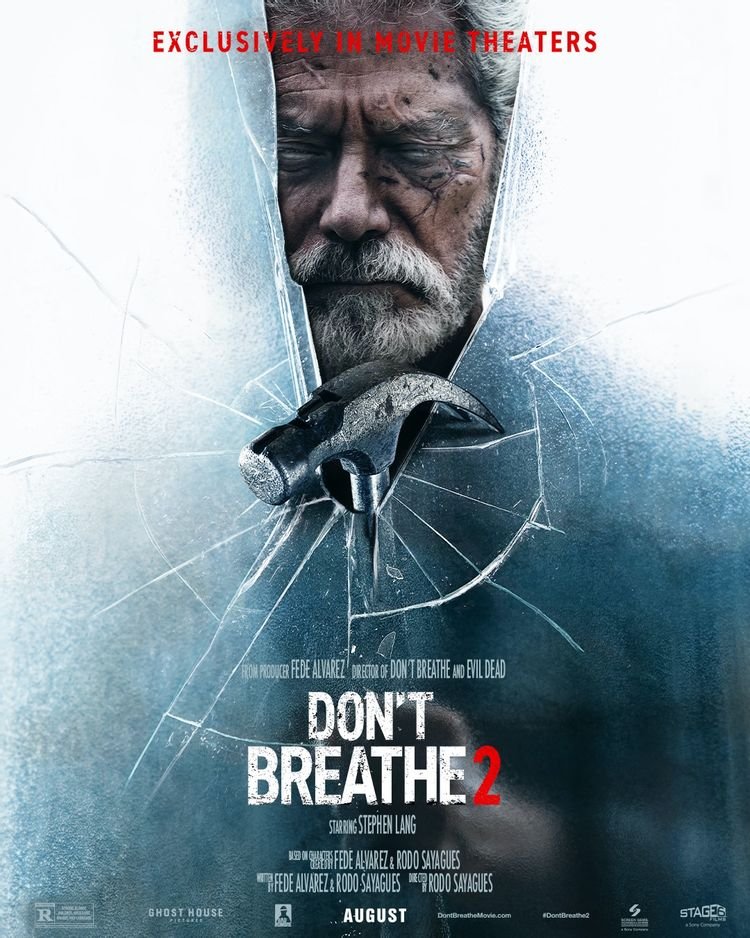 Image Source
So after five years, we got a sequel to it. "Don't Breathe 2" which is directed by Rodo Sayagues. This one is a sequel but the story doesn't have any interconnection, anyone can enjoy them as separate ones too. The common and most eye-catching character is Stephen Lang, the blind military veteran. This blind man made our breaths struggling throughout the whole movie at the first one to grab hold of those three friends who broke into his house for stealing a huge amount of cash. On that, we saw that man had a secret too that was hampered by them. On "Don't Breathe 2" we got to see the story of 8 years later. And he has a daughter named Phoenix. She was told that her mother died in a fire accident in their house that burnt all her past and they moved to this new place. We got to see that she was homeschooled and was also being trained for survival from unexpected dangerous situations. He feels insecure about the outside world and that's why doesn't let her mix with others but after a certain period of time she gets to spend some time in the usual world with a friend of that blind man and she is pretty friendly and caring about Phoenix. She gets to see a bunch of children of her age playing with one another and they are the residence of a shelter in which she desires to live in her mind.
The real story begins when a gangster's eyes fall on Phoenix and tries to abduct her. That's what triggers the whole story. Another mouse and rat race inside the darkness of the blind man's house. But this time the story has some twist that plays with the emotions too. You will be left in a dilemma to choose who is the right or the wrong guy. In the first part, we had prayed for those three friends to survive from this blind man, and here for whom you will be praying for? That gangster who will be coming with a big twist(don't wanna give a spoiler) or this blind man who loves his adopted daughter and wants to keep her within himself.
Speaking for the overall movie, it was a great one to enjoy. I am satisfied. It was amazing to enjoy that blind man hunting again. Well, this one contains more violence than the previous one, too much. Some scenes might get people offended. Well, thriller ones do contain this violence so it's ok to digest. I just mentioned it because some scenes were just too violent for me. Everything was top-notch here, acting? That was superbly done by the individuals. Story? Can't complain because I just loved it as it is. Served me perfectly as what I expect from a thriller movie. But as a sequel, it doesn't contain anything from the previous one apart from the character that's what it lacks. To be honest the first one was more intense and thrilling than this one. Personally I would like to rate it 8.5 out of 10. Go for it you will enjoy, Happy Watching.