Keanu Reeves is a Lebanese-Canadian performer who moves between comedy and solo characters, becoming an atypical action hero. His performances in many cases are engaging and intriguing.
He is an actor who continues to sell out box offices and is accepted by younger audiences, while being remembered nostalgically by older audiences who saw him as a brainless rock-loving teenager, surfing, robbing banks or driving an out-of-control bus.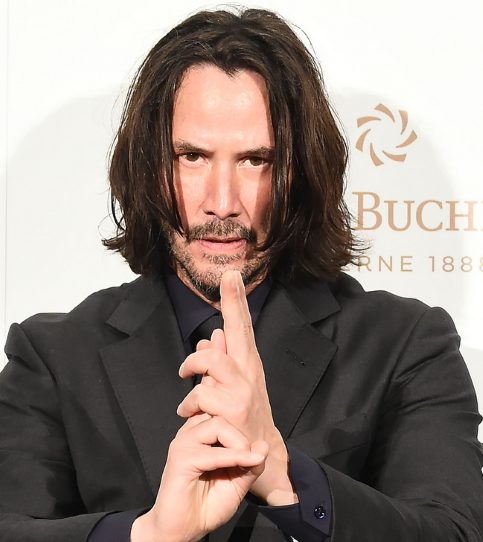 Source
Far from falling personally into controversies and scandals, his name and reputation remain immaculate, both on and off the screen.
The actor's childhood was very hard; his father was a heroin dealer who was in prison, abandoned him when he was two years old, then returned to mistreat and humiliate him in front of the neighbors, disappearing from the actor's life when he was 13 years old.
His mother, Patricia Taylor came to work as a stripper in nightclubs. Usually, they moved and changed cities, appearing occasional stepfathers.
He began his acting career at the age of 9 in 1980.
The first time I got to see him in a movie was in 1989 in Bill & Ted's Excellent Adventure, a film about two rock fans who must travel through time to complete their history homework and save the future of mankind.
Source
That year he met Joaquin Phoenix's older brother, River, establishing a very good friendship between them.
After coinciding in the comedy I'll Love You Till I Kill You (Lawrence Kasdan, 1990), they starred together in My Own Private Idaho ('My Own Private Idaho', 1991), the independent film by Gus Van Sant in which they both excelled.
Two years later River died of an overdose at the age of 23. In an interview Reeves assured that he still has him in mind today and that he could have possibly done more to prevent him from continuing to use drugs.
Source
Point Break (Kathryn Bigelow) from 1991 is an excellent action movie where the scenes are powerful, original and effective linked to skydiving, surfing, chases and shootouts.
Keanu Reeves is a former American soccer player who plays Johnny Utah, a former soccer player who works as an FBI agent on the trail of a gang of southern bank robbers who are also surfers and lovers of extreme sports known as The Ex-Presidents. They are so named because they wear masks of Ronald Reagan, Jimmy Carter, Lyndon B. Johnson and Richard Nixon when they commit their crimes. The leader of the group, Bodhi (Patrick Swayze), is suspicious of Utah, but gradually strikes up a friendship with him. As the film unfolds, Utah develops a dangerous empathy for Bodhi.
Reeves and Swayze develop an excellent chemistry in this film, where Reeves begins to emerge as an action hero.
Source
Since 1991, Keanu Reeves' sister (Kim Reeves) was diagnosed with leukemia, but went into remission in 1999 and is currently stable.
Speed (Jan de Bont) from 1994 is one of the most thrilling action films of the 1990s.
Here, Reeves plays the cop Jack Traven, who after the threat of a psychopath, played by Dennis Hopper, must prevent a moving bus from exploding in the middle of Los Angeles, in this adventure accompanies the passenger Anne (Sandra Bullock) who involuntarily becomes the bus driver.
This is a movie product for mass consumption, with baddies and heroes brave and attractive with explosions. Here Reeves looks like a smart but expressionless hero.
Source
Matrix (Lana and Lilly Wachowski) from 1999 is a film that criticizes a hyper-technified, dystopian world where the real world is nothing more than a construction of binary codes, it also speaks of totalitarianism, violence and martial arts. With special effects that emphasize breaking the laws of physics and logic. It also plays with time where it slows down.
This is one of the best science fiction movies that exist, Keanu Reeves plays Neo, the Chosen One in charge of freeing humans from the domination of machines. Neo becomes the Chosen One after taking the red pill, thus escaping the simulation in which humans live a normal life without knowing what the real world is like. His allies in this film are Trinity (Carrie-Ann Moss), and Morpheus (Laurence Fishburne).
In this film, Reeves embodies his character with charisma, accented by dark glasses and long black jackets. His character is the entry point to what the Wachowskis want to show us. I consider this film to be the most interesting of a saga of 4, no sequel managed to surpass the original film.
Source
Before Christmas 1999, Keanu Reeves, who was about to become a father with his great love, Jennifer Syme, lost their daughter Ava, who was born lifeless, leaving the couple completely devastated.
Keanu and Jennifer ended their relationship, although they continued to see each other. One night she attends a party at Marilyn Manson's house, he returns her to his house, but Jennifer wants to return to the party and crashes her car fatally into three other parked cars.
After doing many jobs, in 2014 Reeves was given the opportunity to star in John Wick, an explosive action movie that received positive reviews for Reeves' performance and for its excellent action choreography, thus generating a franchise that currently consists of two sequels and a fourth film pending release. These films are directed by Chad Stahelski, an experienced stuntman.
Source
Reeves donated 70% of what he earned with Matrix to different hospitals in charge of fighting leukemia and to research to find cures for this type of cancer. He gave a Harley Davidson motorcycle to each and every one of the extras who participated in Neo's fight scene against Agent Smith and Rolex watches to his stuntmen.
On some occasions he lowered his fees so that he could pay the cache of actors he admired and wanted to work with. At first in The Devil Advocate so that they could count on Al Pacino in the role of John Milton; and later to hire Gene Hackman in The Replacements.
In recognition of his merit and effort, he gave $40 million among the Matrix technical crew (costumes and special effects). He is currently in a stable relationship with his girlfriend Alexandra Grant.
He also made a directorial foray in the correct martial arts film Man of Tai Chi.
Source
In 1991 Keanu Reevess was the bassist of a band called Dogstar, oriented towards the Grundge genre, they managed to have appearances on MTV, and an interesting fan base.
They opened for David Bowie in 1995 in the US and Asia, and opened for Bon Jovi in New Zealand and Australia.
Source
In this publication, apart from commenting on the troubled life of Keanu Reeves, I make brief comments on the movies that I think are the most successful for this actor. I apologize for not including more films.
Keanu Reeves has been hit hard by life, but he has known how to face all the vicissitudes that come his way, showing generosity, gentleness and humility, characteristics that not many current Hollywood stars possess.
Thank you very much for reading this publication related to Keanu Reeves. See you next time.