---
A Man Escaped (1956)
Dir — Robert Bresson
---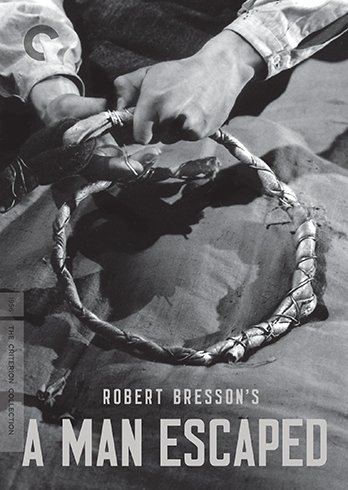 Source
---
Throughout film history, master filmmakers threw unkind words at each other, but there is no novelty there. Artists from all form of arts lashed out at their fellow contemporaries, and sometimes even at the dead ones from long before! But I've never met with any commentary by any filmmaker that belittles Robert Bresson, he's apparently one of the few film artists to enjoy the admiration of all.
Bresson was an idealist and a film purist. He had some radical thoughts about cinema, like using fresh actors all the time and some of them can be found in a collection of his notes called "Notes On Cinematography", here by Cinematography Bresson means film or movie, not exactly manning the camera, rather the whole visual setup, editing and so on. I would like to write more on the book in future.
A Man Escaped is his 1956 film based on memoirs of a French resistance fighter jailed in a Nazi prison camp. You can clearly guess what happens in the film from the title, a prisoner escapes from the jail. Bresson is not the type to invite you to see his film based on a promise of an unknown thrilling escape story. This is a drama. The story is taken from real life, all of it is true. However, I don't see A Man Escaped as a prison break film. I see it as a narrative of resilience and courage, despite the apparent enormity of the opposing force. It is also an art film, with well articulated shots and meaningful montage.
Lt. Fontaine (the real life soldier who escaped was André Devigny, and he later became a brigadier general in the French army) is caught and taken to a prison. He already tried to escape on the road to the jail, and subsequently was beaten severely. The prison camp is filled with French prisoners, not soldiers only, but also from all calls of life. Everyday there are executions on the yard. The prisoners hear the gunfires from their cells. The song of death. The air is filled with hopelessness and the people count the days of their demise. 10 thousand people were held in there, as history would tell us, 7 thousand died. But Fontaine soon gains courage and plots an attempt to escape, even when it seems impossible.
The film is told from Fontaine's perspective and via his stream-of-consciousness. Bresson wrote the screenplay and dialogues from the memoir. As the film progresses, we see the moral dilemma and fears Fontaine deals with. The doubts and uncertainty that overshadowed his goal. He runs the plan through his mind over and over again, but he falters, hesitates. He encourages others around him, to keep the fire of hope burning, but perhaps he was amassing hearts from them as well to pull him up.
Bresson thought of actors as not part of le cinema and he directed them as such. And that is why they can become the character without being the star. I thought of the performance of the actor quite to my taste.
I've seen too many Prisoner-of-war films and in most of them, escape attempts by the capture soldiers is a common scenario. Soldiers thought of it as their sacred duty as soldiers, not only to attain freedom, but to make things miserable for their captors, thus helping the war. This trope is often a source of comedy in such films. It is not the case in A Man Escaped, rather it is a bleak reminder. Perhaps that is because Bresson himself was also captured by the Nazis as a member of the French Resistance.
Hearing the story second hand and being there are two distinct experiences after all.
---

You can read more of my film and literature related articles on my hive blog page.
---