I wasn't expecting that sort of an outcome but I gotta hand it to you, it was the outcome that I got served; you'll too if you choose to watch this movie. It's nowhere close to being an entertainment and some will disagree that Films are not made to entertain. So, if you consider giving this film a chance, it won't be a regrettable decision.
Blow-Up (1966)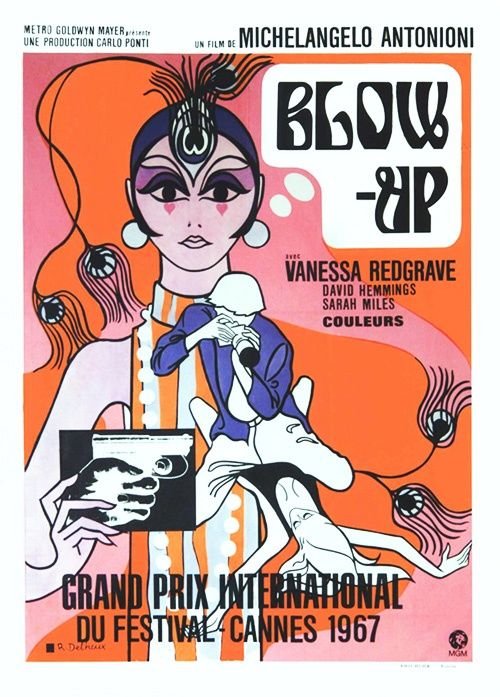 Image Source
What you think of when you hear the word Blow Up. Probably you're imagining that somewhere a bomb went off with a substantial amount of casualties. I suppose there are casualties here as well but it's hard to tell. Blow-Up (1966) isn't a movie where you'll see a mushroom cloud in the horizon. Okay, enough beating around the bush. As I have started to watch so many different films, I also stumble upon directors whose names I haven't heard let alone watch their creation. Michelangelo Antonioni is among the few directors whose movies that I have seen only recently and well Blow-Up (1966) is my first pick. It's tagged as a mystery thriller film although I'm doubtful about the thriller part but there's no shortage of mystery. In the lead we have David Hemmings who appeared as a London fashion photographer and also there are Vanessa Redgrave, Sarah Miles, John Castle and Peter Bowles among others.
The Plot
Life of a fashion photographer is glorious. Be constantly around beautiful famous people, fame that follows everywhere, talent that calls out to people and the luxury that everyone wants who doesn't have it. On the surface, that was the life Thomas (Hemmings) was living; even his Rolls-Royce would say how glamorous it is. But he grew tired of it; not only he was looking towards change but he was charging on that path. He had spent a night in the "doss house" to take pictures and chose to delay a photoshoot with a supermodel. He grew tired of the faces he saw and he found nothing interesting in them. He was more focused on completing his art book than anything else.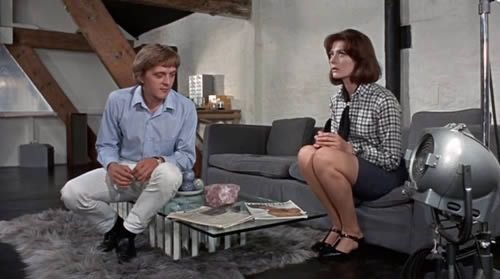 Image Source
Feeling burdened, he got out of the studio and ended up in the park where he found something he wasn't looking for or so he thought. He saw a couple spending quality time together and he decided to take pictures of them from different angles. What he was more intrigued in was the lady, so much so, when she was chasing him to get those photos back from him, he kept on clicking. For some reason, she wanted those pictures back and for his own reasons, he was not willing to give them up. Later on he went to meet his agent at a diner along with his art book. His art book was filled with intense contents, violent, he said; he thought the pictures from the park would give it a quiet peaceful finish. Later on, that lady went to collect those pictures from his studio. They spent quite some time together and it was obvious that he was interested in her as a subject or muse. He gave up the reels hoping that they would get into touch later to explore and stuff but he made a copy.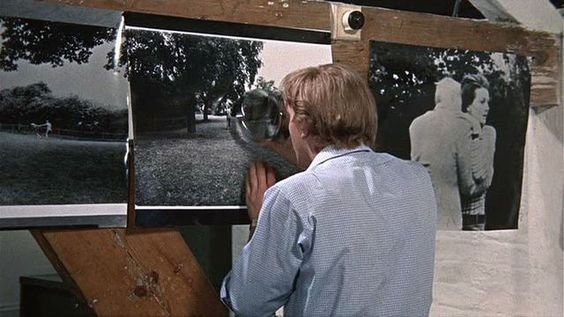 Image Source
After her departure, he decided to print those photos; blow 'em up. While examining the photos, he saw something strange and decided to zoom and enhance a section; he saw a hand peering out of the bush holding a gun. Instantly, he thought that someone was trying to kill the man in the picture. And from there, the story got twisted more and more.
What was it?
English doesn't mean Hollywood and I'm sure you all know that. The film was controversial back when it was released; it was deemed as too sexually explicit. If you see it now then you'll laugh at the "sexually explicit" content. Perhaps, it was still bold for the 60s but I'm not sure.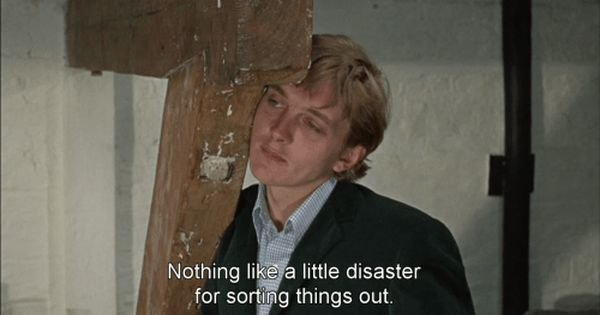 Image Source
What I figured out is Thomas was looking for an exit but didn't want to let go of what he had either. I did want to say a lot more about what I felt but I couldn't possibly do that without narrating the whole plot; I'm unwilling to do that. But this I will tell you, Thomas found out somehow not everything is what it appears to be and he found himself in the middle of a whirlwind while trying to figure it out. It's still a mystery and I think I saw what he was seeing and I was shocked or surprised or curious or all of the above.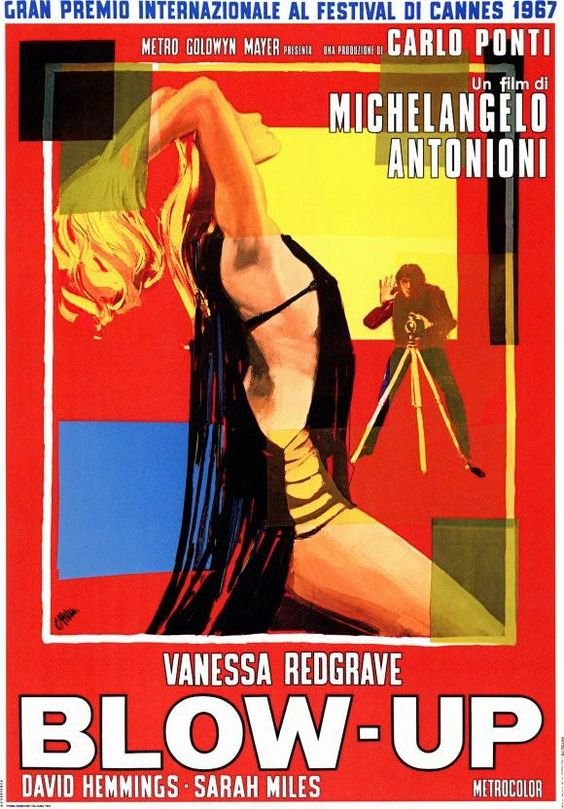 Image Source
---
Starting a movie at 4AM in the morning is never a good idea. Your mind is already fogged and you'd barely understand anything if it's a movie you haven't watched yet. Then again I'm not the best person to give you any advice and if I tell you that you shouldn't watch, the chances are I have already done that and that does make me sound hypocritical, slightly. None the wiser, yet I'm telling you what I did so you know what "to do" and "not to do." Perhaps you'll understand what I mean if you've done so already, or maybe you won't unless you try yourself. Go ahead, give it a try, see what you come up with. Maybe you'll find a different conclusion.
---