It was quite a unique experience and I suppose if you watch the film, I'm sure you'll feel the same way. For the past few months, as many movies as I have watched, all of them have given me a different perspective. As I have said in my previous posts, my taste for movies has changed drastically over the last few months and I'm really glad it did. Even though I had so much time to watch movies in earlier years, I can barely make time for any nowadays. I might have drifted off from the topic but this is certain that I have somewhat become picky about what I watch these days; not because of my change of preference but because of the lack of time. I don't have the luxury to spend hours watching 2 or 3 movies a day anymore but the film in question is unquestionably worth the time spent. Touch of Evil (1958) is beyond doubt a thoroughly enjoyable experience; I'll explain how it is enjoyable later on.
Touch of Evil (1958)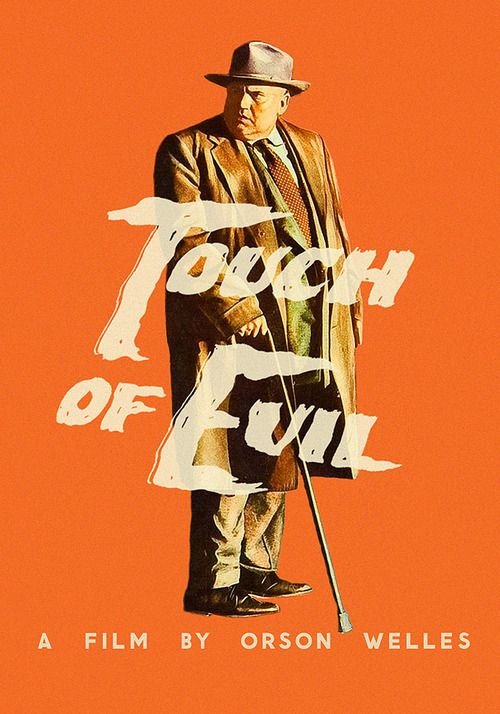 Image Source
It's not a movie that was made to give its audience hype. You'll be mistaken if you take it for an entertaining movie. Although it was categorized as a Noir film, it has a lot of Psychological Thriller elements. I'm not sure if you'd like it and then there are those who'd dimmed this movie highly. Orson Welles as a director and a producer is or was unconventional and even though this wasn't his first direction that I have watched it packs quite a punch. I'll describe more of the movie later on. Along with Orson Welles as a cast, there were Charlton Heston, Janet Leigh, Joseph Calleia, Akim Tamiroff, and Marlene Dietrich. Welles almost always plays a lead role in his directed films and this one is no exception either but the story "point of view" is surely different from all other movies.
The Plot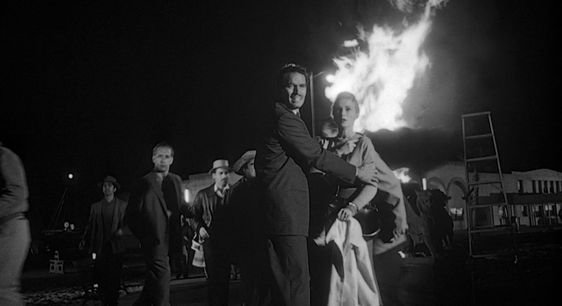 Image Source
Detective movies and shows are something I truly enjoy, but then again I'm a movie lover so there isn't much of a difference. Yes, I was supposed to let you know a little bit about the plot so here goes; it's a good cop bad cop movie. Yes, good fighting evil and we all know how it usually ends. It all starts from a lively night at the town near the U.S.– Mexico border and a car explosion stirred more than enough trouble. Miguel Vargas (Heston), who was leaving with his wife Susie (Leigh) the next morning, took a keen interest in this investigation. Along with local authorities joined Captain Hank Quinlan (Welles) and his longtime partner, Pete Menzies (Calleia). Vargas was in the middle of investigating the Grandi family, the head of the family specifically, and the investigation was proving to be more dangerous to him and his wife.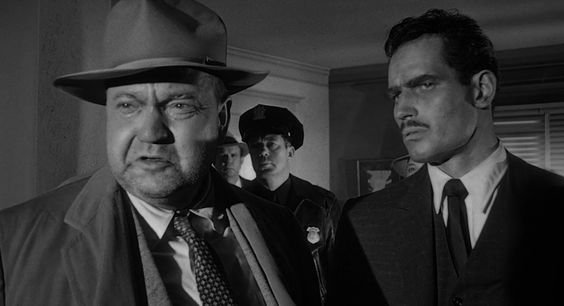 Image Source
While Susie gets picked up by one of the members of the mafia family and threatened, on the other hand, Vargas got acid thrown at him by another member while Vargas was chasing a lead of the car bombing. Soon after tailing the daughter of the deceased, the trail led Quinlan, Vargas, and others to her (the daughter's) newly and secretly wedded husband, Sanchez. It looked like an open and shut case with Sanchez being convicted of the crime. Quinlan and Menzies implicate Sanchez with dynamites that are used to destroy the car that his father-in-law was riding but Vargas was determined that the dynamites weren't there because he tossed the box a few minutes ago and found it empty. From then on it was "two can play the game" between Quinlan and Vargas.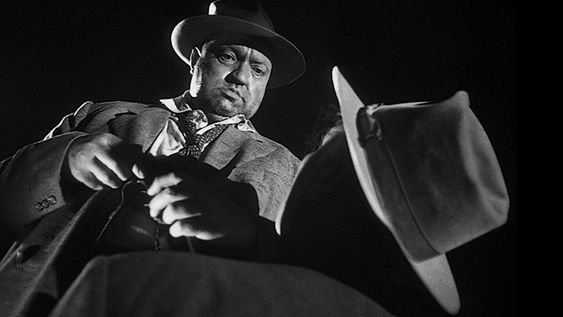 Image Source
Quinlan believed that he was doing the right thing by putting away guilty people behind bars and Vargas was hindering everything for him, whereas Vargas was sure that Quinlan was taking law into his own hands and framing people instead of thoroughly investigating and putting actual criminals behind bars. The film gets more and more complicated from that point onward.
What to say
There are many good cop bad cop movies and you may find similarities in movies even if you search in that decade or before that. But I did talk about a different point of view.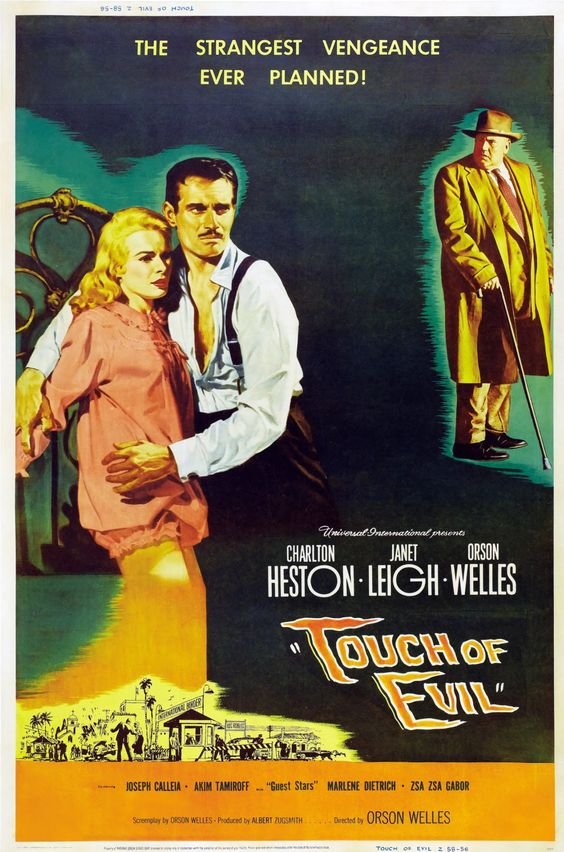 Image Source
Why did I talk about Point of View? Usually, you'd see that the movies are shown in lead roles' perspective or a third person's position but this one (to me it seemed) is from the point of view of the lead villain which is Quinlan aka Orson Welles. We all have our favorite villains and movies and tv shows circling around their lives but why was this different! The difference is the villain's perspective. You'll feel like that the whole film was captured through his focal point or how he's seeing things or how everything was turning against him; not all of it was like this but most of it was. Of course, there are movies where the good cop and bad cop fight over everything they believed in, and nowadays, in the movies, often the bad guys win to give us a taste that good doesn't always prevail.
And again, I'll say, try this one.