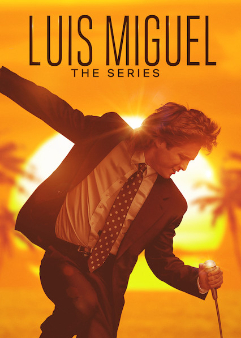 Source
Introduction
I love to watch Spanish TV shows of all sorts, I have probably seen a fair amount close to those in English by now as these shows keep popping up in huge amounts and although there are bad ones listed on Netflix, I also noticed that most of the unknown shows I give a try, those in Spanish seem to be more appealing than many of the English ones.
Luis Miguel was recommended probably because season 2 is now aired and there's a new episode every week. Until it was recommended, I had never noticed the show. But when I don't have at least 1 show to binge watch, I just give the mediocore ones a chance as well. With this I'm referring to the acting skills which are noticable from the first episode..
But now I've finished season 1, let's see what my thoughts are and if I'm going to continue watching season 2.
Biographical television series about a mexican singer
I often don't mind listening to latin music and am quite a fan too, but I haven't heard one single song in this full season that I liked. I don't like the genre Luis Miguel performs and honestly, I don't like his cocky attitude either.
I had no idea who Luis Miguel was, until I started looking up the tv show online and found the real Luis Miguel and even saw a few video clips of interviews and the resemblance with the actor in this series is amazing! I can only think that his cocky attitude is truly based on the role he plays, so he seems to be doing a great job there.
The story of Luis Miguel is sad
The story of Luis Miguel is honestly quite the sad one. His father is a singer and at one point, includes Luis Miguel in his performance after he trained him until he's exhausted. He's just a young child and the way he's being drilled by his father, is not healthy if you ask me. It seems as if he wants his son to become a bigger star than he ever was, and he's not going to let anyone stop him to make it happen.
He's also not the nicest man as he's a drunk and quite the agressive person from time to time. The sad thing is that his wife disappears at some point in the series and at the end of season one, it's still not clear what happened to her. During the season, I've suspected that she was killed by Luis' father and his uncle, I also thought she may have been in a mental institution and currently, I'm even in more doubt.
Where Luis thinks he's going to live the good life, being a star, he doesn't seem to notice that his father is trying to alienate him and his brothers from their mother, and that his mother is getting more and more depressed living with her husband. She's seeing his true colors and wants to leave him, but he treathens to kill her is she does.
It's not until many years later, when Luis Miguel is already in his teens, that he discovers that his mother is missing without anyone knowing where she is. He's starting an investigation with a private detective and tries to find out what happened without the media picking up the story. Meanwhile, he's continuing his career, falling in love, and alienates his father at some point as he's seeing his true intentions at that point.
The season ends with still a lot of questions unanswered and even though this show is not on my top list of Spanish shows to watch, I need to watch season 2 so that watching season 1 wasn't a complete waste of my time, lol. I call this show one to watch if you have nothing better to do, or maybe because you actually know the real performer Luis Miguel and are curious about his story. For me, a show like this should have some nice music in it that I like to listen to, which isn't the case.
But they now have me hooked thanks to the unanswered questions, and I will be continuing season 2 as well.
Here's the trailer of season 1:
Season 2 on Netflix
Season two is on Netflix, and you can expect a new episode every week.
If you're curious if season 2 is for you, here's the trailer:
What are your thoughts? Have you seen season 1? Or maybe started season 2?
No spoilers in the comments, please :-)