This publication was also written in SPANISH and PORTUGUESE.
James Cameron
working on the movie set.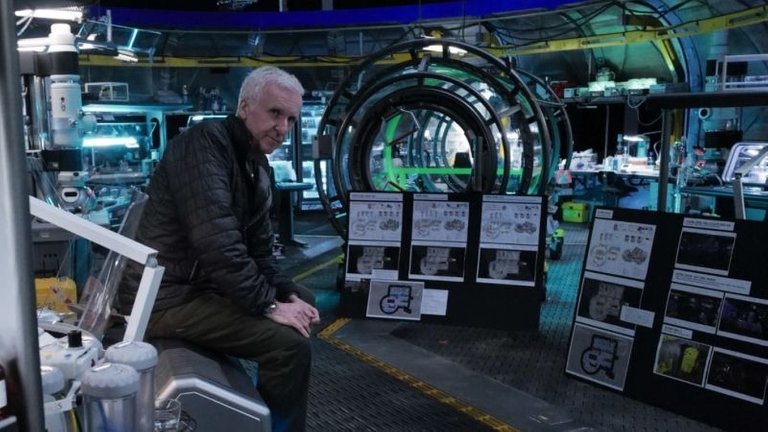 Categoria Nerd
Within filmmaker James Cameron's filmography, Avatar is one of my favorite movies and I can't wait to watch the second part (which unfortunately has been delayed no less than 07 times so far). Besides being a big fan of the work he does, I'm fascinated by the ocean and everything that's hidden out there. As-yet-uncatalogued creatures, wreckage and relics from decades past... All this captures my attention almost automatically.
Avatar 2 won't satisfy my curiosity, but the fact is that the second part will bring the entire underwater world of Pandora (the planet where the creatures from the movie live... a place I really wanted to have the opportunity to visit, even if in a fictional way... haha!) for the big screens of the Seventh Art, and I'm more excited than ever. After a long time without official images, a photo was recently released that shows a piece of this great underwater universe.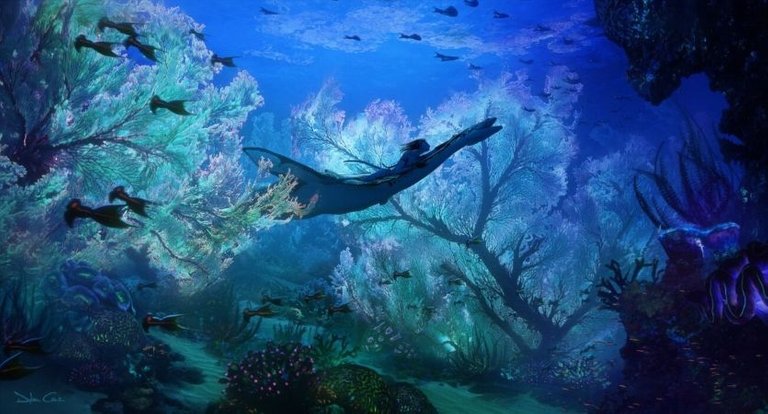 CinePOP
I know, I know... It's just a picture and I shouldn't be this excited. However, with Cameron as the director of this movie and knowing how much he enjoys exploring the "water" theme in his work, it's clear that he's going to do something as grand as the movie itself. In other of his movies, he's already done the same thing exploring "aquatic lands", but with a much less budget compared to what's being done with Avatar and its future sequels.
Considering what can be seen in the image above, in addition to a very obvious emphasis on the special effects (which continue at an increasingly higher level), it is possible to notice that Cameron is very detail-oriented (a characteristic that is very present in most of his movies) in the creation of everything that is present under water: animals, diversity of vegetation and stunning colors. The place I wanted to be real, so I could dive and experience the same adventure, haha!
So far, Avatar 2 is scheduled to open on December 22, 2022.
---
Avatar 2: una breve mirada bajo el agua.
Dentro de la filmografía del cineasta James Cameron, Avatar es una de mis películas favoritas y no puedo esperar a ver la segunda parte (que lamentablemente se ha retrasado no menos de 07 veces hasta ahora). Además de ser un gran admirador del trabajo que hace, me fascina el océano y todo lo que se esconde ahí fuera. Criaturas aún sin catalogar, restos y reliquias de décadas pasadas... Todo esto capta mi atención casi automáticamente.
Avatar 2 no satisfará mi curiosidad, pero el hecho es que la segunda parte traerá todo el mundo submarino de Pandora (el planeta donde viven las criaturas de la película... un lugar que realmente quería tener la oportunidad de visitar, aunque sea de manera ficticia... ¡jaja!) por las grandes pantallas del Séptimo Arte, y estoy más emocionado que nunca. Después de mucho tiempo sin imágenes oficiales, recientemente se lanzó una foto que muestra un pedazo de este gran universo submarino.
Lo sé, lo sé... Es solo una foto y no debería estar tan emocionado. Sin embargo, con Cameron como director de esta película y sabiendo cuánto disfruta explorando el tema del "agua" en su trabajo, está claro que va a hacer algo tan grandioso como la película en sí. En otras de sus películas, ya ha hecho lo mismo explorando "tierras acuáticas", pero con un presupuesto mucho menor en comparación con lo que se está haciendo con Avatar y sus futuras secuelas.
Teniendo en cuenta lo que se puede ver en la imagen de arriba, además de un énfasis muy obvio en los efectos especiales (que continúan en un nivel cada vez más alto), es posible notar que Cameron está muy orientado al detalle (característica que está muy presente en la mayoría de sus películas) en la creación de todo lo que está presente bajo el agua: animales, diversidad de vegetación y colores deslumbrantes. El lugar que quería que fuera real, para poder bucear y vivir la misma aventura, ¡jaja!
Por ahora, Avatar 2 debutará el 22 de Diciembre de 2022.
---
Avatar 2: Um breve olhar por baixo d'água.
Dentro da filmografia do cineasta James Cameron, Avatar é um dos meus filmes favoritos e eu mal posso esperar para assistir a segunda parte (que infelizmente, já foi adiada nada menos do que 07 vezes, até o momento). Além de eu ser muito fã do trabalho que ele faz, eu tenho um fascínio pelo que oceano e por tudo o que está escondido por aí. Criaturas ainda não catalogadas, destroços e relíquias de décadas passadas... Tudo isso capta à minha atenção quase que automaticamente.
Avatar 2 não irá satisfazer a minha curiosidade, mas o fato é que a segunda parte irá trazer todo o mundo subaquático de Pandora (planeta onde as criaturas do filme vivem... um local que eu queria muito ter a oportunidade de visitar, ainda que de maneira fictícia... haha!) para as telas grandes da Sétima Arte, e eu estou mais ansioso do que nunca. Depois de muito tempo sem imagens oficiais, foi recentemente divulgada uma foto que mostra um pedaço desse grande universo subaquático.
Eu sei, eu sei... É apenas uma foto e eu não deveria estar tão animado assim. No entanto, tendo o Cameron como diretor desse filme e sabendo o quanto ele gosta de explorar a temática "água" no seu trabalho, é claro que ele irá fazer algo tão grandioso quanto o próprio filme em si. Em outros dos seus filmes, ele já fez a mesma coisa explorando "terrenos aquáticos", mas com um orçamento muito menos em comparação ao que está sendo feito com Avatar e suas futuras sequências.
Considerando o que pode ser visto na imagem acima, além de um destaque muito óbvio sobre os efeitos especiais (que continuam em um nível cada vez mais alto), é possível notar que Cameron é muito detalhista (uma característica muito presente na maioria dos seus filmes) na criação de tudo o que está presente em baixo d´água: animais, diversidade de vegetações e cores estonteantes. O lugar que eu queria que fosse real, para eu poder mergulhar e viver essa mesma aventura, haha!
Por quanto, Avatar 2 está programado para estrear no dia 22 de Dezembro de 2022.