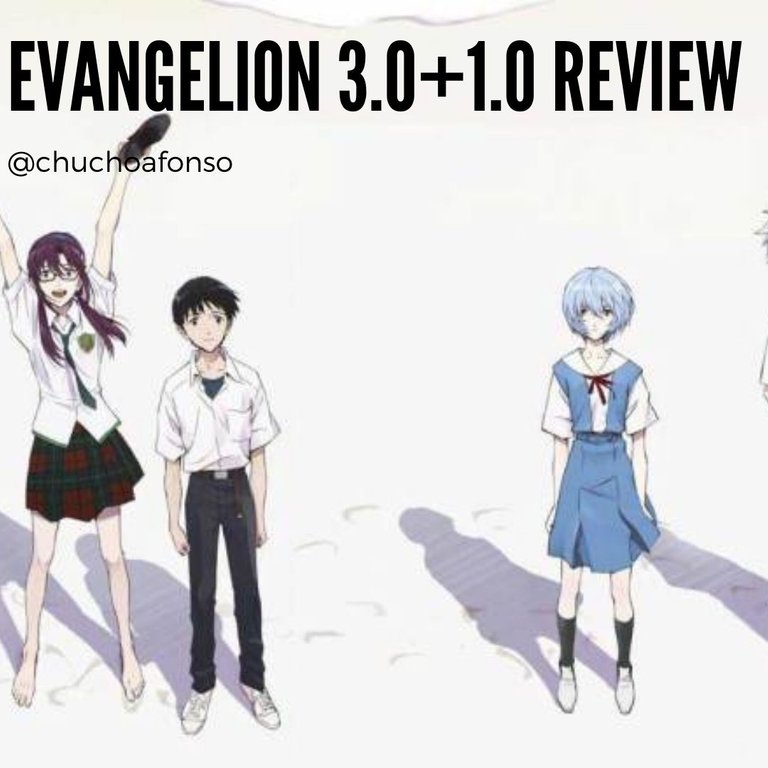 Tuvieron que pasar años para ver la conclusión de estas películas que fueron realizadas para poner la historia que originalmente su creador quería hacer sin limitaciones de presupuesto, la verdad es que las primeras 3 películas fueron decepcionantes, fueron buenas obviamente pero es por que básicamente agarraron todo lo de la serie y lo hicieron calidad HD, pero de resto poca era la innovación, pero esta cuarta parte si se siente diferente, vemos al protagonista por fin reflexionar, pensar las cosas, entender el caos en que el habita, la película tiene momentos de acción sin parar de hecho hay una escena que dura hasta media hora con los evas peleando, algo genial, pero también se toma sus momentos filosóficos, para entender a los protagonistas, la animación es increíble, hay uno que otro momento de pelea hecho en 3D que a mi parece tosco, no soy muy fanático de hacer esas escenas hibridas de 3D con 2D, pero bueno la verdad es que están decentes, la verdad el problema es que pasaron casi 10 años para ver esta conclusión, y siempre es bueno ver algo de el anime evangelion especialmente si eres fanático pero se espero tanto tiempo que las expectativas posiblemente no las cumpla.
It took years to see the conclusion of these movies that were made to put the story that originally its creator wanted to do without budget constraints, the truth is that the first 3 movies were disappointing, they were obviously good but it is because they basically grabbed everything from the series and made it HD quality, but otherwise little was the innovation, but this fourth part if you feel different, we see the protagonist finally reflect, think about things, understand the chaos in which he inhabits, the movie has moments of non-stop action, in fact there is a scene that lasts up to half an hour with the evas fighting, something great, but it also takes its philosophical moments, to understand the protagonists, the animation is amazing, there is one or two moments of fighting done in 3D that seems clumsy to me, I'm not a big fan of making those hybrid scenes of 3D with 2D, but well the truth is that they are decent, the problem is that it took almost 10 years to see this conclusion, and it's always good to see something from the anime evangelion especially if you are a fan but I waited so long that the expectations may not be fulfilled.
Pero hablemos algo claro, es buena película, claro que si, y si hubiera salido 4 años atrás posiblemente fuera una gran joya, pero se quedaría a la sombra de la obra original que tiene mensajes mas crudos y si un poco mas confusos que no todos entenderán pero al fin de cuentas es una obra magistral que a muchos a puesto en estado catártico, recomiendo ver esta conclusión si fuiste fanático o eres fanático, si no la verdad mejor puedes ver el resumen.
But let's be clear, it's a good movie, of course it is, and if it had come out 4 years ago it would have been a great jewel, but it would remain in the shadow of the original work that has more raw messages and if a little more confusing that not everyone will understand but in the end it is a masterpiece that has put many in a cathartic state, I recommend watching this conclusion if you were a fan or are a fan, if not the truth you better watch the summary.