Our "Work" ethic has changed many times over the centuries. During the sixteenth century, Puritans redefined work as an obligation that benefited everyone in society and the idea of "good works" was formed.
They viewed diligent work as a sign of grace, while Catholics saw work as a requirement and a manifestation of the faith they received. This tethering of faith and work would remain throughout the centuries as the world evolved.
When Puritans settled in the New World, they brought their work ethic along with them. They escaped religious persecution and created the idea of the Colonial American Dream, built on the idea that good works brought prosperity.
They built a society in the New England area based on the beliefs of ambition, hard work, and the constant pursuit of success, and believed that by living this way, their workmanship on Earth would be rewarded in heaven.
Today, many people still have an unhealthy work-life, and "National Workaholics Day" is used to help remedy that. To have a healthy lifestyle "rest" is also important to our everyday well-being in my opinion.
Side Note: Today's Topical event "National Workaholics Day" ⏱ is also listed on the "National Calendar" Website for Monday the 5th July 2021.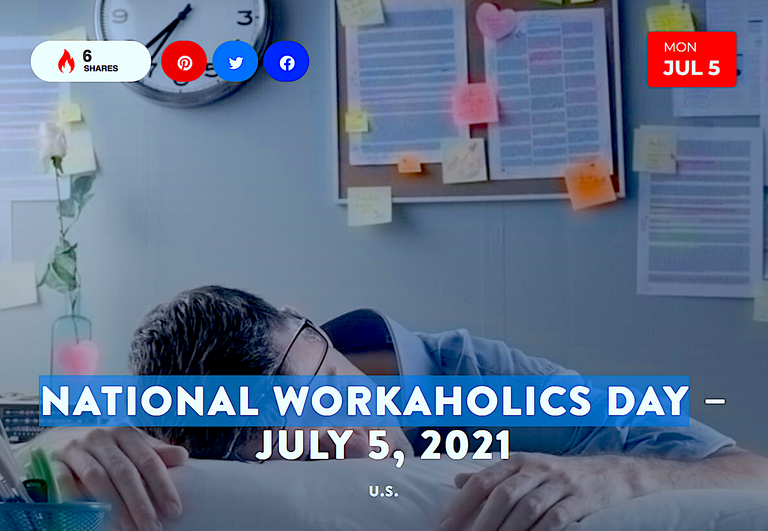 Some of the above "Text Info" & "Image" sourced from [here]
The "National Calendar" Website Link [here].
Now some appropriate Music for Today's Topical event...
After a quick search on YouTube I was instantly reminded of an old (1980) Movie with the title song "Nine To Five". Which seems a perfect Music choice for Today's Topical event. In my humble opinion 😎
My Song Selection for Today is: "9 to 5" Sung by the popular "Country" singer ©Dolly Parton
(Nine to Five) Movie Soundtrack on ©YouTube
Above Music Video Source: ©YouTube [Here]
Also notice that the special Twitter "hash tag" #NationalWorkaholicsDay is currently trending!
So you can start interacting with many others on Today's topical event, by Tweeting there NOW!...
Many Thanks for reading and listening, I hope that you all learned something new and were entertained. As we all need to keep our brains active!
see you all again very soon... 👋