I think even if you live in a poor economic Country, most people can afford to buy chicken. Fried on a Bar-B-Que can taste delicious, or possibly purchased from one of the many "Take Away" shops that are everywhere.
American fried chicken is considered to be the best, but Americans were not the first to do it. Europeans were already frying chickens back in the Middle Ages, but it was the Scottish immigrants to the U.S. who brought with them their tradition of deep-frying chicken in fat.
Their preferred style of eating fried chicken was with no seasoning so their recipe was slightly bland. African slaves of the Scottish immigrants adopted the fried chicken recipe. They often added even more spices as their own unique touch in the way fried chicken was cooked. This dish became a staple in many Southern-American households when African slaves became cooks there.
The earliest known recipe for fried chicken was written by "Hannah Glasse" in the 18th century in her cookbook titled "The Art of Cookery Made Plain and Easy". Her recipe was strangely named 'To Marinate Chickens,' and its first publication was in the year 1747.
Text Source: National Today
Side Note:
Today's Topical event "National Fried Chicken Day" 🍗 is also listed on the "National Calendar" Website for Tuesday the 6th of July 2021.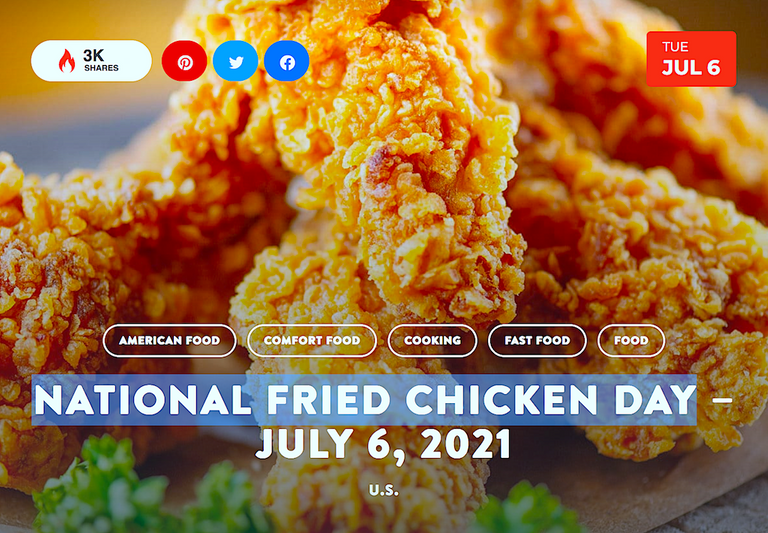 Some of the above "Text Info" & "Screen Shot" Image sourced from [here]
The "National Calendar" Website Link [here].
Now some appropriate Music for Today's Topical event...
If you have never seen any of the "Spitting Image" UK TV Entertainment shows, then I think this song and video will make you laugh. The puppets were made in likeness of famous people (both Actors and Politicians). Nobody was safe from the "Spitting Image" creators back in the 1980's LOL
My Song Selection for Today is: "The Chicken Song" (1986) from The "Spitting Image" UK TV Series on ©YouTube
Above Music Video Source: ©YouTube [Here]
Also notice that the special Twitter "hash tag" #NationalFriedChickenDay is currently trending!
So you can start interacting with many others on Today's topical event, by Tweeting there NOW!...
Many Thanks for reading and listening, I hope that you all learned something new and were entertained. As we all need to keep our brains active!
see you all again very soon... 👋