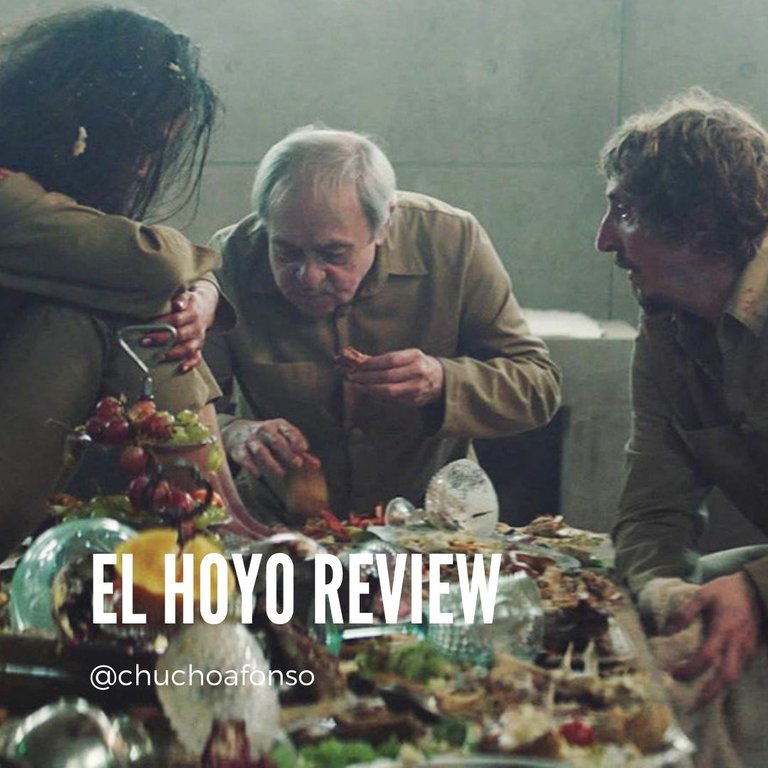 Este filme dirigido por Galder Gaztelu-Urrutia y protagonizado por el actor español Iván Massagué es una película que va de la mano de filmes como mother, una película con mensajes sociales y una historia entre comillas existente dentro del mundo que se nos plantea, las bases de los argumentos están puestas sobre pensamientos profundos y existencialistas, básicamente el hoyo trata de una prisión, donde la comida va bajando de nivel en nivel, y cada nivel mas inferior las personas comen menos, al punto de la locura, la película nos plantea esto como una temática de clases social, con una exposición visual bastante cruda y que no es acta para personas muy sensibles, y la interpretación de la misma puede ser demasiado grande, cada dialogo estuvo bien pensando para dar forma al protagonista que poco a poco comienza a corromperse pero sin querer dejarse atrapar por todo este entorno de oscuridad que lo rodea.
This film directed by Galder Gaztelu-Urrutia and starring the Spanish actor Ivan Massagué is a film that goes hand in hand with films like mother, a film with social messages and a story in quotation marks existing within the world that we are raised, the bases of the arguments are placed on deep and existentialist thoughts, basically the hole is about a prison, where the food is going down from level to level, and each lower level people eat less, to the point of madness, the film presents this as a theme of social classes, with a fairly raw visual exposure and that is not act for very sensitive people, and the interpretation of it can be too large, each dialogue was well thought to shape the protagonist who gradually begins to corrupt but without wanting to be trapped by all this environment of darkness that surrounds it.
Pero como todo no puede ser perfecto, en el arco final la película decae bastante, ya que empiezan a contradecirse los mensajes, y empiezas a entender que están en una prisión que en ese estado latente que plantean el humano no podría ser ni existir, que cualquier llegaría a un estado salvaje, la película tiene un buen desarrollo en sus dos primeros actos, pero llegados al final, siento que el guion se vuelve flojo, y comienzan a ver escenas cada ves mas gore solo por mostrar una especie de crudeza, la película como ya dije no es para todo el mundo, pero si eres cinéfilo si te recomiendo verla.
But as everything can not be perfect, in the final arc the film declines quite a lot, as they begin to contradict the messages, and you begin to understand that they are in a prison that in that latent state that raise the human could not be or exist, that any would reach a savage state, the film has a good development in its first two acts, but reached the end, I feel that the script becomes loose, and begin to see more and more gore scenes just to show a kind of rawness, the film as I said is not for everyone, but if you are a moviegoer if I recommend watching it.
---
Posted via proofofbrain.io