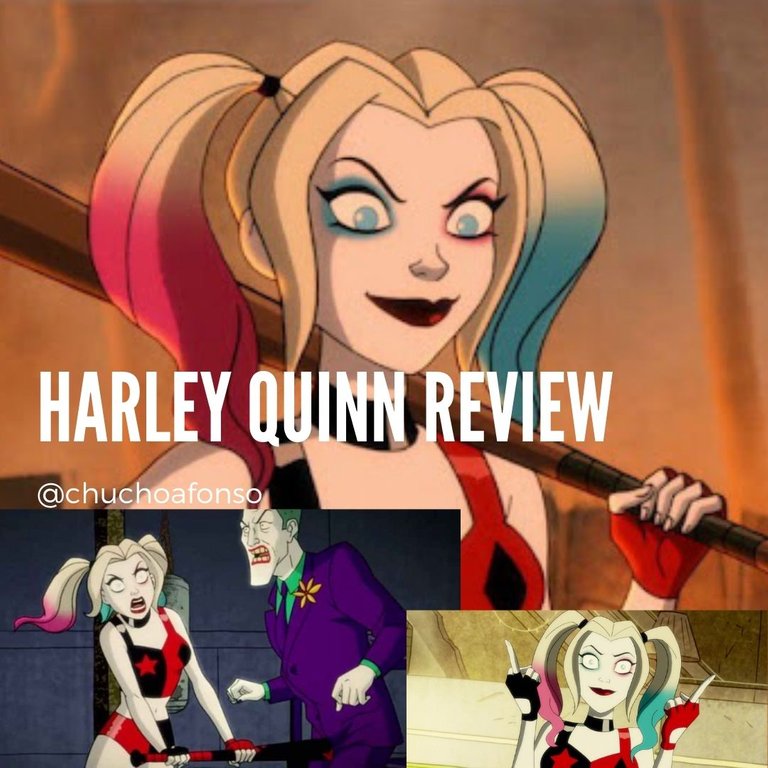 La serie de harley quinn es una de esas caricaturas que te hace preguntarte, por que rayos DC comics no puede hacer algo así live action, acabo de ver las dos primeras temporadas de la serie, y la representación de harley como una villana pero no tan mala pero que tampoco llega a nivel de antihéroe, le queda perfecto, vemos a un personaje emocionalmente inestable, loco pero con la suficiente cordura como para amar un equipo y tener empatía, claramente esta serie inspiro a la película de James Gunn de suicide squad, tiene es humor negro bastante cargado que no tiene miedo a mostrar violencia por todos lados con el mas crudo gore y usar chistes que no tienen nada de políticamente correcto, creo que lo mejor de esta serie son los completos, existen varios personajes que enriquecen la historia, ejemplo batman, king shark, el joker, los villanos clásicos de la liga de la justicia, todo eso forma parte del ecosistema de esta serie y hace que en cierto modo tenga creado su propio mundo pero que a la ves podamos identificar rápidamente a los personajes sin mucha presentación.
The harley quinn series is one of those cartoons that makes you wonder, why the heck DC comics can't do something like this live action, I just watched the first two seasons of the series, and the representation of harley as a villain but not as bad but not to the level of antihero, it fits perfectly, we see a character emotionally unstable, crazy but with enough sanity to love a team and have empathy, clearly this series inspired James Gunn's suicide squad movie, I think the best thing about this series are the complete characters, there are several characters that enrich the story, for example batman, king shark, the joker, the classic villains of the justice league, all that is part of the ecosystem of this series and makes that in a way it has created its own world but at the same time we can quickly identify the characters without much introduction.
Hay que entender dos cosas para ver esta serie no es la misma harley de la serie animada de los noventa ni tampoco la de los comics es una versión distinta con poco menos mala, que agarra un poco de cada una para ir construyendo una versión nueva que da cierta libertad creativa a la hora de desarrollarla, lo segundo que debemos entender que si bien la serie tiene una historia de por medio que tiene cierta continuidad la verdad es que en primera instancia es una comedia con humor negro, eso es lo principal de la misma, con humor bastante absurdo y que por momentos se toma a villanos como Bane a chiste o pone a todos en situaciones ridículas, algo que se ha dicho mucho es que la serie tiene mensajes feminista forzados, yo no lo vi asi, si tiene mensajes feministas, pero creo que toca la tecla correcta y si muchos de los problemas que resaltan son una realidad, lo hace con bastante humor al estilo de series como south park que toca temas importantes con el estilo de parodia para hacer llegar su mensaje, no lo hace tan bien ejecutado como south park pero si le llega bastante cerca, puedo decir que recomiendo esta serie, en especial hoy que es el batman day, perfecto para entrar en una buena maraton de fin de semana.
You have to understand two things to see this series is not the same harley of the animated series of the nineties nor the comics is a different version with a little less bad, that grabs a little of each to build a new version that gives some creative freedom when it comes to develop it, the second thing we must understand that although the series has a story in between that has some continuity the truth is that in the first instance is a comedy with black humor, that's the main thing about it, with quite absurd humor and that at times villains like Bane is taken as a joke or puts everyone in ridiculous situations, something that has been said a lot is that the series has forced feminist messages, I did not see it that way, it does have feminist messages, but I think it touches the right key and if many of the problems that are highlighted are a reality, it does it with enough humor in the style of series like south park that touches important issues with the style of parody to get its message across, it does not do it as well executed as south park but it comes pretty close, I can say that I recommend this series, especially today that is batman day, perfect to get into a good weekend marathon.
---
Posted via proofofbrain.io