This publication was also written in SPANISH and PORTUGUESE.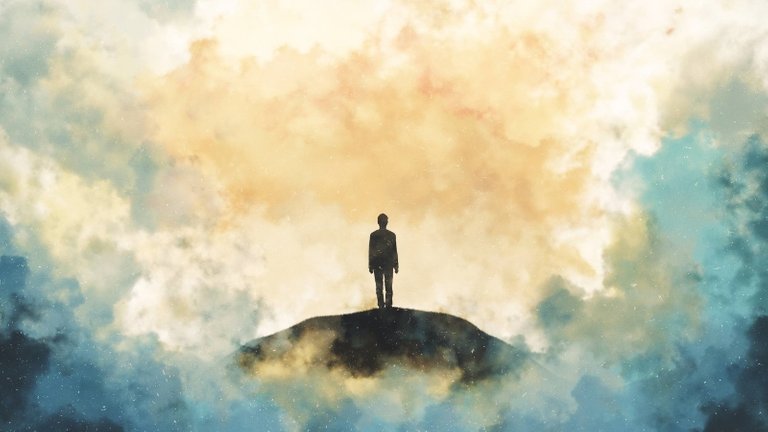 Zedge
After watching the movie Nomadland (which talks about the lives of nomads traveling to various places within the United States), my adventurous spirit rose to a new level. I don't say I'm thinking about becoming a nomad (because I think that would be too "radical" for me), but the idea of ​​traveling even more, and seeing as many countries as I can, without worrying about luxuries (expensive hotel accommodation, extravagant food or drink, and famous tours, for example) has become my newest, big, and intriguing "obsession".
The phrase that gives title to this post is said by the protagonist in the movie, when she is asked about her house, where she lives. Categorically (and in a poetic tone), the answer came naturally, and with it, the question about where our houses really are. If someone asked you where you live, where your house is... What would you say? Reflective questions that bring to the table issues that need to be discussed (especially for people who are still very attached to their "homes", in a more physical and perhaps "superficial" aspect).
It's not necessarily a problem to be attached to your own house, but I believe it becomes a problem (and needs to be rethought) when you can no longer imagine being away from it, with a total dependence on being at house, to feel at your home. Of course, we feel much more at ease in our houses... But homes are not necessarily our homes, because homes at their core can be any place where we feel we are okay. So I think the definition of "house" and the definition of "home" are not always the same.
Your home could be on top of a mountain, a trailer in the middle of nowhere, a boat adrift in the ocean, and I know this can all feel "utopian" (and doesn't need to be interpreted literally), surreal, or even a "crazy"... But the fact is, it doesn't matter we're going to be, because if we're okay and feeling like we're doing the right thing for ourselves, that's where we should stay and ignore any outside opinion of what it is. a "normal" house according to normative standards and which is best accepted as proof of "success".
---
Hogar está donde está nuestro corazón.
Después de ver la película Nomadland (que habla sobre la vida de los nómadas que viajan a varios lugares dentro de los Estados Unidos), mi espíritu aventurero se elevó a un nuevo nivel. No digo que esté pensando en convertirme en nómada (porque creo que sería demasiado "radical" para mí), sino la idea de viajar aún más, y ver tantos países como pueda, sin preocuparme por los lujos (alojamiento caro en un hotel, comida o bebida extravagante y salidas famosas, por ejemplo) se han convertido en mi más nueva, grande e intrigante "obsesión".
La frase que da título a este post la dice la protagonista de la película, cuando le preguntan por su casa, donde vive. Categóricamente (y en tono poético), la respuesta vino de forma natural, y con ella, la pregunta sobre dónde están realmente nuestras casas. Si alguien te preguntara dónde vives, dónde está tu casa... ¿Qué dirías? Preguntas reflexivas que traen a la mesa temas que necesitan ser discutidos (especialmente para personas que todavía están muy apegadas a sus "hogares", en un aspecto más físico y quizás "superficial").
No es necesariamente un problema estar apegado a tu propia casa, pero creo que se convierte en un problema (y necesita ser revisado) cuando ya no puedes imaginar estar lejos de ella, con una dependencia total de estar en casa, para sentirte en su hogar. Por supuesto, nos sentimos mucho más a gusto en nuestras casas... Pero las casas no son necesariamente nuestros hogares, porque los hogares en su esencia pueden ser cualquier lugar donde nos sintamos bien. Así que creo que la definición de "casa" y la definición de "hogar" no son siempre las mismas.
Tu hogar podría ser la cima de una montaña, un remolque en medio de la nada, un bote a la deriva en el océano, y sé que todo esto puede parecer "utópico" (y no necesita ser interpretado literalmente), surrealista o incluso un " loco"... Pero el hecho es que no importa que vayamos a estarlo, porque si estamos bien y sentimos que estamos haciendo lo correcto por nosotros mismos, ahí es donde debemos quedarnos e ignorar cualquier opinión de lo que es una casa "normal" de acuerdo con los estándares normativos y que se acepta mejor como prueba de "éxito".
---
Lar é onde o nosso coração está.
Depois de assistir ao filme Nomadland (que fala sobre à vida dos nômades viajando por vários lugares dentro dos Estados Unidos), o meu espírito aventureiro subiu um novo nível. Eu não digo que eu estou pensando em me tornar um nômade (porque eu acho que isso seria "radical" demais para mim), mas a ideia de viajar ainda mais, e conhecer o máximo de países que eu puder, sem me preocupar com luxos (hospedagem em hotel caro, comidas ou bebidas extravagantes e passeios famosos, por exemplo) tem se tornado à minha mais nova, grande e intrigante "obsessão".
A frase que dá título a esse post é dita pela protagonista no filme, quando ela é questionada sobre qual é a sua casa, onde ela mora. Categoricamente (e em um tom poético), a resposta veio naturalmente, e com isso, o questionamento sobre onde realmente ficam as nossas casas. Se alguém te perguntasse em qual lugar você mora, onde é a sua casa... O que você responderia? Perguntas reflexivas, e que trazem para a mesa assuntos que precisam ser discutidos (principalmente para as pessoas que ainda são muito apegadas às suas "casas", em um aspecto mais físico e talvez "superficial").
Não é necessariamente um problema ser bem apegado à sua própria casa, mas eu acredito que isso se torna um problema (e precisa ser revisto) quando você não consegue mais se imaginar longe dela, com uma dependência total de estar em casa, para se sentir no seu lar. Naturalmente, nós nos sentimos muito mais à vontade em nossas casas... Mas as casas não necessariamente os nossos lares, porque lares em sua essência podem ser qualquer lugar onde nós sentimos que nós estamos bem. Então, eu acho que a definição de "casa" e a definição de "lar" nem sempre são as mesmas.
Seu lar pode ser o topo de uma montanha, um trailer no meio do nada, um barco à deriva no oceano e eu sei que tudo isso pode parecer "utópico" (e não precisa ser interpretado ao pé da letra), surreal, ou até uma "maluquice"... Mas o fato é que não importa nós vamos estar, porque se nós estivermos bem e sentindo que estamos fazendo a coisa certa para nós mesmos, é justamente lá que nós devemos ficar e ignorar qualquer opinião externa do que é uma casa "normal" de acordo com os padrões normativos e que são mais bem aceitos como uma comprovação de "sucesso".
---
Posted via proofofbrain.io