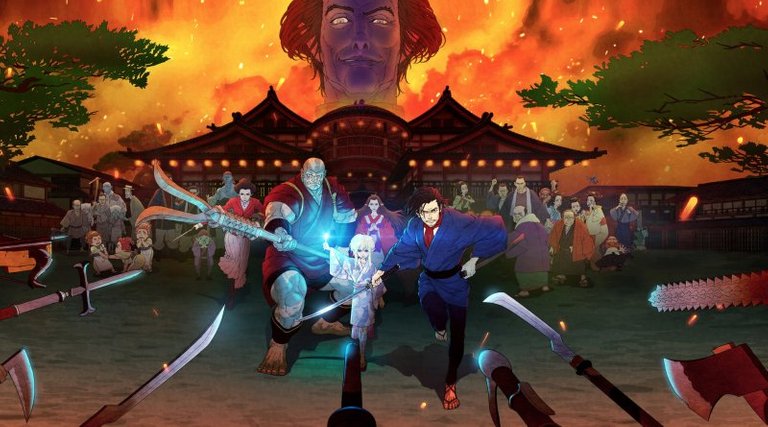 Source
Let's place ourselves in the first years of the Meiji era, an important event in Japanese history but to that we add orcs and elves and we will obtain a fantastic result such as Bright: Soul of Samurai.
A ronin samurai named Izo and an orc named Raiden join forces to transport a young female elf to safety surrounded by elves. This young elf is the bearer of a special power and hence the title given to this film. The journey to this place is full of adventure, action and amazing fights that will keep us entertained from start to finish, in fact I can assure you that this animation is full of action.
Ubiquémonos en los primeros años de la era Meiji, un importante suceso en la historia japonesa pero a eso le agregamos orcos y elfos y obtendremos un resultado fantástico como lo es Bright: Alma de Samurái.
Un samurái ronin llamado Izo y un orco llamado Raiden unen fuerzas para trasladar a una joven elfa a un lugar seguro rodeado de elfos. Esta joven elfa es la portadora de un poder especial y de ahí el título que se le da a esta película. El viaje hacia este lugar está lleno de aventuras, acción y peleas asombrosas que nos mantendrán entretenidos de principio a fin, de hecho les puedo asegurar que esta animación está llena de mucha acción.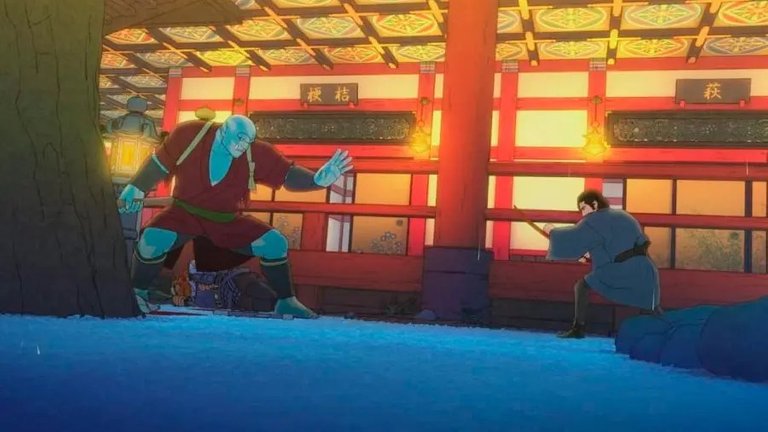 Source
Speaking of animation, it is not the conventional one that we usually see in anime since it is a Japanese-American production and the distinction is remarkable but there is no doubt that they did an excellent job being an impeccable production in every sense.
The characters shine on their own. Izo is the typical serious samurai who fights for his convictions and purposes, Raiden in turn is a charismatic orc with surprising strength who was tied to his boss by a promise, while he abused him by ordering him to continue killing, like a mercenary. . The elf girl is a rebellious and charming girl.
Most of the villains are no big deal except for Izo's teacher who has an icy character capable of freezing anyone's emotions. Their ambition for power is also their weakness, but in general terms I would have liked to see better elaborate villains, it seems to me that they focused much more on the heroes, leaving their counterpart somewhat neutralized.
Hablando de la animación, no es la convencional que solemos ver en el anime ya que es una producción japo-americana y es notable la distinción pero no cabe duda que hicieron un excelente trabajo siendo una producción impecable en todo sentido.
Los personajes brillan por sí mismos. Izo es el típico samurái serio que lucha por sus convicciones y propósitos, Raiden a su vez es un orco carismático con una fuerza sorprendente el cual estaba atado a su jefe por una promesa, mientras este abusaba de el ordenándole que siguiera asesinando, como un mercenario. La chica elfa es una chica rebelde y encantadora.
La mayoría de villanos no son la gran cosa a excepción del maestro de Izo que tiene un carácter gélido capaz de congelar las emociones de cualquiera. Su ambición de poder es también su debilidad pero en términos generales me hubiese gustado ver villanos mejor elaborados, me parece que se centraron mucho más en los héroes dejando neutralizados un poco a su contraparte.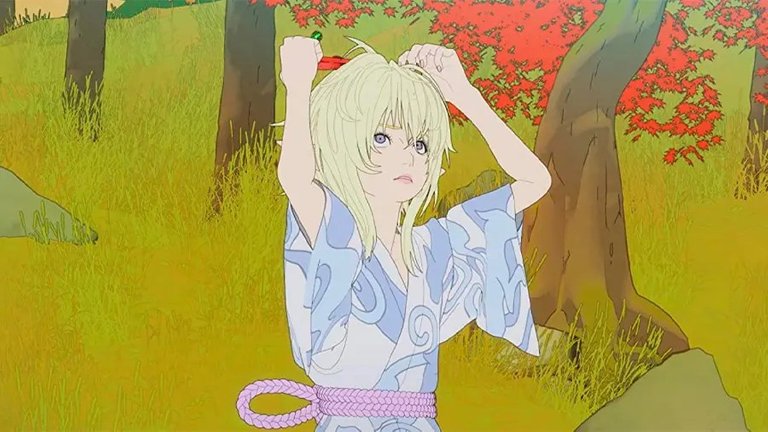 Source
The soundtrack of this animation is also peculiar, it does not have academic music but rather a fused progressive rock and jazz that contrasts with the animation but gives an incredible force to the battles and this seemed to me to be a rather unique aspect, that is to say it is unusual knowing that the film is based on a historical context.
Perhaps for the most orthodox, this anime is rare to see because, as he said, it does not contain the animation we are used to, apart from containing a lot of CGI that does not detract from the animation as in other films.
It seems to me that Netflix is ​​preparing a whole Universe with this production and we will soon see more titles related to this film, it is just a speculation and also a little research that I did on the net. If so, I would love to see something new in this adventure as it was very entertaining.
La banda sonora de esta animación es también peculiar, no cuenta con música académica sino más bien con un rock progresivo y jazz fusionados que contrasta con la animación pero le da una fuerza increíble a las batallas y esto me pareció un aspecto bastante singular, es decir es poco usual sabiendo que la película se basa en un contexto histórico.
Quizás para los más ortodoxos este anime sea raro de visualizar por como dijo no contiene la animación a la que estamos acostumbrados a parte de contener mucho CGI que no le quita fuerza a la animación como en otras películas.
Me parece que Netflix está preparando un Universo entero con esta producción y pronto veremos más títulos relacionados con esta película, es solo una especulación y también un poco de investigación que hice por la red. De ser asi me encantaría poder ver algo nueva en esta aventura ya que fue muy entretenida.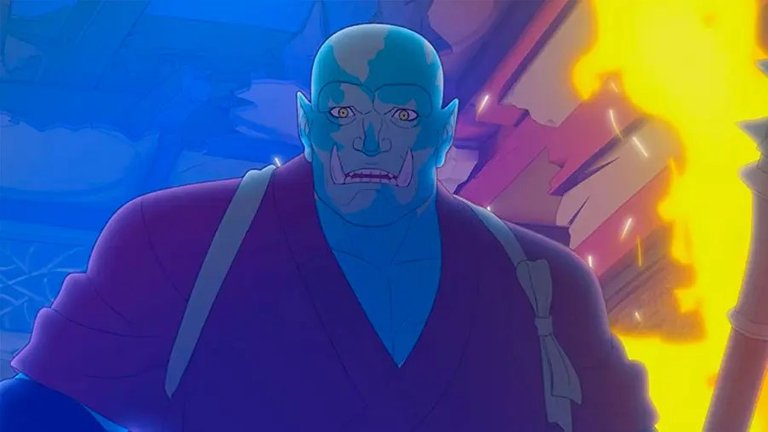 Source
I cannot say that it is one of the best titles I have seen in my life because the story despite being entertaining is quite conventional and predictable but without a doubt it is an anime with its own strength and that little by little you can create your own voice in it. world. In my opinion the characters are charismatic enough to be able to see more installments and enjoy their adventures with all the pleasure in the world.
I really liked this Netflix work, as I said before it is not the most original I have seen at the plot level but it is at the animation and soundtrack level. It has a unique look due to the fusion of American and Japanese animators. I remember a lot the appearance of the amerimanga in the 90's, some of them quite grotesque in my opinion like Aeon Flux or Alexander but in this case everything looks quite clean and much more realistic than most anime.
No puedo decir que es de los mejores títulos que he visto en mi vida porque la historia a pesar de ser entretenida es bastante convencional y predecible pero sin duda es un anime con su propia fuerza y que poco a poco puede crear su propia voz en este mundillo. A mi parecer los personajes son lo suficientemente carismáticos para poder ver más entregas y disfrutar de sus aventuras con todo el placer del mundo.
Me gustó mucho este trabajo de Netflix, como dije anteriormente no es lo más original que he visto a nivel de trama pero sí que lo es a nivel de animación y banda sonora. Tiene un aspecto único debido a la fusión de animadores americanos y japoneses. Recuerdo mucho el aspecto del amerimanga en los 90's, algunos de ellos bastante grotescos a mi parecer como Aeon Flux o Alexander pero en este caso todo se ve bastante limpio y mucho más realista que la mayoría de animes.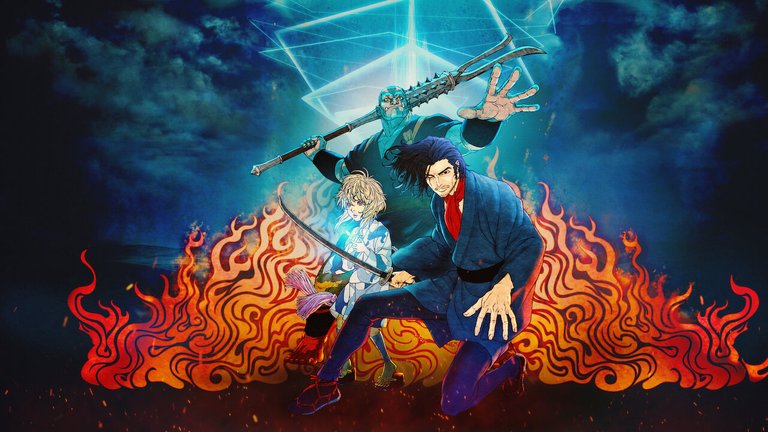 Source
We can easily appreciate this by observing the slightly exaggerated gestures of the characters who, despite some of them belonging to a fantastic world, retain their rather elaborate and realistic anthropomorphic part.
In a nutshell Bright: Soul of Samurai is an excellent movie that I am sure many will enjoy, especially for people who like action, adventure and fantasy.
Podemos apreciar esto fácilmente observando los gestos poco exagerados de los personajes que, a pesar de pertenecer algunos de ellos a un mundo fantástico conservan su parte antropomórfica bastante elaborada y realista.
En pocas palabras Bright: Alma de Samurai es una excelente película que estoy seguro que muchos van a disfrutar, sobre todo para las personas que les gusta la acción, las aventuras y la fantasía.