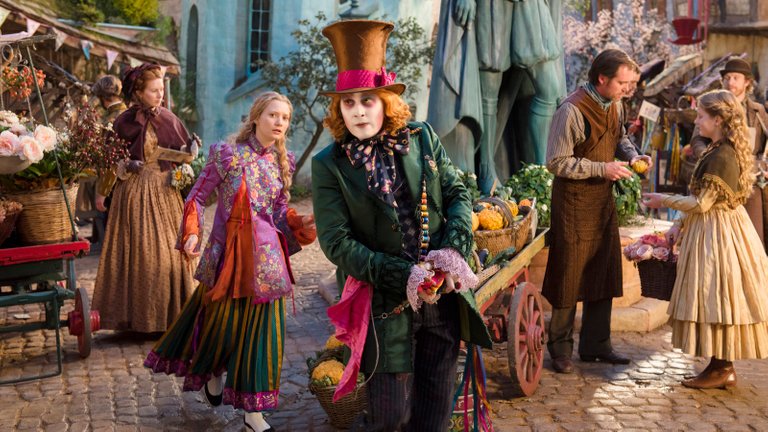 Source
Greetings to all my dear hivers, I had not come here to leave a post for a long time but I have come back with a lot of desire to write and to show you my opinion about what I have been seeing lately.
I really enjoyed the first time I saw Alice in Wonderland by Tim Burton, one of my favorite directors, and I quite liked this sequel even though Burton had nothing to do with the direction of this movie.
For those who have not seen the movie is based on three years after the original, where Alice is a captain of a ship curiously called Wonderland. This aspect is not very important in the film but rather when for certain situations she manages to reach Wonderland again facing a new adventure and guess who? Against time itself.
Saludos a todos mis queridos hivers, tenía mucho tiempo sin acercarme por aquí a dejar un post pero he vuelto con muchas ganas de escribir y de enseñarles mi opinión sobre lo que he estado viendo últimamente.
Disfrute muchísimo la primera vez que vi Alicia en el país de las Maravillas de Tim Burton, uno de mis directores favoritos y esta secuela me gusto bastante a pesar de que Burton no haya tenido nada que ver con la dirección de esta película.
Para los que no la hayan visto la película se basa en tres años después de la original, donde Alicia es una capitana de un barco curiosamente llamado Wonderland. Este aspecto no es muy importante en la película sino más bien cuando por determinadas situaciones ella consigue llegar a Wonderland de nuevo enfrentándose a una nueva aventura y adivinen ¿en contra de quien? En contra del mismísimo tiempo.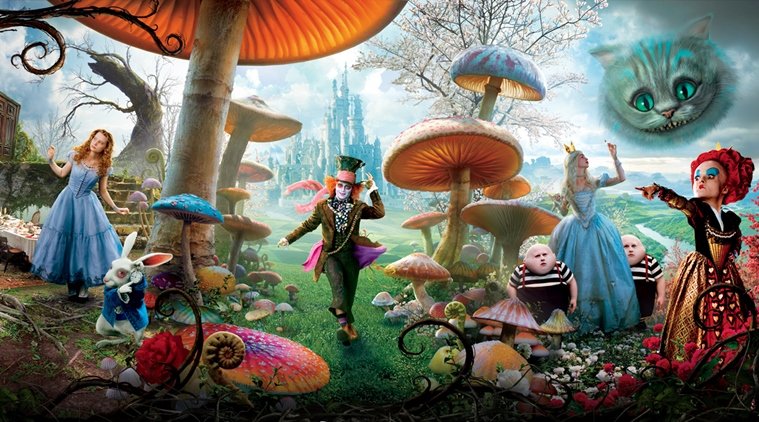 Source
The hatter has become sad when he remembers the loss of his family on a disastrous day in Wonderland and Alicia wants to change the past to be able to rescue the family of our beloved character, but as in any fantastic story, Alicia must face numerous situations that do not allow her to They will make this path far from easy, especially at the very same time chasing her for having stolen the chronosphere, an artifact capable of manipulating time.
I have said in other posts that movies about time fascinate me, but this one approaches it in another way, perhaps much more fantastic than I'm used to, but it still plays with the idea of ​​traveling through time. Speaking of time, the character who plays him seems to me the most original in all of history, he is a rather charismatic almost villain that made me get more than one laugh throughout the film.
El sombrerero se ha vuelto triste al recordar la pérdida de su familia en un día desastroso en Wonderland y Alicia quiere cambiar el pasado para poder rescatar a la familia de nuestro amado personaje pero como en toda historia fantástica Alicia debe enfrentarse a numerosas situaciones que no le harán nada fácil ese camino, sobre todo al mismísimo tiempo persiguiéndola por haber robado la cronoesfera, un artefacto capaz de manipular el tiempo.
He dicho en otros post que las películas acerca del tiempo me fascinan, pero esta lo aborda de otra manera, quizás mucho más fantástica de lo que estoy acostumbrada pero sigue jugando con la idea de viajar por el tiempo. Hablando del tiempo, el personaje que lo interpreta me parece el mas original de toda la historia, es un casi villano bastante carismático que me hizo sacar más de una risa durante toda la película.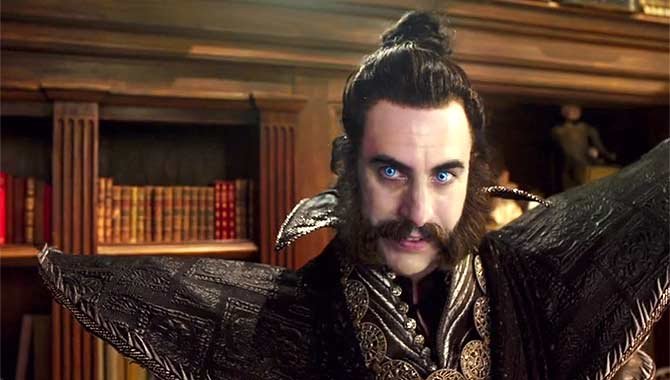 Source
The special effects in this film are surprising as is the soundtrack, we are talking about a Disney movie, a company that has all the resources when making a movie and it is difficult for it to disappoint us on a technical level but it does It has happened that in some movies the story has been a bit gray.
I enjoyed this movie enormously, but without a doubt I prefer the first one a thousand times, it seems to me a more crazy, fun and coherent story, something that does not happen in Alice Through the Looking Glass. Everything happens without strong reasons and very quickly without much background story and that is something I did not like.
The aspects that many Disney films bring such as friendship and values ​​can be seen in this film, we feel that friendship and collaboration between all the characters towards Alicia that no matter how much it is only trying to help a friend despite doing something that he shouldn't do, mess with time.
Los efectos especiales en esta película son sorprendentes al igual que la banda sonora, estamos hablando de una película de Disney, una compañía que cuenta con todos los recursos a la hora de hacer una película y es difícil que nos decepcione a nivel técnico pero sí que ha pasado que en algunas películas la historia se ha quedado como un poco gris.
Yo disfrute esta película enormemente, pero sin duda prefiero mil veces la primera, me parece una historia más alocada, divertida y coherente cosa que en Alicia a Traves del Espejo no sucede. Todo pasa sin fuertes razones y de manera muy rápida sin mucha historia de fondo y eso es algo que no me gusto.
Los aspectos que muchas películas de Disney traen como la amistad y los valores se pueden ver en esta película, sentimos esa amistad y colaboración entre todos los personajes para con Alicia que por más que sea solo intenta ayudar a un amigo a pesar de hacer algo que no debía hacer, meterse con el tiempo.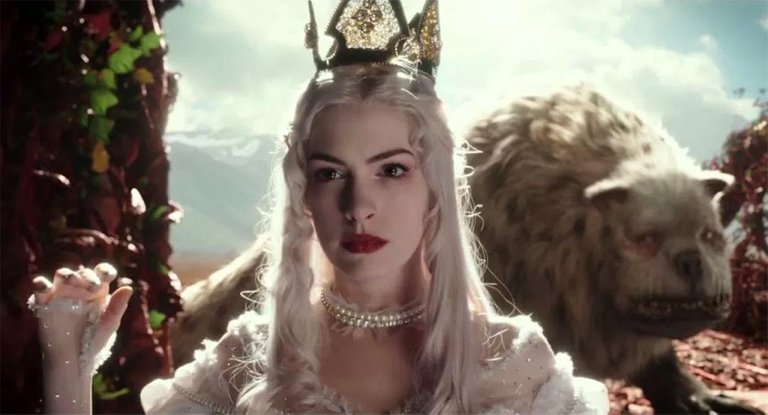 Source
You cannot change the past but you can learn from it, this is one of the most beautiful dialogues that I found in this movie because it teaches us not to fear time, not to take it as a thief of our lives but rather to appreciate every second we have and enjoy it to the fullest and what is in the past can give us enormous lessons in our present.
After watching this movie I did some research to find out what the critics were saying and apparently it didn't get very good ratings. For my part and with my humble opinion I can say that it is a completely enjoyable film, with beautiful special effects and a beautiful story but without a great message, it is not a deep story and it is also a story that asks us to assume many things. Despite all that, I liked this movie a lot and I will probably see it again, but I would never compare it with the first one since Alice in
Wonderland is something that many generations have grown up with and is part of our childhood history. and also as adults, it is a story that remains in our mind for life. I am not complaining that one of my favorite stories has a continuation, it is not bad and not too good but quite enjoyable.
I hope we can share opinions about this movie so leave me a comment and I will gladly answer it for you. Greetings to all Hivers !!!
No se puede cambiar el pasado pero si se puede aprender de él, este es uno de los diálogos más hermosos que encontré en esta película porque nos enseña a no temerle al tiempo, a no tomarlo como un ladrón de nuestras vidas sino más bien a apreciar cada segundo que tenemos y disfrutarlo al máximo y lo que este en el pasado puede darnos enormes lecciones en nuestro presente.
Después de ver esta película investigue un poco para saber que decía la crítica y aparentemente no tuvo muy buenas calificaciones. Por mi parte y con mi humilde opinión puedo decir que es una película completamente disfrutable, con hermosos efectos especiales y una historia bonita pero sin un gran mensaje, no es una historia profunda y también es una historia que pide que asumamos muchas cosas. Pese a todo eso me gusto bastante esta película y probablemente la vuelva a ver, eso sí jamás la compararía con la primera ya que Alicia en el país de las Maravillas es algo que con lo que muchas generaciones hemos crecido y es parte de nuestra historia infantil y también de adultos, es una historia que nos queda en nuestra mente para toda la vida. No me quejo de que una de mis historias favoritas tenga una continuación, no es mala y tampoco demasiado buena pero bastante disfrutable.
Espero que podamos compartir opiniones acerca de esta película así que déjame un comentario y con mucho gusto te lo responderé. Saludos a todos Hivers!!!
TRAILER