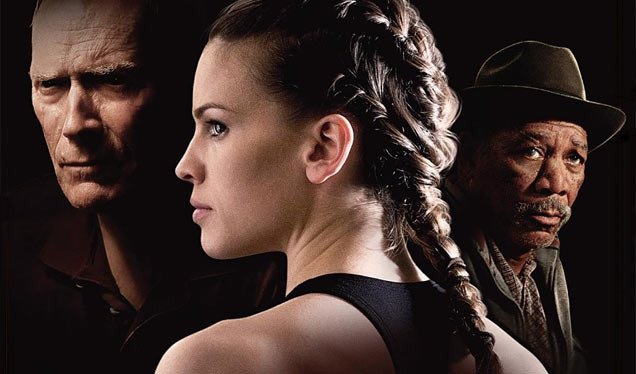 Source
Million dollar Baby is one of those films that mark us if or if being one of the best works of Clint Eastwood and also one of the most profound and now I come to give my opinion on this great film in the hive community.
In this movie we see a girl named Maggie who lives in poverty but wanting to get ahead with boxing and on the other hand we see a seedy gym owner trainer named Frankie. Their lives will be mixed up the moment Maggie wishes to be a boxer at the difficult age of 31.
Million dollar Baby es una de esas películas que nos marcan si o si siendo una de las mejores obras de Clint Eastwood y también una de las más profundas y ahora vengo a dar mi opinión sobre esta gran película en la comunidad de hive.
En esta película vemos a una chica llamada Maggie que vive en condiciones de pobreza pero deseando salir adelante con el boxeo y por otro lado vemos a un entrenador dueño de un gimnasio de mala muerte llamado Frankie. Sus vidas se mezclaran en el momento en Maggie desea ser boxeadora a la difícil edad de 31 años.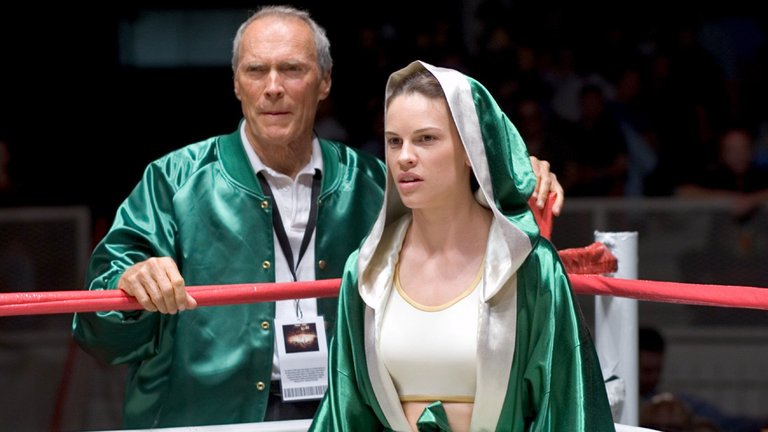 Source
At first we see that Frankie does not want to collaborate with Maggie to train her but this girl is persistent and every day she went to the gym to practice although Frankie constantly despised her and put her off: I don't train girls! Plus you are too old to be a boxer, training a boxer takes 4 years!
As we can see, Frankie was despicable at first, but seeing Maggie's insistence so powerful, he gradually gave in to train her and from that moment on Maggie began a career of glory.
Al principio vemos que Frankie no desea colaborar con Maggie para entrenarle pero esta chica es persistente y todos los días iba al gimnasio para practicar aunque Frankie la despreciara y le quitara los ánimos constantemente: ¡Yo no entreno chicas! ¡Además estas muy vieja para ser boxeadora, entrenar a un boxeador toma 4 años!
Como podremos ver Frankie al principio era despreciable pero al ver la insistencia tan poderosa de Maggie el poco a poco va cediendo a entrenarla y desde ese momento Maggie empieza con una carrera de gloria.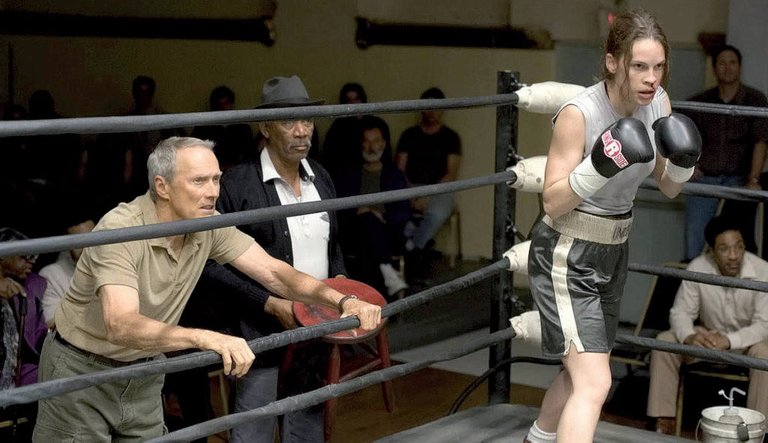 Source
This is a film that goes beyond boxing, it is about overcoming but also about loss, it is about healing wounds and assuming others, in short it is not a sports film that shows us some struggles and that's it.
As Maggie begins to win fights her fame grows and she positions herself in the better leagues fighting with young and fast women but that does not stop her and she would knock out most of them in the first round.
The most brutal part of the fight already takes place near the end where Maggie fights with a German girl who is famous for being very dirty when fighting. Frankie didn't want to put Maggie into a fight with that woman at first, but eventually that decision was made. Maggie fights and fights until she corners this woman in the ring. It looks like the German makes some very dirty plays until in one of those, Maggie was not cautious and receives a punch that makes her fall into a chair fracturing her neck and spine.
Esta es una película que va más allá del boxeo, se trata de superación pero también de perdida, se trata de curar heridas y de asumir otras, en pocas palabras no es una película deportiva que nos muestra unas luchas y ya está.
A medida que Maggie empieza a ganar peleas su fama va en aumento y va posicionándose en mejores ligas luchando con mujeres jóvenes y rápidas pero eso no la detiene y a la mayoría las noqueaba en el primer round.
La parte más brutal de la pelea ya transcurre casi al final donde Maggie pelea con una chica alemana que es famosa por ser muy sucia al momento de pelear. Frankie no quería al principio poner a pelear a Maggie con esa mujer pero finalmente se tomó esa decisión. Maggie pelea y pelea hasta que acorrala a esta mujer en el cuadrilátero. Se ve como la alemana hace unas jugadas muy sucias hasta que en uno de esas, Maggie no estaba precavida y recibe un puñetazo que la hace caer en una silla fracturándole el cuello y la columna vertebral.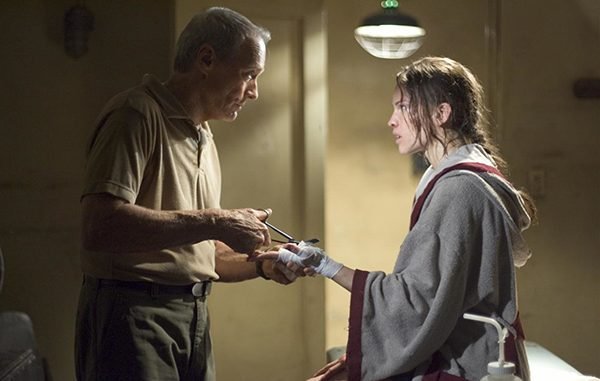 Source
Maggie's life changes from one day to the next after having the glory to go paraplegic. She tries to commit suicide a couple of times until she asks Maggie to get her out of that torment. Frankie's morality makes him doubt but seeing his girl's constant suffering, he decides to end her life.
Frankie made Maggie's life great and something she could never have accomplished alone. He was a great coach for her and also a great man. Maggie's life was in misery and her family always despised her for being a boxer. It was a family that lived in a kind of white ghetto where there was no motivation.
La vida de Maggie cambia de un día para otro después de tener la gloria a quedar parapléjica. Intenta suicidarse en un par de ocasiones hasta que le pide a Maggie que la sacara de ese tormento. La moral de Frankie lo hace dudar pero al ver el constante sufrimiento de su chica decide acabar con su vida.
Frankie hizo de la vida de Maggie grandiosa y algo que ella nunca hubiese podido lograr sola. Fue un gran entrenador para ella y también un gran hombre. La vida de Maggie se encontraba en una miseria y su familia siempre la desprecio por ser una boxeadora. Era una familia que vivía en una clase de guetto blanco donde no había ninguna motivación.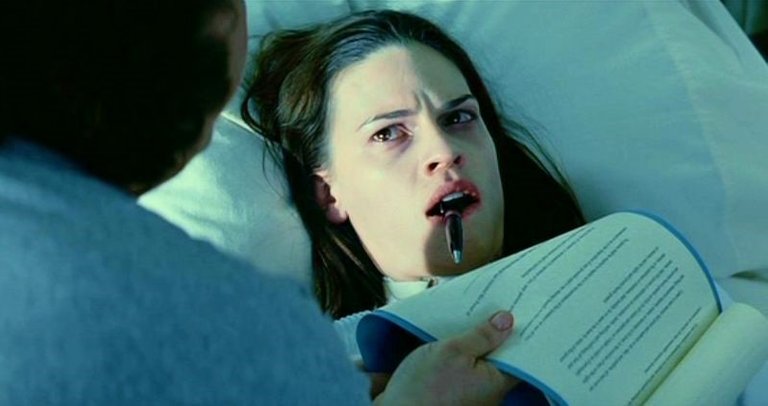 Source
Euthanasia is a complicated subject and I still have not formed a real opinion about it, however in a certain way I understand Frankie and also Maggie. Why live like that? The movie also taught me to fight for our dreams, to strive every day to be better at what we want to do and Maggie is an example of that.
The energy of this girl drove her to stop living in a misery that stole leftovers so she could eat and to become what she really wanted to be, a professional boxer who won many battles but the main battle she won was in favor of her own life. I admire people like that, who do not rest until they fulfill their dreams.
In conclusion, this is a film with a very deep message with excellent performances by Clint Eastwood, Hillary Swank and the great Morgan Freeman who also serves as a narrator in parts of the film. Probably many have already seen this movie and if so, you can leave me a comment whenever you like, I will always answer you.
La eutanasia es un tema complicado y yo todavía no me he formado una opinión real sobre eso, sin embargo de cierta manera entiendo a Frankie y también a Maggie ¿Para qué vivir de esa manera? La película también me enseño a luchar por nuestros sueños, esforzarnos cada día para ser mejores en lo que deseamos realizar y Maggie es un ejemplo de eso.
La energía de esta chica la impulso a dejar de vivir en una miseria que robaba las sobras para poder comer y a convertirse en lo que ella realmente quería ser, una boxeadora profesional que gano muchas batallas pero la principal batalla que gano fue a favor de su propia vida. Admiro a las personas así, que no descansan hasta que cumplen sus sueños.
En conclusión esta es una película con un mensaje muy profundo con unas actuaciones excelentes por parte de Clint Eastwood, Hillary Swank y el gran Morgan Freeman que también nos sirve como narrador en partes de la película. Probablemente ya muchos habrán visto esta película y si es así pueden dejarme un comentario cuando gusten, siempre les responderé.
TRAILER