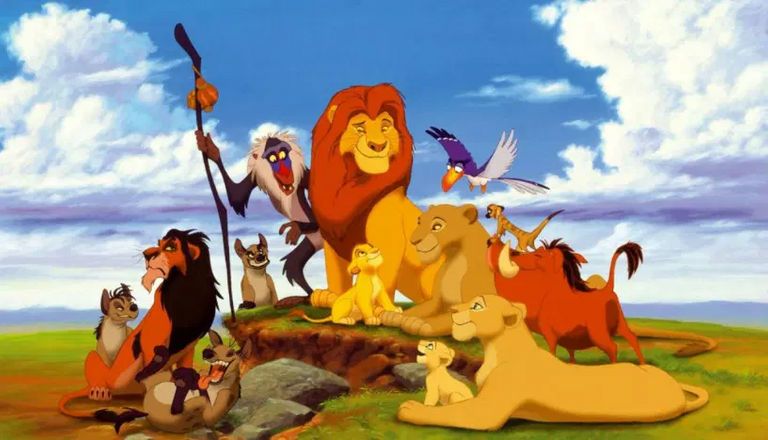 Source
Greetings to the entire Hive community. This time I come to tell you about one of my favorite Disney movies, The Lion King.
Most will know this story and would like to comment on my opinion on it. This movie offers us a beautiful vision and philosophy of life. The loyalty and courage to face the situations that attack us in life, the friendship that we owe to our loved ones and much more we can appreciate in this film.
For me Mufasa represents something beyond power, it represents wisdom and the way to govern fairly. This film talks about a beautiful concept that is the cycle of life and how all living beings are part of a whole that connects our vitality and our souls. Cunning is another active component of this story, it represents in Scar, the intelligence used to do evil, the cunning to act selfishly by turning power into something negative.
Saludos a toda la comunidad de Hive. En esta oportunidad vengo a hablarles de una de mis películas favoritas de Disney, El rey León.
La mayoría conocerá esta historia y quisiera comentar mi opinión al respecto. Esta película nos ofrece una hermosa visión y filosofía de la vida. La lealtad y el coraje para enfrentar las situaciones que nos atacan en la vida, la amistad que debemos a nuestros seres queridos y mucho más podemos apreciar en esta película.
Para mi Mufasa representa algo más allá del poder, representa la sabiduría y la manera de como gobernar de manera justa. En esta película se habla de un hermoso concepto que es el ciclo de la vida y de como todos los seres vivos somos parte de un todo que conecta nuestra vitalidad y nuestras almas. La astucia es otro componente activo de esta historia, representa en Scar, la inteligencia usada para hacer el mal, la astucia para actuar de manera egoísta haciendo que el poder se convierta en algo negativo.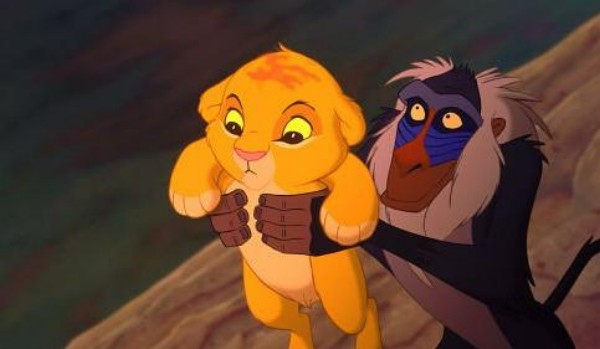 Source
A true leader loves his followers and does everything for them, of course power contaminates many people and few are capable of setting an example, only those who have high ethical values ​​can do so.
Simba for me represents at first the desire for freedom, youthful rebellion and the desire to prove that he is self-sufficient, however many of us fall into that circle that can lead us to self-destruction. Not following the advice of our mentors is the most reckless thing we can do when we are in the middle of the development cycle. However, as Simba grows up, he realizes his mistake and decides to take charge of his destiny.
Friendship is something very important and it is something that we can see in Timon and Pumbaa, they build a strong bond with a being an animal that is carnivorous and that is usually a predator of them, but that does not prevent this pair of friends from building a strong friendship with Simba, a loyalty rarely seen.
Un verdadero líder ama a sus seguidores y hace todo por ellos, claro que el poder contamina a muchas personas y pocos son capaces de dar un ejemplo, solo aquellos que tienen altos valores éticos pueden hacerlo.
Simba para mi representa en un principio el ansia de la libertad, la rebeldía juvenil y el deseo de demostrar que es auto suficiente, sin embargo muchos de nosotros caemos en esa circulo que puede llevarnos a la auto destrucción. El no seguir los consejos de nuestros mentores es lo más imprudente que podamos hacer cuando estamos en pleno ciclo de desarrollo. Sin embargo al crecer Simba se da cuenta de su error y decide tomar las riendas de su destino.
La amistad es algo muy importante y es algo que podemos ver en Timon y Pumba, ellos construyen un fuerte lazo con un ser un animal que es carnívoro y que usualmente es un depredador de ellos, pero eso no impide que este par de amigos construyan una amistad fuerte con Simba, una lealtad pocas veces vista.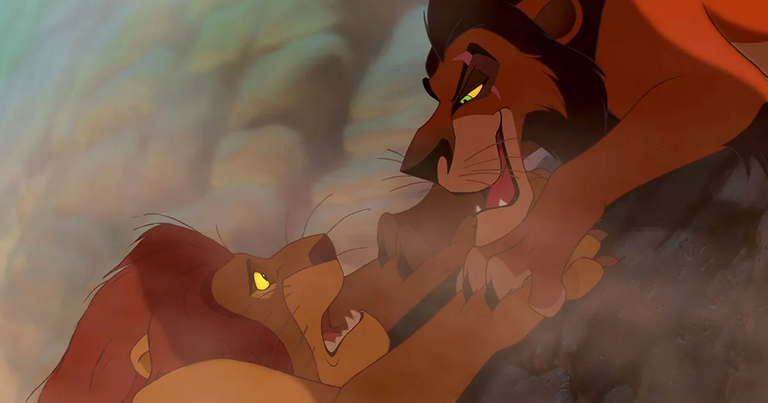 Source
The soundtrack of this film is one of the stimulating, moving and beautiful that I have heard, we can listen to songs that have passed from generation to generation such as Hakuna Matata, a symbol of carefree and relaxed life as well as love songs like the one that can be heard when Simba and Nala make their reunion.

This animation is almost 30 years old and I think graphically it is still beautiful. The settings, the characters, the dialogue, the philosophy behind the film, the soundtrack and much more make it by far my favorite Disney movie of all time.


Each character is a perfect fit, and the voices that give this animation realism played a part in spectacular fashion. The villain, Scar, is a credible character who has his ambitions and of course they are not good but he has a motive and reason for being like that unlike other villains who are only in a movie just to be.

La banda sonora de esta película es una de las estimulantes, conmovedoras y hermosas que he escuchado, podemos escuchar canciones que han pasado de generación en generación como Hakuna Matata, símbolo de la despreocupación y de la vida relajada como también canciones de amor como la que se puede escuchar cuando Simba y Nala hacen su reencuentro.
Casi 30 años tiene esta animación y pienso que gráficamente es aun hermosa. Los escenarios, los personajes, los diálogos, la filosofía detrás de la película, la banda sonora y muchas cosas más hacen que por lejos sea mi película favorita de Disney de todos los tiempos.
Cada personaje encaja a la perfección y las voces que le dan realismo a esta animación interpretaron un papel de manera espectacular. El villano, Scar, es un personaje creíble que tiene sus ambiciones y por supuesto no son buenas pero tiene un motivo y razón de ser así a diferencia de otros villanos que solo están en una película solo por estar.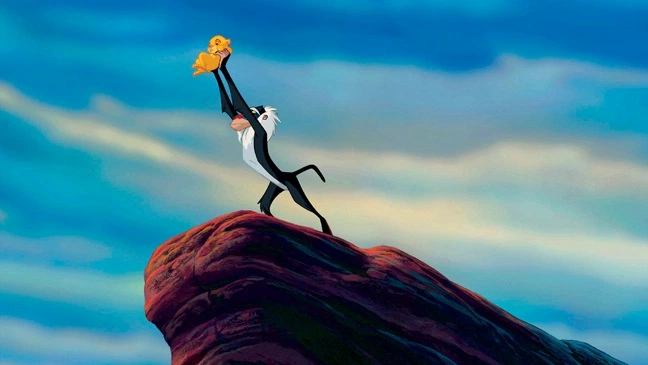 Source
Another very interesting character in this movie is Rafiki who for me represents wisdom and spirituality as an ancient sorcerer. Rafiki is in charge of opening Simba's eyes and guiding him on his way, his true destiny.
This movie has excellent humor, especially in the scenes where Timon and Pumbaa appear, every time I see the movie I die of laughter to see this couple doing their crazy things.
Otro personaje muy interesante en esta película es Rafiki que para mí representa la sabiduría y la espiritualidad como un antiguo hechicero. Rafiki es el encargado de abrirle los ojos a Simba y guiarlo en su camino, su verdadero destino.
Esta película cuenta con un humor excelente, sobre todo en las escenas en donde Timon y Pumba aparecen, cada vez que veo la película muero de carcajadas a ver a este par haciendo sus locuras.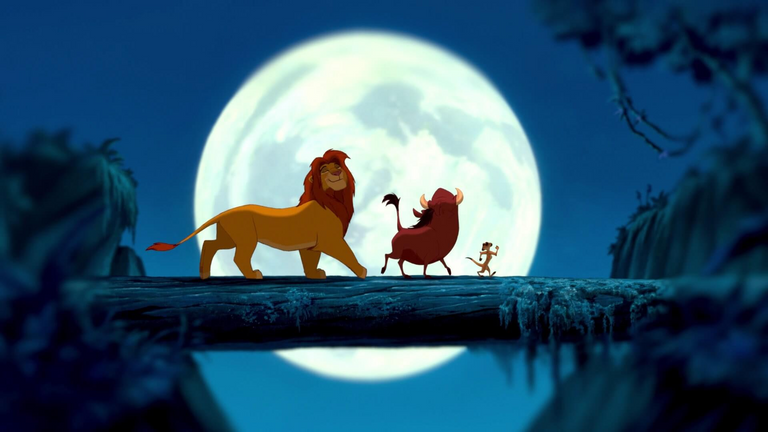 Source
In short, a beautiful movie that most of us have had the opportunity to see. An excellent message and plot that have never bored me and believe me, I have seen this movie more than 10 times and every time I see it the same emotions pass inside me, I cry a couple of times and laugh others more. This is my most recommended film of all Disney has made and without a doubt one of the best animations in history.
I would like to know your opinion about this movie. How did you feel when you finished watching it the first time? What message do I leave? Any movie with similar values? Leave me a comment and I will gladly answer you. Greetings to all.
En resumen, una película hermosa que la mayoría de nosotros hemos tenido la oportunidad de ver. Un mensaje y una trama excelentes que jamás me han aburrido y créanme que he visto esta película más de 10 veces y cada vez que la veo pasan las mismas emociones dentro de mí, lloro un par de veces y rio otras más. Esta es mi película más recomendada de todas las que ha hecho Disney y sin duda una de las mejores animaciones de la historia.
Me gustaría saber la opinión de ustedes sobre esta película ¿Cómo se sintieron al terminar de verla la primera vez? ¿Qué mensaje les dejo? ¿Alguna película con valores similares? Déjame un comentario y con gusto te responderé. Saludos a todos.
TRAILER