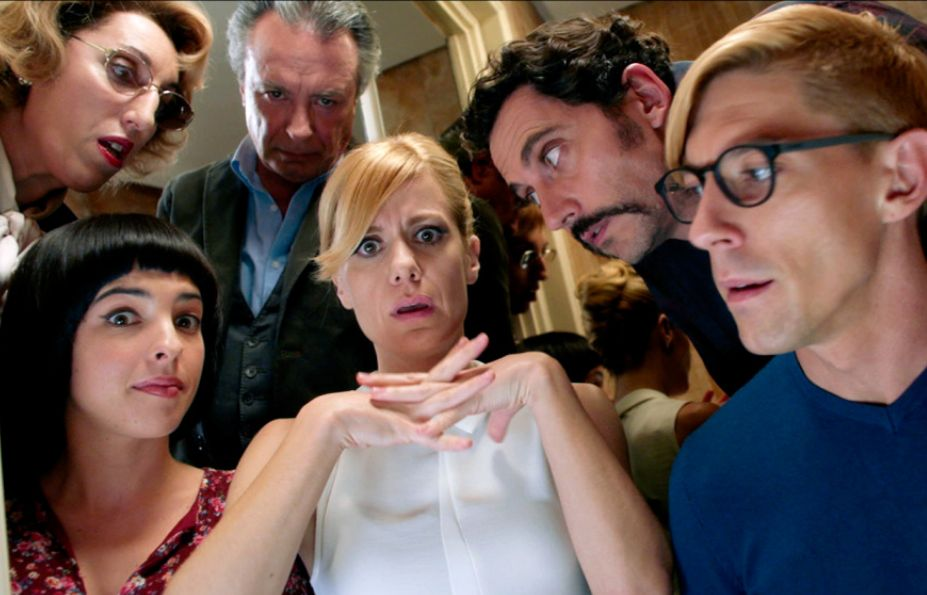 Source
What if we gathered a group of people who have different mental problems in a room what would happen? Hello hive friends. This time I bring you a super interesting comedy related to mental illness. I know that Crazy about her also has a similar theme but in this case it is much more direct and also more focused on comedy, without any drama throughout the duration of the film.
Knock Knock, as the name implies, is a movie related to obsessive compulsive disorder but each of the characters has a different variant and seeing a group of people in the most irreverent situations can make us laugh out loud, at least that was my case.
¿Y si reuniéramos a un grupo de personas que tienen distintos problemas mentales en una habitación que pasaría? Hola amigos de hive. En esta oportunidad les traigo una comedia súper interesante relacionada con las enfermedades mentales. Sé que Loco por ella también tiene un tema similar pero en este caso es mucho más directo y también más enfocado a la comedia, sin ningún tipo de drama en toda la duración de la película.
Toc Toc, como su nombre lo indica es una película relacionada con el trastorno obsesivo compulsivo pero cada uno de los personajes tiene una variante distinta y ver a un grupo de personas en las situaciones más irreverentes puede hacernos reír a carcajadas, por lo menos ese fue mi caso.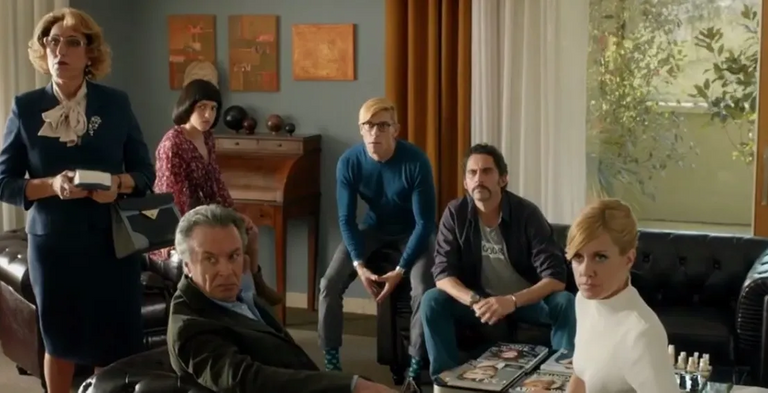 Source
The movie doesn't have many different sets because most of it takes place in a waiting room. The patients are introduced to us one by one while the receptionist instructs everyone to go to a certain room to wait for the doctor, but coincidentally each of the patients notices that they were summoned at the same time.
The first to be greeted by the receptionist is Federico, who suffers from Tourette's syndrome, which forces him to be unintentionally spouting obscenities. Then we see the entrance of Emilio, a taxi driver who has an obsession with calculating everything called arithmomania. Blanca is the third to arrive, her obsession is bacteria and germs and that is why she washes her hands compulsively. Liliana, is a girl who cannot stop repeating the phrases that she or someone else says. Otto is a boy who avoids scratches on the ground, not being able to step on any of them, apart from ordering everything in a symmetrical and compulsive way, and Rossy is a lady who has an obsession for constantly checking her possessions and objects.
La película no tiene muchos escenarios distintos porque en su mayoría todo transcurre en una sala de espera. Los pacientes se nos van presentando uno por uno mientras la recepcionista les va indicando a todos que vayan a cierta habitación a esperar al doctor, pero casualmente cada uno de los pacientes nota que fueron citados a la misma hora.
El primer en ser recibido por la recepcionista es Federico quien padece de síndrome de Tourette lo que lo forzar a estar soltando obscenidades sin querer. Luego vemos la entrada de Emilio, un taxista que tiene una obsesión por calcularlo todo llamada aritmomanía. Blanca es la tercera en llegar, su obsesión son las bacterias y gérmenes y por eso se lava las manos de manera compulsiva. Liliana, es una chica que no puede parar de repetir las frases que ella u otra persona dicen. Otto es un chico que evitas las rayas en el suelo no pudiendo ser capaz de pisar alguna, aparte ordena todo de manera simétrica y compulsiva y Rossy una señora que tiene una obsesión por verificar sus posesiones y objetos constantemente.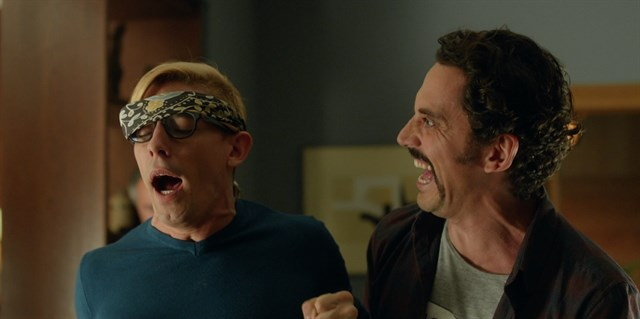 Source
This group as you can see is a real madness and together they make a memorable show. This is a fairly intelligent comedy since even though it takes a delicate subject, it knows how to treat it in a way that is not completely irreverent, giving it that spark of grace that each of the characters achieves with the viewer.
Recognizing each of their obsessions and telling each other their respective stories, they have a long talk while waiting for the doctor who seems to be late. Each of the characters tells their obsession and how they have lived. Little by little they begin to empathize with each other despite the fact that at first there was a lot of suspicion.
I can assure you that each of the characters has a very successful charisma and it is easy to understand them despite their problem. They will make us laugh with their occurrences but they will also make us more aware of this type of mental illness and the respect that this type of people should be had.
Este grupo como podrán ver es una auténtica locura y juntos hacen un show memorable. Esta es una comedia bastante inteligente ya que a pesar de que se toma un tema delicado se sabe tratar de manera que no sea completamente irreverente dándole esa chispa de gracia que cada uno de los personajes logra con el espectador.
Ellos al reconocerse cada una de sus obsesiones y contarse sus respectivas historias tienen una charla larga mientras están a la espera del doctor que parece tener un retraso. Cada uno de los personajes cuenta su obsesión y como le ha tocado vivir. Poco a poco empiezan a ser empáticos entre ellos pese a que al principio existía mucho recelo.
Puedo asegurar que cada uno de los personajes tiene un carisma demasiado logrado y es fácil entenderlos pese a su problema. Nos harán reír con sus ocurrencias pero también nos harán estar más conscientes de este tipo de enfermedades mentales y el respeto que se le deben tener a este tipo de personas.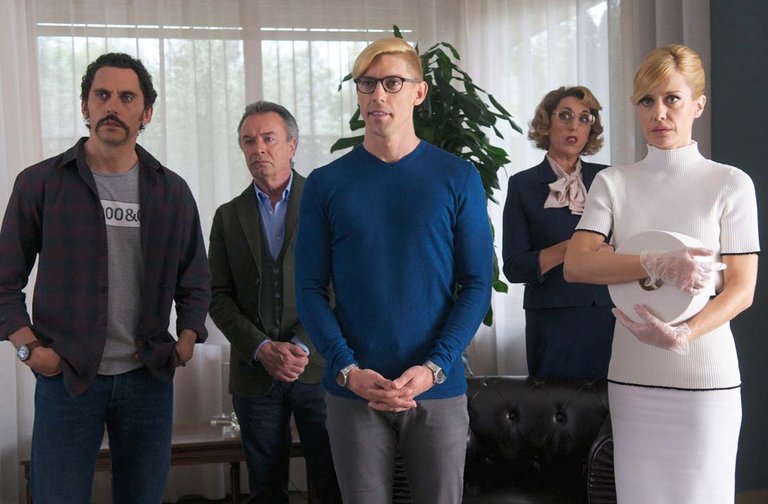 Source
The entire film is based in turn on a French theater comedy by Laurent Baffie. If you quickly noticed that there were certain theatrical tendencies in the film before verifying that it was based on a play.
There is no doubt that the full value of the film lies in the charisma of its characters who are very well done. The performances are great and I have no complaints regarding the cast.
Toda la película está basada a su vez en una comedia de teatro del francés Laurent Baffie. Si note rápidamente que había ciertas tendencias teatrales en la película antes de verificar que estaba basada en una obra.
Es indudable que el valor completo de la película reside en el carisma de sus personajes que están muy bien hechos. Las actuaciones son geniales y no tengo ninguna queja con respecto al reparto.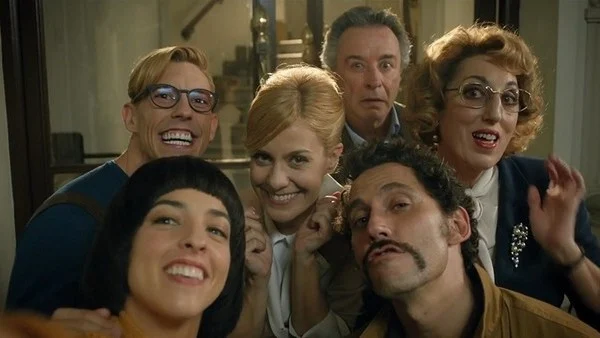 Source
This is a film that I highly recommend to relax and enjoy the crazy things that all these characters tackle throughout its duration. An hour and a half that is very short due to the quality of what we are seeing. Knock Knock, is an intelligent comedy that knows how to make the viewer enjoy little recurring situations but knowing how to create a perfect harmony between the strange and the funny. For all this I consider it a unique, different comedy, which does not rely on cliché situations to make us laugh but rather gives us a different vision of how to do comedy.
I hope you liked this review and my opinion. If you have already seen it or feel encouraged to see it please do not hesitate to give me a comment, I would appreciate it a lot. Greetings to all boys and girls !!
Esta es una película que recomiendo ampliamente para relajarnos y disfrutar de las locuras que todos estos personajes abordan en toda su duración. Una hora y media que se hace muy corta por la calidad de lo que estamos viendo. Toc Toc, es una comedia inteligente que sabe cómo hacer disfrutar al espectador con situaciones poco recurrentes pero que sabiendo crear una perfecta harmonía entre lo extraño y lo chistoso. Por todo esto la considero una comedia única, diferente, que no se basa en situaciones cliché para hacernos reír sino que nos da una visión diferente de cómo hacer comedia.
Espero que les haya gustado esta reseña y mi opinión. Si ya la has visto o te sientes animado de verla por favor no dudes en darme un comentario, te lo agradecería un montón. Saludos a todos chicos y chicas!!
TRAILER