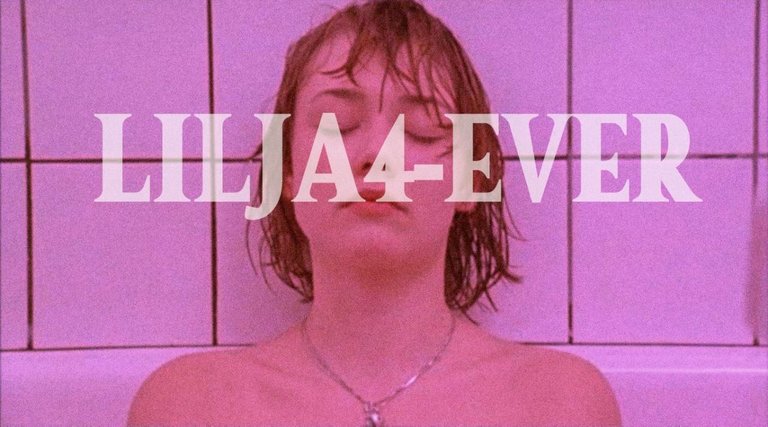 Hello! Today I'm going to talk about one of the strongest and most realistic movies I've ever seen, Lilja 4-ever. Classified as a cult movie, this story will undoubtedly leave you with a bitter taste of despair. So let's get started!
Before I start I want to make a spoiler alert, because much of what I will discuss here reveals important information that takes place in the film. So be warned about it, it is under your own responsibility to read on or not.
¡Hola! El día de hoy hablaré sobre una de las películas más fuertes y realistas que he llegado a ver y se trata pues de Lilja 4-ever. Catalogada como película de culto, esta historia sin duda alguna los dejará con un sabor amargo a desesperenza. Así que ¡Comencemos!
Antes de iniciar quiero hacer una alerta de spoiler, pues gran parte de lo que comentaré aquí desvela información importante que transcurre en la película. Así que advertidos sobre ello, queda bajo su propia responsabilidad seguir leyendo o no.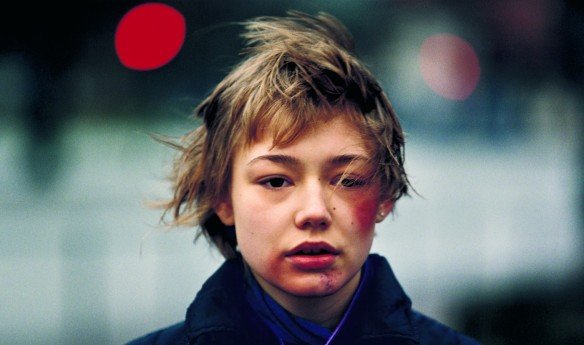 Lilja 4-ever is a Swedish film directed by Lukas Moodysson and starring Oksana Akinshina as Lilja. The story narrates the harsh and cruel transit of young Lilja through this world and takes place in some old Russian village, after the fall of the Soviet Union. The story is partially based on real events, that is, Lilja's story could be the story of any young girl who has lived abandonment and has been a victim of people's treatment. But that is something we will talk about later.
At the beginning of the film the first thing we can experience is the introduction of some violins that purr softly in the background while we see the presentation of the producer on screen, then suddenly bursts the voice of Till Lindemann (vocalist of the band Rammstein) singing part of the chorus of the song "Mein Herz Brennt". At the same time we see a young woman running wildly through the streets somewhere, she seems to be disoriented and trying to escape from something. She nervously runs through the streets until she sees a bridge, stops and looks into the void. She seems to want to rush towards it but the scene quickly closes. Leaving uncertainty as to what the girl decided to do.
Lilja 4-ever es una película sueca dirigida por Lukas Moodysson y protagonizada por Oksana Akinshina como Lilja. La historia narra el duro y cruel tránsito de la joven Lilja por este mundo y que toma lugar en algún viejo pueblo de Rusia, luego de la caída de la Unión Soviética. La historia está basada parcialmente en hechos reales, es decir, la historia de Lilja pudo ser la de cualquier jovencita que ha vivido abandono y ha sido víctima del trato de personas. Pero eso es algo que hablaremos más adelante.
Al inicio de la película lo primero que podemos experimentar es la introducción de unos violines que ronronean suavemente en el fondo mientras vemos la presentación de la productora en pantalla, luego, repentinamente estalla la voz Till Lindemann (vocalista de la banda Rammstein) cantando parte del coro de la canción "Mein Herz Brennt". Al mismo tiempo vemos a una joven correr desenfrenadamente por las calles de algún lugar, parece estar desorientada y tratando de escapar de algo. Nerviosamente atraviesa las calles hasta que visualiza un puente, se detiene y observa el vacío. Parece querer lanzarse hacia el pero rápidamente la escena se cierra. Dejando la incertidumbre sobre que decidió hacer la chica.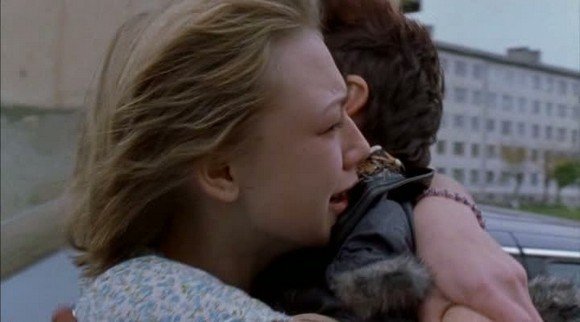 We are quickly led into a flashback that will put us in context about what happened in the beginning and why she was running. To the beat of electronic music, we stroll through the dusty, run-down streets of somewhere in the former Soviet Union (where exactly is never specified) and soon we meet the young Lilja, a 17-year-old girl. In the room of her house, with a sweet smile Lilja welcomes her friend. There we discover that Lilja's joy lies in the fact that her mother, her mother's boyfriend and she will definitely go to the United States. She soon celebrates the good news with the neighborhood kids. But this smile will not last long, because her mother informs her during dinner that she (Lilja) will not be able to go on the trip with them, arguing as an excuse that it would be better for them to go ahead and form bases. Her aunt becomes her guardian.
Lilja is abandoned the next day in a heartbreaking scene, her mother insists on saying goodbye to her and she refuses (making a sort of protest, which is normal, considering she is a teenager), then her mother leaves the house and Lilja runs to hug and beg her mother to please stay with her. They finally leave and Lilja is left to her own devices. Her aunt shows up to evict her from her house because she could not pay the rent. Instead, she offers her a precarious room in another place.
Rápidamente somos dirigidos hacia un flashback que nos pondrá en contexto sobre que fue lo que sucedió en un inicio y por qué ella corría. Al ritmo de la música electrónica, paseamos por las calles polvorientas y acabadas de algún lugar de la antigua Unión Sovietica (nunca se especifica donde exactamente) y pronto conocemos a la joven Lilja, una joven de 17 años. En la habitación de su casa, con una sonrisa dulce Lilja recibe a su amiga. Allí descubrimos que la dicha de Lilja radica en que su madre, el novio de su madre y ella se iran definitivamente a Estados Unidos. Pronto festeja la buena noticia con los chicos del barrio. Pero esta sonrisa no durará mucho, pues su madre le informa durante la cena que ella (Lilja) no podrá irse de viaje con ellos, argumentando como excusa que lo mejor sería que ellos se adelantaran y formaran bases. Su tía pasa a ser su tutora.
Lilja es abandonada al día siguiente en una escena desgarradora, su madre insiste en que se despida de ella y esta se niega (haciendo una especie de protesta, cosa normal, considerando que es una adolescente), luego su madre sale de la casa y Lilja corre para abrazar y rogar a su madre que por favor se quede con ella. Finalmente se marchan y Lilja queda a su merced. Su tía aparece para desalojarla de su casa pues no podía pagar el arriendo. Le ofrece por el contrario una habitación precaria en otro lugar.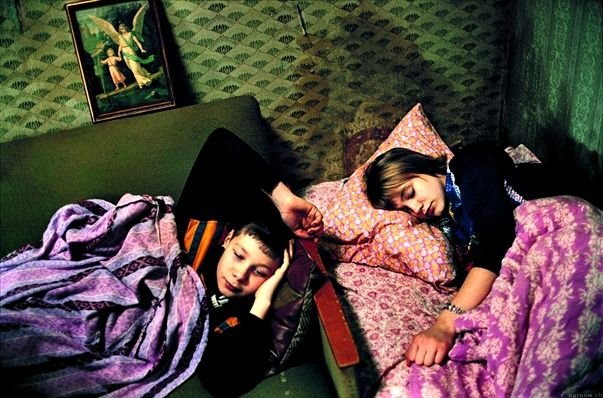 From this moment on we can begin to notice Lilja's downward spiral. Nothing goes as she intends, without a mother, without a decent home, without someone to protect her and even being rejected in her own school. Everyone scoffs at her failure to travel to the United States. Contrary to what everyone thinks of her, Lilja claims that she does have a bright future ahead of her.
Lilja finds a home by establishing a tender relationship with her friend Volodia, a 12-year-old boy, a bond that is important to the outcome of the story. Both share similar situations; they are naive, childish, noble and have been abandoned by their parents and society. In an unexpected twist, her friend Natasha (who appeared in the first scene) urges her to prostitute herself but Lilja refuses. Her friend does. Natasha is caught by her father with the money she has earned and she claims that it was Lilja who prostituted herself, not her. The whole school and neighborhood finds out about it and leaves Lilja as a prostitute. The money that Natasha left in her hands is thrown away by Lilja in an act of honor, trying to save her dignity. We then see the iconic scene where Lilja writes her name on a wooden bench, carving on it "Lilja 4-ever".
Desde este momento podemos empezar a notar la espiral en caída de Lilja. Nada va como ella pretende, sin madre, sin un hogar digno, sin alguien que la proteja e inclusive siendo desestimada en su propia escuela. Todos se mofan de su fracaso al no poder viajar a los Estados Unidos. Contrario a lo que todos piensan de ella, Lilja afirma que ella si tiene un futuro brillante por delante.
Lilja halla un hogar al establecer una tierna relación con su amigo Volodia, un niño de unos 12 años, una unión importante para el desenlace de la historia. Ambos comparten situaciones similares; son ingenuos, infantiles, nobles y han sido abandonados por sus padres y la sociedad. En un giro inesperado, su amiga Natasha (quien apareció en la primera escena) la incita a prostituirse pero Lilja se niega. Su amiga sí lo hace. Natasha es capturada por su padre con el dinero que ha ganado y esta afirma que la que se prostituyo fue Lilja, no ella. Toda la escuela y el barrio se enteran de ello y dejan a Lilja como una prostituta. El dinero que Natasha dejó en sus manos, es arrojado por Lilja a la basura en un acto de honor, tratando de salvar su dignidad. Luego vemos la icónica escena donde Lilja escribe su nombre en un banco de madera, tallando en ella "Lilja 4-ever".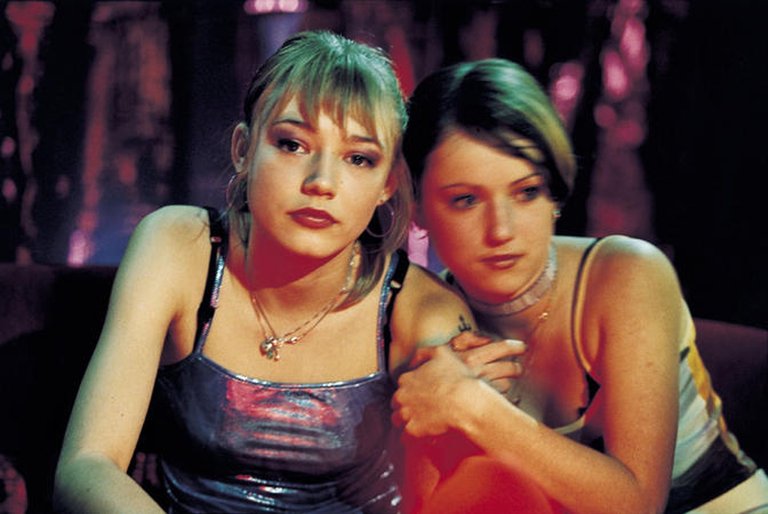 A key scene is when we see Volodya sitting on a bridge, Lilja finds him and he then asks her if she is thinking of throwing herself off, followed by "this life sucks". It is Volodia's birthday and she promises him that when she has money she will give him a nice present. By this time they are both using intoxicants as glue. In spite of everything that has been happening, Lilja never loses faith that she will be able to be reunited with her mother in the United States. It is the illusion that keeps her on her feet. But then she receives a letter from social services, where she learns that her mother is resigning as her guardian. From that moment on, Lilja begins to prostitute herself. Getting money, she gets food and a basketball for Volodia. In this world of night clubs she meets Andrei, who represents a new hope for Lilja. Andrei is a charming, charismatic and apparently nice young man. Lilja quickly falls in love with him but Volodia does not seem to agree with this union because he does not trust Andrei.
Andrei, under the victory of getting Lilja's heart, offers her to go to Sweden together with the promise of a better future. Lilja accepts. That same night she is raped by a group of young men from the neighborhood. Something that motivates Lilja to leave, promising Volodia that he will get Andrei to take him too. He does not succeed. Volodya continues to insist on thinking about the decision to leave for Sweden because for him it is all a deception. A clue that makes Volodya doubt about it is that Andrei affirms that Lilja will work as a farmer, which is untenable since in winter what harvest can be given. An intuition that seems obvious but that must have been an alarm for her.
Una escena clave es cuando vemos a Volodia sentado en un puente, Lilja lo encuentra y este luego le comenta que si pensaba arrojarse, seguido de un "esta vida es una mierda". Es el cumpleaños de Volodia y ella le promete que cuando tenga dinero le hará un lindo regalo. Para este momento ambos consumen sustancias tóxicas como pega. A pesar de todo lo que venía sucediendo, Lilja jamás pierde la fe de poder reunirse con su madre en Estados Unidos. Es la ilusión que la mantiene de pie. Pero luego recibe una carta donde la citan los servicios sociales, allí se entera de que su madre renuncia a ser su tutora. A partir de este momento Lilja comienza a prostituirse. Obteniendo dinero, consigue comida y un balón de baloncesto para Volodia. En este mundo de discotecas nocturnas conoce a Andrei, quien representa para Lilja una nueva esperanza. Andrei es un joven encantador, carismático y al parecer buen muchacho. Lilja se enamora rápidamente de él pero Volodia parece no estar de acuerdo con esta unión pues no confía en Andrei.
Andrei bajo la victoria de conseguir el corazón de Lilja, le ofrece a esta irse a Suecia juntos con la promesa de obtener un mejor futuro. Lilja acepta. Esa misma noche es violada por un grupo de jóvenes del barrio. Algo que motiva a Lilja a marcharse, prometiendole a Volodia que conseguirá que Andrei lo lleve también a él. Cosa que no consigue. Volodia sigue insistiendo sobre pensar mejor la decisión de marcharse a Suecia ya que para él todo es un engaño. Una pista que hace dudar a Volodia sobre ello es que Andrei afirma que Lilja trabajará como agricultora, cosa insostenible puesto que estando en invierno qué cosecha se puede dar. Una intuición que parece una obviedad pero que debió de ser una alarma para ella.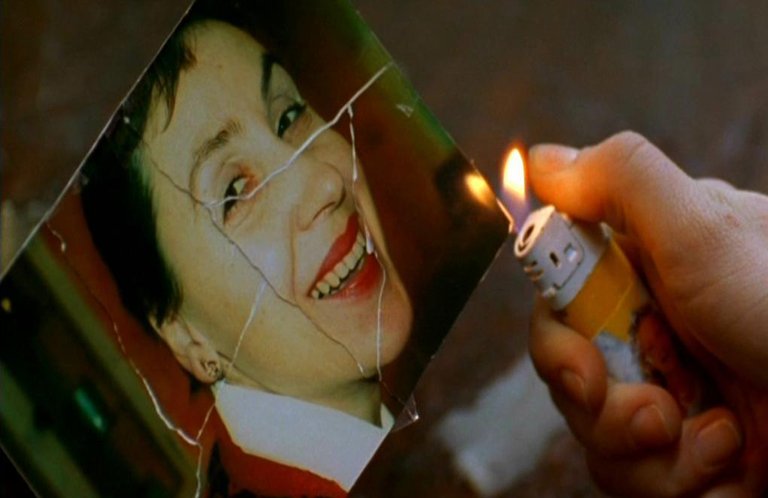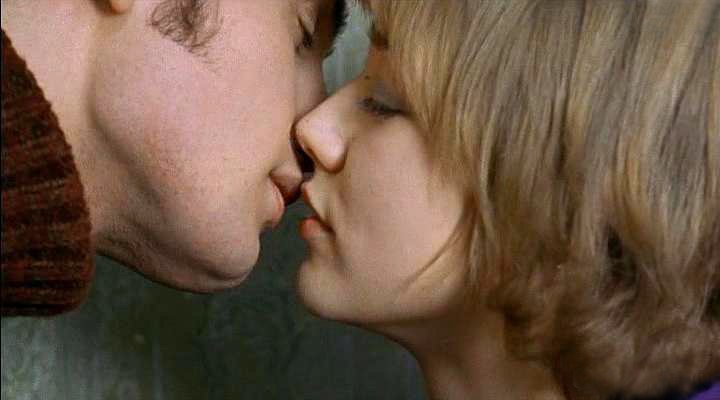 The day of the trip. Lilja does not manage to say goodbye to Volodya, yet she escapes from there happily. Suddenly Andrei tells her that she will not be able to travel with her and that she has to travel alone, giving her instructions on what to do when she is at the airport and how to meet the boss. Lilja seems dazzled by everything she sees in the airport stores, perhaps imagining what her new life would be like and getting all those things she always dreamed of. In unison, we head back to old Russia, where Volodya holds in his hands a bottle of pills which he decides to consume and commit suicide once and for all. Volodya dies. While in Sweden, Lilja gets this supposed boss, who in reality turns out to be a pimp. He takes her to an apartment and rapes her. Finally, Volodya was right, it was all a hoax...
Lilja is forced into prostitution and is heavily violated. An empty life, there is no hope left, but she still carries with her the picture of angels to whom she prayed. Volodia returns as a guardian angel trying to take care of Lilja. He decides to escape but fails and is badly beaten. He tries again and this time with triumph, he manages to escape and it is there where we understand how the scene where Lilja runs through the streets began. Afraid to ask for help, because of the pimp's words that no one would believe her and he himself would find her and kill her, Lilja decides that there is no other way out but death. We are again in front of the bridge, a fearful Lilja wonders about jumping and Volodya, her little protective Angel tells her not to do it. Lilja throws herself into the void. The sound of an ambulance siren, the lights of a hospital corridor, the nurses around Lilja trying to save her life, is the last thing she manages to visualize. As if it were a second chance, Lilja imagines never having made the decision to go to Sweden and stay with Volodya. Lilja dies. In a surreal and painful closing scene, we see how Lilja and Volodia finally meet again and both have become two angels who finally get rest and freedom.
El día del viaje. Lilja no logra despedirse de Volodia, sin embargo escapa de allí feliz. Repentinamente Andrei le dice que no podrá viajar con ella y que le toca viajar sola, dándole instrucciones sobre que hacer cuando esté en el aeropuerto y como encontrarse con el jefe. Lilja parece deslumbrada por todo lo que ve en las tiendas del aeropuerto, imaginando quizás como sería su nueva vida y obtener todas aquellas cosas que siempre soño. Al unísono, nos dirigimos de nuevo hacia la vieja Rusia, donde Volodia sostenie en sus manos un frasco de pastillas las cuales decide consumir y suicidarse de una vez por todas. Volodia muere. Estando en Suecia, Lilja consigue a este supuesto jefe, quien en realidad resulta ser un proxeneta. Esta la lleva a un apartamento y la viola. Finalmente, Volodia estaba en lo correcto, todo era un engaño...
Lilja es obligada a prostituirse y es fuertemente violentada. Una vida vacía, ya no queda esperanza, sin embargo lleva aún consigo el cuadro de unos angeles a los cuales le rezaba. Volodia vuelve como ángel guardian intentando cuidar de Lilja. Decide escaparse pero fracasa y recibe una fuerte golpiza. Lo vuelve a intentar y esta vez con triunfo, logra escapar y es allí donde entendemos como empezó la escena donde Lilja sale corriendo por las calles. Con miedo a pedir ayuda, por las palabras del proxeneta sobre que nadie le creería y el mismo la encontraría y la mataría, Lilja decide que no hay otra escapatoria más que la muerte. Estamos de nuevo frente al puente, una Lilja temerosa divaga sobre lanzarse y Volodia, su pequeño Ángel protector le dice que no lo haga. Lilja se lanza al vacío. El sonido de la sirena de una ambulancia, las luces de un pasillo de hospital, los enfermeros alrededor de Lilja intentando salvar su vida, es lo último que ella logra visualizar. Como si se tratara de una segunda oportunidad, Lilja imagina nunca haber tomado la decisión de irse a Suecia y quedarse con Volodia. Lilja, muere. En una escena de cierre surrealista y dolorosa, vemos como Lilja y Volodia se vuelven a encontrar finalmente y ambos se han convertidos en dos ángeles que por fin obtienen descanso y libertad.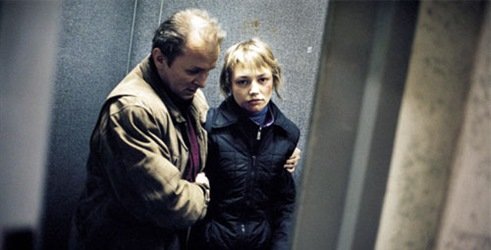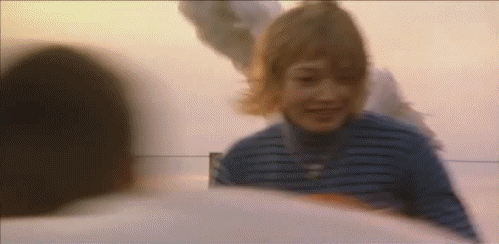 It is undoubtedly a very raw film. It tells us about the realities of many young people who have been forgotten not only by their parents (the first blow) but also by society (the second blow). Something I always liked about the film, is that the theme of child prostitution and abandonment is something that has been touched upon in an infinity of novels and films, but the director manages to hit the mark by choosing two actors who capture the innocence and sweetness of Lilja and Volodia and how she is violated. The relationship shown on screen seems authentic and you can sympathize and be moved by them. You almost wish you could reach across the screen and save them from that situation. Another is the setting where the events unfold, the deteriorated place matches the characters who are just as deteriorated and finished. A place without God, a place without heart and without hope for a better future. The constant reference to Lilja's faith, the poster of the archangel and her transmuted into an angel. As if justice had finally been done. Lilja and Volodia have always been beings of light and represent all the children who have been victims of prostitution.
Finally, Lilja 4-ever is not a film for everyone. It touches on sensitive subjects that not everyone is ready to see. However, it is a film to make people aware of what is going on around us. View it with discretion. Without further ado, I apologize for the length of the article, I felt there was no way to summarize this film without addressing key points. Thank you so much for stopping by to read, comment and vote. Best regards and take care.
Es una película sin duda muy cruda. Nos habla de las realidades de muchos jóvenes que han sido olvidados no solo por sus padres (el primer golpe) sino también por la sociedad (el segundo golpe). Algo que siempre me gustó de la película, es que el tema de la prostitución infantil y el abandono es algo que se ha tocado en infididad de novelas y películas, pero el director logra dar en el blanco al elegir a dos actores que captan la inocencia y dulzura de Lilja y Volodia y como esta es violentada. La relación que se muestra en pantalla parece auténtica y puedes simpatizar y conmoverte con ellos. Casi quisiera uno poder atravesar la pantalla y salvarlos de esa situación. Otra es el escenario donde se desenvuelven los hechos, el lugar deteriorado compaginan con los personajes que están igual de deteriorados y acabados. Un lugar sin Dios, un lugar sin corazón y sin esperanza de un futuro mejor. La constante referencia a la fe de Lilja, el afiche del arcángel y ella transmutado a un ángel. Coml si finalmente se fuera hecho justicia. Lilja y Volodia, siempre fueron unos seres de luz y representan a todos los niños que han sido víctimas de la prostitución.
Finalmente, Lilja 4-ever no es una película para todo el mundo. Toca temas sensibles y que no todos están dispuestos a ver. Sin embargo es una película para concientizar a los seres humanos sobre todo lo que sucede a nuestro alrededor. Verla con discreción. Sin más que decir, me disculpo por lo largo que se hizo el artículo, sentí que no había manera de resumir esta película sin abordar puntos claves. Muchas gracias por pasar por aquí leer, comentar y votar. Un fuerte abrazo y cuídense.