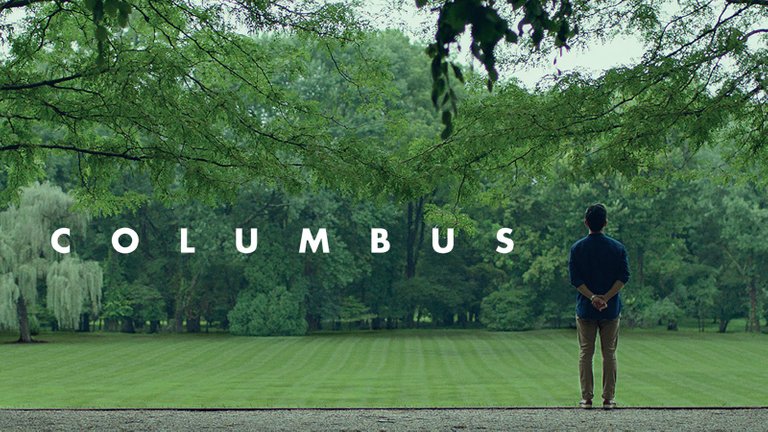 A 2017 movie
Una película de 2017
From time to time a film appears there that, without much publicity, catches our attention, even without knowing much about its synopsis, without being by such a famous director or having a luxurious cast. I don't remember when or where I first saw any reference to this movie, but I wanted to see it ever since and finally did.
De vez en cuando aparece por allí una película que sin contar con mucha publicidad nos llama la atención, incluso sin saber mucho de su sinopsis, sin ser de un director tan famoso ni contar con un reparto de lujo. No recuerdo cuándo o dónde vi por primera vez alguna referencia a esta película, pero quería verla desde entonces y finalmente lo hice.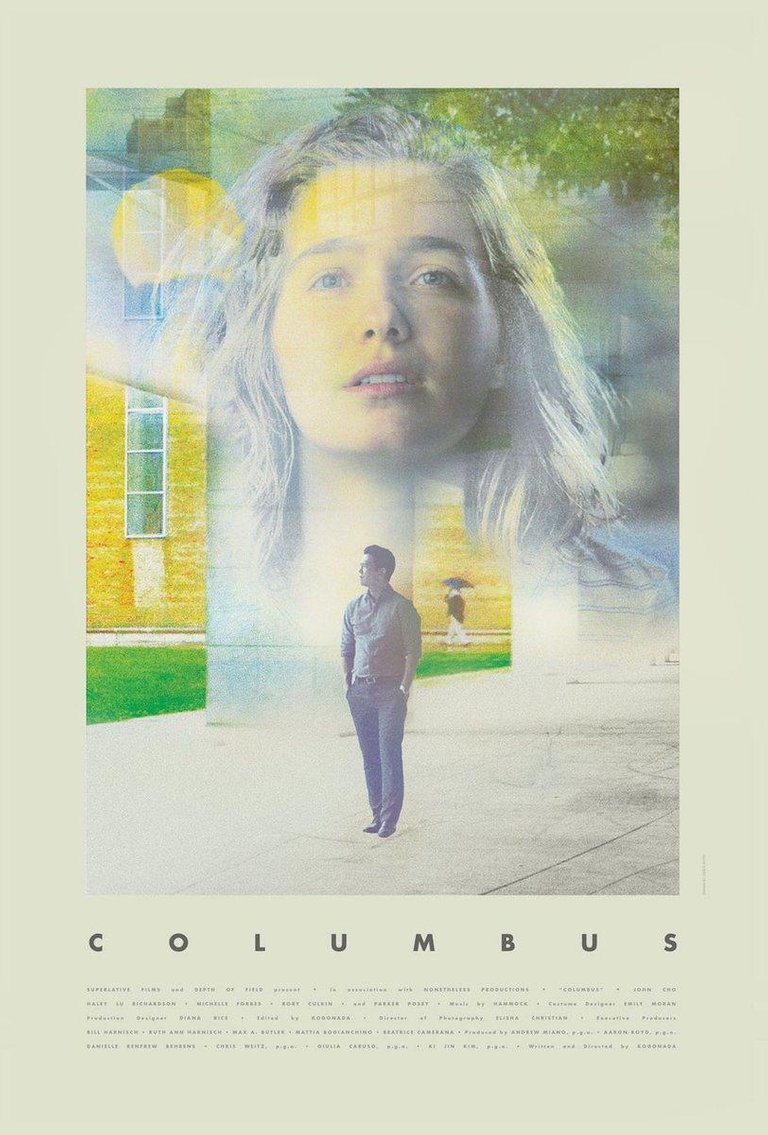 Poster
In simple terms, Columbus is the story of two people whose destinies intersect. On one side is Jin, a man who is suddenly trapped in Columbus, Indiana, where his father is admitted to a hospital after having suffered a fall. Jin works for a Korean publishing house translating books from English and his father is/was an academic in architecture, an important subject there in Columbus. The relationship between the two is distant and was not at its best when Jin's father collapsed while walking, accompanied by a woman whose relationship with both is revealed as the film progresses. On the other side is Casey, a young high school graduate who works in a library and, unlike most, wants to stay in Columbus, live there and care for her mother, a recovering addict who has had a stormy history and works for a company that offers professional cleaning services.
En términos simples, Columbus es la historia de dos personas cuyos destinos se cruzan. Por un lado está Jin, un hombre que de pronto se encuentra atrapado en Columbus, Indiana, en donde su padre está internado en un hospital tras haber sufrido una caída. Jin trabaja para una editorial coreana traduciendo libros desde el inglés y su padre es/fue un académico de la arquitectura, un tema importante allí en Columbus. La relación entre los dos es distante y no se encontraba en su mejor punto cuando el padre de Jin colapsó mientras caminaba, acompañado de una mujer cuya relación con ambos se va revelando a medida que avanza la cinta. Del otro lado está Casey, una joven recién graduada de secundaria que trabaja en una biblioteca y que, al contrario de la mayoría, desea quedarse en Columbus, hacer vida allí y cuidar a su madre, una adicta en recuperación que ha tenido una historia tormentosa y que ahora trabaja en una empresa que ofrece servicio de limpieza profesional.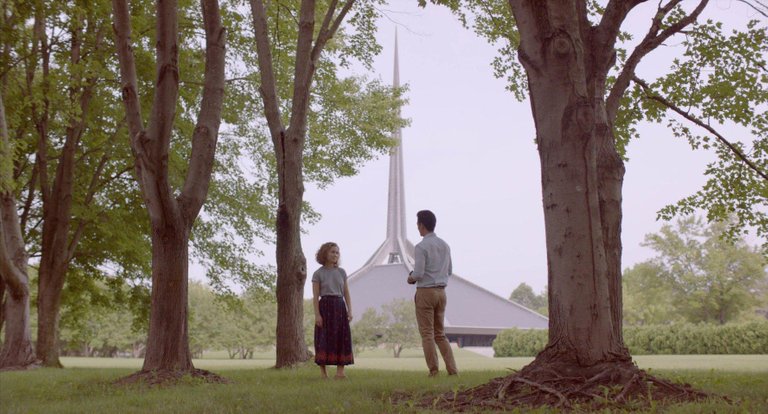 Casey & Jin
During the first part of the film, we see how Jin and Casey orbit each other, being close in space and time without completely coinciding, until one day, through a fence, he asks her for a cigarette and they begin to talk.
Durante la primera parte de la cinta, vemos cómo Jin y Casey se orbitan, estando cerca en espacio y tiempo sin coincidir del todo, hasta que un día, a través de una verja, él le pide un cigarrillo y comienzan a platicar.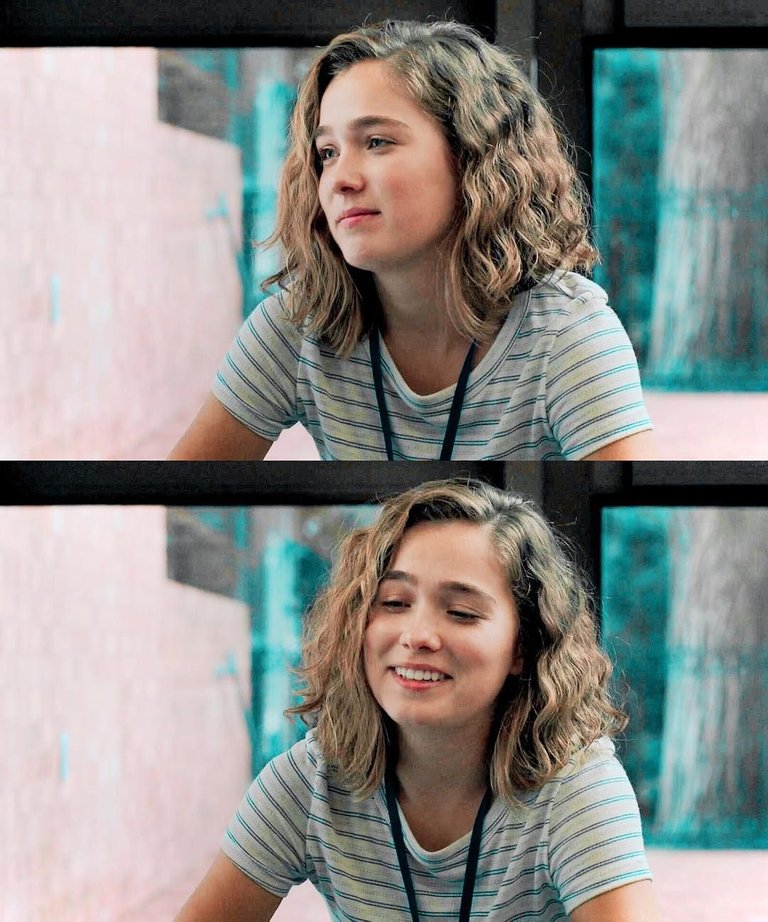 Casey
Thus begins a strange, different, but very honest and meaningful relationship. As they begin to spend time together, we learn a little more about each other's history and we witness their differences and that opposite mirror relationship: although both have only one of their parents alive, while Jin does not get along With her father and does not want to wait any longer in that unattractive city, Casey not only does not want to leave Columbus but is devoted to her mother's care and attention. Jin is over thirty, Casey is under twenty. They are both easy going, but Casey is so much sweeter. Jin's thing is about books, not architecture like his father, but Casey knows the work of Jin's father and has even gone to one of his lectures because, even if she doesn't know what she's going to study at university or even if she's going to do it, she's an architecture lover.
Comienza así entonces una relación extraña, diferente, pero muy honesta y significativa. A medida que comienzan a pasar tiempo juntos vamos conociendo un poco más de la historia de cada uno y vamos siendo testigos de sus diferencias y de esa relación especular opuesta: aunque ambos tienen sólo uno de sus padres con vida, mientras Jin no se lleva bien con su padre y no quiere esperar más tiempo en esa ciudad que no tiene atractivo alguno, Casey no sólo no quiere abandonar Columbus sino que es devota en el cuidado y la atención de la madre. Jin pasa de treinta, Casey no llega a veinte. Ambos son tranquilos, pero Casey es mucho más dulce. Lo de Jin son los libros, no la arquitectura como su padre, pero Casey conoce el trabajo del padre de Jin e incluso ha ido a alguna de sus conferencias porque, aunque no sepa qué va a estudiar en la universidad o si quiera si va a hacerlo, es una amante de la arquitectura.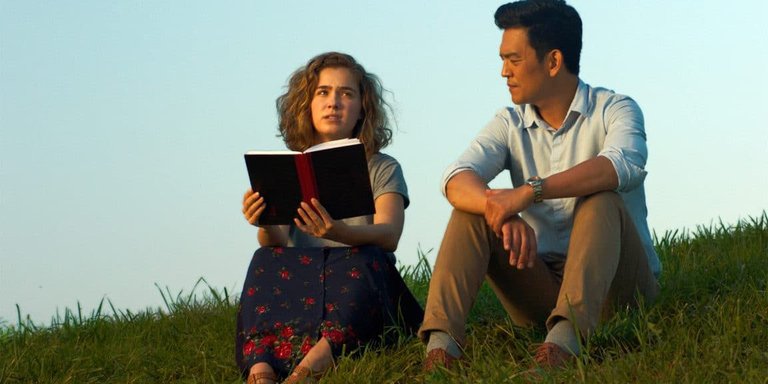 Casey & Jin
What I like about the way the relationship between Jin and Casey evolves is that the director doesn't fall for the platitudes. It was easy to show a romance and yet it is more of a friendship, of an important support in a difficult and crucial moment in the life of each one and in which they feel somewhat alone. The company of the other comforts them, makes them see a reality different from their own and gives them love, yes, but not that romantic love but something more serene, profound.
Lo que me gusta de la forma en que evoluciona la relación entre Jin y Casey es que el director no cae en los lugares comunes. Era fácil mostrar un romance y sin embargo, se trata más de una amistad, de un apoyo importante en un momento difícil y crucial en la vida de cada uno y en el cual se sienten algo solos. La compañía del otro los reconforta, los hace ver una realidad distinta a la propia y les proporciona amor, sí, pero no ese amor romántico sino algo más sereno, profundo.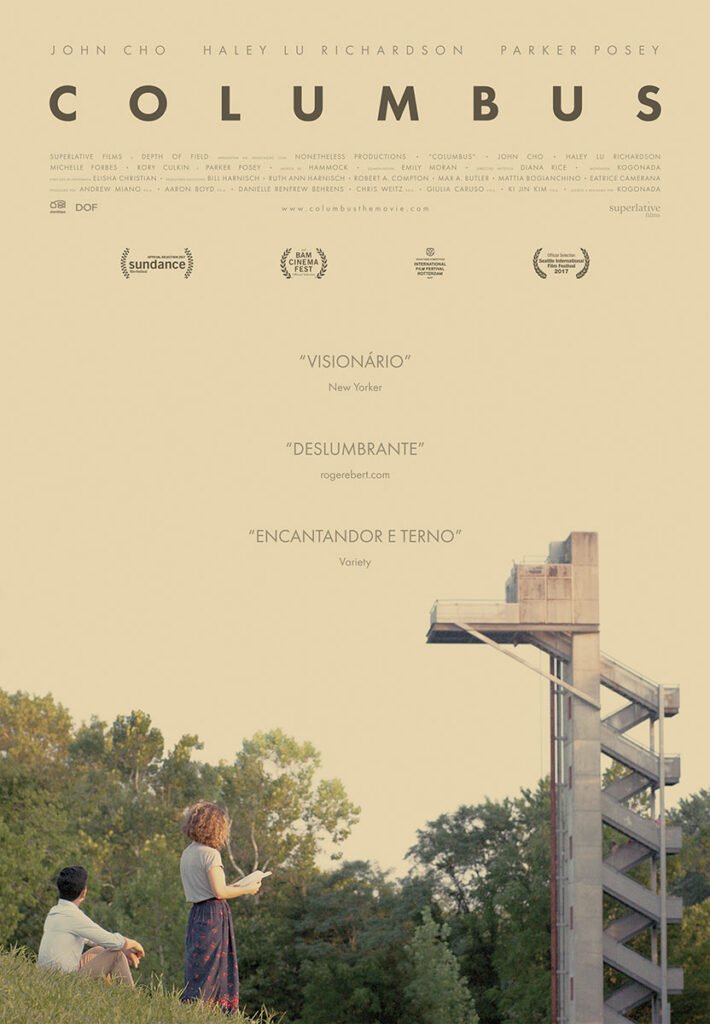 Póster
We never see the protagonists kiss or have sex. However, the connection between the two is evident and the imprint that each leaves on the other is undeniable. I save comments on the last sequences to avoid more spoilers, but I was very satisfied with the resolution of the film and the way it is told.
In addition to the great direction and script that this first feature film by director Kagonada has, another key point in the success of the story is the performances of the protagonists. We've seen John Cho (Jin) in many movies and television series over two decades and if Haley Lu Richardson's face (Casey) looks familiar, you will most likely remember her from her role in Five feet apart . Both play in Columbus very emotional characters that convey without words a whole host of feelings that we perceive before meeting.
Nunca vemos a los protagonistas besarse o tener relaciones sexuales. Sin embargo, la conexión entre ambos es evidente y la huella que cada uno deja en el otro es innegable. Me ahorro comentarios sobre las últimas secuencias para evitar más spoilers, pero quedé muy satisfecho con la resolución de la película y con la forma en que se cuenta.
Además de la gran dirección y el guión que tiene este primer largometraje del director Kagonada, otro punto clave en el éxito de la historia son las actuaciones de los protagonistas. A John Cho (Jin) lo hemos visto en muchas películas y series de televisión a lo largo de dos décadas y si el rostro de Haley Lu Richardson (Casey) les parece familiar, lo más seguro es que la recuerden de su papel en Five feet apart. Ambos interpretan en Columbus personajes muy emocionales y que transmiten sin palabras todo un cúmulo de sentimientos que percibimos antes de conocer.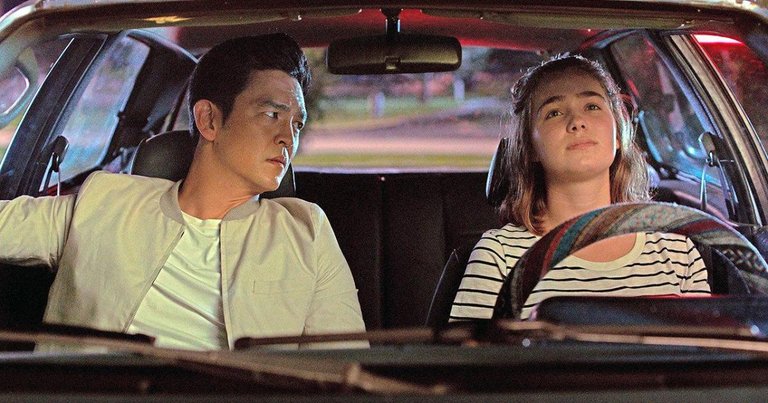 Jin & Casey
I would say that the protagonists of the story are three: love, loneliness and architecture. Hence, the shots, the cudros, the script, all the narrative and visual elements of the film are based on these three elements. Of course there is the relationship between parents and children, the future, the shadow of death and other derivative themes, but in a certain way the story of Jin and Casey is the story of two loneliness that, for a moment, merge into a comforting company. If you like slow, deep dramas and movies with great care for aesthetics, I recommend Columbus; On the contrary, if action and vertigo are your thing, this story is not for you.
Yo diría que los protagonistas de la historia son tres: el amor, la soledad y la arquitectura. De allí que las tomas, los cudros, el guión, todos los elementos narrativos y visuales de la cinta se apoyan en estos tres elementos. Por supuesto está la relación entre padres e hijos, el futuro, la sombra de la muerte y otros temas derivados, pero de cierta forma la historia de Jin y Casey es la historia de dos soledades que, por un momento, se funden en una reconfortante compañía. Si te gustan los dramas lentos, profundos y las películas con gran cuidado por lo estético, te recomiendo Columbus; por el contrario, si lo tuyo es la acción y el vértigo, esta historia no es para ti.
---
Other posts that may interest you | Otros posts que pueden interesarte: