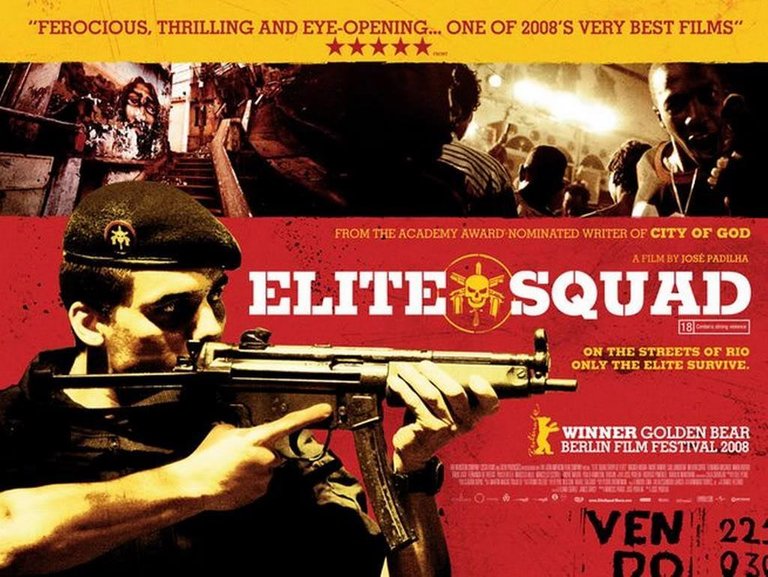 A 2007 Brazilian movie
Una película brasileña de 2007
As those who have been reading me for a while may have noticed, I don't usually watch many action movies. Yes, I see thrillers and dramas that have their share of action, but those films of the purest action genre in the style of Die hard or Fast and the Furious are not my first choice, nor my second, when I sit in front of the screen.
Como lo habrán podido notar aquellos que me leen desde hace un tiempo, no suelo ver muchas películas de acción. Sí, veo thrillers y dramas que tienen su cuota de acción, pero esas películas propias del género más puro de acción al estilo de Die hard o Fast and the Furious no son mi primera opción, ni la segunda, a la hora de sentarme frente a la pantalla.
However, from time to time, I see a film of that genre and last night it was the turn of Tropa de Elite (Elite Squad) a 2007 Brazilian film that, like many previous and subsequent productions from that country , deals with the issue of the favelas in Rio de Janeiro.
In short, the film tells the story of Captain Nascimento (Wagner Moura) who is in command of a squad of the Batallón de Operaciones Especiales de la Policía (BOPE) (Special Police Operations Battalion in English), an elite body of the Rio de Janeiro police, in the style of the North American S.W.A.T. Their mission is to act in the favelas, the immense dangerous neighborhoods of the city, in which the normal police, out of fear or corruption, do not intervene. Captain Nascimento wants to leave his charge because he is about to become a father, but first he needs to find a suitable replacement to take over. To that end, he begins to instruct several policemen, among which Neto and Matías stand out, two honest rookies who are just beginning to realize how rotten the law and justice system is in the country.
Sin embargo, de vez en cuando, veo alguna cinta de ese género y anoche le tocó al turno a Tropa de Elite (Elite Squad) una película brasilera de 2007 que, como muchas producciones previas y posteriores de ese país, trata el tema de las favelas en Rio de Janeiro.
En pocas palabras, el film cuenta la historia del capitán Nascimento (Wagner Moura) quien está al mando de un escuadrón del Batallón de Operaciones Policiales Especiales (BOPE), un cuerpo de élite de la policía de Río de Janeiro, al estilo del S.W.A.T. norteamericano. Su misión es actuar en las favelas, las inmensas barriadas de la ciudad, en las que la policía normal, por miedo o por corrupción, no interviene. El capitán Nascimento quiere dejar su puesto porque está a punto de ser padre, pero antes necesita encontrar un sustituto adecuado para relevarlo. Con ese fin comienza a instruir a varios policías entre los que destacan Neto y Matías, dos novatos honestos que recién comienzan a darse cuenta de lo podrido que está el sistema de ley y de justicia en el país.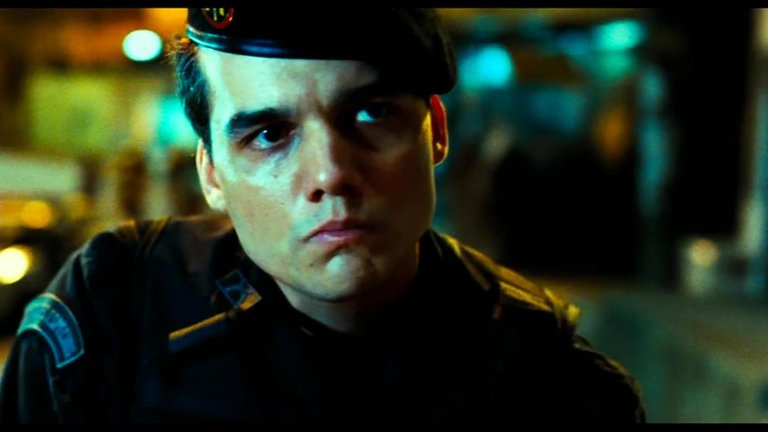 Nascimento
There is a plot: the Captain's next fatherhood; cases of corruption in the police; drug trafficking in the favelas; the unusually honest character of Neto and Matias; However, despite all this, the primary element of the films is violence - sometimes gratuitous - that is exercised not only by the "bad guys", traffickers, criminals, but also by the "good guys", the police and the BOPE.
Existe una trama: la próxima paternidad del Capitán; los casos de corrupción en la policía; el tráfico de drogas en las favelas; el carácter inusualmente honesto de Neto y Matias; sin embargo, a pesar de todo ello, el elemento primario de la películas es la violencia - a veces gratuita - que es ejercida no sólo por los "malos", traficantes, criminales, sino también por los "buenos", la policía y el BOPE.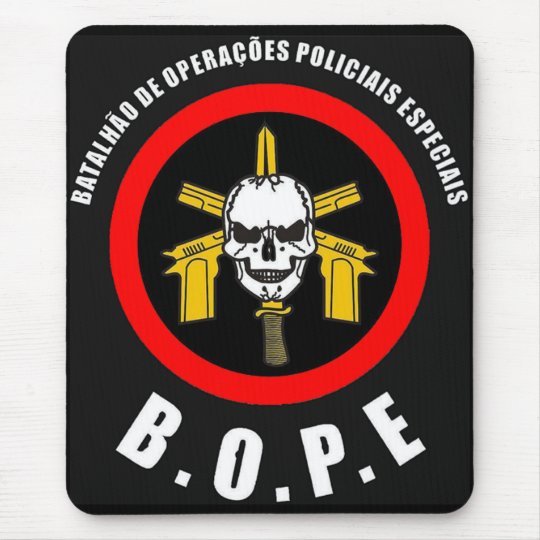 BOPE Logo
Murders, shootings, torture, suffocation, beatings, human immolations and many other violent acts are committed by one side and the other, some in the name of "justice" and others in the name of "order." That life in the favelas controlled by armed criminals is dangerous and that the BOPE fights fire with fire is understood in the context of history, but the special body is still part of the law, can it be justified to impose the law acting outside of the law itself? Even the BOPE logo (the skull, the knife and the guns) is excessively violent, closer to that of a death squad or a gang than to the elite police troop it represents.
Asesinatos, balaceras, torturas, asfixias, golpizas, inmolaciones humanas y muchos otros actos violentos son cometidos por un bando y otro, unos en nombre de la "justicia" y otros en nombre del "orden". Que la vida en las favelas controladas por criminales armados sea peligrosa y que el BOPE combata el fuego con fuego se entiende en el contexto de la historia, pero el cuerpo especial sigue siendo parte de la ley, ¿se puede justificar imponer la ley actuando fuera de la ley misma? Incluso el logo del BOPE (la calavera, el cuchillo y las pistolas) es excesivamente violento, más cercano al de un escuadrón de la muerte o una pandilla que a la tropa de élite policial que representa.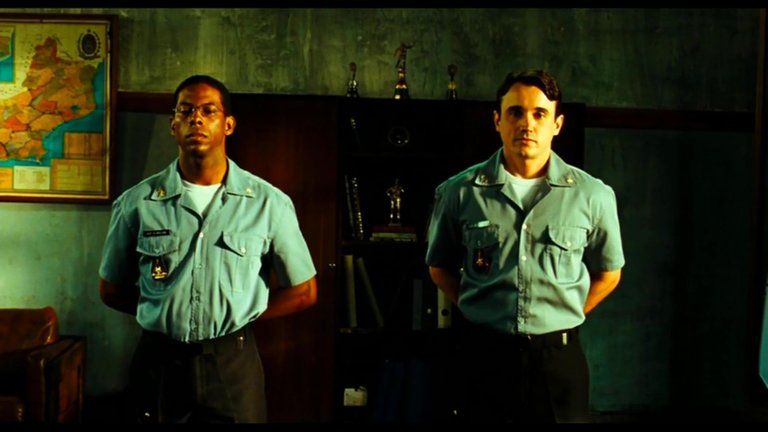 Neto & Matias
Many refer to this film as the counterpart to City of God, a 2002 film that's one of the best film productions made in Brazil, not only because it focuses on the favelas from the opposite side, the police, when that other film did it from the side of the criminals and traffickers, but also because there are similarities in form: the non-linear time of the script, some movements of the camera, the voice in off of the protagonist who tells the story and of course, the attempt to justify violence and social decomposition as a consequence of failures in the system, as if people born and raised in the bosom of rottenness had no choice but to rot as well.
Muchos se refieren a esta película como la contraparte de Ciudad de Dios, película del 2002 que es una de las mejores producciones cinematográficas realizadas en Brasil, no sólo porque se enfoca en las favelas desde el lado opuesto, la policía, cuando aquella otra cinta lo hacía desde el lado de los criminales y los traficantes, sino porque además, hay similitudes de forma: el tiempo no lineal del guión, algunos movimientos de la cámara, la voz en off del protagonista que cuenta la historia y por supuesto,el intento de justificar la violencia y la descomposición social como consecuencia de las fallas en el sistema, como si las personas nacidas y crecidas en el seno de la podredumbre no tuvieran más remedio que pudrirse también.
Despite the similarities, Elite Squad seems to me to be several notches below City of God in direction, script and aesthetics, to name just three key elements in success (and I don't mean the box office) of a movie. However fans of police films, military films or stories with a lot of violence and many shots will love this film that, to my surprise, won the Golden Bear (Recognition for Best Film) at the 2008 Berlin Film Festival. , defeating, among others, There will be blood by Paul Thomas Anderson, which somehow proves that the best cinema is not only about slow stories, period dramas and films from the most unexpected corners of the world, rather it can contain the same blood and violence that seem to rule the lives of millions of people who live in the midst of it. If any of you have seen this movie, leave your opinion in the comments.
A pesar de las similitudes, Elite Squad me parece estar varios puntos por debajo de City of God en la dirección, el guión y lo estético, por nombrar sólo tres elementos claves en el éxito (y no me refiero a la taquilla) de una película. Sin embargo los fanáticos de las películas policiales, militares o de las historias con mucha violencia y muchos disparos, amarán esta película que, para mi sorpresa, se llevó el Oso de Oro (Reconocimiento a la Mejor Película) en el Festival de Berlín de 2008, derrotando, entre otras, There will be blood de Paul Thomas Anderson, con lo que se demuestra de alguna manera que el mejor cine no solamente tiene que ver con historias lentas, dramas de época y películas salidas de los rincones más insospechados del mundo, sino que puede contener la misma sangre y violencia que parecen regir la vida de millones de personas que viven en medio de ella. Si alguno de ustedes la ha visto, cuénteme su opinión en los comentarios.
---
Other posts that may interest you | Otros posts que pueden interesarte: