Now in theaters
Ahora en los cines
I don't remember where I read or heard the phrase that says "The whole is greater than the sum of the parts". Surely it has many interpretations and applications in different fields, but in summary it means that the combination of two or more elements will always obtain a result bigger than the simple addition of those same elements, since the relationship amplifies them. Taken to the cinema, it would be as if the result of bringing two stars together should always result in a great movie. But we know that's not true, the list of examples is long and now we should add one more: this film.
No recuerdo en donde leí o escuche la frase que dice que "El todo es mayor que la suma de las partes". Seguramente tiene muchas interpretaciones y aplicaciones en diferentes campos, pero en resumen quiere decir que de la combinación de dos o más elementos se obtendrá siempre un resultado superior que la simple adición de esos mismos elementos, puesto que la relación los amplifica. Llevado al cine, sería como si el resultado de juntar a dos estrellas debiera siempre resultar en una gran película. Pero sabemos que eso no es cierto, la lista de ejemplos es larga y ahora habría que sumar uno más: esta cinta.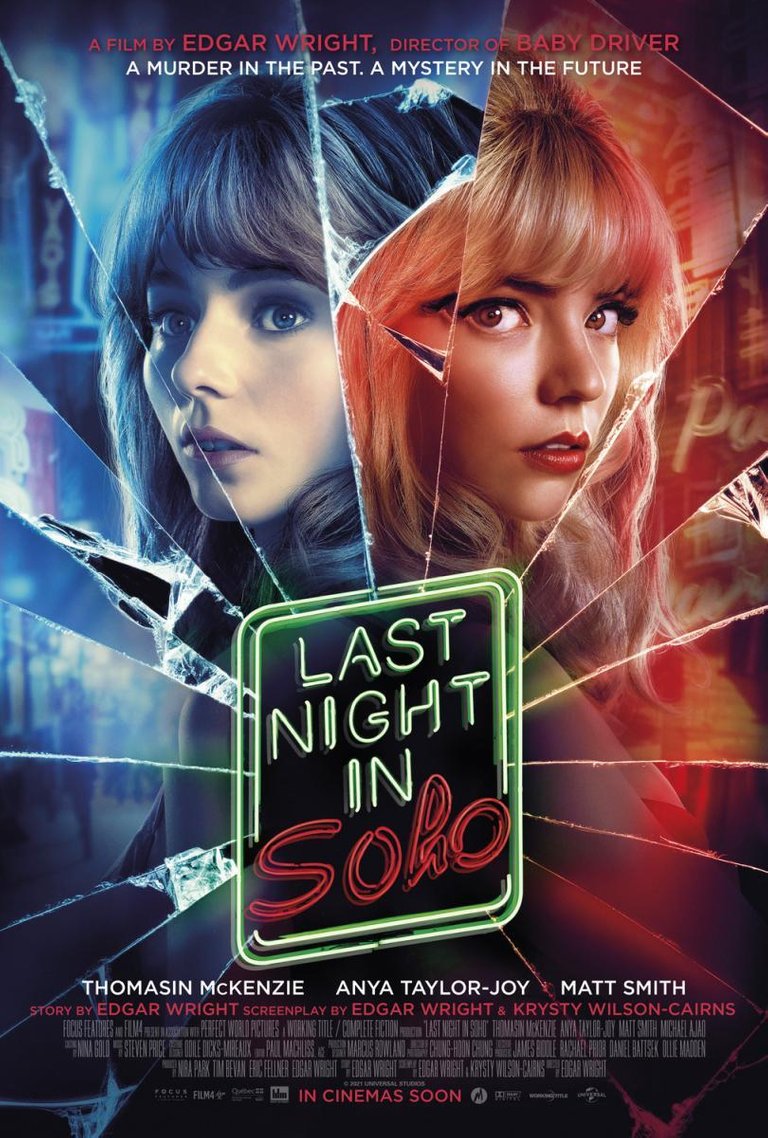 Poster
Last night in Soho is the most recent film by Director Edgar Wright, who also co-wrote it, and it stars two young and talented actresses who are no longer just promises for a future Hollywood but have shown, in the present, to have a great interpretive capacity: Thomasin McKenzie (Leave no trace, Jojo Rabbitt) and Anya Taylor-Joy (Split, Emma, The Witch, The Queen's Gmbit). The film is a psychological thriller whose story revolves around the dream of Ellie Turner (McKenzie), a young English country girl who dreams of being a fashion designer and goes to London to achieve it. So far it would seem like a plot about the struggle to succeed at all costs, perhaps related to The Black Swann, in which the young village girl must adapt to the demands of life in one of the largest cities in the world where she discovers malicious people, vices and excesses to which she was not used (drugs, sex, alcohol).
Last night in Soho es la película más reciente del Director Edgar Wright, quien también la coescribió, y está protagonizada por dos actrices jóvenes y talentosas que ya no son sólo promesas para un Hollywood futuro sino que han demostrado, en el presente, tener una gran capacidad interpretativa: Thomasin McKenzie (Leave no trace, Jojo Rabbitt) y Anya Taylor-Joy (Split, Emma, The Witch, The Queen's Gmbit). La película es un thriller psicológico cuya historia gira en torno al sueño de Ellie Turner (McKenzie) una joven campesina inglesa que sueña con ser diseñadora de modas y se va a Londres para conseguirlo. Hasta aquí parecería una trama sobre la lucha por coseguir triunfar a toda costa, emparentada quizás con The Black Swann, en el que la joven pueblerina debe adaptarse a las exigencias de la vida en una de las mayores ciudades del mundo en donde descubre personas malintencionadas, vicios y excesos a los que no estaba acostumbrada (drogas, sexo, alcohol).
Ellie
But there's more: Ellie is an orphan. She never knew her father and her mentally complicated mother took her own life when she was seven years old. And there's even more: the girl has the gift to see the dead (it is clear from the beginning when she smiles at her mother in the mirror).
Pero hay más: Ellie es huérfana. No conoció a su padre y su madre, mentalmente complicada, se quitó la vida cuando ella tenía siete años de edad. Y hay aún más: la chica tiene el don de ver a los muertos (queda claro desde el inicio cuando le sonríe a su madre en el espejo).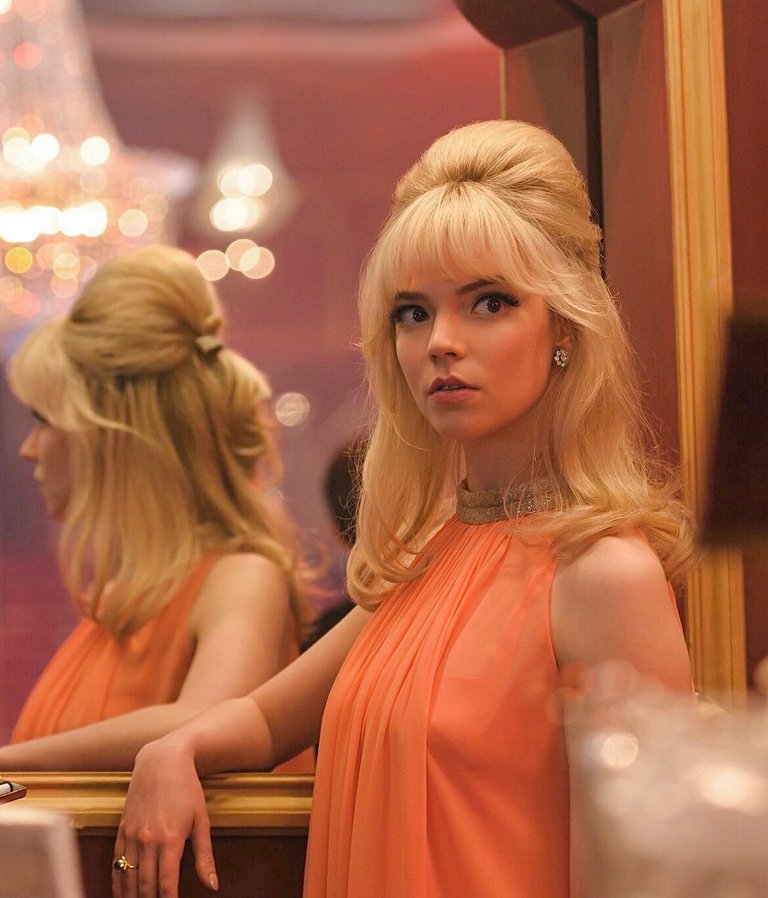 Sandie
But it is one thing to see your dead mother, from time to time, in the mirror of your picturesque home in rural England, and it's another to perceive, in the darkness of a room in central London, the memories of an abused former aspiring singer woman or sleeping on a mattress on which a lot of blood was shed in the sixties. One night Ellie, a lover of the music of the sixties and everything related to the time, dreams that she's in the Soho and meets Sandie (Taylor-Joy) the aforementioned singer who wants to be a star. Ellie follows Sandie and plunges into a night full of clubs, spotlights, drinks and dancing, until she wakes up the next morning.
Pero una cosa es ver a su madre muerta, de vez en cuando, en el espejo de su pintoresca casa en la Inglaterra rural y otra es percibir, en la oscuridad de una habitación en el centro de Londres, los recuerdos de una antigua aspirante a cantante abusada o dormir sobre un colchón en el que se derramó mucha sangre en los años sesenta. Una noche Ellie, amante de la música de los sesenta y de todo lo relacionado con la época, sueña que está en el Soho y se encuentra a Sandie (Taylor-Joy) la cantante ya mencionada que desea ser una estrella. Ellie sigue a Sandie y se sumerge en una noche llena de clubes, reflectores, tragos y bailes, hasta que despierta a la mañana siguiente.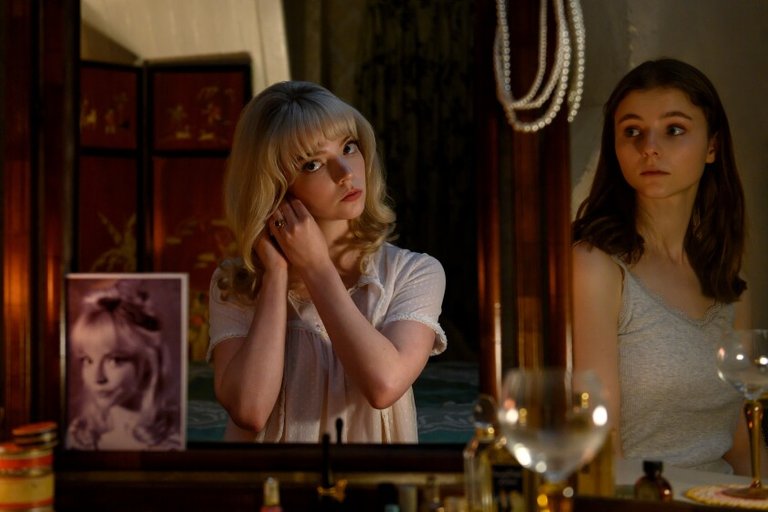 Sandie & Ellie
As we know the mental background of Ellie's mother, the first thing we think is that this shy, introverted and insecure teenager projects an alter ego in her nighttime fantasies (there are speculated movements and references to support this) more daring, confident and determined than herself. In fact, Ellie, in real life, dyes her hair blonde and does her hair in a style similar to Sandie's. But when the visions begin to pervert, the separation between the two girls is marked, so, knowing Ellie's gift, we think that Sandie must be the ghost of a girl who lived in Mrs. Collins's pension, in the room that now, fifty years later, Ellie occupies. But neither is this the explanation that, after almost two hours of failed scenes, some clichés and an incoherent script, the film gives us: Sandie is not dead. So if Sandie wasn't Ellie's fantasy, nor was she really dead, how could she see and company her? Although something is said in the film: "It was as if I had died in that room" I'm sorry, I don't buy it. I'm not convinced by that part.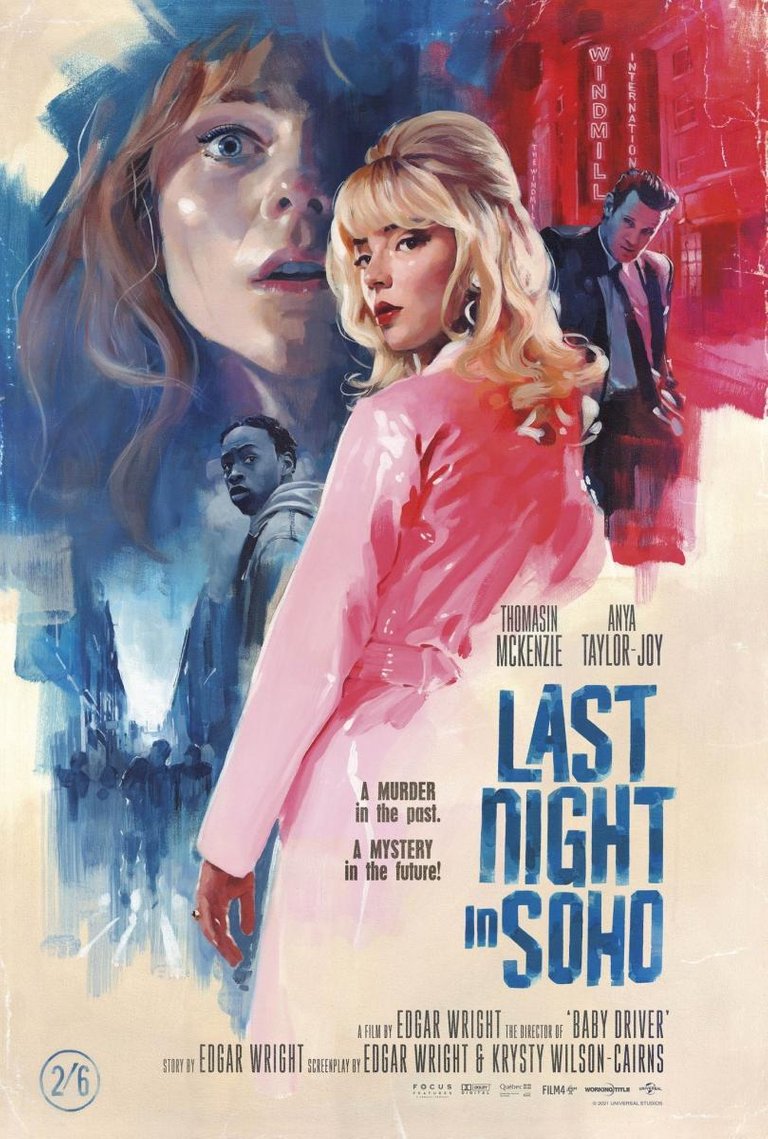 Vintage Poster
Como conocemos los antecedentes mentales de la madre de Ellie, lo primero que pensamos es que esta adolescente tímida, introvertida e insegura, proyecta en sus fantasías nocturnas un alter ego (hay movimientos especulados y referencias para avalar esto) más atrevido, confiado y determinado que ella misma. De hecho, Ellie, en la vida real, se tiñe el cabello de rubio y se peina con un estilo similar al de Sandie. Pero cuando las visiones comienzan a pervertirse se marca la separación entre las dos chicas, por lo que, concociendo el don de Ellie, pensamos que Sandie debe ser el fantasma de una chica que vivió en la pensión de la señora Collins, en la habitación que ahora, cincuenta años más tarde, ocupa Ellie. Pero tampoco es esta la explicación que, después de casi dos horas de escenas fallidas, algunos clichés y un guión incoherente, nos entrega la película: Sandie no está muerta. Entonces, si Sandie no era una fantasía de Ellie, ni estaba realmente muerta, ¿cómo podía verla y acompañarla? Algo se dice en la película: "Fue como si hubiera muerto en ese cuarto". Lo siento, no me lo trago.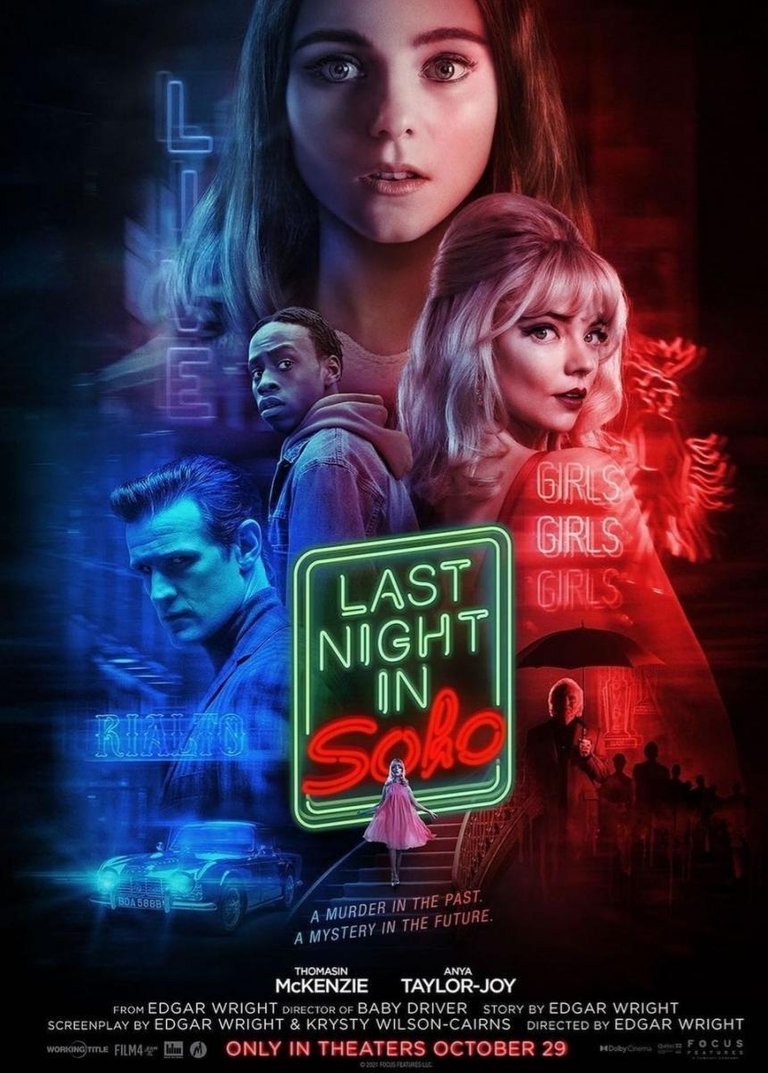 Main Poster
Not all stories end as we would like, it's true, and it's not the end that left me unhappy. It was the beginning, the development and the end, all together, to which we must add a weak script, poorly constructed characters and plot twists that are contradictory. Among the few points in favor, I would highlight the recreation of the past era, the settings of the sixties (it seems that Wright would have wanted to set a story at this time and would have forced everything to do so), the costumes and also the performances of the two protagonists ... or almost. That they both know how to act, we know. That they do very well, too. But I think the roles they play don't allow them to do too much, especially McKenzie. Taylor-Joy has a more alive character, with a more aggressive attitude and a mixture of emotions that she knows how to express very well in front of the camera. On the other hand, Ellie, the main character, despite her story, is too naive, too innocent and although she has problems at the academy and London overwhelms her, I couldn't empathize with the girl's mood swings (probably because of the script) Nor with John, his classmate who also seems too kind to be convincing. That's it: they are not credible characters.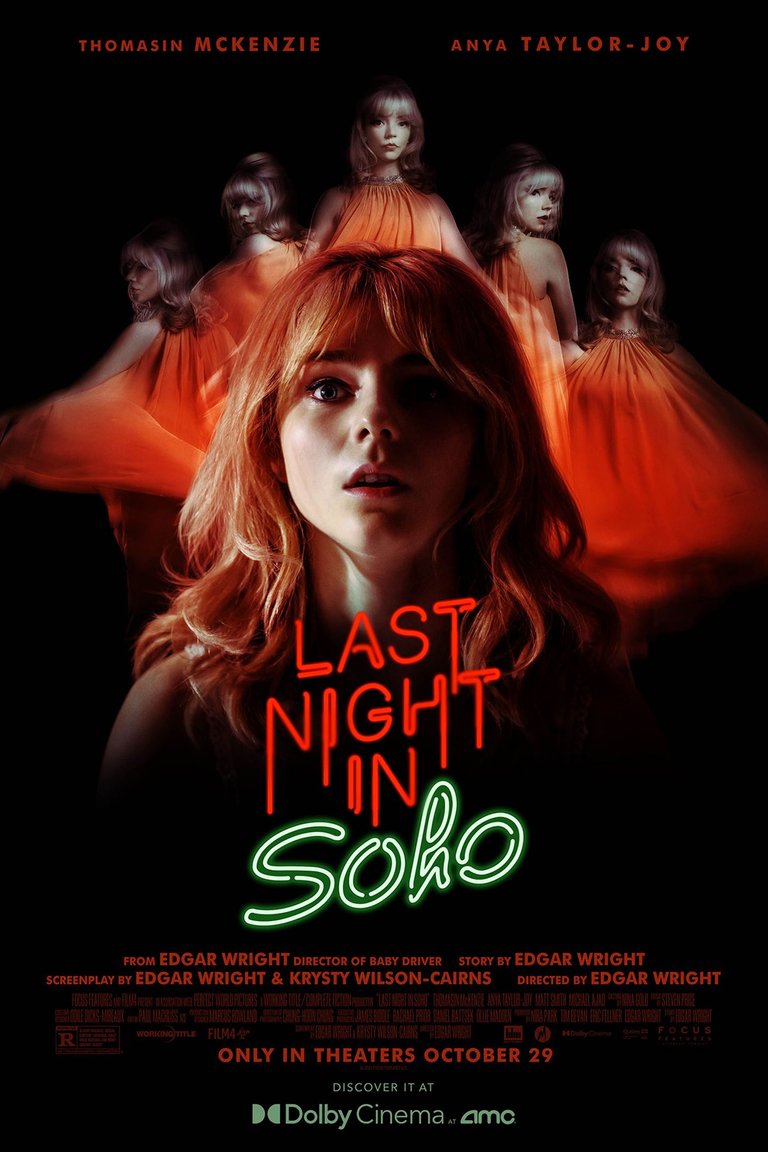 Alternate Poster
No todas las historias terminan como quisiéramos, es cierto, y no es el final lo que me dejó inconforme. Fue el inicio, el desarrollo y el final, todo junto, a lo cual hay que sumar un guión débil, unos personajes mal construidos y giros de trama que resultan contradictorios. Entre los pocos puntos a favor, destacaría la recreación de la época pasada, los escenarios de los años sesenta (parece que Wright hubiera querido ambientar una historia ene sta época y hubiera forzado todo con tal de hacerlo), el vestuario y las actuaciones de las dos protagonistas... o casi. Que las dos saben actuar, lo sabemos. Que lo hacen muy bien, también. Pero creo que los papeles que intepretan no les permiten hacer demasiado, en especial a Mackenzie. Taylor-Joy tiene un personaje más vivo, con una actitud más agresiva y una mezcla de emociones que sabe expresar muy bien frente a la cámara. En cambio, Ellie, el personaje protagonista, a pesar de su historia, es demasiado ingenua, demasiado inocente y aunque tiene problemas en la academia y Londres la abruma, no logré empatizar con la chica (probablemente por el guión) ni con John, su compañero de curso que me parece también demasiado bondadoso para resultar convincente.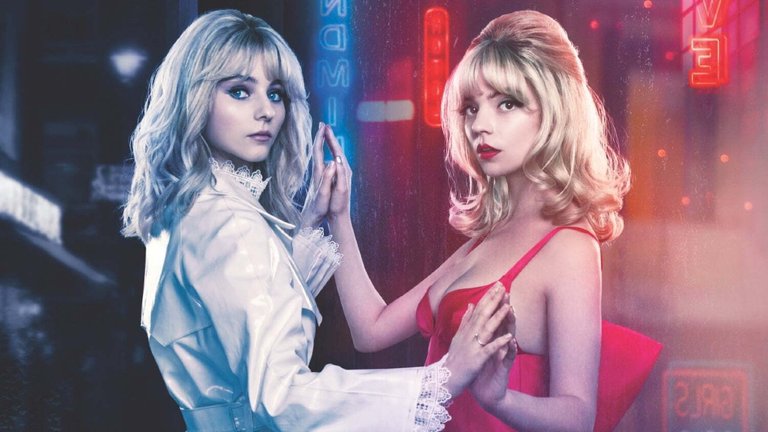 Ellie & Sandie
I had high expectations before seeing this movie. The trailer caught my attention, I also have a fascination for the sixties, Anya Taylor-Joy and Thomasin McKenzie in the same movie, and that it was also a psychological thriller... everything seemed to indicate that it would be a great story, but in Some point between the idea and the execution, everything was lost and ended up in a confusing story - boring at times - and the waste of a leading duo who was there for much more. What a pitty.
Tenía grandes expectativas antes de ver esta película. El trailer llamó mi atención, yo también tengo una fascinación por los años sesenta, Anya Taylor-Joy y Thomasin McKenzie en una misma película, y que además, fuera un thriller psicológico... todo parecía indicar que sería una gran historia, pero en algún punto entre la idea y la ejecución todo se perdió y acabó en una historia confusa - por momentos aburrida - y el desaprovechamiento de una dupla protagonista que estaba para mucho más. Una lástima.