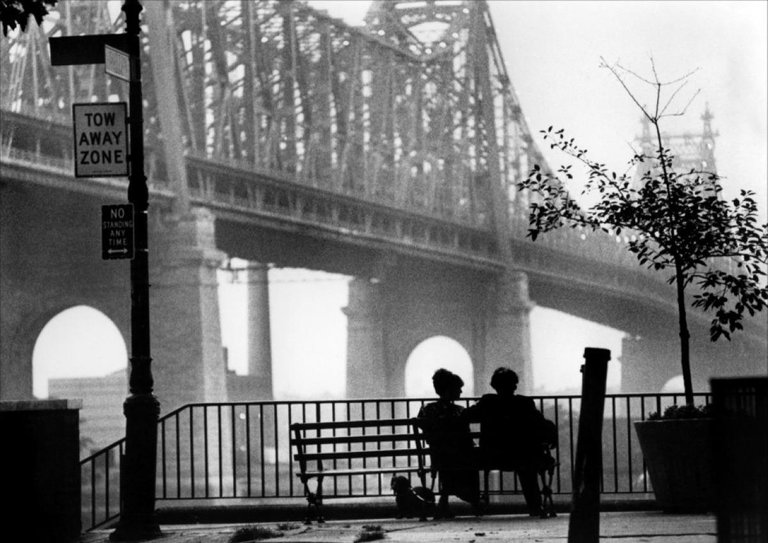 A 1979 film
Un película de 1979
I confess - and it's nothing new - I like Woody Allen movies. Although, to clarify, I must narrow that judgment. I don't mean to say that I like all his films or that I like all the films that I like about him in equal. Of course I have my favorites (Annie Hall, The purple rose of Cairo, Midnight in Paris), but in general, I find that he makes films of a more than acceptable quality and with visual elements that I enjoy.
Lo confieso - y no es nada nuevo - me gustan las películas de Woody Allen. Aunque, para aclararlo, debo estrechar ese juicio. No quiero decir que me gusten todas sus películas ni que todas las películas que me gustan de él me gusten por igual. Por supuesto que tengo mis favoritas (Annie Hall, The purple rose of Cairo, Midnight in Paris), pero en general, me parece que hace películas de una calidad más que aceptable y con elementos visuales que disfruto.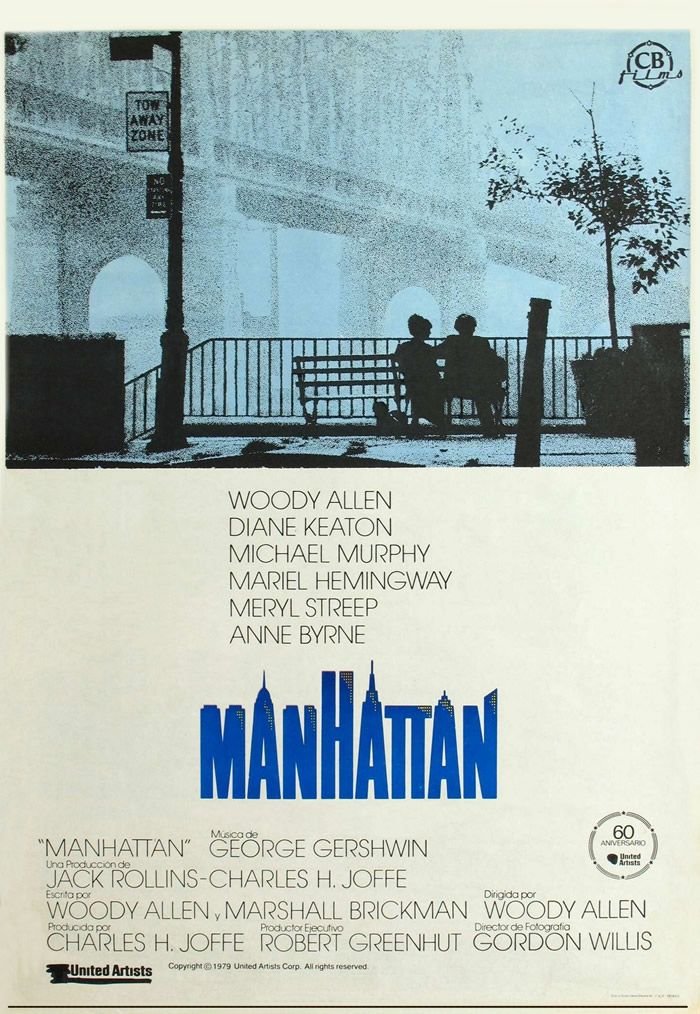 Poster
That's why sometimes, at that moment when I'm choosing what to watch next, I choose to watch an Allen film, because I know what I'm going to find and sometimes I want to see something like that. Such was the case on Tuesday night when I wanted to see a romantic, funny, not very long, relaxed movie and I opted for Manhattan. Long story short, the movie is about Isaac Davis (Woody Allen), a middle-aged New Yorker who has a job he hates, a 17-year-old girlfriend he doesn't love, and a lesbian ex-wife who he wishes to strangle because she's writing a book in which she tells the intimacies of their marriage. When he meets Mary (Diane Keaton), the sexy and snobbish lover of his best friend, he falls in love with her. The idea of ​​leaving his girlfriend, having something with Mary and leaving his job is for Isaac the beginning of a new life. Or maybe not.
Es por eso que algunas veces, en ese momento en que estoy escogiendo qué ver a continuación, me decanto por ver alguna cinta de Allen, porque sé con qué me voy a encontrar y a veces tengo ganas de ver algo como eso. Tal fue el caso de la noche del martes cuando quería ver una película romántica, graciosa, no muy larga, relajada y opté por Manhattan. En pocas palabras, la película trata sobre Isaac Davis (Woody Allen), un neoyorquino de mediana edad que tiene un trabajo que odia, una novia de 17 años a la que no ama y una ex esposa lesbiana a la que desearía estrangular porque está escribiendo un libro en el que cuenta las intimidades de su matrimonio. Cuando conoce a Mary (Diane Keaton), la sexy y snob amante de su mejor amigo, se enamora de ella. La idea de dejar a su novia, tener algo con Mary y abandonar su trabajo supone para Isaac el comienzo de una nueva vida. O tal vez no.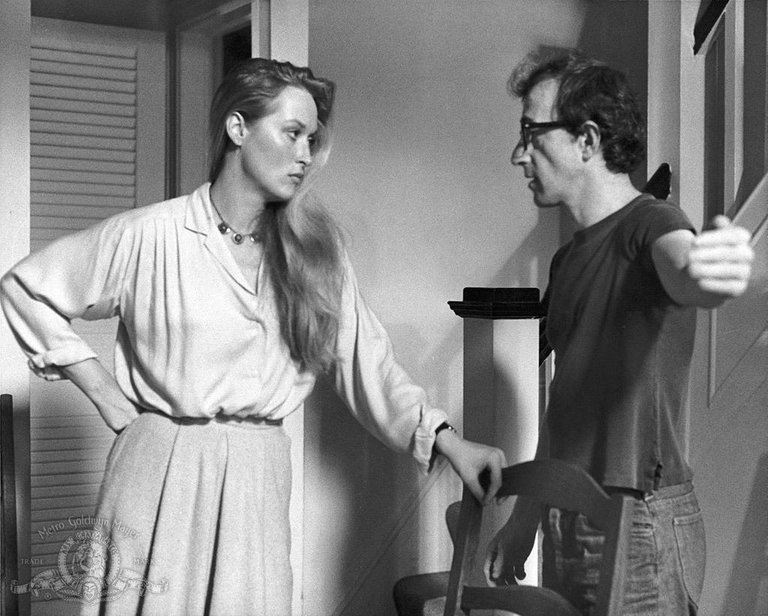 Isaac and his ex-wife (Meryl Streep) | Isaac y su ex esposa (Meryl Streep)
It's one of several collaborations between Allen and Keaton and deals, like other of their films, the themes of marriage, infidelity, jealousy, Judaism, society, politics ... all the familiar places of the Director.
Se trata de una de las varias colaboraciones entre Allen y Keaton y trata, como otras de sus películas, los temas del matrimonio, la infidelidad, los celos, el judaísmo, la sociedad, la política... todos los lugares familiares del Director.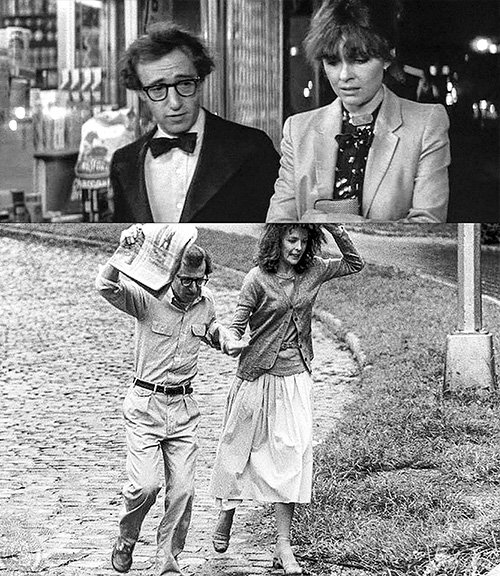 Isaac & Mary
Similarly, the script bears Allen's stamp. It's full of sarcasm, ironies and cultural and intellectual jokes through which Woody expresses what he thinks about the topics of the moment, in this case from the late seventies. Only by paying attention to the conversations of Allen's characters in his films can one establish a chronology between the themes that have shaken society for the last forty or fifty years: sex, psychoanalysis, technological advances, music, and of course the movies and film directors. Time and again he has done it in his works, just like the reflection of complex human relationships in which it is never black and white, but rather we go, we come, we go back to leave, we pursue a dream, we get it, we discard it, we go back to yearn for it... in that sense, his characters, though picturesque and hysterical at times, are often very human.
De igual forma, el guión tiene el sello de Allen. Está plagado de sarcasmo, ironías y chistes culturales e intelectuales a través de los cuales Woody expresa lo que piensa respecto a los tópicos del momento, en este caso de finales de los setenta. Sólo prestando atención a las conversaciones de los personajes de Allen en sus películas uno puede establecer una cronología entre los temas que han sacudido a la sociedad los últimos cuarenta o cincuenta años: sexo, psicoanálisis, avances tecnológicos, la música y por supuesto las películas y los directores de cine. Una y otra vez lo ha hecho en sus obras, igual que el reflejo de relaciones humanas complejas en las que nunca es blanco y negro, sino que vamos, venimos, volvemos a irnos, perseguimos un sueño, lo conseguimos , lo desechamos, volvemos a anhelarlo... en ese sentido, sus personajes, aunque pintorescos e histéricos algunas veces, suelen ser muy humanos.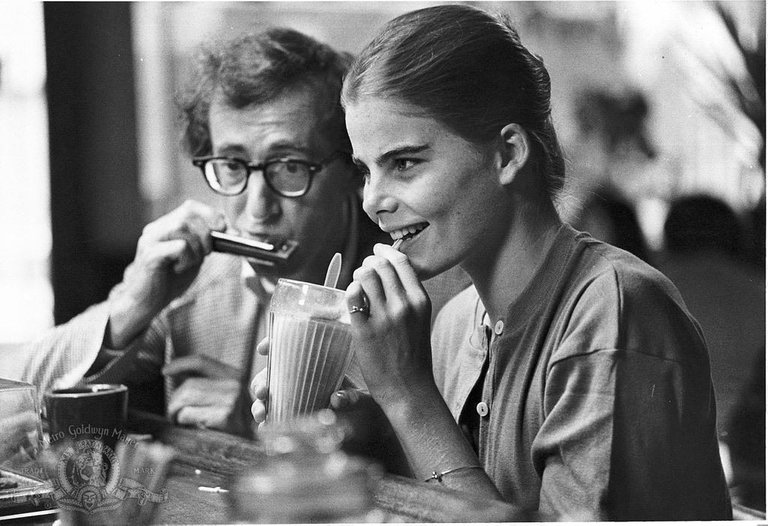 Isaac & Tracy
And of course, the big apple. The capital of the world. New York City. Allen has a fixation for that city that he loves even when his characters hate it. Noise, garbage, crime, pollution, all of this is attacked by its characters, but they also enjoy the setting of an afternoon in the rain, an exhibition at the Guggenheim Museum, a walk through Central Park, cafes, theaters, taxis, cinemas; time and time again NYC acts like another character, not just a stage. If I say all these things it's because, for those who haven't seen anything (or have seen little) of Woody Allen, this film can give you an idea of ​​what his style is. But for those who have already seen Annie Hall, A rainy day in New York, Manhattan murder mistery or Wonder Wheel, this story is more of the same (and not necessarily of the same quality), with the exception that Meryl Streep and the granddaughter by Ernest Hemingway appear, something that cannot be seen anywhere. And you, have you seen Woody Allen movies? What's your favorite? I read you in the comments.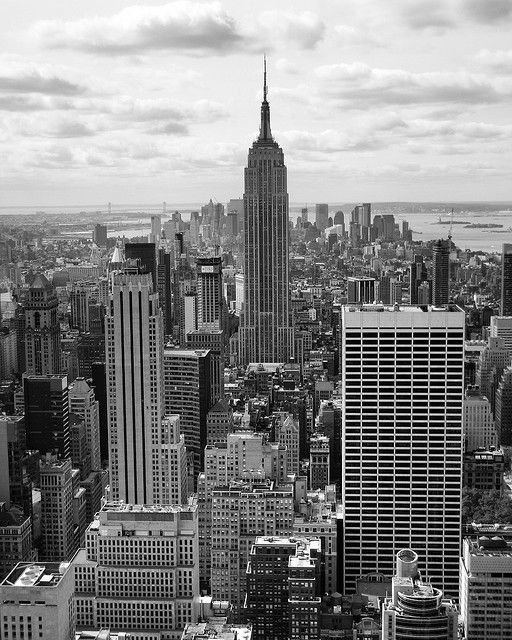 NYC
Y por supuesto, la gran manzana. La capital del mundo. Nueva York. Allen tiene una fijación por esa ciudad que ama aún cuando sus personajes la odian. El ruido, la basura, el crimen, la contaminación, todo eso es atacado por sus personajes, pero también disfrutan el escenario de una tarde bajo la lluvia, una exposición en el Museo Guggenheim, una caminata por el Central Park, cafés, teatros, taxis, cines; una y otra vez NYC actúa como un personaje más, no sólo como un escenario. Si digo todas estas cosas es porque, para quienes no han visto nada (o han visto poco) de Woody Allen, esta película les puede dar una idea de cuál es su estilo. Pero para quienes ya vieron Annie Hall, A rainy day in New York, Manhattan murder mistery o Wonder Wheel, esta historia es más de lo mismo (y no necesariamente de la misma calidad), con la salvedad de que aparecen Meryl Streep y la nieta de Ernest Hemingway, algo que no se puede ver en cualquier lado. Y ustedes, ¿han visto películas de Woody Allen? ¿Cuál es su favorita? Los leo en los comentarios.