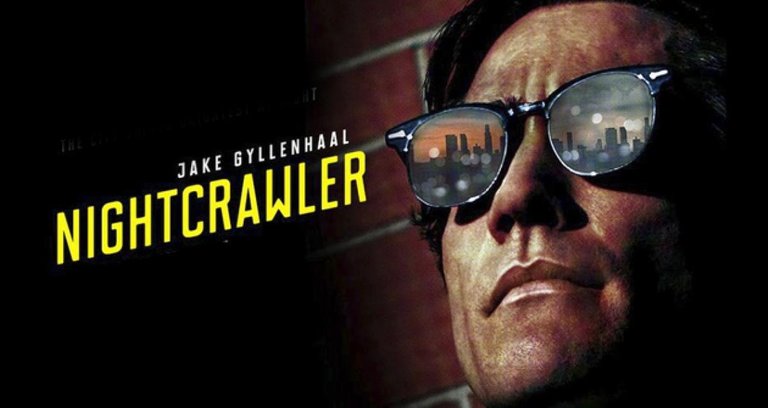 A 2014 movie
Una película de 2014
I've seen several Jake Gyllenhaal movies and he seems like a good actor. I liked his performances in Nocturnal animals, Enemy, October Sky, Prisoners, Zodiac, I even liked what he did in The day after tomorrow, although I didn't like the movie so much. However, until a couple of weeks ago I had not seen one of the most recommended films of the last in which he has participated and here is my review.
He visto varias películas de Jake Gyllenhaal y me parece un buen actor. Me gustaron sus actuaciones en Nocturnal animals, Enemy, October Sky, Prisoners, Zodiac, incluso me gustó lo que hizo en The day after tomorrow, auque la película no me haya gustado tanto. Sin embargo, hasta hace un par de semanas no había visto una de las películas más recomendadas de la últimas en las que ha participado y acá les dejo mi reseña.
Poster
Nightcrawler tells the story of Lou Bloom, a determined and enthusiastic young man who at the beginning of the film we see stealing fences and manhole covers to sell in junkyards. He seems unable to get a normal job, or at least in the little that is told, he seems to be in search of an honored activity that he can dedicate himself to for a living. One night, after witnessing a car accident, he discovers the world of criminal journalism as a way to earn money in the dangerous city of Los Angeles and comes up with the idea of ​​dedicating himself to it. Faced with the refusal of someone who already works in that to give him a job, Lou decides to dedicate himself to this intriguing work on his own account: his job is to arrive at the scenes of crimes or accidents before anyone else and photograph what happened to sell them to the highest bidder, TV channels that pay good money to have shocking scoops of crimes or violent accidents for their morning edition.
Nightcrawler cuenta la histria de Lou Bloom, un joven determinado y entusiasta que al inicio de la película vemos robando cercas y tapas de alcantarillado para venderlas en las chatarrerías. Parece no poder conseguir un empleo normal, o al menos en lo poco que se nos cuenta, parece estar en la búsqueda de una actividad honrada a la que se pueda dedicar para ganarse la vida. Una noche, tras ser testigo de un accidente automovilístico, descubre como forma de ganar dinero el mundo del periodismo criminalista en la peligrosa ciudad de Los Ángeles y se le ocurre la idea de dedicarse a ello. Ante la negativa de alguien que ya trabaja en eso de darle un empleo, Lou toma la determinación de dedicarse a esta intrigante labor por su propia cuenta: su trabajo es llegar a los escenario de crímenes o accidentes antes que nadie más y fotografiar lo sucedido para venderlos al mejor postor, canales de televisión que pagan buen dinero por tener primicias impactantes de crímenes o accidentes violentos para su edición matutina.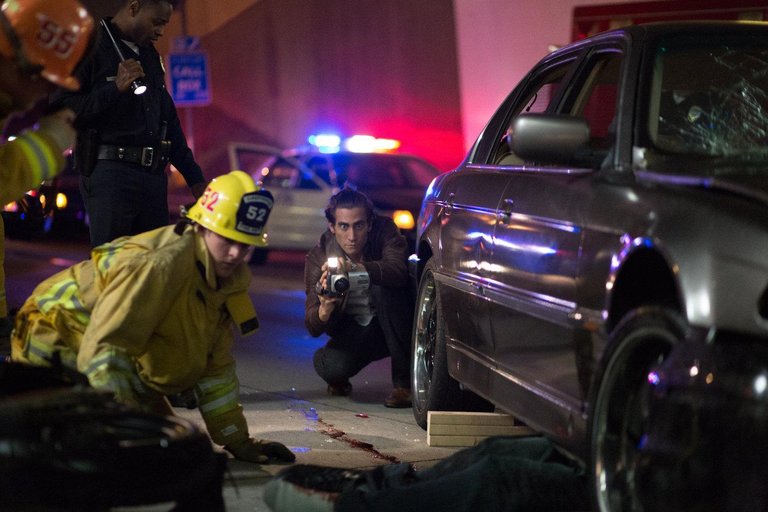 Lou Bloom (Jake Gyllenhaal)
Lou is a strange character. He seems to be very professional and to learn very fast, but on the other hand he seems to have no qualms and to be able to do whatever he is in order to be the best in whatever he decides to do. If we add to this that he decides to dedicate himself to tabloid journalism, it is logical that uncomfortable situations arise for the viewers, that they make them reflect and put his morals to the test.
Lou es un personaje extraño. Parece ser muy profesional y aprender muy rápido, pero por otro lado parece no tener escrúpulos y ser capaz de hacer lo que sea con tal de ser el mejor en cualquier cosa que decida hacer. Si a ello sumamos que decide dedicarse al periodismo amarillista, es lógico que se presenten situaciones incómodas para los espectadores, que los hagan refelxionar y pongan a prueba su moral.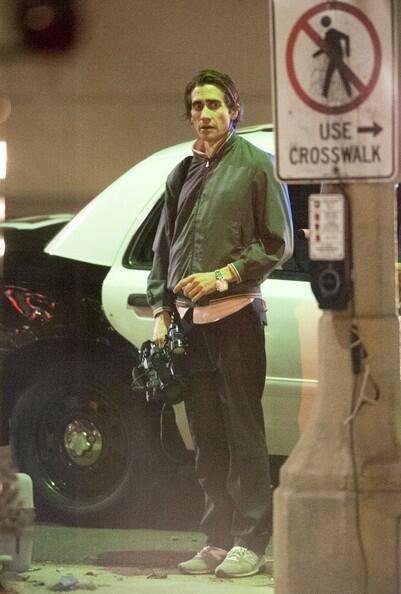 Behind the scenes | Detrás de cámaras
The film was written and directed by Dan Gilroy and garnered multiple nominations including Best Original Screenplay at the Oscars and Best Leading Actor at the Golden Globes and BAFTAs. Without a doubt, Gyllenhaal's interpretation of Lou is a good demonstration of acting quality, to which are added the good performances of René Russo (an executive of a television channel that buys the videos from Lou) and Riz Ahmed (a young man, unemployed, in great need, who is hired by Lou as his assistant) The script is powerful and the music is suitable for the story it tells, making up a film that, although it deals with a delicate and sensitive subject, provides a great cinematic experience if it is objectively analyze its direction, photography, narrative rhythm and other elements.
La película fue escrita y dirigida por Dan Gilroy y obtuvo múltiples nominaciones entre las que destacan Mejor guión original en los Oscars y Mejor actor principal en los Golden Globes y los BAFTA. Sin duda alguna, la interpretación de Lou hecha por Gyllenhaal es una buena demostración de calidad actoral, a la que se suman las buenas actuaciones de René Russo (ejecutiva de un canal de televisión que compra los videos a Lou) y Riz Ahmed (un joven desempleado, con mucha necesidad, quien es contratado por Lou como su asistente) El guión es potente y la música es adecuada para la historia que cuenta, conformando una película que, aunque trata un tema delicado y sensible, proporciona una gran experiencia cinematográfica si se analiza objetivamente su dirección, fotografía, ritmo narrativo y demás elementos.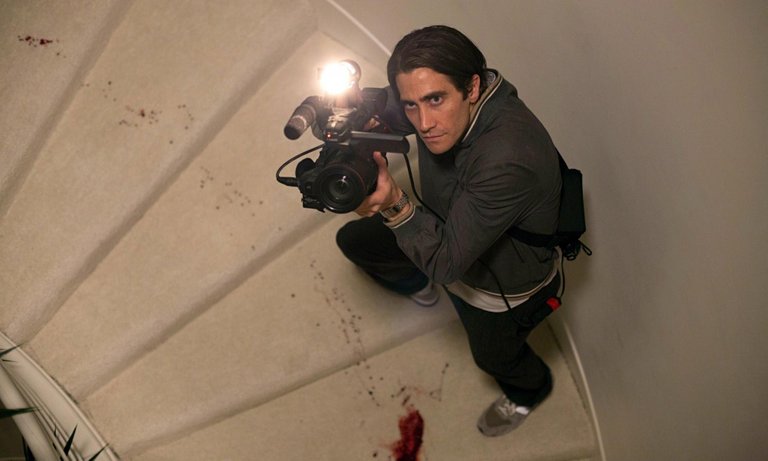 Lou Bloom
One of the things that I liked the most about this film is that it challenges the viewer and asks, is it ethical to do these things? Is it enough to say is my job or someone has to do it? The cameramen that we see in the movie travel the nights of LA in search of violent crimes and noisy accidents, they feed on the misfortunes of others like vultures; sometimes they arrive before the police or rescue teams, but they stand aside, passive, doing nothing, not helping, often without calling 911. Their professionalism is above their humanity. While it seems that the job demands to have this kind of indolent character (a trait in which Lou Bloom stands out above the rest), it doesn't cease to impress us a bit when we see it on the screen and ask ourselves, do these things happen in real life? From now on it will be impossible to see a shocking news on television or on social networks and not think about the people who filmed images of violence, pools of blood, twisted iron, fires, people fleeing injured. We will immediately think of Lou Bloom and ask ourselves, how can anyone do it? And then is it ethical to earn a living that way? Tell me what do you think?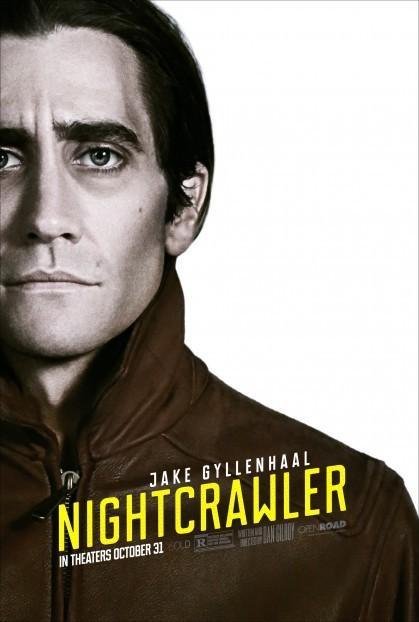 Poster
Una de las cosas que me gustó más de está película es que interpela al espectador y le pregunta ¿es ético hacer estas cosas? ¿basta con decir es mi trabajo o alguien tiene que hacerlo? Los camarógrafos que vemos en la cinta recorren las noches de LA en búsqueda de crímenes violentos y accidentes estrepitosos, se alimentan de las desgracias ajenas como buitres; a veces llegan antes que la policía o los equipos de rescate, pero permanecen a un lado, pasivos, sin hacer nada, sin ayudar, muchas veces sin llamar ellos al 911. Su profesionalismo está por encima de su humanidad. Si bien pareciera que el trabajo exige tener este tipo de carácter indolente (rasgo en el que Lou Bloom destaca por encima del resto), no deja de impresionarnos un poco cuando lo vemos en la pantalla y nos preguntamos, ¿estas cosas ocurren en la vida real? A partir de ahora será imposible ver una noticia impactante en la televisión o en las redes sociales y no pensar en la personas que filmó imágenes de violencia, charcos de sangre, hierros retorcidos, incendios, gente huyendo herida. Inmediatamente pensaremos en Lou Bloom y nos preguntaremos, ¿cómo puede alguien hacerlo? y luego ¿es ético ganarse la vida de esa manera? Díganme ¿ustedes qué opinan?