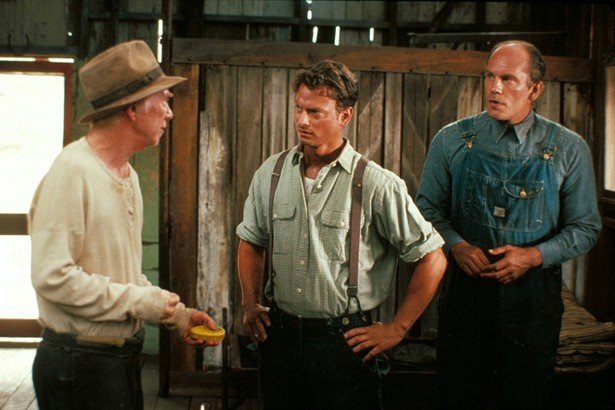 A 1992 film
Un película de 1992
For those of us who love books, their adaptation to film or television produces opposite emotions. On the one hand, we are excited by the possibility of seeing on the screen the characters that until that moment had only been created in our imagination, or the places where the story takes place. But on the other hand, we are invaded by the fear that the director, the screenwriter or the producer, do not know how to transmit in those images the essence of the work and the original author, which usually happens most of the time.
Para quienes amamos los libros, su adaptación al cine o a la televisión nos producen emociones opuestas. Por un lado, nos emociona la posibilidad de ver en la pantalla a los personajes que hasta ese momento sólo habían sido creados en nuestra imaginación, o los lugares en los que transcurre la historia. Pero por el otro lado nos invade el temor de que el director, el guionista o el productor, no sepan transmitir en esas imágenes la esencia de la obra y del autor original, lo que suele ocurrir la mayoría de las veces.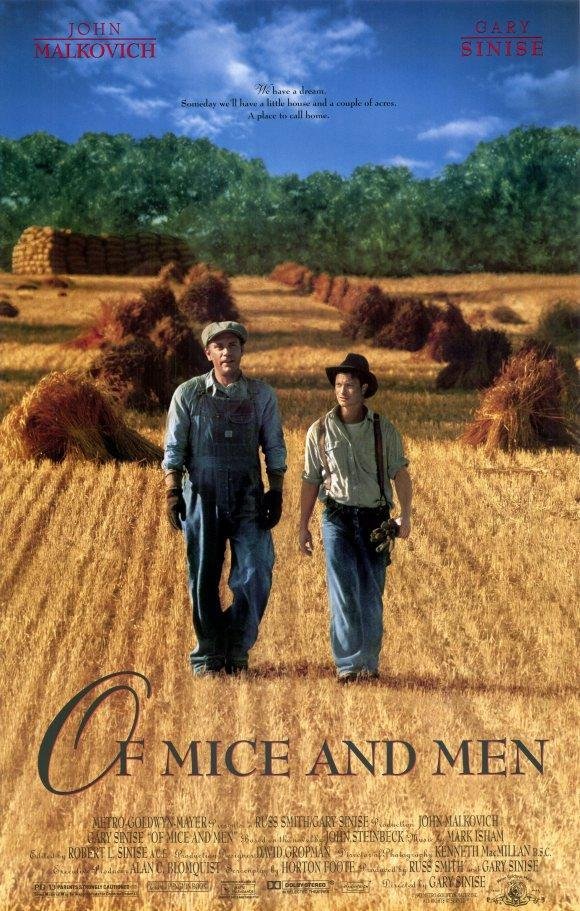 Poster
This is precisely why it is necessary to celebrate the occasions when the audiovisual product manages to capture the story with great fidelity or even when - which almost never happens - it manages to surpass its paper version. An example of a good film adaptation is the 1992 film Of mice and men, starring Gary Sinise and John Malkovich, based on a short novel by the American writer, winner of the Nobel Prize in Literature, John Steinbeck. Set in the years after the Great Depression, the novel (and film) tells the story of two ranch workers who are also friends: Lennie (Malkovich) and George (Sinise). The film begins with these two men on the run, escaping to find work in another rural town. It was not long before we realized Lennie's mental retardation, which has caused some problems for the couple of friends, and George's contradictory attitude, who sometimes lectures Lennie and talks about how well he would be alone, but does not abandon him despite the inconvenience he's caused.
Precisamente por eso hay que celebrar las ocasiones en que el producto audiovisual consigue plasmar la historia con gran fidelidad o incluso cuando - cosa que casi nunca pasa - logra superar su versión de papel. Un ejemplo de una buena adaptación al cine es el de la película de 1992 Of mice and men, protagonizada por Gary Sinise y John Malkovich, basada en una novela corta del escritor norteamericano, ganador del Premio Nobel de Literatura, John Steinbeck. Ambientada en los años tras la gran depresión, la novela (y la película) cuenta la historia de dos trabajadores de rancho que además son amigos: Lennie (Malkovich) y George (Sinise). La película comienza con estos dos hombres huyendo, escapando a conseguir trabajo en otra ciudad rural. No tardamos en darnos cuenta del retraso mental de Lennie, el cual les ha ocasionado algunos problemas a la pareja de amigos y de la actitud contradictoria de George que a veces sermonea a Lennie y habla de lo bien que estaría solo, pero que no lo abandona a pesar de los inconvenientes que ha provocado.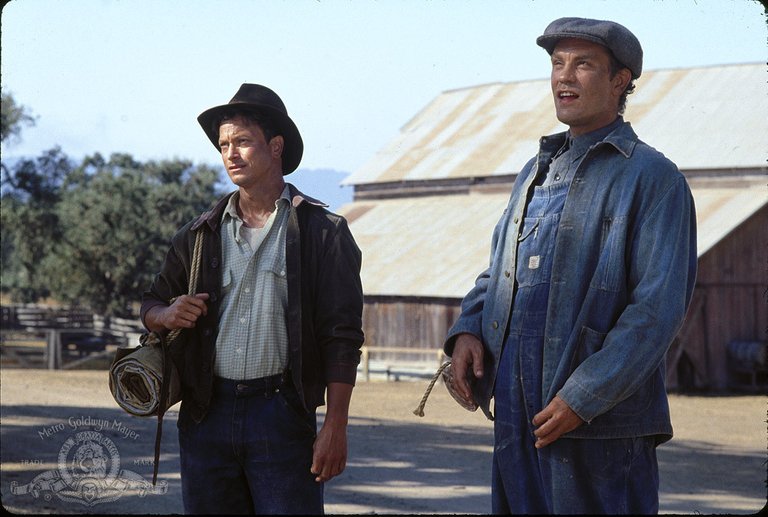 George & Lennie
When they are hired at the Tyler Ranch, the two men see their life progress and move closer to their dream together: to buy a piece of land and work it for themselves. Stop working for others. Be free. Have a land that they can call their own where they can grow crops, raise animals, and where Lennie can take care of the rabbits. That's their dream.
Cuando son contratados en el Rancho Tyler, los dos hombres ven como su vida progresa y los acerca al sueño que tienen en conjunto: comprarse un pedazo de tierra y trabajarla para ellos mismos. Dejar de trabajar para los demás. Ser libre. Tener una tierra a la que puedan llamar suya en la que puedan sembrar, criar animales y en la que Lennie pueda cuidar conejos. Ese es su sueño.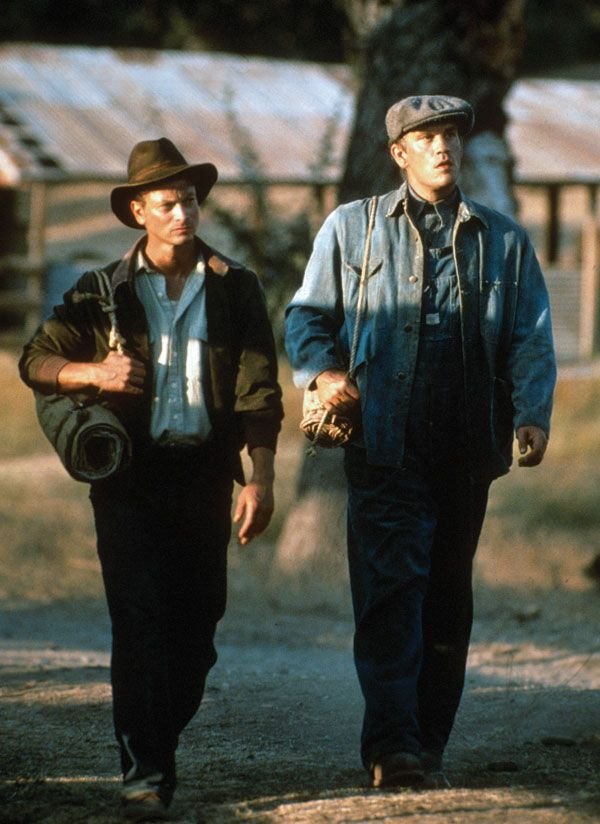 George & Lennie
But, as in the Greek tragedies, circumstances are playing against them and sooner rather than later they are immersed in a situation that threatens to become irreversible. Little by little, the information that is given to us almost casually is condensed around a specific danger: Lennie's taste for soft things (to the touch), his excessive strength, his nobility, his naivety as a child, the light character of the wife of the son of the ranch owner ... those are the main ingredients of the ending of the story. All of this is in the original book and is broadcast on screen. I think one of the things that plays in favor of this adaptation is that Steinbeck conceived the novel with the intention of taking it to the stage, which is why dialogue abounds and Horton Foote did a great job preserving the most important lines for the script of the movie. Not to mention the excellent direction, by Gary Sinise himself (the remembered Lieutenant Dan of Forrest Gump) who, in my opinion, was up to the challenge.
Pero, como en las tragedias griegas, las circunstancias les van jugando en contra y más temprano que tarde se ven inmersos en una situación que amenaza con volverse irreversible. De a poco, la información que se nos va dando casi de forma casual se va condensando alrededor de un peligro concreto: el gusto de Lennie por las cosas suaves (al tacto), su fuerza desmedida, su nobleza, su ingenuidad de niño, el carácter ligero de la esposa del hijo del dueño del rancho... esos son los ingredientes principales del desenlace de la historia. Todo esto está en el libro original y se transmite en la pantalla. Creo que una de las cosas que juega a favor de esta adaptación es que Steinbeck concibió la novela con la intención de que se llevara al teatro, por eso abundan los diálogos y Horton Foote hizo un gran trabajo conservando las líneas más importantes para el guión de la película. Ni hablar de la excelente dirección, a cargo del propio Gary Sinise (el recordado Teniente Dan de Forrest Gump) que, a mi parecer, estuvo a la altura del desafío.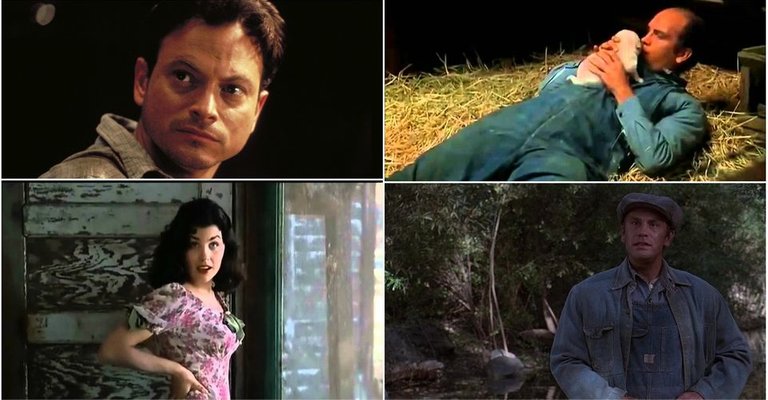 Scenes from the movie | Escenas de la película
What makes this story so memorable is that, despite being set in a specific place and period, it tells something that is universal: man's eternal struggle against the circumstances that surround him and that can drive or crush him. . George and Lennie's dream of having a land of their own and working for themselves continues today in the collective imagination and that is why it is easy to empathize with them. It also helps that they are good people. Lennie's delay makes him act, despite his enormous strength, with the nobility of a child and George, although more alert, shows signs of being a hardworking, honest and correct man. And of course, a scene that remains in our memory after the credits (or the last page) is the final decision that George must make in the face of the last one caused by Lennie. It is one of those moments (as in Sophie's choice) when any decision that is made is tragic. If you have not seen this movie yet, I highly recommend it, as well as the book, and then you can share your opinion on it.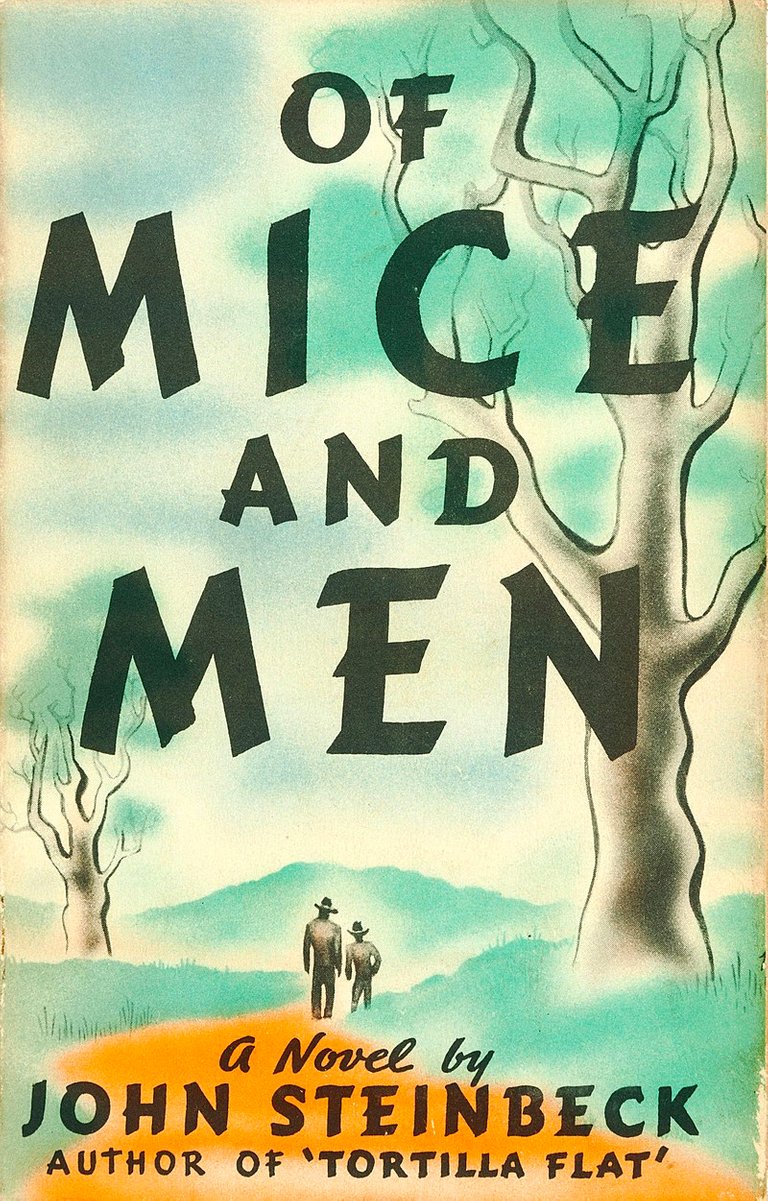 The Book's 1st Edition (1937) | La 1a Edición del Libro (1937)
Lo que hace que esta historia sea tan memorable es que, a pesar de estar ambientada en un lugar y en un período específico, cuenta algo que es universal: la lucha eterna del hombre frente a las circusntancias que lo rodean y que pueden impulsarlo o aplastarlo. El sueño de George y Lennie de tener una tierra propia y trabajar para sí mismos sigue vigente hoy día en el imaginario colectivo y por eso es fácil empatizar con ellos. También ayuda el hecho de que son buenas personas. El retraso de Lennie lo hace actuar, a pesar de su fuerza descomunal, con la nobleza de un niño y George, aunque más despierto, da muestras de ser un hombre trabajador, honrado y correcto. Y por supuesto, una escena que permanece en nuestra memoria después de los créditos (o de la última página) es la decisión final que debe tomar George frente al último provocado por Lennie. Es uno de esos momentos (como en Sophie's choice) en que cualquier decisión que se tome es trágica. Si aún no han visto esta película, se las recomiendo, al igual que el libro, y luego me pueden compartir su opinión al respecto.