Now in theatres
Ahora en cines
Fans of this saga and science fiction in general had to wait eighteen years to see one of their dreams come true: the return of The Matrix. At a time when a large number of reboots, sequels and prequels of iconic films have been made in the history of cinema, the announcement that Lana Wachowski dared to direct a fourth installment of a trilogy that shocked the world in the beginning of century was not so surprising. However, there was fear and skepticism, what would be the plot? How to reopen a trilogy that was already closed? I will try to place them a bit in the context of the movie and express my opinion without giving too many spoilers.
Los fanáticos de esta saga y de la ciencia ficción en general tuvieron que esperar dieciocho años para ver cumplido uno de sus sueños: el regreso de The Matrix. En una época en la que se han hecho gran cantidad de reboots, secuelas y precuelas de cintas icónicas en la historia del cine, no extrañó tanto el anuncio de que Lana Wachowski se atreviera a dirigir la cuarta entrega de una trilogía que impactó al mundo a inicios de siglo. Sin embargo, hubo temor y escepticismo, ¿cuál sería la trama? ¿cómo reabrir una trilogía que ya estaba cerrada? Trataré de ubicarlos un poco en el contexto de la película y emitir mi opinión sin dar demasiados spoilers.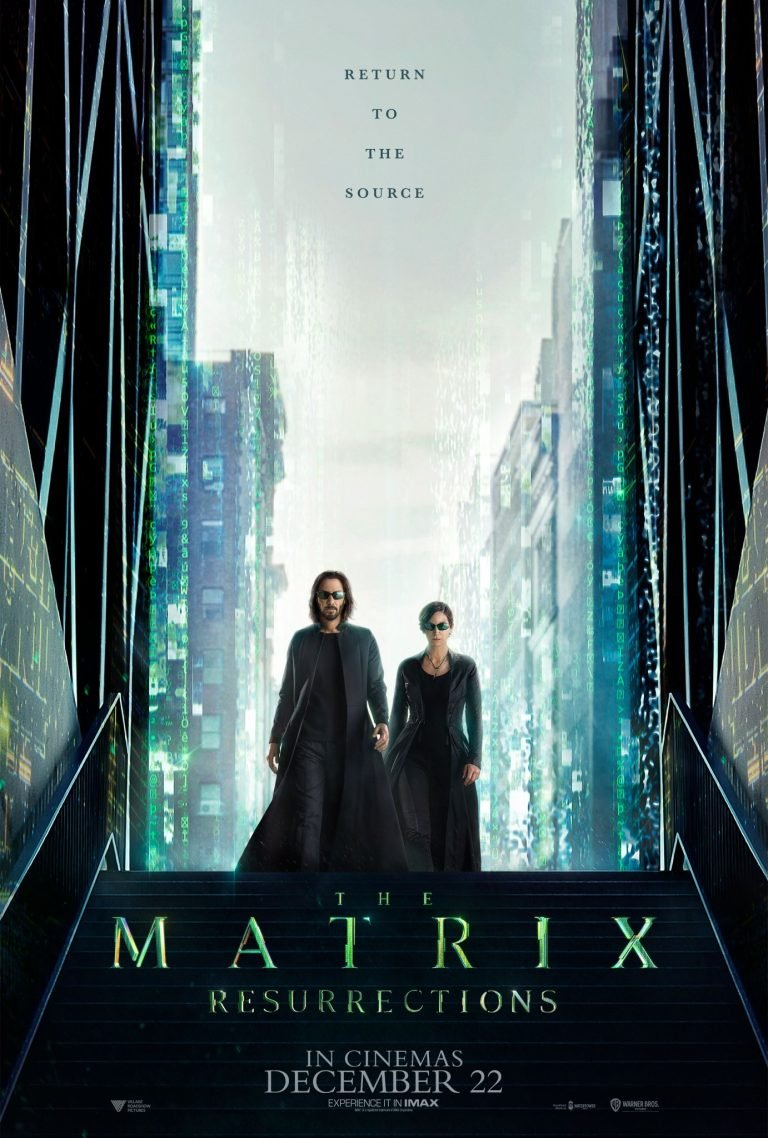 Poster
The events of The Matrix Resurrections take place sixty years after the last installment of the trilogy. Let's remember that The Matrix Revolutions (2003) ended with Neo sacrificing himself to achieve peace, or at least a more harmonious coexistence, between humans and machines. One of the last scenes showed the Oracle, Sati and a new dawn. Well, in this new movie, more than half a century has passed since then, the Matrix still exists obviously but it is a new one, more visually and technologically updated in which we can see smartphones, contemporary cars, flat screens and so on. I liked that, the fact that this Matrix was newer and renewed to justify the fact of using technology that didn't exist at the time when the first three films were released.
Los eventos ocurridos en The Matrix Resurrections tienen lugar sesenta años después de la última entrega de la trilogía. Recordemos que The Matrix Revolutions (2003) terminó con Neo sacrificándose para lograr la paz, o al menos una convivencia más armónica, entre los humanos y las máquinas. Una de las últimas escenas mostraba al Oráculo, a Sati y un nuevo amanecer. Bien, en esta nueva película ha pasado más de medio siglo desde entonces, la Matrix todavía existe obviamente pero se trata de una nueva, más actualizada visual y tecnológicamente en la que podemos ver teléfonos inteligentes, autos comtemporáneos, pantallas planas y demás. Eso me gustó, el hecho de que, esta Matrix estuviese renovada para justificar el hecho de usar tecnología que no existía en el momento en que fueron estrenadas las tres primeras películas.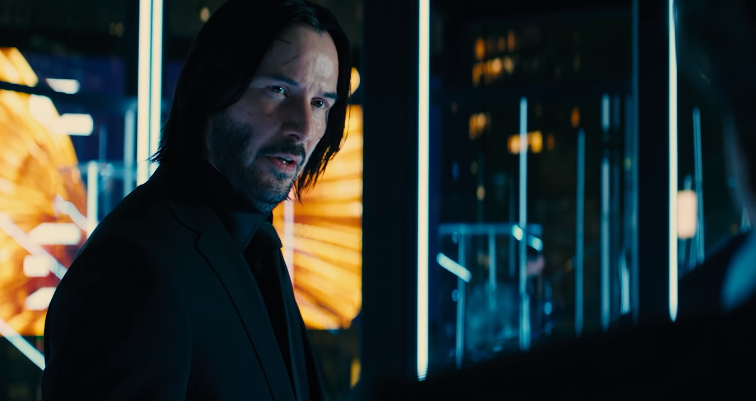 Neo
The film begins with a tribute sequence to The Matrix (1999) that I am not going to tell and then lets us see Thomas Anderson (remember that this is Neo's name within the Matrix) in his office. It turns out that Mr. Anderson is the most famous video game programmer and designer in the Matrix because he created the most successful game of all time, one that greatly breaks down the barrier between reality and fiction and that everyone knows and loves: The Matrix.
La película comienza con una secuencia homenaje a The Matrix (1999) que no voy a contar y después nos deja ver a Thomas Anderson (recordemos que este es el nombre de Neo dentro de la Matrix) en su oficina. Resulta que el Sr. Anderson es el programador y diseñador de videojuegos más famoso dentro de la Matrix porque creó el juego más exitoso de todos los tiempos, uno que derrumba de gran manera la barrera entre realidad y ficción y que todo el mundo conoce y adora: The Matrix.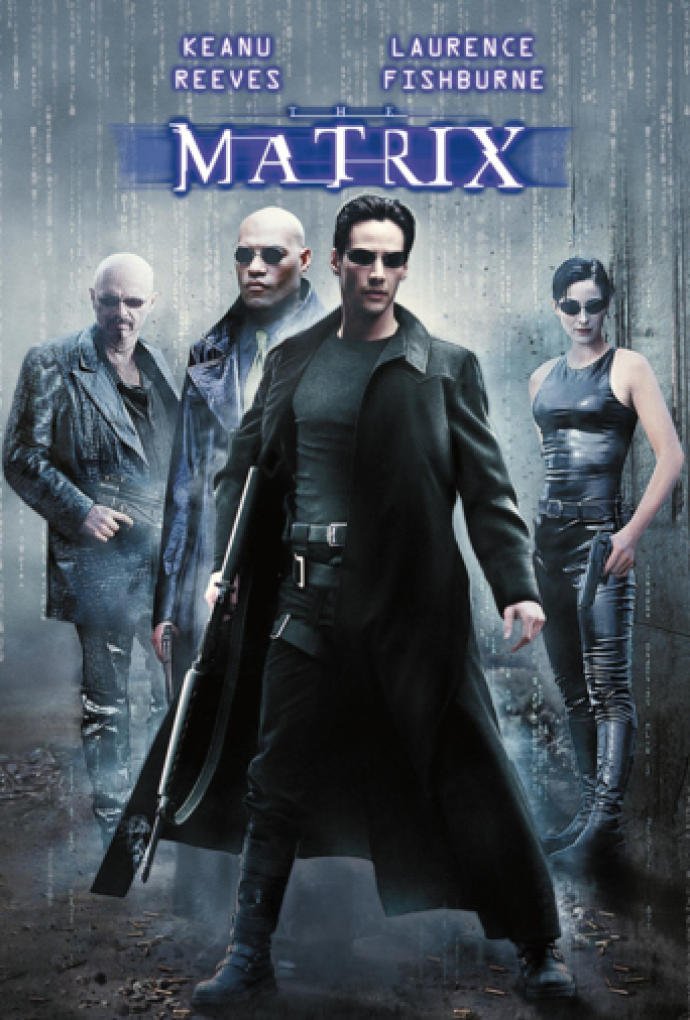 The Matrix (1999)
While this seemed like a smart way to connect this new movie with previous ones and to justify Mr. Anderson's memories of his past life, I think Lana Wachowski abused the resource. The occasional image, the occasional wink would have been enough to understand it, but the script presents us with so many references, infinite flashbacks taken directly from the previous films, and so many jokes about it that at times the film is placed on the thin line between the tribute and parody. Also, it's one thing for there to be stories that honor other stories (like the famous Dark reference to The Matrix), or directors who pay tribute to others; and another thing is that it is Lana Wachowski herself who has wanted to highlight in her new film the cultural impact that the original trilogy had in real life and that she inserts sequences from those films in this one. It made me somewhat self-centered, excessive and, I must admit, boring.
Si bien esta me pareció una manera inteligente de conectar esta nueva película con las anteriores y de justificar los recuerdos que tiene el Sr. Anderson de su vida pasada, creo que Lana Wachowski abusó del recurso. Una que otra imagen, uno que otro guiño habrían bastado para entenderlo, pero el guión nos presenta tantas referencias, infinitos flashbacks tomados directamente de las películas previas, y tantas bromas al respecto que de a ratos la película se coloca en la delgada línea entre el homenaje y la parodia. Además, una cosa es que haya historias que homenajeen a otras historias (como la famosa referencia de la serie Dark a The Matrix), o directores que rindan tributo a otros; y otra cosa es que sea la misma Lana Wachowski quien haya querido destacar en su nueva película el impacto cultural que tuvo la trilogía original en la vida real y que inserte secuencias de esas películas en esta. Se me hizo algo egocéntrico, excesivo y, debo admitirlo, aburrido.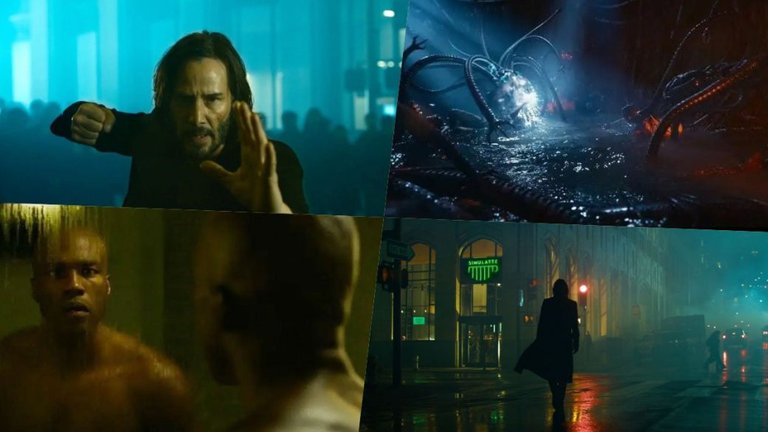 Scenes from the movie | Escenas de la película
At times, the photography of this film became closer to that of Blade Runner 2049 than to the original of the trilogy, the one loaded with greenish tones, and there are some scenes and some paintings that are visually very well achieved. Not so the script. In The Matrix Resurrections there are no fight sequences that are memorable, there are no phrases that echo in your mind or in your ears and in the eagerness to connect this story with the previous one they make so many references and revive so many characters that, when the film ends, we realize that many of them were left over in an almost non-existent plot. Morpheus, without going too far, that mentor, guide and main promoter of Neo's role as the chosen one, appears here without any of those roles or attitudes and his presence, like that of other secondary characters that should be important, ends up being left over. Imagine that: a Matrix where Morpheus is not necessary.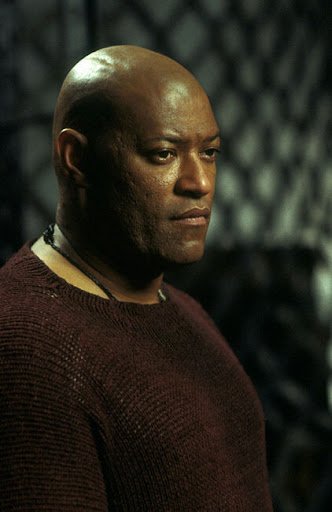 Original Morpheus | El Morfeo Oiginal
Por momentos, la fotografía de esta cinta se me hizo más cercana a la de Blade Runner 2049 que a la original de la trilogía, aquella cargada de tonos verdosos, y hay algunas escenas y algunos cuadros que visualmente están muy bien logrados. No así el guión. En The Matrix Resurrections no hay secuencias de pelea que sean memorables, no hay frases que hagan eco en tu mente ni en tus oídos y en el afán de conectar esta historia con la anterior hacen tantas referencias y reviven a tantos personajes que, cuando termina la película, nos damos cuenta de que muchos de ellos sobraron en una trama casi inexistente. Morfeo, sin ir muy lejos, aquel mentor, guía y principal impulsor del papel de Neo como el elegido, aparece aquí sin ninguno de esos roles ni actitudes y su presencia, igual que la de otros personajes secundarios que debieran ser importantes, termina sobrando. Imaginen eso: una Matrix en donde Morfeo no hace falta.
In my opinion, the mistake was that Wachowski overly appealed to the viewer's nostalgia by bringing back Trinity, Morpheus, Neo himself (and many other characters), drawing parallels between the films and becoming more concerned about trying to revive in the fanatic that love for the original trilogy than for presenting a consistent story that stands up to itself, to the point that it almost seems like a fan fiction, a Wattpad story, in the style of Harry Potter and the Cursed Child. Disappointing.
En mi opinión, el error fue que Wachowski apeló excesivamente a la nostalgia del espectador trayendo de regreso a Trinity, a Morfeo, al mismo Neo (y a muchos otros personajes), haciendo paralelismos entre las películas y se preocupó más por intentar revivir en el fanático ese amor por la trilogía original que por presentar una historia consistente que se valiera lo suficiente por sí misma, al punto de que casi parece un fan fiction, una historia de Wattpad, al estilo de Harry Potter and the Cursed Child. Decepcionante.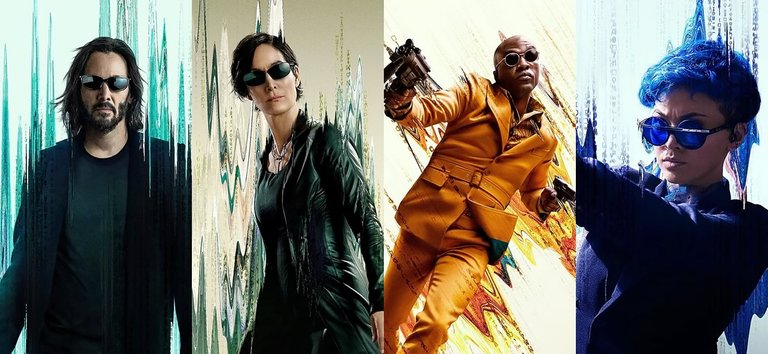 The main characters | Los personajes principales
The first three parts of The Matrix dealt respectively with the line between reality and illusion, identity and self-discovery, and sacrifice. This fourth installment is about ... the power of love? It might sound like a trite, cheesy joke to some, but yes, the central idea of ​​The Matrix Resurrections (if it has any) is the love story between Neo and Trinity, a love story that was never so memorable, but that at least in the trilogy left interesting moments that are conspicuous by their absence in this latest movie.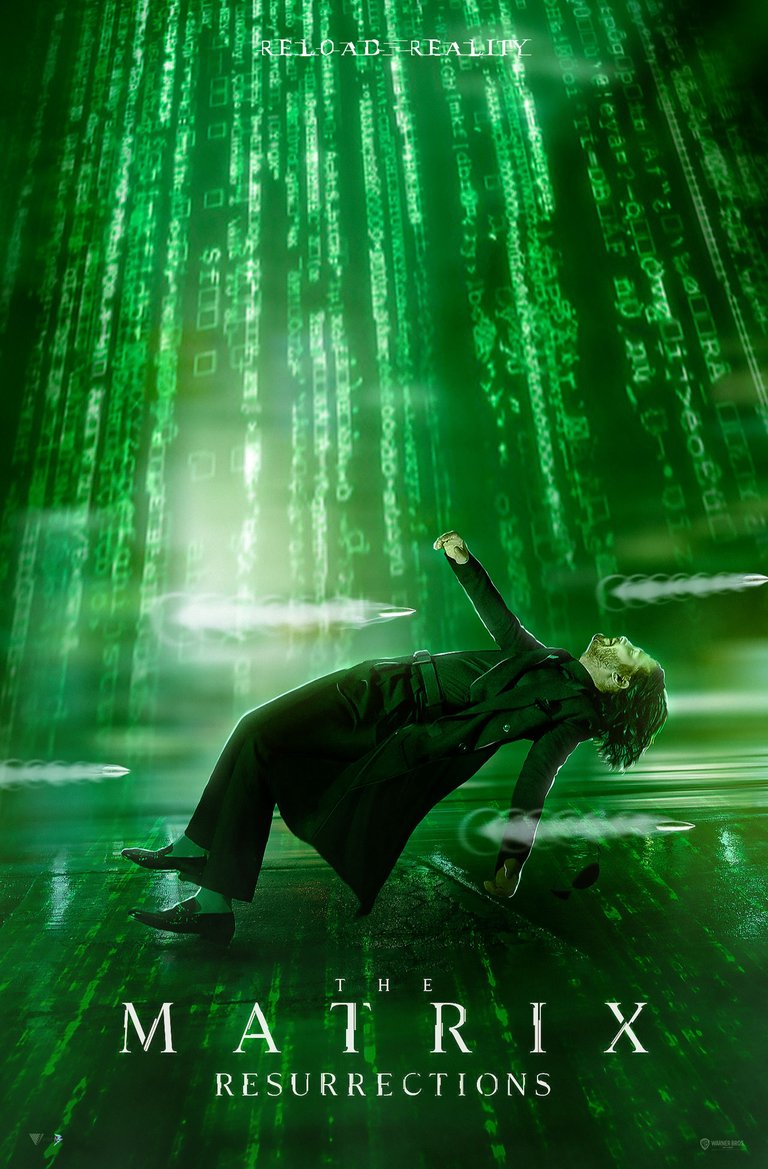 Poster
Las tres primeras entregas de The Matrix trataban respectivamente de la línea entre realidad e ilusión, la identidad y el autodescubrimiento y del sacrificio. Esta cuarta entrega trata de... ¿el poder del amor? A algunos les parecerá una broma o un recurso cursi y trillado, pero sí, la idea central de The Matrix Resurrections (si es que tiene alguna) es la historia de amor entre Neo y Trinity, una historia de amor que nunca fue tan memorable, pero que al menos en la trilogía dejó momentos interesantes que brillan por su ausencia en esta última entrega.
How is Neo alive? Who is this new Morpheus? What happened to the war between men and machines? These are questions that I did not speak about in order not to tell the film, but although all this is explained in the script, the answers are not always satisfactory. A good example of a sequel that pays homage to the previous and in turn generates an interesting new plot is Blade Runner 2049 by Villeneuve. There is a well worked script that connects with the existing film universe of Ridley Scott and Philip Dick and in turn tells a new story, a task in which this latest work by Lana Wachowski fails, which in short presents a flat direction, an incoherent script, boring action sequences, leftover characters, lack of drama, major crises and conflicts, a loose, corny and hackneyed central idea and a bet on the viewer's nostalgia. It may sound harsh, but once the movie is seen, I think this story is a resurrection that shouldn't have happened.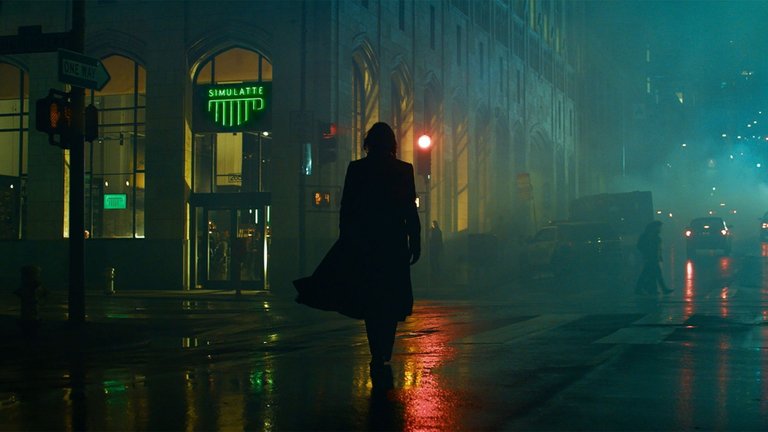 Scene from the movie | Escena de la película
¿Cómo es que Neo está vivo? ¿quién es este nuevo Morfeo? ¿qué pasó con la guerra entre los hombres y las máquinas? Son cuestiones sobre las que no hablé para no contar la película, pero aunque todo eso queda explicado en el guión, las respuestas no son siempre satisfactorias. Un buen ejemplo de una secuela que homenajea lo previo y a su vez genera una trama nueva interesante es Blade Runner 2049 de Villeneuve. Allí hay un guión bien trabajado que conecta con el universo fílmico existente de Ridley Scott y Philip Dick y a su vez cuenta una historia nueva, tarea en la que fracasa este último trabajo de Lana Wachowski que en resumen presenta una dirección plana, un guión incoherente, secuencias de acción aburridas, personajes que sobran, ausencia de drama, crisis y conflictos importantes, una idea central floja, cursi y trillada y una apuesta a la nostalgia del espectador. Quizás suene duro, pero una vez vista la película, creo que esta historia es una resurreción que no debió ocurrir.
---
Other posts that may interest you | Otros posts que pueden interesarte: