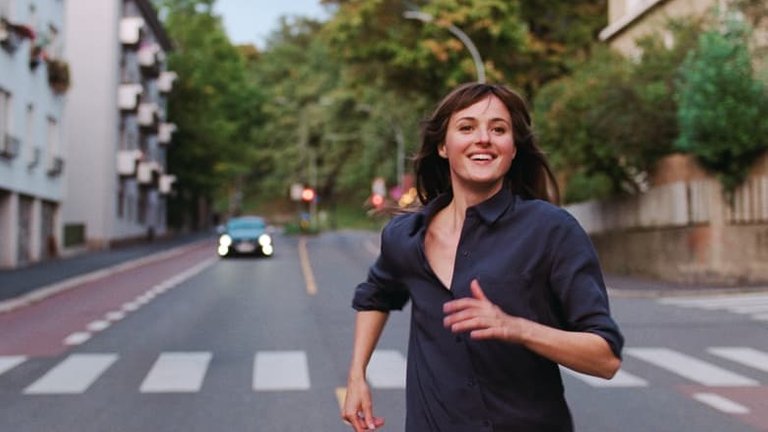 A Norwegian movie
Una película Noruega
A few months ago I found out about the existence of this movie. I hadn't seen any trailer, I didn't know what it was about, or who was directing it, I didn't look for the synopsis and I didn't even read it before seeing it. I had barely seen the poster and knew the title in English, but for some reason I really wanted to see it from the very first moment, cinephile intuition? maybe.
Hace unos meses atrás me enteré de la existencia de esta película. No había visto ningún avance, no sabía de qué se trataba, ni quien la dirigía, no busqué la sinopsis y ni siquiera la leí antes de verla. Apenas había visto el póster y conocía el título en inglés, pero por alguna razón tenía muchas ganas de verla desde el primer instante, ¿intuición cinéfila? tal vez.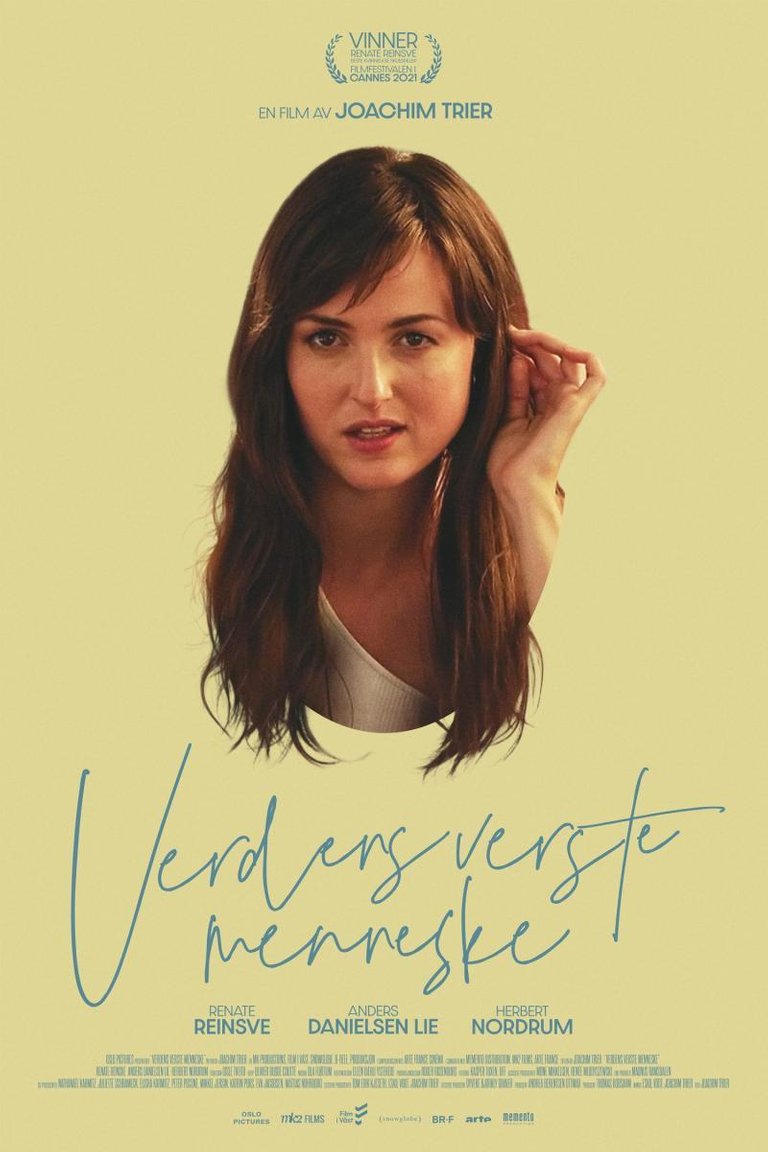 Original Poster
The truth is that last night I saw Verdens verste menneske (The worst person in the world), a 2021 Norwegian film, directed and co-written by Joachim Trier, starring Renate Reinsve and I loved it. The film tells the story of Julie, a young woman, close to turning thirty and whose life can be cataloged, according to the social standards of our time, an existential disaster. As a young woman she was brilliant in studies, which led her to study medicine at first; then she knew that she cared more about the human soul than its anatomy and she switched to a more human branch from which she also deserted because she discovered that she really wanted to be a photographer. This is how Julie's adult life began, between doubts, impulses and setbacks until she met Aksel, a successful graphic novelist almost fifteen years older than her, with whom everything started out ideal. Julie finally seemed to have found someone with whom to share her life and where she felt safe.
Lo cierto es que anoche vi Verdens verste menneske (The worst person in the world), una película noruega de 2021, dirigida y coescrita por Joachim Trier, protagonizada por Renate Reinsve y la amé. La película cuenta la historia de Julie, una mujer joven, cercana a cumplir los treinta años y cuya vida puede catalogarse, según los estándares sociales de nuestra época, un desastre existencial. Siendo joven era brillante en los estudios, lo que la llevó a estudiar medicina en un principio; luego supo que le importaba más el alma humana que su anatomía y se cambió a una rama más humana de la que también desertó porque descubrió que en verdad quería ser fotógrafa. Así comenzó la vida adulta de Julie, entre dudas, impulsos y tropiezos hasta que conoció a Aksel, un exitoso novelista gráfico casi quince años mayor que ella, con quien todo comenzó siendo ideal. Por fin Julie parecía haber encontrado a alguien con quien compartir su vida y en donde sentirse segura.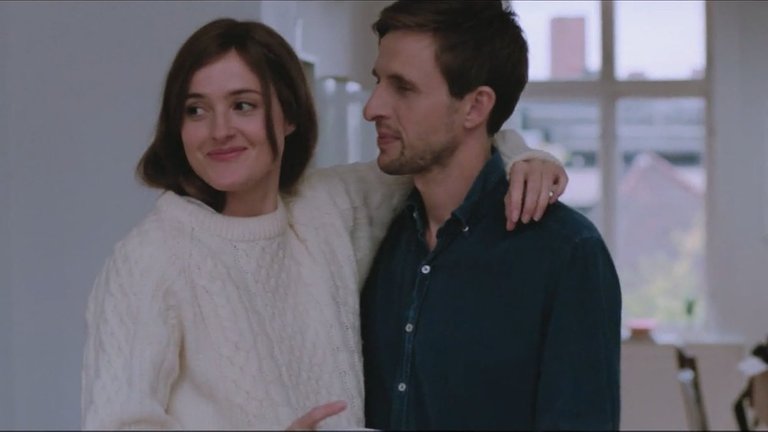 Julie & Aksel
However, individually, Julie still doesn't know what to do with her life. She works in a bookstore and suddenly one day he writes an intelligent, sharp and funny article, which Aksel celebrates and which is published with some success; but neither is she interested in being a writer. So what does Julie want to be and do? She doesn't know.
Sin embargo, en lo individual, Julie aún no sabe qué hacer con su vida. Trabaja en una librería y de pronto un día escribe un artículo inteligente, agudo y divertido, que Aksel le celebra y que es publicado con cierto éxito; pero tampoco se interesa en ser escritora. Entonces, ¿qué quiere ser y hacer Julie? No lo sabe.
That wandering personality doesn't seem to bother Aksel much, but after several years together a major question looms over them: having children. Julie is still very young and does not want to have children. Maybe one day, but not now. Aksel does want to have them and in his opinion he is not so young anymore. This central difference ends up being the catalyst for a discussion that includes many other pending issues in their relationship, which added to the presence of Eivind (a charming young man she met at a party and with whom she had a sincere connection) ends up accelerating the breakup: Julie leaves Aksel, embarking on a new relationship in the hope that her life will gain a new perspective. Eivind is more her age, doesn't want to have children, and has a job more similar to hers. They hit it off right away, they have fun, and the sex is wonderful, but it doesn't seem like the happy ending to Julie's love story, either.
Esa personalidad errabunda no parece molestar mucho a Aksel, pero después de varios años juntos una cuestión capital se cierne sobre ellos: tener hijos. Julie aún es muy joven y no quiere tener hijos. Quizás algún día, pero no ahora. Aksel sí quiere tenerlos y en su opinión ya no es tan joven. Esta diferencia central termina siendo el catalizador de una discusión que insluye muchos otros temas pendientes de su relación, lo cual sumado a la presencia de Eivind (un encantador joven que conoció en una fiesta y con quien tuvo una conexión sincera) termina por acelerar la ruptura: Julie deja a Aksel, embarcándose en una nueva relación con la esperanza de que su vida adquiera una nueva perspectiva. Eivind es más de su edad, no quiere tener hijos y tiene un trabajo más parecido al suyo. Congenian de inmediato, se divierten y el sexo es maravilloso, pero tampoco parece ser el final feliz de la historia amorosa de Julie.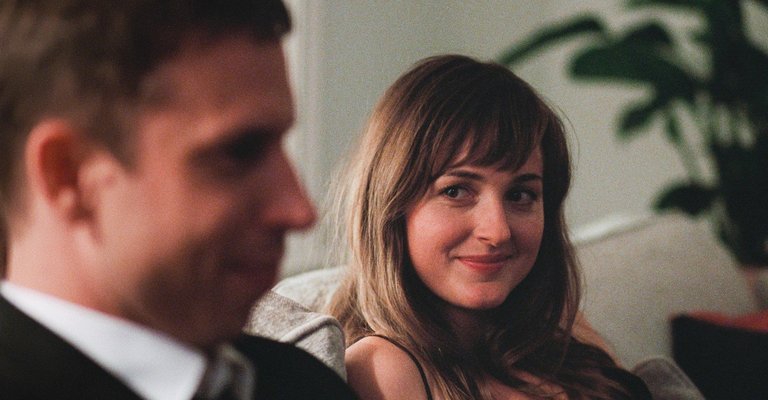 Julie & Eivind
Julie is a person who doesn't know for sure what she wants to be and do, but do we all know? There are people who have been clear about it since they were young and things turn out well for them, but many of us are discovering it along the way, some of us take longer and in the end, why do we have to be and do something or someone in our life? More than analyzing or verbalizing her emotions, Julie feels and is guided by them. That's why, when she doesn't feel well, when circumstances suffocate her, when she feels she can't take it anymore, then she runs away. She changes careers, she changes boyfriends, she does it impulsively and hurts her loved ones, but does that make her a bad person? Does not wanting to have children with a man she loves make her bad? Despite the fact that towards the end Julie realizes that it is already too late for certain life choices and, without saying so, perhaps she regrets certain decisions she made in her life, the truth is that the film shows us how difficult it can be to find oneself and succeed in this titanic task of living a full and satisfying life, knowing that we cannot rehearse, that the draft of our life ends up being the work itself.
Julie es una persona que no sabe con certeza lo que quiere ser y hacer, pero ¿acaso todos lo sabemos? Existen personas que lo tienen claro desde jóvenes y las cosas les salen bien, pero muchos de nosotros lo vamos descubriendo en el camino, a algunos nos toma más tiempo y a fin de cuentas, ¿por qué hay que ser y hacer algo o alguien en la vida? Más que analizar o verbalizar sus emociones, Julie siente y se deja conducir por ellas. Por eso, cuando no se siente bien, cuando las circunstancias la ahogan, cuando siente que ya no puede más, entonces huye. Cambia de carrera, cambia de pareja, lo hace de forma impulsiva y lastimando a sus seres queridos, pero ¿eso la hace una mala persona? ¿no querer tener hijos con un hombre al que ama la hace mala? A pesar de que hacia el final Julie se da cuenta de que ya es demasiado tarde para ciertas opciones vitales y, sin decirlo, quizás se arrepiente de ciertas decisiones que tomó en su vida, lo cierto es que la película nos muestra lo difícil que puede ser encontrarse uno mismo y triunfar en esta titánica tarea de vivir un vida plena y satisfactoria, sabiendo que no podemos ensayar, que el borrador de nuestra vida termina siendo la mismísima obra.
Julie is a complex character but very well designed. I liked the way that, at each new beginning, Julie wore a new look that somehow symbolized that new path and the wide range of emotions she feels: happiness, sadness, disappointment, despair, anguish, love, joy, discomfort, excitement, serenity, guilt, pain… it was not easy to embody all these emotions successfully and Renate Reinsve managed it, not only perfectly executing each scene but charming the viewer and owning the screen in each frame. This impeccable and magnificent performance earned her the award for Best Actress at the Cannes Film Festival.
Julie es un personaje complejo pero muy bien diseñado. Me gustó la forma en que, en cada nuevo comienzo, Julie lucía un nuevo look que de alguna manera simbolizaba ese nuevo camino y el amplio rango de emociones que siente: alegría, tristeza, decepción, desesperación, angustia, amor, alegría, incomodidad, excitación, serenidad, culpa, dolor... no era fácil encarnar todas estas emociones de forma exitosa y Renate Reinsve lo logró, no sólo ejecutando perfectamente cada escena sino encantando al espectador y adueñándose de la pantalla en cada escena. Esta impecable y magnífica interpretación le valió el galardón a Mejor actriz en el Festival de Cannes.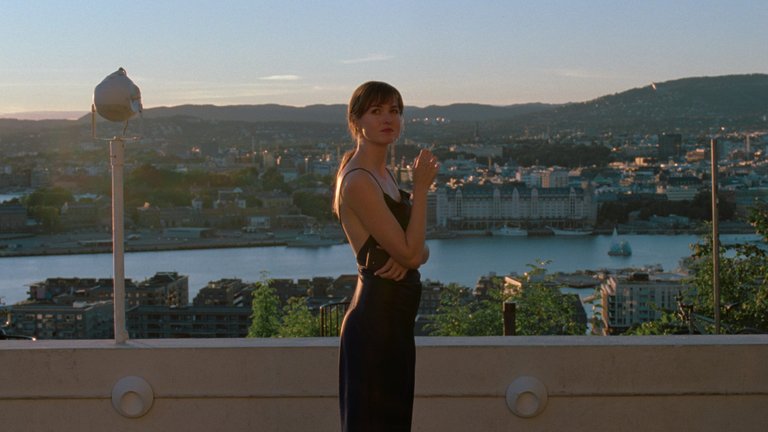 Julie
Verdens verste menneske was chosen as the Best Foreign Language Film by the New York Film Critics Circle and has garnered other awards at European festivals. Dramatic, funny, thoughtful, analytical, visually beautiful, excellently written, this film that can be considered a generational portrait has become one of my favorites in recent years. It has incredible phrases, moments and scenes, like the sequence in which the world literally stops and Julie runs through the city following what she feels, that make the film cling to our memory and our hearts after it is over, has anyone else seen it? I read you in the comments.
Verdens verste menneske fue elegida como la Mejor película en habla no inglesa por el Círculo de Críticos de Nueva York y ha cosechado otros galardones en los festivales europeos. Dramática, divertida, reflexiva, analítica, visualmente hermosa, excelentemente escrita, esta película que puede ser considerada un retrato generacional se ha convertido en una de mis favoritas de los últimos años. Tiene frases, momentos y escenas increíbles, como la secuencia en la que el mundo literalmente se detiene y Julie corre a través de la ciudad siguiendo lo que siente, que hacen que la cinta se aferre a nuestra memoria y a nuestro corazón después de haber acabado, ¿alguien más la ha visto? Los leo en los comentarios.
---
Other posts that may interest you | Otros posts que pueden interesarte: