A 2020 movie
Una película de 2020
I hadn't seen something on Netflix for a long time because the last movies I had seen weren't available on the platform. I tend to watch a lot of international cinema and a lot of independent movies, in addition to old movies, most of which are not available on streaming platforms. But this Sunday, after doing housework, I went on Netflix and came across this story.
Tenía tiempo sin ver algo en Netflix porque las últimas películas que había visto no estaban disponibles en la plataforma. Tengo tendencia a ver mucho cine internacional y muchas películas independientes, además de películas viejas, la mayoría de las cuales no están disponibles en las plataformas de streaming. Pero este domingo, luego de hacer labores hogareñas, entré en Netflix y me topé con esta historia.
The poster reminded me of a post I had seen on Instagram about the movie a couple of days before. I already knew that it was related to the events of September 11 and I knew that it was starring Michael Keaton, Amy Ryan and Stanley Tucci, a shortlist of great acting quality, so in advance I knew that at some point I would see it, even though I would not have known that was available on Netflix or how long it had been on the platform.
Worth, a 2020 film directed by Sara Colangelo, which tells the story of Kenneth Feinberg (Michael Keaton), a powerful Washington DC attorney who is appointed Special Master by the 9/11 Foundation, In other words, the expert evaluator who will lead a team with a necessary task, but nothing simple: to determine the value of the lives of the victims of the attack.
El poster me recordó una publicación que había visto por Instagram sobre la película un par de días antes. Sabía ya que tenía relación con los eventos del 11 de Septiembre y sabía que estaba protagonizada por Michael Keaton, Amy Ryan y Stanley Tucci, una terna de gran calidad actoral, así que de antemano sabía que en algún momento la vería, aunqua no hubiera sabido que estaba disponible en Netflix ni desde hacía cuánto estaba en la plataforma.
Worth, una película de 2020, drigida por Sara Colangelo, que cuenta la historia de Kenneth Feinberg (Michael Keaton), un poderoso abogado de Washington D. C. que recibe el nombramiento de Special Master por la fundación 9/11, en otras palabras el perito evaluador que dirigirá a un equipo con una tarea necesaria, pero nada sencilla: determinar el valor de la vida de las víctimas del atentado.
After the 9/11 attacks in New York, there were thousands of victims (dead and injured) and thousands of people related to them were also affected: children, parents, brothers, wives, what would happen to the widow of a firefighter died in rescue work? How would the children of a WTC janitor, or a waiter in the Windows of the world survive from now on?
Tras los ataques del 11 de Septiembre en Nueva York, hubo miles de víctimas (fallecidos y heridos) y miles de personas relacionadas con ellos también resultaron afectados: hijos, padres, hermanos, esposas, ¿qué iba a pasar con la viuda de un bombero fallecido en labores de rescate? ¿cómo sobrevivirían en adelante los hijos de un trabajador de limpieza del WTC, o de un mesonero en el Windows of the world?
How can a police officer doing his duty rescuing people from the rubble and losing a leg or being unable to continue wearing his uniform be compensated? There was the possibility that the victims and their families would sue the airlines that owned the crashed planes or even the State, for failures in their security, for not having been able to prevent the catastrophe. That would have implied a very long trial in which the civilians, even if there were thousands, could not compete in resources against the State or the big airlines, who would pay the plaintiffs' lawyers? For how long could they do it? To avoid that and in anticipation, the government hires Kenneth and proposes that he create a fund to help the victims by paying them compensation for what they had lost.
Un policía que cumpliendo con su deber rescatando personas de entre los escombros y perdiese una pierna o quedase incapacitado para seguir portando su uniforme, ¿cómo puede ser compensado? Existió la posibilidad de que las víctimas y sus familiares demandasen a las aerolíneas dueñas de los aviones estrellados o incluso al Estado, por fallas en su seguridad, por no haber podido evitar la catástrofe. Eso hubiera implicado un juicio larguísimo en el que los civiles, aunque fuesen miles, no podían competir en recursos contra el Estado o las grandes aerolíneas, ¿quién pagaría los abogados de los demandantes? ¿por cuánto tiempo podrían hacerlo? Para evitar eso y anticipándose, el gobierno contrata a Kenneth y le propone crear un fondo para ayudar a las víctimas pagándoles una compensación por lo que habían perdido.
For some it was a way of preventing them from suing. For others it was a necessary help because it assured them, at least, of receiving something safely and not risking losing in a trial. But for all of them, the truth was one: it was a difficult task. Almost impossible. Because in order to create the fund, you had to be objective, neutral, rational, and Feinberg specializes in that. The creation of the fund requires a formula to help calculate the amount of compensation; According to him, not everyone can receive equal pay. Is the widow of a firefighter who has three children left in the same situation as the parents of a worker who was an only child? What about homosexual couples from a state where unions of this type are not legal? If someone lost an arm and someone else a leg, how much does each receive? In short, the central question is: how much is a life worth?
Para algunos fue una forma de evitar que demandasen. Para otros fue una ayuda necesaria porque les aseguraba, al menos, recibir algo de manera segura y no arriesgándose a perder en un juicio. Pero para todos, la verdad era una: se trataba de una tarea difícil. Casi imposible. Porque para poder crear el fondo, había que ser objetivo, neutral, racional y Feinberg se especializa en ello. La creación del fondo necesita una fórmula que ayude a calcular el monto de las compensaciones; según él, no todos pueden recibir un pago igualitario, ¿la viuda de un bombero que queda cin tres hijos está en la misma situación que los padres de un obrero que era hijo único? ¿qué pasa con las parejas homosexuales provenientes de un estado en donde no son legales las uniones de este tipo? Si alguien perdió un brazo y otra persona una pierna, ¿cuánto recibe cada uno? En fin, la pregunta central es: ¿cuánto vale una vida?
The task for Feinberg and his team is unpleasant and complex, but someone has to do it and try to establish solid criteria that will not only convince the majority of victims but also be approved by the government. However, despite wanting to help, many see him as an enemy, as a government puppet who only wants to avoid demands and who, in the opinion of some, offers them very little. Others, as is the case of Charles Wolf, only want the authorities to not see the victims as a figure, as a statistic, but to treat them humanely, to understand them, but how to understand the lives of each one of the thousands of victims and in turn create a fund that, complying with a general law, satisfies each one of them?
La tarea de Feinberg y su equipo es desagradable y compleja, pero alguien tiene que hacerla y tratar de establecer criterios sólidos que no sólo convenzan a la mayoría de las víctimas sino que también sea aprobada por el gobierno. Sin embargo, a pesar de querer ayudar, muchos lo ven como un enemigo, como un títere del gobierno que sólo quiere evitar las demandas y que, en opinión de algunos, les ofrece muy poco. Otros, como es el caso de Charles Wolf sólo quieren que las autoridades no vean a las víctimas como una cifra, como una estadística, sino que los traten humanamente, que los comprendan, pero ¿cómo comprender la vida de cada una de las miles de víctimas y a su vez crear un fondo que, cumpliendo una ley general, satisfaga a cada uno de ellos?
I don't like reading legal dramas (the last one I read and loved was To kill a mockingbird), but I enjoy movies like this one, like The trial of the Chicago 7, like Dark waters, because in addition to being based on real events, they pose interesting dilemmas to ponder. The performances are very good (Stanley Tucci is one of my favorite supporting actors), the script is good and although the film is not outstanding in the visual part - it is not that type of film - it does its job of plunging us into the dilemma, to make us think and get excited about some of the stories of these victims. We sympathize with those who lost loved ones, but we understand that the responsibility assumed by Feinberg and his team is very complex. I also liked a trait in that character, Feinberg, and that is that he belongs to the lineage of Rivière in Vol de nuit by Antoine de Saint-Exupéry, or Mr. Stevens in The Remains of the Day by Kazuo Ishiguro, because they are committed characters with their responsibility and with the fulfillment of duty to the point of evading or ignoring the emotional burden that the entrusted task may represent, for others and for themselves. All three are very rational, responsible, serious, to the point of not feeling or hiding their emotions very well, always in favor of the fulfillment of their work.
No me gusta leer dramas legales (el último que leí y amé fue To kill a mockingbird), pero disfruto películas como esta, como The trial of the Chicago 7, como Dark waters, porque además de estar basadas en hechos reales, proponen dilemas interesantes para reflexionar. Las actuaciones son muy buenas (Stanley Tucci es uno de mis actores de reparto favoritos), el guión es bueno y aunque la cinta no es sobresaliente en la parte visual - no es ese tipo de película - cumple su cometido de sumegirnos en el dilema, de hacernos pensar y emocionarnos con algunas de las historias de estas víctimas. Simpatizamos con quienes perdieron a sus seres queridos, pero entendemos que la responsabilidad asumida por Feinberg y su equipo es muy compleja. Me gustó además un rasgo en ese personaje, Feinberg, y es que pertenece a la estirpe de Rivière en Vol de nuit de Antoine de Saint-Exupéry, o de Mr. Stevens en The Remains o f the Day de Kazuo Ishiguro, porque son personajes comprometidos con su responsabilidad y con el cumplimiento del deber al punto de evadir o ignorar la carga emocional que puede representar, para los otros y paara sí mismos, la tarea encomendada. Los tres son muy racionales, responsables, serios, al punto de no sentir o disimular muy bien sus emociones, siempre en pro del cumplimiento de su labor.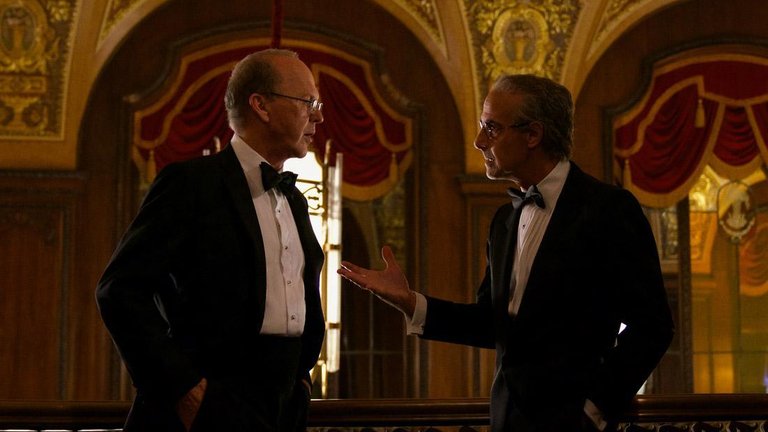 Feinberg & Wolf
Finally, another feature that I liked about the story is that it talks about a topic related to 9/11 that I had not seen in any other film and that is important nonetheless. It was an event that shocked the world, marking a before and after, impossible to forget, necessary to remember and useful to reflect: what if I had been there? If it had happened to me or one of mine? How much would my life be worth?
Por último, otro rasgo que me gustó de la historia es que habla sobre un tema realcionado con el 11/9 que no había visto en otra cinta y que sin embargo es importante. Se trató de un hecho que conmocionó al mundo marcando un antes y un después, imposible de olvidar, necesario de recordar y útil para reflexionar: ¿y si yo hubiera estado allí? ¿si me hubiera pasado a mí o a uno de los míos? ¿cuánto valdría mi vida?