English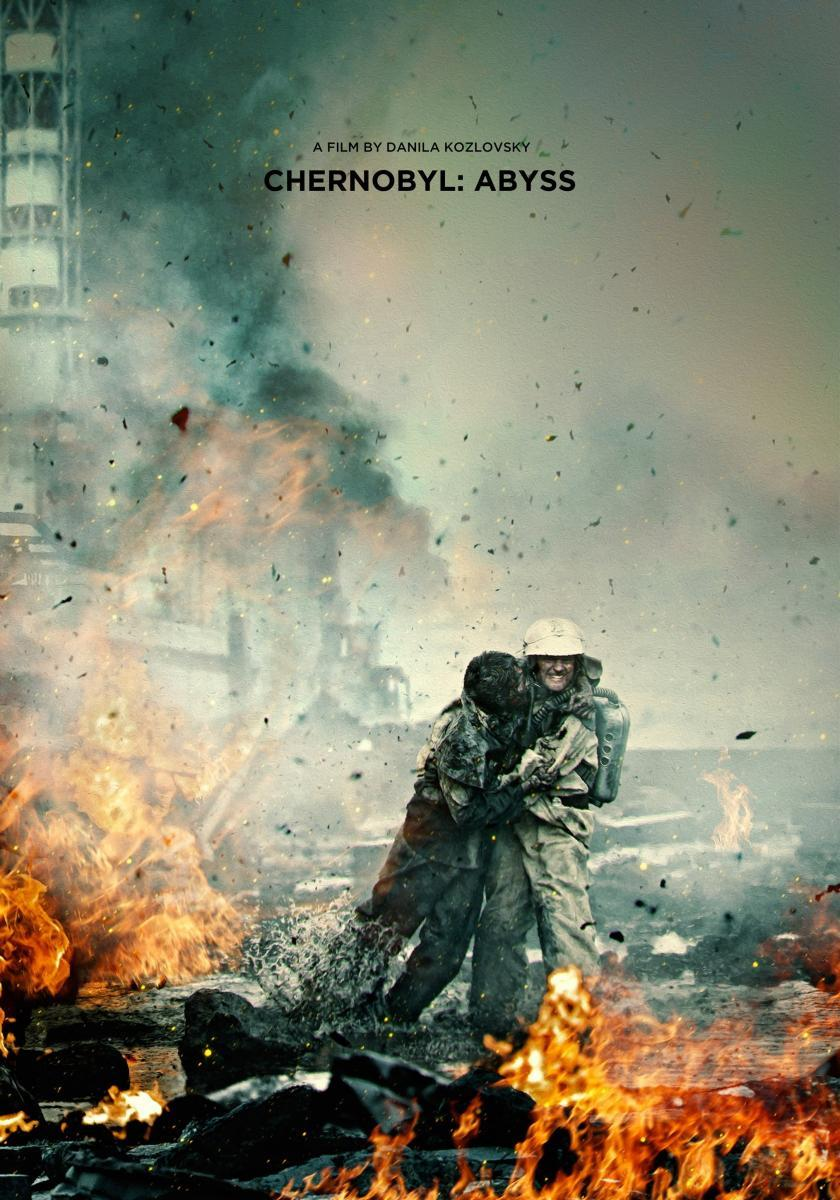 Source
Greetings movie lovers. Yesterday I was again surfing Netflix, because I wanted to watch a movie that was interesting, fun, where I could spend a few hours different and detach myself from the internet world and just concentrate on the movie. After searching I found one that was based on real events that happened a long time ago, so I didn't hesitate to watch it. This one is known as Chernobyl: The Movie, which was released on April 15th last year. So this was the one I chose, because I wanted to see what happened and how they narrated the story in this production, because a long time ago I started to watch the series of it and I didn't think it was that good, from my point of view.
Once my dad was telling me about what had happened in that factory a long time ago and it was really a very desperate situation for all the inhabitants of that place, so I already had a little idea of what the movie was about. This brought a lot of consequences, changing the history, many human losses, the economy and of course the damage caused by the radioactive leak in that town. However, this movie seemed to me to have a good message that may be useful to many, and it also focuses on the theme of romance, drama, action and adventure.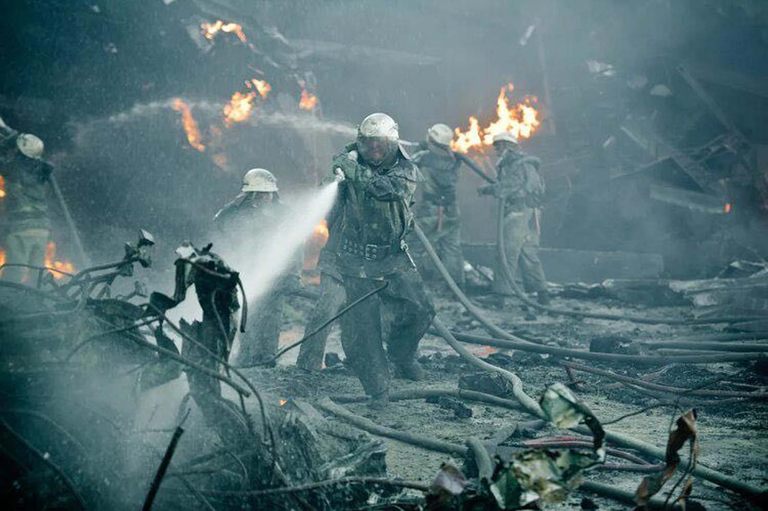 Source

As I was watching this movie I was focusing on a fireman, a brave man, maybe for him working in that factory was great, he did it with a lot of affection, love and of course always giving the best of him. However, living that disaster of a nuclear explosion, something so radioactive and dangerous for human beings, things become a little more complicated and this is where I asked myself: Will another radioactive leak happen, how will the few survivors live? I started thinking and comparing it to the first movie I had seen and it plays out a little differently, but I still wanted to keep going to see what would happen.
Also, knowing that it was based on real events in history, it makes us understand the suffering that many people went through trying to stop that disaster, trying to get out alive and protect their family, it must have been something desperate and a little difficult to control. It was a disaster that reached and destroyed a lot of space, many heroes who did their best to stop it from spreading further, but the lives of many were always at stake. A film that may be a little complicated to understand, especially for children and young people who have never heard of it, but ideal for those who like the history of the world.
One of the main themes of this movie that I could notice is romance, however, due to the circumstances of life they are distanced, separated, but when there is true love that will belong despite all the adversities that occur, besides knowing that a family can be formed, it is something very incredible and of great emotion. I don't particularly like the romance genre, since it is very slow and they take many turns to reach the goal, well that's how I see it. However, in this movie including those scenes, it was very helpful, so that it would not only focus on the nuclear plant and thus be able to capture more attention. The romantic part should never be missing in real life as it is in the movies.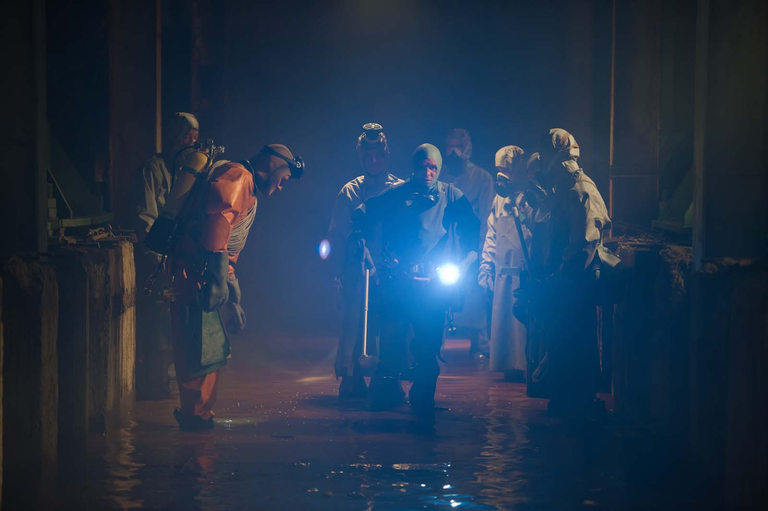 Source

As for the main actors we have the fireman Alexey, I liked his role, he did it very well, even though he was not the most romantic man for love, but as a fireman he is a hero, offering his life so that this problem does not expand more, is something very exciting. It is here where you can see that a good decision making in time is of utmost importance, even though sometimes we do not like what we have to do, because it can put life at risk, also in the midst of a nuclear explosion must act quickly, without much thought and should not be easy. Thus, teamwork also helps a lot, fight until the last moment and do not get carried away and influenced by anyone.
The amount of disasters caused, human losses and problems were enormous, as I watched the movie always appeared more and more inconvenient as fire, heat, despair, suffering and of course taking into account the effects of radiation that had caused in that place. It is really something very stressful and desperate for all those people who lived that moment and especially to find meaning to their lives after that and the consequences it could have brought especially for their health.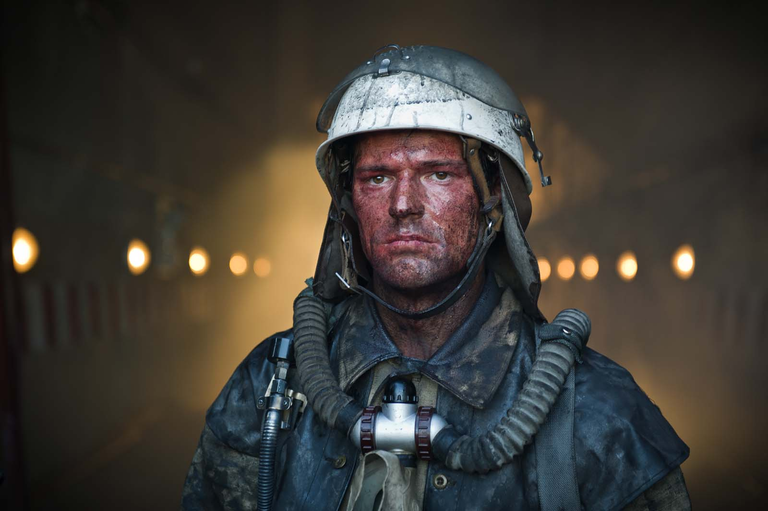 Source

The scenes, I liked them a lot, they felt real, since you can see and live how the exploitation happened, it felt so real to see such a sad story. Also, in my case, it kept me curious until the end to see what was going to happen, how it would end, to know and read all those comments and thanks they gave at the end, it was something I did not expect, but a moment of great emotion and sadness at the same time.
The film conveys and teaches us that sacrifice and effort that a man can give to care for and protect a family member, fight until the last second and always give everything for him, despite the consequences that this would bring, he was always there, he did not give up also save the world from this great nuclear explosion is not something easy.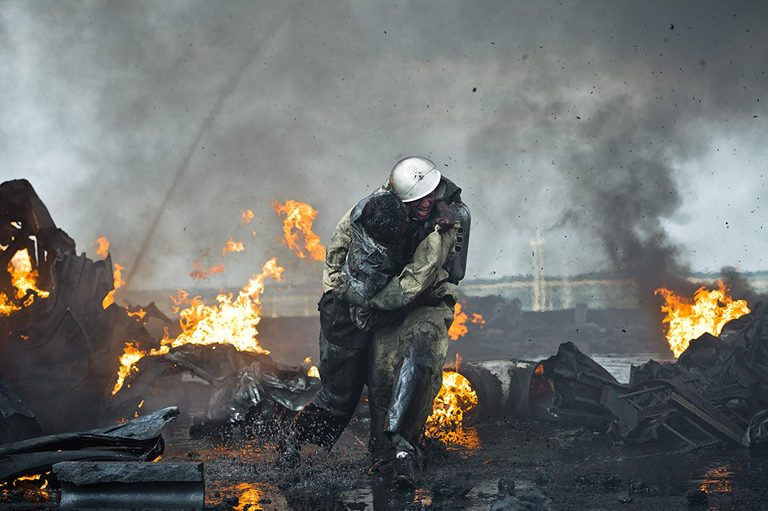 Source

I really enjoyed the movie, it is very interesting, it is not my taste and suddenly I would not watch it again. However, I can say that I liked it because I was able to refresh and remember those events that are history for humanity and that caused many disasters. In addition, these types of disasters are often out of the hands of human beings, so you always have to be prepared for any situation. If you haven't seen it yet, I recommend it to you. Balances.

Español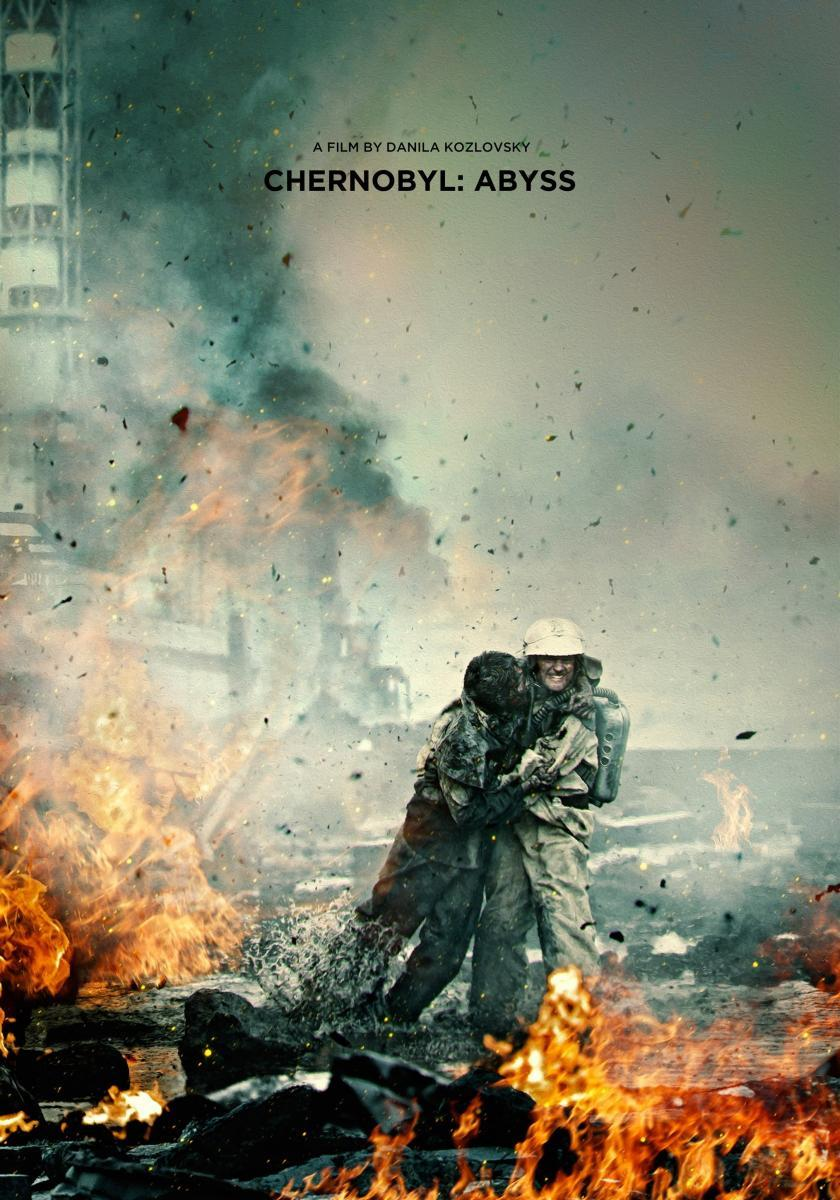 Source
Saludos amantes del cine. Ayer me encontraba nuevamente navegando por Netflix, ya que quería ver una película que fuera interesante, divertida, donde pudiese pasar unas horas distintas y despegarme del mundo del internet y solo concéntrame en la película. Luego de buscar encontré una que fue basaba en hecho reales que sucedieron hace mucho tiempo, así que no dude en verla. Esta es conocida como Chernóbil: La película, la cual fue estrenada el 15 de abril del año pasado. Así que esta fue la escogida, ya que quería ver que sucedía y como narraban la historia en esta producción, porque hace mucho tiempo comencé a ver la serie de la misma y no me pareció tan buena, desde mi punto de vista.
En una oportunidad mi papá me estuvo comentando de lo que había sucedió en esa fábrica hace muchísimo tiempo y de verdad que fue una situación muy desesperante para todos los habitantes de ese lugar, así que ya tenía un poco de idea de que se trataba la película. Esto trajo muchísimas consecuencias, cambiando la historia, muchas pérdidas humanas, acabo con la economía y por su supuesto el daño que causo la fuga radioactiva en esa población. Sin embargo, esta película me pareció que tiene un buen mensaje que quizás les puede servir a muchos, además se centra en el tema de romance, drama, acción y aventuras.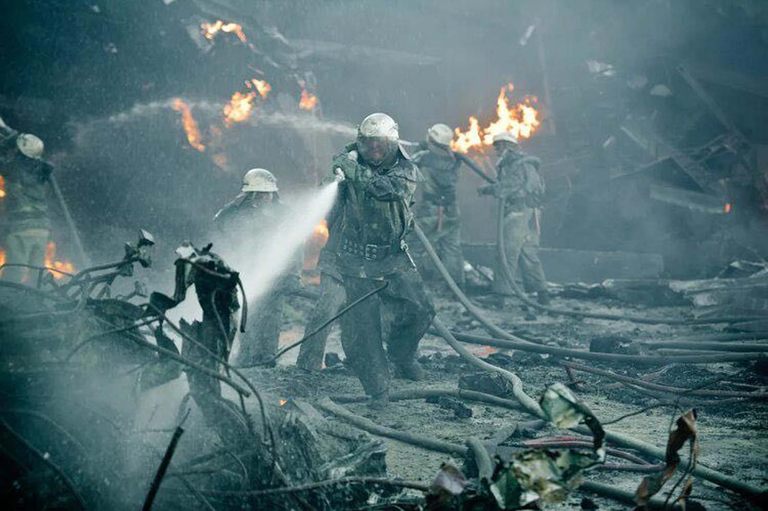 Source

A medida que veía esta película se estaba centrado en un bombero, un hombre valiente, quizás para el trabajar en esa fábrica era genial, lo hacía con mucho cariño, amor y por su puesto siempre dando lo mejor de él. Sin embargo, vivir ese desastre de una explosión nuclear, algo tan radiactivo y peligroso para los seres humanos, las cosas se vuelven un poco más complicadas y es aquí donde me pregunte ¿Sucederá otra fuga radioactiva?, ¿Cómo vivirán los pocos sobrevivientes?. Me puse a pensar y a compararla con la primera película que yo había visto y se desarrolla un poco distinta, pero aún quería seguir continuando para ver que sucedería.
Además, saber que fue basaba en hecho reales de la historia, nos hace entender ese sufrimiento que vivieron muchas personas al tratar de detener ese desastre, tratando de salir con vida y proteger a su familia, debido ser algo desesperante y un poco difícil de controlar. Fue un desastre que alcanzo y destruyo mucho espacio, muchos héroes que hicieron lo posible para que no se extendiera más, pero siempre estuvo en juego la vida de muchos. Una película que quizás sea un poco complicada de entender, sobre todo para los niños y jóvenes que jamás han escuchado hablar de eso, pero serie ideal para los que les gusta la historia del mundo.
Uno de los temas principales de esta película que pude notar es el romance, sin embargo, por las circunstancias de la vida están distanciados, separados, pero cuando hay amor de verdad eso pertenecerá a pesar de todas las adversidades que ocurran, además saber se puede formar una familia, es algo muy increíble y de gran emoción. A mí en particular no me gusta el género de romance, ya que es muy lento y dan muchas vueltas para llegar al objetivo, bueno así lo veo yo. Sin embargo, en esta película incluir esas escenas, fue de mucha ayuda, para que no solamente se centrara en la planta nuclear y así poder captar más la atención. La parte romántica nunca debe faltar en la vida real como en las películas.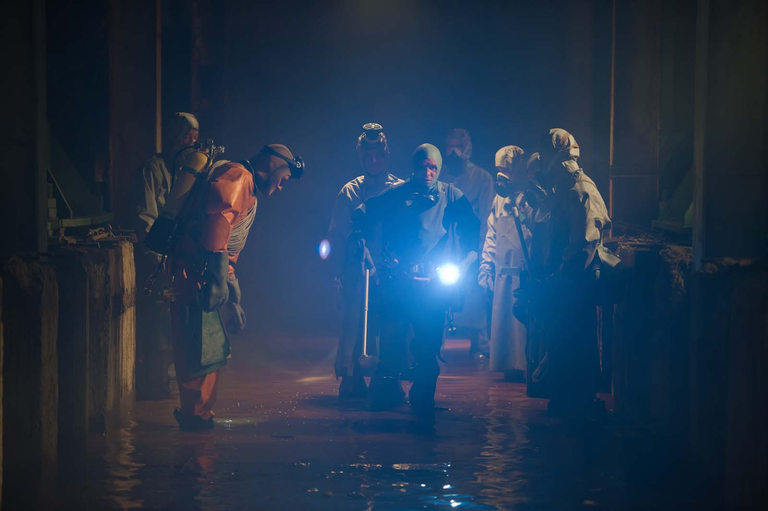 Source

En cuanto a los actores principales tenemos al bombero Alexey, me gusto su papel, lo hizo muy bien, a pesar de que no era el hombre más romántico para el amor, pero como bombero es todo un héroe, ofrecer su vida para que este problema no se expandiera más, es algo muy emocionante. Es aquí donde se puede ver que una buena toma de decisiones a tiempo es de suma importancia, a pesar de que a veces no nos guste lo que tengamos que hacer, ya que puede poner en riesgo la vida, además en medio de una explosión nuclear hay que actuar rápido, sin pensarlo mucho y no debe ser nada fácil. Así, Como también el trabajo en equipo ayuda mucho, luchar hasta el último instante y no dejarse llevar e influenciar por nadie.
La cantidad de desastres ocasionados, pérdidas humanas y problemas eran enormes, a medida que veía la película siempre aparecían más un inconveniente como el fuego, el calor, desesperación, sufrimiento y por su supuesto tener en cuenta los efectos de la radiación que había causado en ese lugar. De verdad que es algo muy estresante y desesperante para todas esas personas que vivieron ese momento y sobre todo encontrarle sentido a su vida después de eso y las consecuencias que pudo haber traído sobre todo para la salud.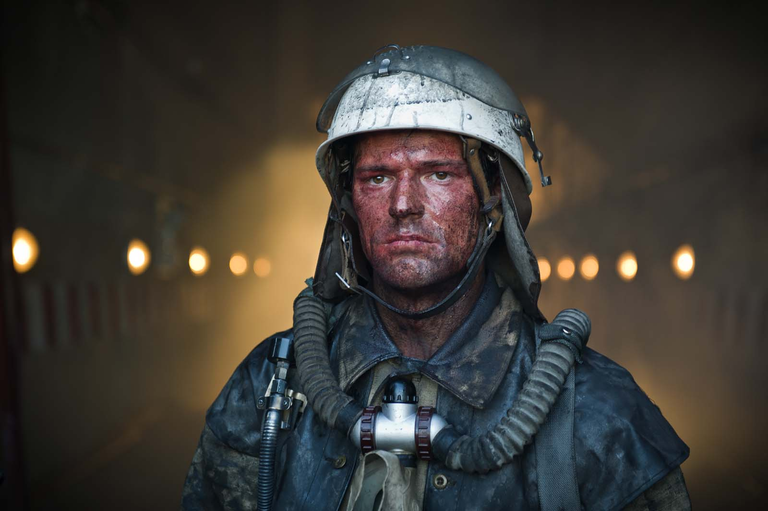 Source

Las escenas, me gusto bastante, se sintieron reales, ya que se puede ver y vivir como ocurro dicha explotación, se sentía tan real ver esa historia tan triste. Además, en mi caso me mantuvo la curiosidad hasta el final para ver que iba a suceder, como terminaría, saber y leer todos esos comentarios y agradecimientos que dieron al final, fue algo que no me lo esperaba, pero un momento de mucha emoción y tristeza a la vez.
La película nos trasmite y enseña ese sacrificio y esfuerzo que puede dar un hombre por cuidar y proteger a un miembro de la familia, luchar hasta el último segundo y siempre dar todo por él, a pesar de que las consecuencias que esto traería, siempre estuvo ahí presente, no se rindió además salvar al mundo de esta gran explosión nuclear es algo nada fácil.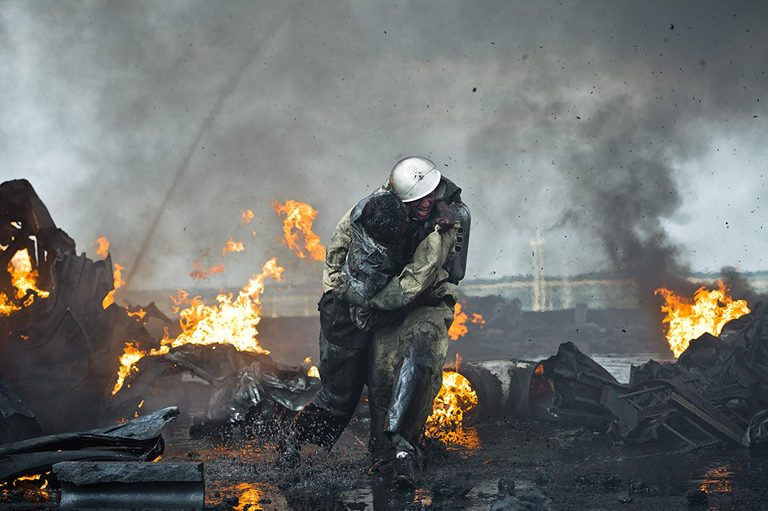 Source

De verdad que disfrute de la película, es muy interesante, no es mi de mi gusto y de repente no la volvería a ver. Sin embargo, puedo decir me gusto porque pude refrescar y acordarme de esos acontecimientos que son historia para la humanidad y que causaron muchos desastres. Además, este tipo de desastres muchas veces escapan de las manos del ser humano, por eso siempre hay que estar preparado para cualquier situación. Una película, que si aún no las ha visto te la recomiendo. Saldos.