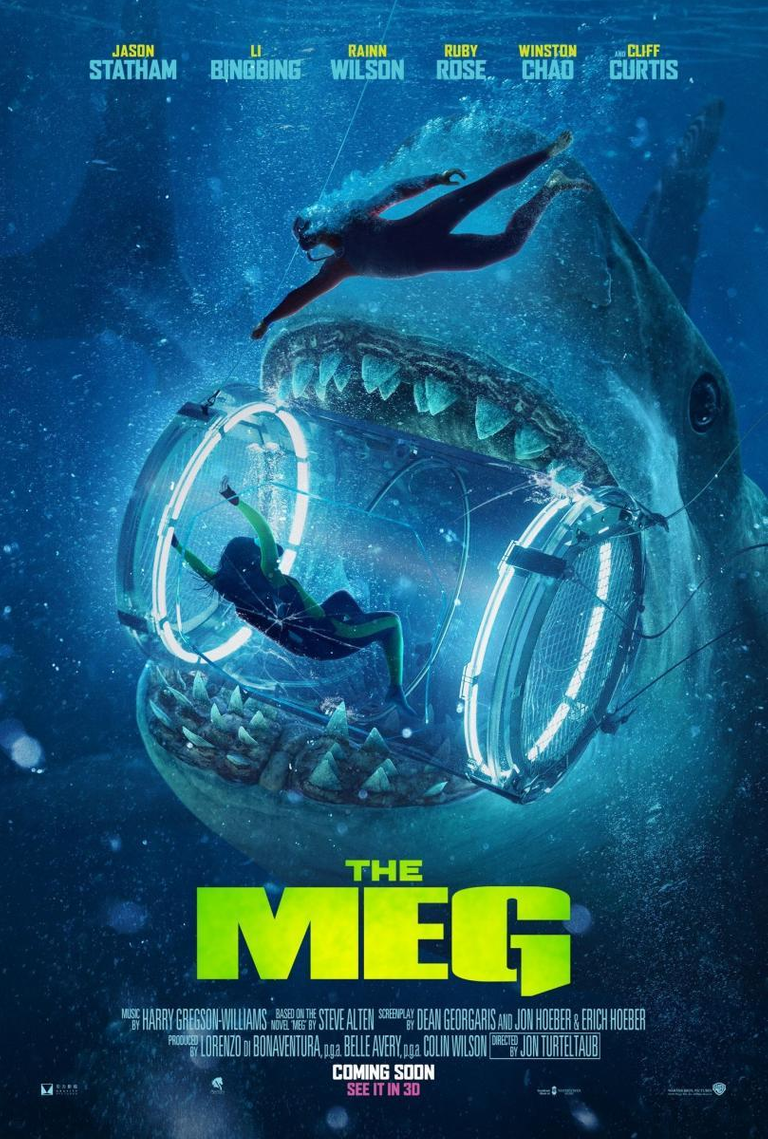 Source
Greetings movie lovers. On the weekend, after doing my workouts, I wanted to see a shark movie, but I didn't know which one to choose, since all the ones I've seen have the same plot, the same story and I think it's the same old thing. So from so much searching I decided to watch Megalodon a movie that boats a bit of action and science fiction, released in 2018, I had started watching it once, but this time I finished watching it in full. I realized that so many unexpected things happen during the whole plot of this movie, which are a bit scary, I can't imagine swimming among sharks. I wouldn't know what to do if something like this movie ever happened to me.
Saludos amantes del cine. El fin de semana, luego de hacer mis entrenamientos, quería ver una película de tiburones, pero no sabía cuál escoger, ya que todas las que he visto tienen la misma trama, la misma historia y pienso que es lo mismo de siempre. Así que de tanto buscar decidí ver Megalodón una película que barca un poco de acción y ciencia ficción, estrenada en el año 2018, yo la había empezado a ver en una oportunidad, pero esta vez termine de verla completa. Me di cuenta de que suceden muchísimas cosas inesperadas durante toda la trama de esta película, que dan un poco de temor, no me imagino nadar entre tiburones. No sabría qué hacer si alguna vez me sucediera algo así como en esta película.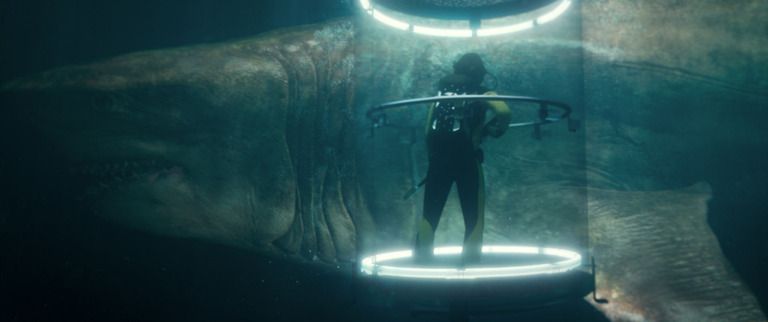 Source

At the beginning of this movie I found it very interesting to see all those technological equipment so modern and luxurious to study everything that is found in the depths of the sea, I would like to be part of that team and spend a day in those laboratories, but that requires many years of study, really like the sea and all its mysteries, even so it would be an unforgettable experience. As I watched the film, it showed the marine beauties that are under the sea, seeing all those fish, whales and even large reefs seemed incredible to me, plus the dedication and affection that all this team had to continue discovering new species is something wonderful. However, an unexpected situation happens for them, I never expected it, the scare was so big for me that I was about to stop watching the movie, but I told myself I have to continue until the end to see what happens and continue.
Al principio de esta película me pareció muy interesante ver todos esos equipos tecnológicos tan modernos y lujosos para estudiar todo lo que se encuentra en las profundidades del mar, me gustaría formar parte de ese equipo de trabajo y pasar un día en esos laboratorios, pero eso requiere de muchos años de estudio, gustarle de verdad el mar y todos sus misterios, aun así sería una experiencia inolvidable. A medida que veía la película se mostraba las bellezas marinas que hay debajo en el mar, ver todos esos peces, ballenas e incluso grandes arrecifes me pareció increíble, además la dedicación y cariño que tenía todo este equipo para seguir descubriendo nuevas especies es algo maravilloso. Sin embargo, pasa una situación inesperada para ellos, yo nunca me lo esperaba, el susto fue tan grande para mí que estuve a punto de no seguir viendo la película, pero me dije tengo que seguir hasta el final para ver qué sucede y continúe.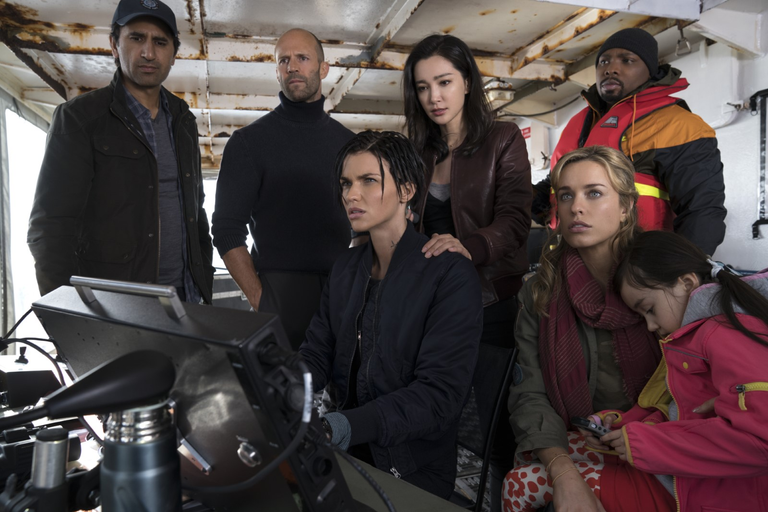 Source

In the movie we are going to meet people like Jonas, dedicated scientists and many specialists who do great, they get into the role, they show an incredible aptitude, always looking for a solution to any problem or any inconvenience that arises, they did not stay with what they were told if they do not continue investigating, since being in the middle of the sea and a few meters under water, I think it is not easy at all. In addition, this group of people take on a very difficult challenge and that is to rescue people, decisions that must be taken with a lot of security by the fact that it puts at risk the lives of many people, but the courage and desire to save his companions was very large, this is where my curiosity increased, to know if they returned alive or not from the depths of the sea.
En la película nos vamos a encontrar con personas como Jonas, científicos dedicados y muchos especialistas que lo hacen estupendo, se meten en el papel, demuestran una aptitud increíble, siempre buscaban una solución a cualquier problema o a cualquier inconveniente que surja, no se quedaban con lo que le decían si no siguen investigando, ya que encontrarse en medio del mar y a unos cuantos metros debajo del agua, creo que no es nada fácil. Además, este grupo de personas asumen un desafío bastante difícil y es rescatar a las personas, decisiones que hay que saber tomarlas con mucha seguridad por el hecho de que pone en riesgo la vida de muchas personas, pero la valentía y ganas de salvar a sus demás compañero era muy grande, es aquí donde mi curiosidad aumentaba, saber si regresaban con vida o no de las profundidades del mar.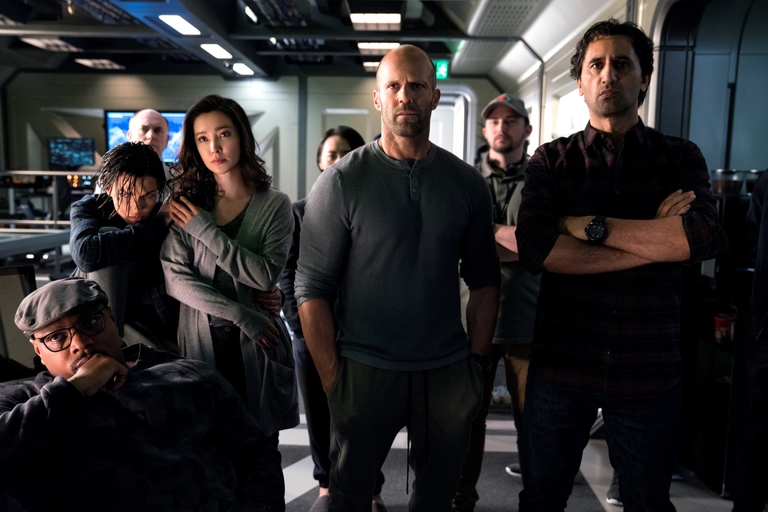 Source

I continued watching it, it was very different from other shark movies, the plot was different. I realized the fear felt by the person who took on the challenge of going down to the sea, as they encountered a giant creature that they never imagined existed, for me it was a moment of despair to see those people struggling to save others risking their lives, waiting for the right moment so they could rise to the surface. They could not make any mistake, since the lives of many people were at risk, and they had to do it as fast as possible, to finish with a giant shark that swam through the waters so fast that sometimes they could not even see it. I thought that this would be the end of the movie, that no one would be able to defeat this huge shark and it would remain alive forever.
Continúe viéndola, ya era muy distinta a la demás películas de tiburones, él trama era distinto. Me di cuenta del miedo que sintieron la persona que asumieron el desafío de bajar al mar, ya que se encontraron con una criatura gigante que jamás se imaginaron que existía, para mí fue un momento de desesperación ver a esas personas luchar por salvar a los demás arriesgando sus vidas, esperando el momento justo para que pudieran subir a la superficie. No podían cometer ningún error, ya que estaba en riesgo la vida de muchas personas, además tenían que hacerlo lo más rápido posible, para acabar con un tiburón gigante que nadaba por las aguas con mucha rapidez, que en ocasiones ni lo podían ver. Yo pensé que este sería el fin de la película, que nadie iba a poder con ese enorme tiburón y quedaría vivo por siempre.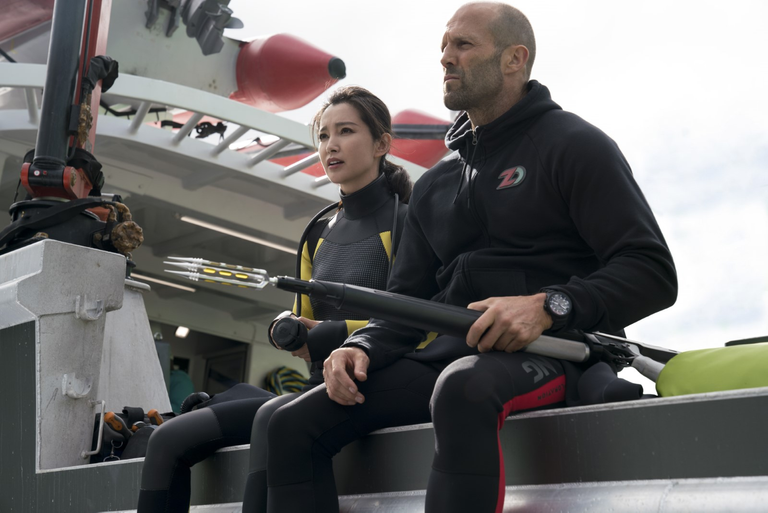 Source

One of the parts that I liked the most is how Jonas ends up with such a big dress, I could not believe what he was doing and he even had only a knife, I think it was very stressful and desperate to see him in this situation. I think for me it was the most exciting part of the whole movie, I felt very happy and happy to know that he made a very difficult decision, however, he was able to come out very well, it was for the good of all, he was not carried away by nerves, fear, as it was a huge megalodon.
Una de las partes que más me gusto es como Jonas acaba con esta vestía tan grande, no podía creer lo que estaba haciendo e incluso tenía solamente un cuchillo, creo que fue muy estresante y desesperante verlo en esta situación. Creo que para mí fue la parte más emocionante de toda la película, me sentí muy contento y feliz saber que tomo una decisión muy difícil, sin embargo, pudo salir muy bien, era por el bien de todos, no se dejó llevar los nervios, el miedo, ya que era un enorme megalodón.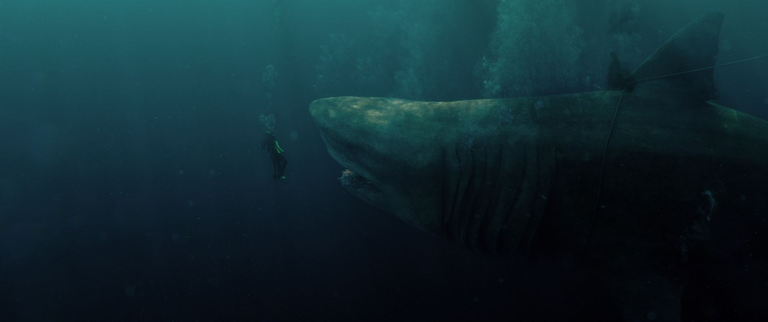 Source

This movie for me is the best shark movie I've seen, with very good special effects, a lot of imagination of the author of the film. When I finished watching it I asked myself a series of questions: Would there have been a shark like this ?, would I swim with sharks of this size, I do not know?. However, it conveys that we can all overcome our fears, and we must be prepared before any situation of this type, either with more equipment, more people and a lot of knowledge of the sea and the possible animals that exist. It also transmits values, such as teamwork, companionship and love.
Esta película para mí es la mejor que visto de tiburones, con muy buenos efectos especiales, mucha imaginación del autor de la película. Cuando termine de verla me hice una serie de preguntas ¿Habrá existido un tiburón así? ¿Nadaría con tiburones de este tamaño?, no lo sé. Sin embargo, nos transmite que todo podemos superar nuestros miedos, además debemos estar preparados antes cualquier situación de este tipo, ya sea con más equipo, más personas y muchos conocimientos del mar y los posibles animales que existan. También trasmite valores, como el trabajo en equipo, compañerismo y amor.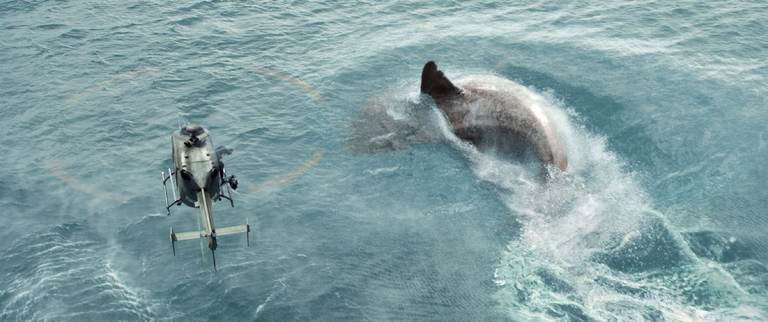 Source