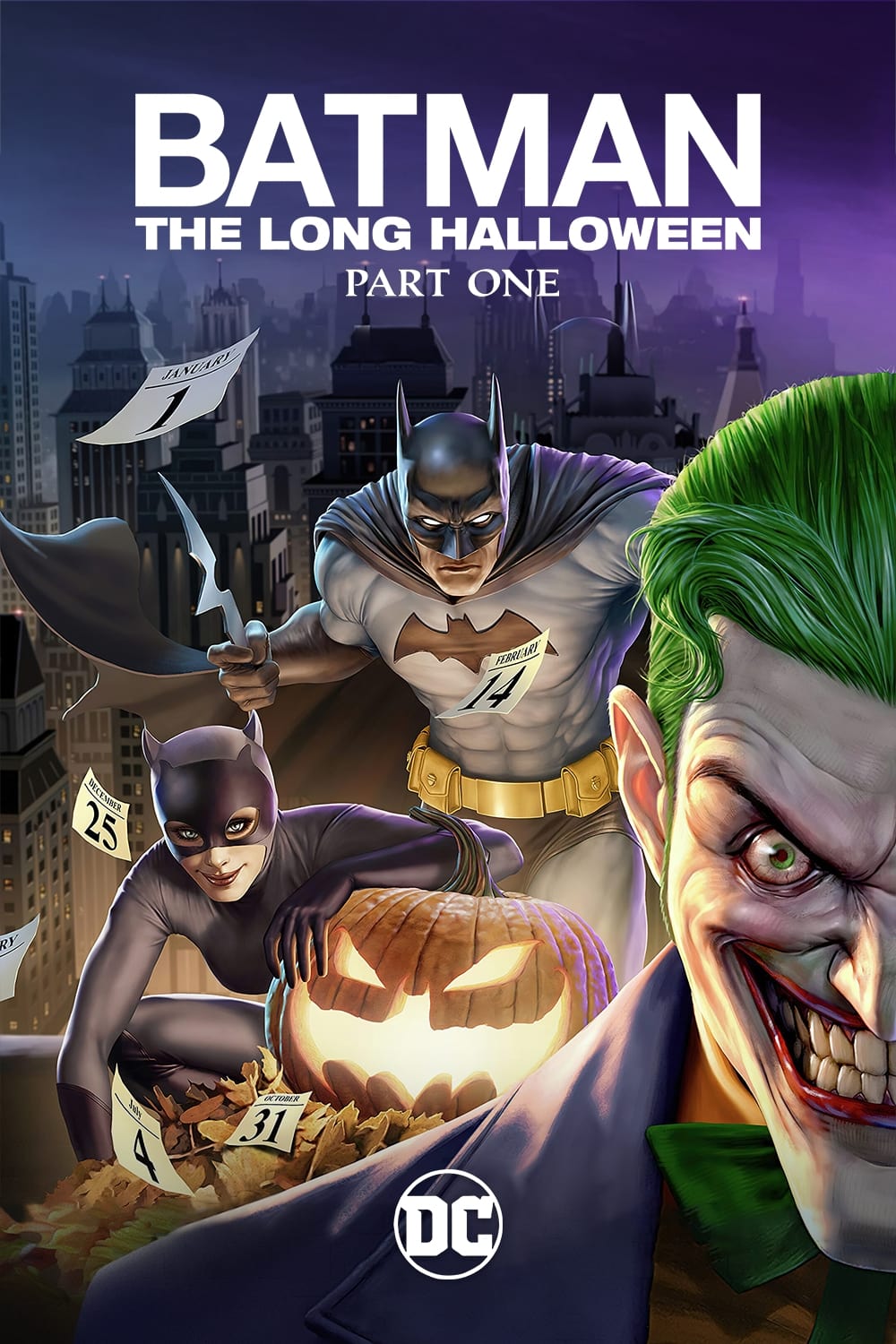 Source
English
Español
---
It has been a good while since the last time I watched an animated DC film. In the past 10 years or so, Marvel became the company behind the best superhero movies thanks to their Marvel Cinematic Universe, leaving DC a little bit cast aside. However, when it comes to animated movies about superheroes, I still think DC is number 1.
They have produced countlessly animated films of varying degrees of quality, some of them have been almost masterpieces, and others have been barely acceptable but generally, they have been very entertaining, to say the least.


One of the good things about producing superheroes stories as animated films is that it is easier to create compared to live-action productions, which means they can create more stories in a shorter time span.


As an example of this, we have this very same film I am writing about today. This one is just part 1 of the story, and part 2 should be released by the end of July. Before discussing what's this film all about, I would like to briefly mention the director and the writers.
Main names associated with the film
The director is Chris Palmer, this is a person with extensive experience in the art department. He has worked in more than 10 productions since his career began in 2013, and most of the productions where he has worked have been about superheroes. As a director though, he doesn't have much experience. He has only directed 2 productions before this one. The first one was a series called Voltron: Legendary Defender and the second production was the movie. Superman: Man of Tomorrow.


The story was originally created by Jeph Loeb who has a very extensive and successful career in the entertainment industry. He has worked in several roles, mainly as a producer but as a writer, he also has a lot of previous work, including some related to superheroes such as Wolverine Versus Sabretooth: Reborn, Batman: Hush, and Superman/Batman: Apocalypse.


The person responsible for turning the original story into an adapted script for the animated film was Tim Sheridan. This person also has a lot of experience working as a writer, especially in animated series about superheroes. Some of his best previous works are Superman: Man of Tomorrow, The Death and Return of Superman, and Transformers: War for Cybertron Trilogy.


As we can see, we have 2 experienced writers and 1 director with enough experience in the animation department but not much when it comes to directing films. Did they create a nice worth-watching film? I will discuss that in the following sections of the post.
Ha pasado un buen tiempo desde la última vez que vi una película animada de DC. En los últimos 10 años, Marvel se convirtió en la compañía detrás de las mejores películas de superhéroes gracias a Marvel Cinematic Universe, dejando a DC un poco a un lado. Sin embargo, cuando se trata de películas animadas sobre superhéroes, sigo pensando que DC es el número uno.
Han producido innumerables películas de animación de diverso grado de calidad, algunas de ellas han sido casi obras maestras, y otras apenas han sido aceptables pero, en general, han sido muy entretenidas, por decir lo mínimo.


Una de las cosas buenas de producir historias de superhéroes como películas animadas es que es más fácil de crear en comparación con las producciones con actores reales, lo que significa que pueden crear más historias en un período de tiempo más corto.


Como ejemplo de esto, tenemos esta misma película sobre la que estoy escribiendo hoy. Esta es solo la parte 1 de la historia, y la parte 2 debería ser lanzada a fines de julio. Antes de discutir de qué se trata esta película, me gustaría mencionar brevemente al director y a los escritores.
Nombres principales asociados con la película
El director es Chris Palmer, esta es una persona con amplia experiencia en el departamento de arte. Ha trabajado en más de 10 producciones desde que inició su carrera en 2013, y la mayoría de las producciones en las que ha trabajado han sido sobre superhéroes. Sin embargo, como director, no tiene mucha experiencia. Solo ha dirigido 2 producciones antes de esta. La primera fue una serie llamada Voltron: Legendary Defender y la segunda producción fue la película. Superman: el hombre del mañana.


La historia fue creada originalmente por Jeph Loeb, quien tiene una carrera muy extensa y exitosa en la industria del entretenimiento. Ha trabajado en varios roles, principalmente como productor pero como escritor, también tiene muchos trabajos previos, incluyendo algunos relacionados con superhéroes como Wolverine Versus Sabretooth: Reborn, Batman: Hush y Superman/Batman: Apocalypse.


El responsable de convertir la historia original en un guión adaptado para la película animada fue Tim Sheridan. Esta persona también tiene mucha experiencia trabajando como escritor, especialmente en series animadas sobre superhéroes. Algunos de sus mejores trabajos anteriores son Superman: Man of Tomorrow, The Death and Return of Superman y Transformers: War for Cybertron Trilogy.


Como podemos ver, tenemos 2 escritores experimentados y 1 director con bastante experiencia en el departamento de animación pero poca a la hora de dirigir películas. ¿Crearon una buena película que valiera la pena ver? Lo discutiré en las siguientes secciones del post.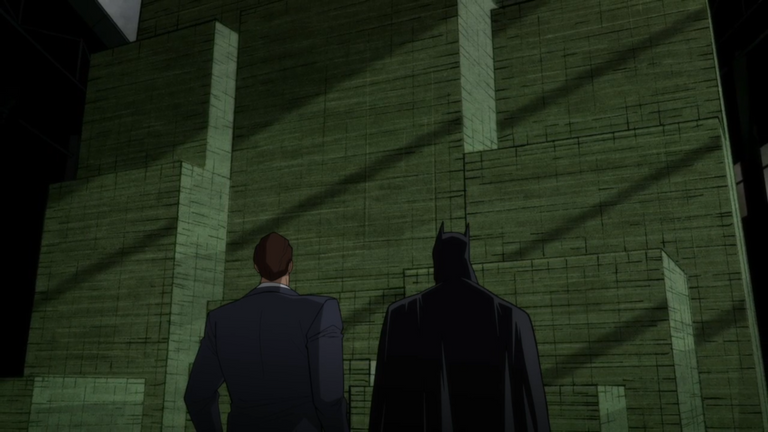 My own screenshot | Mi propio pantallazo
What was the movie about?
The film begins with a murder taking place in Gotham City on the night of Halloween, hence the name of the film. The person killed in this crime wasn't an innocent person but one member of a very powerful crime family, and they all probably have criminal enemies just as powerful as they.


I believe that when a powerful criminal gets murdered the police becomes happy but this doesn't mean they don't need to investigate the crime and determine who was the killer. When the investigation begins, Batman is quickly invited to help in any way he seems useful.


This killer seems to be very talented and meticulous, he doesn't leave any traces, and he seems to be outsmarting everyone else. The police, Batman, and even the powerful crime family. This killer doesn't only commit one crime, he is killing people during holidays and is, therefore, nicknamed as "Holiday".


Batman has several potential suspects that could be the serial killer but isn't sure how to continue forward with the investigation. This is why he agrees to visit a criminal mastermind called Calendar Man that's currently being kept inside an asylum. I don't know if previous animated films have had this character as the main villain but I would love to see him in action.


Soon after, Batman discovers his classical rival has somehow escaped and he goes after him. Having the Joker as the person responsible for these murders would be too obvious and wouldn't feel very original. The presence of this character doesn't add much to the plot, but he is certainly key for a couple of entertaining scenes.


Something curious about the serial killer is not only that no one can figure him out, not even other criminal masterminds, but also that all of the people he kills are criminals. He hasn't killed an innocent person yet. Maybe this is a person frustrated with having so much crime in the city, and he simply decided to solve this issue in this ruthless way. This is the big mystery in the story and it is up to Batman to figure out what's happening.


One of the things I didn't like was that a very cool-looking character called Solomon Grundy was briefly shown during a couple of scenes but this character doesn't play a major role in the plot. I would have loved to see more of this character, and even a bit of his background story. Batman seemed very familiar with him.
¿De qué trataba la película?
La película comienza con un asesinato que tiene lugar en Gotham City la noche de Halloween, de ahí el nombre de la película. La persona asesinada en este crimen no era una persona inocente, sino un miembro de una familia criminal muy poderosa, y probablemente todos ellos tienen enemigos criminales tan poderosos como ellos.


Creo que cuando un criminal poderoso es asesinado, la policía se pone feliz, pero esto no significa que no necesiten investigar el crimen y determinar quién fue el asesino. Cuando comienza la investigación, rápidamente se invita a Batman a ayudar en cualquier forma que le parezca útil.


Este asesino parece ser muy talentoso y meticuloso, no deja rastros y parece ser más listo que los demás, incluyendo la policía, Batman e incluso la poderosa familia criminal. Este asesino no solo comete un solo crimen, está matando gente durante los días de fiesta y, por lo tanto, es apodado como "Holiday".


Batman tiene varios sospechosos potenciales que podrían ser el asesino en serie, pero no está seguro de cómo continuar con la investigación. Es por eso que acepta visitar a una gran mente criminal llamado Calendar Man que actualmente se encuentra dentro de un asilo. No sé si las películas animadas anteriores han tenido a este personaje como el villano principal, pero me encantaría verlo en acción.


Poco después, Batman descubre que su rival clásico se ha escapado de alguna manera de este asilo y va tras él. Tener al Joker como responsable de estos asesinatos sería demasiado obvio y no se sentiría muy original. La presencia de este personaje no aporta mucho a la trama, pero sin duda es clave en un par de entretenidas escenas.


Algo curioso sobre el asesino en serie no es solo que nadie puede descifrarlo, ni siquiera otros cerebros criminales, sino también que todas las personas que mata son criminales. Todavía no ha matado a una persona inocente. Tal vez se trata de una persona frustrada por tener tanta delincuencia en la ciudad, y simplemente decidió resolver este problema de esta manera despiadada. Este es el gran misterio de la historia y depende de Batman descubrir qué está sucediendo.


Una de las cosas que no me gustó fue que un personaje interesante llamado Solomon Grundy se mostró brevemente durante un par de escenas, pero este personaje no juega un papel importante en la trama. Me hubiera encantado ver más de este personaje, e incluso un poco de su historia de fondo. Batman parecía muy familiarizado con él.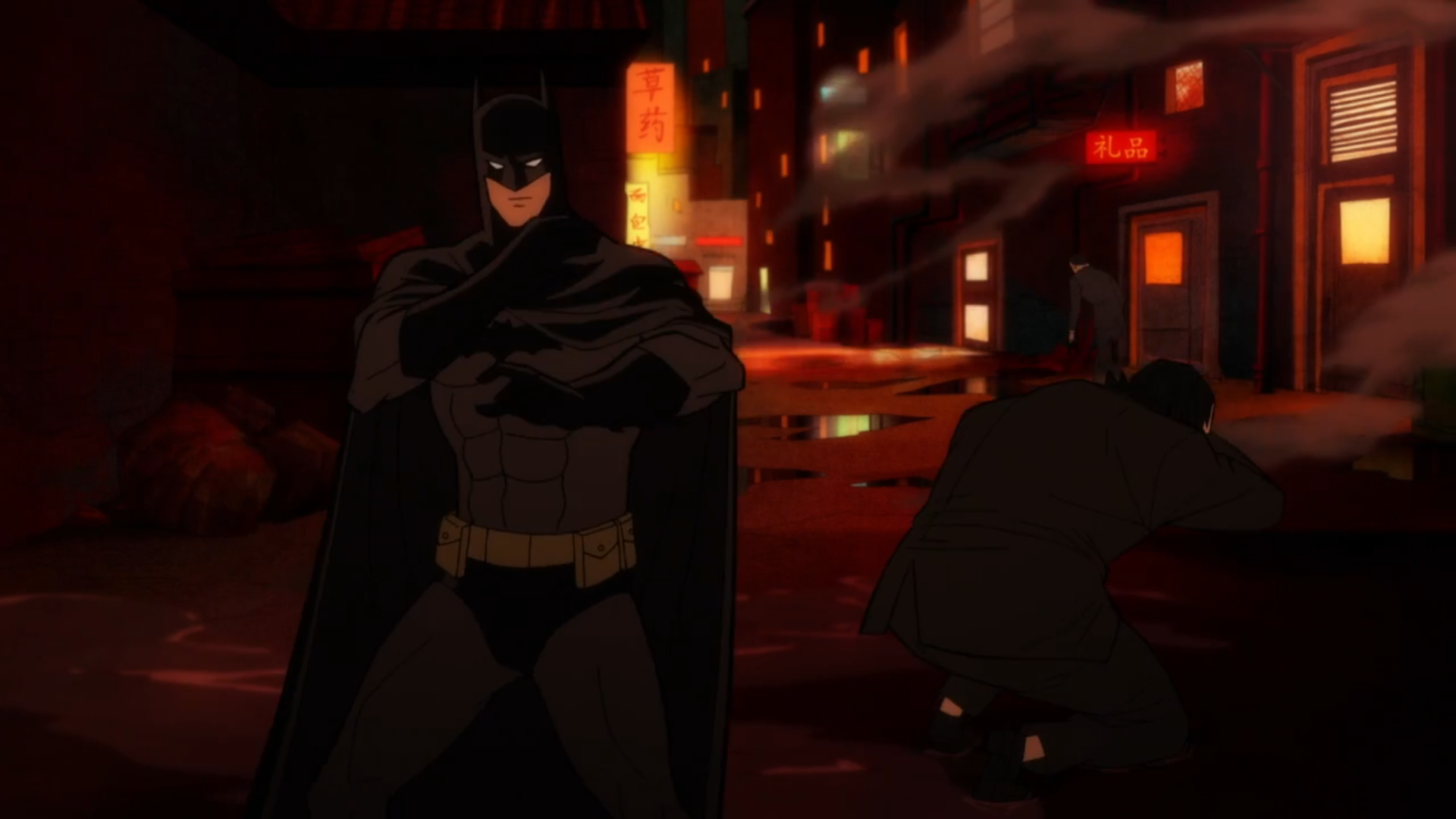 My own screenshot | Mi propio pantallazo
Another important character that makes some appearances in a handful of scenes is Catwoman. She has a secondary role but also helps Batman with one important discovery related to the crime family.
In this movie, there will be some action scenes, as always, but Batman will also need to play a little bit of detective in order to solve this series of crimes. This is only part 1 of the story so the plot isn't finished and the movie ends with no clue about the real identity of the Holiday killer.


I have my own belief about who the real killer is, but this type of murder mystery story is always written in such a way to encourage the viewer to suspect about one character, and then suddenly reveal new information that changes everything. I would be waiting for the second part, but right now, everything points to 1 surprising and difficult to accept suspect.
How was the quality of the animation and the plot?
The animation was of very high quality. It was clear since the beginning they put a lot of effort into making this film look good. Both the settings and the characters were nicely drawn, and the action scenes were really cool as well.


The plot was the best part of the film. This is a great murder mystery involving Batman and even a couple of villains, all of them puzzled and surprised by the presence of this new skilled serial killer "Holiday". It is no surprise to know this story was the creation of 2 writers, each of them with a lot of experience. They did a great job so far. As I mentioned before, the story isn't finished yet, part 2 still needs to be released but this has been a very enjoyable experience.
Final thoughts
I think it is fair to consider this film one of the best-animated movies produced by DC in the past couple of years. Not the best one, but certainly one of the best. I really hope part 2 can be as entertaining as part 1, and I would be watching that film as soon as it comes out.


This is a worth-watching film for any person who enjoys animated movies about superheroes. It is a serious production, with no silly moments and a very smartly written plot. Fans of the murder mystery subgenre as a whole might also enjoy this film as well.
Otro personaje importante que hace algunas apariciones en un puñado de escenas es Catwoman. Ella tiene un papel secundario, pero también ayuda a Batman con un descubrimiento importante relacionado con la familia del crimen.
En esta película, habrá algunas escenas de acción, como siempre, pero Batman también necesitará hacer un poco de detective para poder resolver esta serie de crímenes. Esta es solo la parte 1 de la historia, por lo que la trama no está terminada y la película termina sin ninguna pista sobre la verdadera identidad del asesino Holiday.


Tengo mi propia creencia sobre quién es el verdadero asesino, pero este tipo de historia de misterio de asesinato siempre se escribe de tal manera que alienta al espectador a sospechar sobre un personaje y luego, de repente, revela nueva información que lo cambia todo. Estaré esperando la segunda parte, pero ahora mismo, todo apunta a un sospechoso sorprendente y difícil de aceptar.
¿Cómo fue la calidad de la animación y la trama?
La animación fue de muy alta calidad. Estaba claro que desde el principio se esforzaron mucho para que esta película se viera bien. Tanto los escenarios como los personajes estaban muy bien dibujados, y las escenas de acción también fueron geniales.


La trama fue la mejor parte de la película. Este es un gran misterio de asesinatos que involucra a Batman e incluso a un par de villanos, todos ellos desconcertados y sorprendidos por la presencia de este nuevo asesino en serie habilidoso conocido como "Holiday". No es de extrañar saber que esta historia fue creación de 2 escritores, cada uno de ellos con mucha experiencia. Hsta ahora han hecho un gran trabajo. Como mencioné antes, la historia aún no está terminada, la parte 2 aún debe ser lanzada, pero esta ha sido una experiencia muy agradable.
Reflexiones finales
Creo que es justo considerar esta película como una de las mejores películas animadas producidas por DC en los últimos años. No es la mejor, pero ciertamente uno de las mejores. Realmente espero que la parte 2 pueda ser tan entretenida como la parte 1, y estaré viendo esa película tan pronto como salga.


Esta es una película que vale la pena ver para cualquier persona que disfrute de las películas animadas sobre superhéroes. Es una producción seria, sin momentos tontos y con una trama muy bien escrita. Los fanáticos del subgénero de misterio sobre asesinatos también podrían disfrutar de esta película.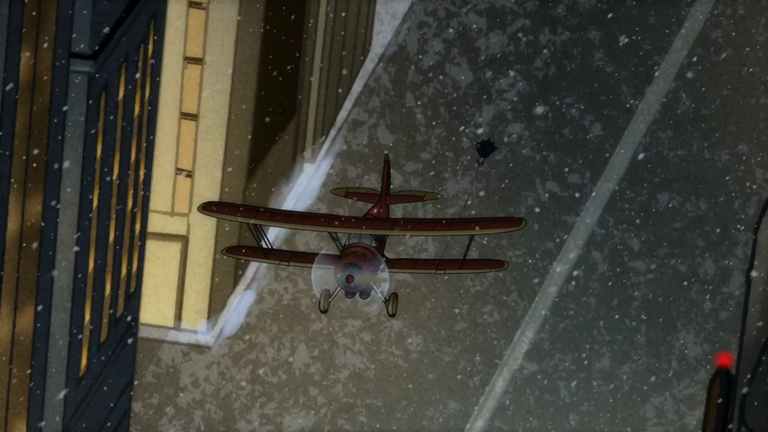 My own screenshot | Mi propio pantallazo
The Best
Lo Mejor
Excellent murder mystery plot.
Excelente trama de misterio de asesinato.
---
The Worst
Lo Peor
---
Not all the intriguing character have enough screentime.
No todos los personajes intrigantes tienen suficiente tiempo en pantalla.
---

Review: AAA
In numbers: 8/10

Crítica: AAA
En números: 8/10