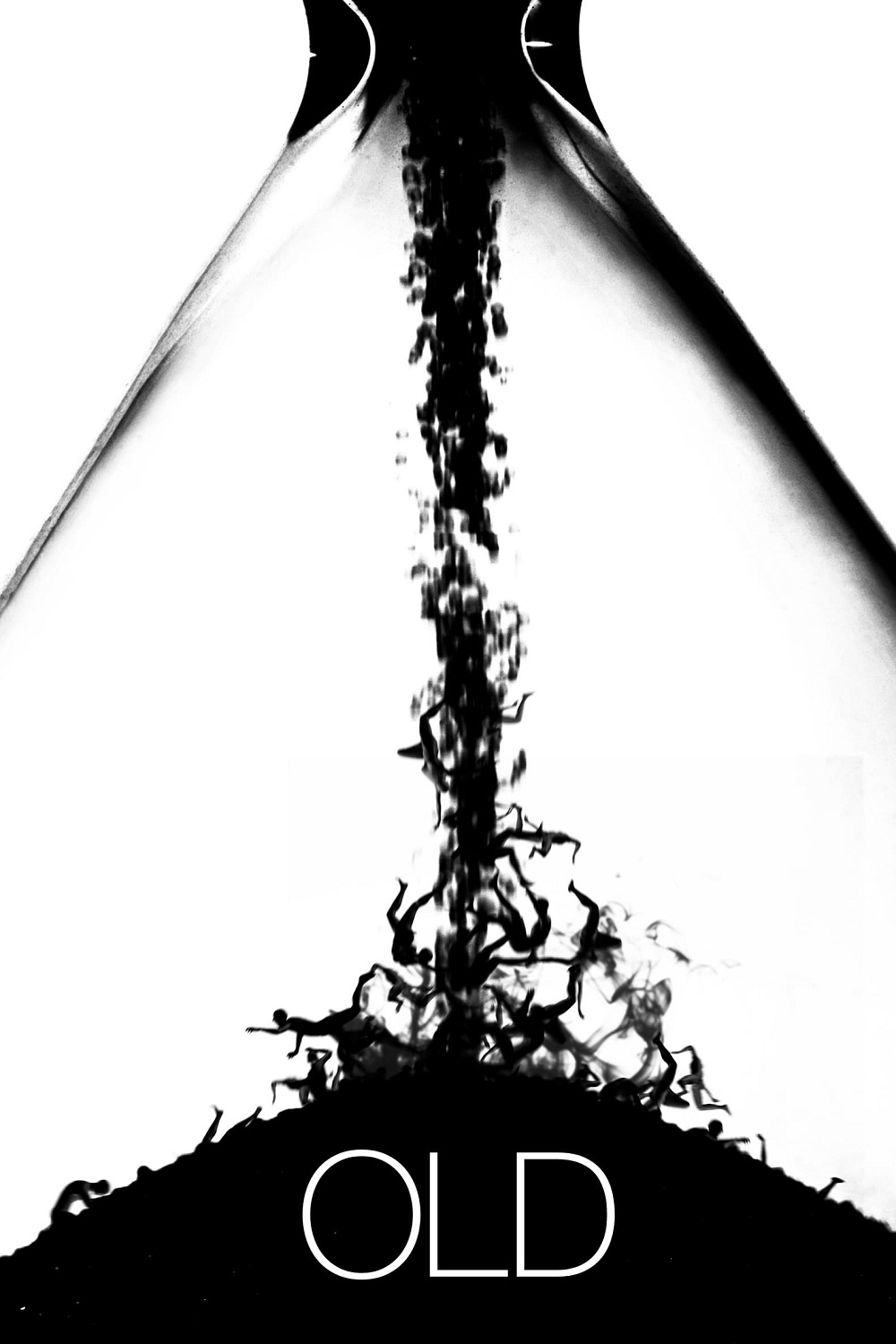 Source
English
Español
---
Old is one of the movies I have been expecting to watch these past few weeks but the fact it hasn't been well received by the public made me a bit doubtful about watching it or not. This also made me adjust my expectations about the film considerably.
However, since I have enjoyed many of the previous movies of the director, and since I consider the premise of Old very interesting and potentially worth watching, I decided to give it a watch and see if it really was that bad as many people were saying.


There have been many times when I watched a production that hasn't been well received and I have ended up liking it, so I figured this film could be one of those cases.
What was the movie about?
Old is a film about a mysterious and remote beach where time doesn't behave as it normally would. In a way, it is the opposite idea to the one explored in the movie Time Trap. In that film, there was a cave that somehow slowed time down in an extreme way, so much so, that in a small scene we even see a caveman all alive and healthy.


In Old, the beach accelerates time but it does so in a strange way because the only thing that experiences this time acceleration is the body of the characters, not their minds or their perception of time. Meaning that they simply grow old super fast and that's it. Their time perception is the same as those outside the beach.


Among the characters, we will see 2 families and one couple in their 40s or 50s. They are all in this hotel for a good vacation, and shortly after they arrive they will all decide to go to this very special beach, which is secluded and very far from the actual hotel.


Once they arrive at this beach, everything seems normal at first. They notice there is another person on the beach with them, but nothing mysterious came out of that because he was simply another guest of the hotel spending some time on the beach just like them.
Old es una de las películas que esperaba ver estas últimas semanas, pero el hecho de que no haya sido bien recibida por el público me hizo dudar un poco sobre verla o no. Esto también me hizo ajustar considerablemente mis expectativas sobre la película.
Sin embargo, como he disfrutado muchas de las películas anteriores del director, y como considero la premisa de Old muy interesante y potencialmente digna de ver, decidí darle un vistazo y ver si realmente era tan mala como decía mucha gente. .


Ha habido muchas ocasiones en las que he visto una producción que no ha sido bien recibida y me ha acabado gustando, así que pensé que esta película podría ser uno de esos casos.
¿De qué trataba la película?
Old es una película sobre una playa misteriosa y remota donde el tiempo no se comporta como lo haría normalmente. En cierto modo, es la idea opuesta a la que se explora en la película Time Trap. En esa película, había una cueva que de alguna manera ralentizaba el tiempo de manera extrema, tanto, que en una pequeña escena incluso vemos a un hombre de las cavernas todo vivo y sano.


En Old, la playa acelera el tiempo pero lo hace de una forma extraña porque lo único que experimenta esta aceleración temporal es el cuerpo de los personajes, no su mente ni su percepción del tiempo. Lo que significa que simplemente envejecen súper rápido y eso es todo. Su percepción del tiempo es la misma que la de gente fuera de la playa.


Entre los personajes, veremos 2 familias y una pareja de entre 40 y 50 años. Todos están en este hotel para pasar unas buenas vacaciones, y poco después de su llegada todos decidirán ir a esta playa especial, que se encuentra apartada y muy alejada del hotel actual.


Una vez que llegan a esta playa, todo parece normal al principio. Se dan cuenta de que hay otra persona en la playa con ellos, pero nada misterioso salió de eso porque era simplemente otro huésped del hotel que pasaba un tiempo en la playa tal como ellos.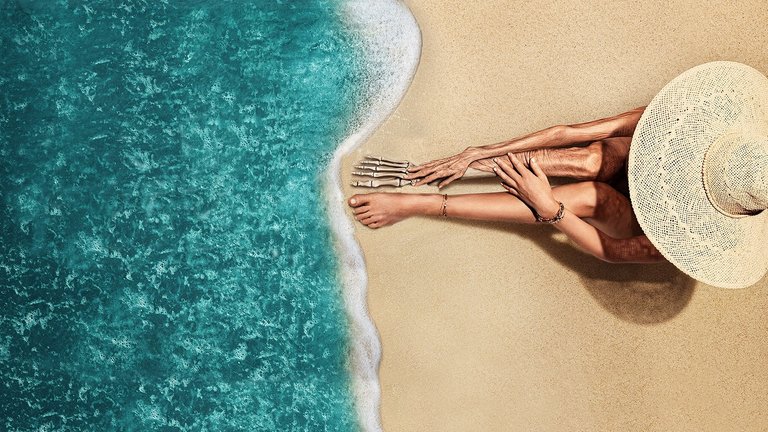 Source
As time goes on, physical changes will start to appear in the characters. This is firstly noticeable on the kids, there will be 3 of them and they will quickly become teens and later on adults. As they begin to grow in this extremely fast manner, their parents will go nuts and the rest of the characters will be very puzzled about what's happening.
Not only that, but many of the characters will develop health problems in a matter of hours, conditions everything that happens on the beach, and will also be a big factor in the total chaos that will ensue on this place. The psychological stress the characters go through will be extreme and this will cause them to take some very difficult decisions as they try to survive and escape from this crazy place.


The unique way in which the human body grows old in this place will allow for some very unique scenes that can get a bit creepy, especially with a female character that suffers from hypocalcemia. If you don't know what that is, I invite you to do a quick read about it and then imagine a person aging 1 year in just 30 minutes while suffering from that condition. That scene only lasted for a couple of seconds but I loved it. It was disturbing, creepy, and original.


They will attempt to escape time and time again, but this seems impossible to do and they most likely are destined to die on that unique island. Will they escape? Did they just have bad luck ending up on that island or was there something more to it? In order to know those answers, I recommend watching the film.
Main names associated with the film
The director is the well-known M. Night Shyamalan, and he was the main reason why I was intrigued with this film. Shyamalan has created several extremely original productions, and it is fair to say he is one of the best ones from the suspense genre. Some of his previous productions are Servant, Glass, Split, and The Visit, and I enjoyed all of them.


There are several members of the cast, but I will only mention the 2 most popular ones which were also the ones I was able to recognize from other productions. Rufus Sewell plays a father and a doctor, he is there with his wife and kid, but he has some mental problems that will slowly begin to make their presence known as the movie advances. I recognized this actor from the great series The Man in the High Castle, and he has also acted in The Pale Horse which is a series I want to watch, in Victoria and many other productions.


Alex Wolff will play the older version of another one of the characters trapped on the beach. This actor became very popular after he participated in the horror movie Hereditary where he played one of the main characters. Recently he also acted in Pig and Human Capital.
A medida que pasa el tiempo, los cambios físicos comenzarán a aparecer en los personajes. Esto se nota en primer lugar en los niños, habrá 3 de ellos y rápidamente se convertirán en adolescentes y luego en adultos. A medida que comiencen a crecer de esta manera extremadamente rápida, sus padres se volverán locos y el resto de los personajes estarán muy desconcertados por lo que está sucediendo.
No solo eso, sino que muchos de los personajes desarrollarán problemas de salud en cuestión de horas, lo que condicionará todo lo que suceda en la playa, y también será un factor importante en el caos total que se producirá en ese lugar. El estrés psicológico que atraviesan los personajes será extremo y esto hará que tomen decisiones muy difíciles mientras intentan sobrevivir y escapar de este loco lugar.


La forma única en que el cuerpo humano envejece en este lugar permitirá escenas muy singulares que pueden volverse un poco espeluznantes, especialmente con un personaje femenino que sufre de hipocalcemia. Si no sabes qué es eso, te invito a que leas un poco y luego imagines a una persona que envejece 1 año en solo 30 minutos mientras padece esa condición. Esa escena solo duró un par de segundos pero me encantó. Fue perturbadora, espeluznante y original.


Intentarán escapar una y otra vez, pero parece imposible y lo más probable es que estén destinados a morir en esa isla única. ¿Lograrán escapar? ¿Tuvieron mala suerte al terminar en esa isla o hubo algo más? Para conocer esas respuestas, recomiendo ver la película.
Nombres principales asociados con la película
El director es el conocido M. Night Shyamalan, y él fue la razón principal por la que me intrigaba esta película. Shyamalan ha creado varias producciones extremadamente originales, y es justo decir que es uno de los mejores del género de suspenso. Algunas de sus producciones anteriores son Servant, Glass, Split y The Visit, y las disfruté todas.


Hay varios miembros del elenco, pero solo mencionaré los 2 más populares que también fueron los que pude reconocer de otras producciones. Rufus Sewell interpreta a un padre y un médico, está ahí con su esposa y su hija, pero tiene algunos problemas mentales que poco a poco comenzarán a hacerse notar a medida que avanza la película. Reconocí a este actor de la gran serie The Man in the High Castle, y también actuó en The Pale Horse que es una serie que quiero ver, en Victoria y muchas otras producciones.


Alex Wolff interpretará la versión más vieja de otro de los personajes atrapados en la playa. Este actor se hizo muy popular luego de participar en la película de terror Hereditary donde interpretó a uno de los personajes principales. Recientemente también actuó en Pig y Human Capital.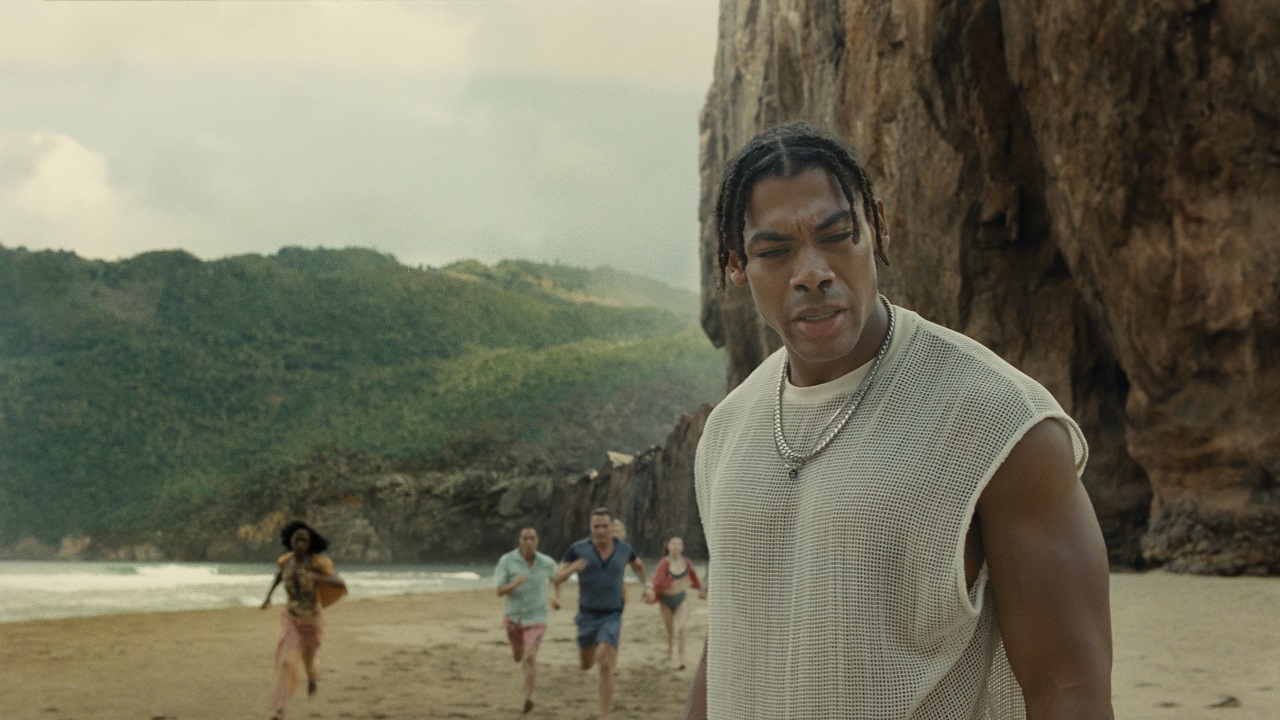 Source
How were the performance from the cast, the scenery and the camera work?
The weak point of this film is the performance from many members of the cast at the beginning of the film, or throughout the first half of the film more or less. It is hard to understand how can a director like Shyamalan accept some of the inauthentic performances that are seen during those moments. It was like the actors were extremely amateurs, or maybe they just wanted to rush through the scene and get done with that as fast as possible. I don't really know what happened but many of the dialogues felt awkward, fake, and simply inauthentic.


This doesn't last the whole film by the way, eventually, the mystery and intrigue about what's happening takes over, and the awkward performances can be forgotten, but it was weird to see these strange performances on a Shyamalan's film.


The scenery was acceptable, most of the story happens on a beach and I consider this idea and setting an original combination so this part of the production was all right. The camera work was properly done as it can enhance some of the situations and shocking events the characters will experience throughout the film.
Final thoughts
I consider this film worth watching mainly because I enjoyed the premise very much and it provides a bit of a mystery which I always enjoy. However, the awkward performance from the beginning will certainly disappoint many of the viewers and I believe that was the main reason why this film hasn't been well received by the public.


Since my expectations were lowered due to that, I happen to enjoy this film more than what I was expecting, simply because I was expecting to be completely disappointed and in the end, I was mildly satisfied with the film.


Old could be a good watch for people who enjoy the mystery and thriller genres because the original premise is intriguing enough but just don't approach this film expecting a Shyamalan masterpiece like some of his previous productions. I am sure that if this was an indie production it would have been better received by the public.


If you have watched this film, let me know your opinion about it. Thanks for reading!
¿Cómo fue la actuación del elenco, el escenario y el trabajo de cámara?
El punto débil de esta película es la actuación de muchos miembros del elenco al comienzo de la película, o durante la primera mitad de la película más o menos. Es difícil entender cómo puede un director como Shyamalan aceptar algunas de las actuaciones poco auténticas que se ven durante esos momentos. Era como si los actores fueran extremadamente amateurs, o tal vez solo quisieron apresurarse a través de la escena y terminar con eso lo más rápido posible. Realmente no sé qué sucedió, pero muchos de los diálogos se sintieron incómodos, falsos y simplemente poco auténticos.


Por cierto, esto no dura toda la película, eventualmente, el misterio y la intriga sobre lo que está sucediendo se hace cargo, y las actuaciones incómodas pueden olvidarse, pero fue extraño ver estas actuaciones extrañas en una película de Shyamalan.


La escenografía fue aceptable, la mayor parte de la historia transcurre en una playa y considero esta idea y el escenario como una combinación original, por lo que esta parte de la producción estuvo bien. El trabajo de la cámara se hizo correctamente, ya que puede mejorar algunas de las situaciones y eventos impactantes que experimentarán los personajes a lo largo de la película.
Reflexiones finales
Considero que vale la pena ver esta película principalmente porque disfruté mucho la premisa y proporciona un poco de misterio que siempre disfruto. Sin embargo, la actuación incómoda desde el principio ciertamente decepcionará a muchos de los espectadores y creo que esa fue la razón principal por la que esta película no ha sido bien recibida por el público.


Dado que mis expectativas se redujeron debido a eso, termine disfrutando esta película más de lo que esperaba, simplemente porque esperaba estar completamente decepcionado y, al final, estuve ligeramente satisfecho con la película.


Old podría ser un buen film para las personas que disfrutan de los géneros de misterio y suspenso porque la premisa original es lo suficientemente intrigante, pero no veas a esta película esperando una obra maestra de Shyamalan como algunas de sus producciones anteriores. Estoy seguro de que si se tratara de una producción indie hubiera sido mejor recibida por el público.


Si has visto esta película, déjame saber tu opinión al respecto. ¡Gracias por leer!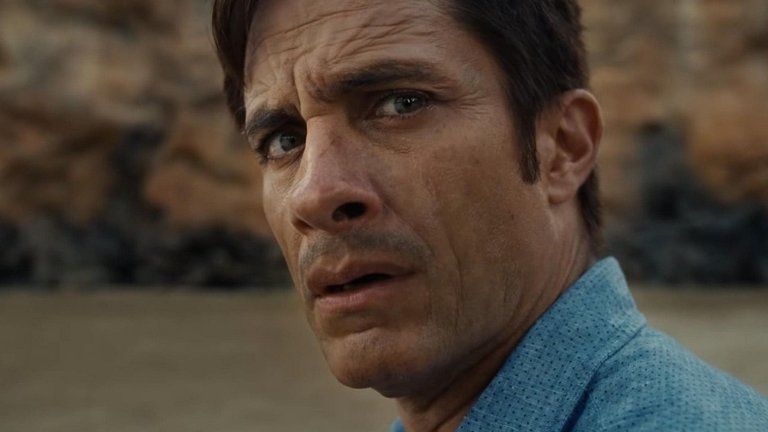 Source
The Best
Lo Mejor
Original and intriguing premise.
Premisa original e intrigante.
---
The Worst
Lo Peor
---
Awkward acting since the beginning, lasting to around half the movie, maybe a bit more. This stops being noticeable after the craziness in the story begins to take place.
Actuación incómoda desde el principio, que duró aproximadamente la mitad de la película, tal vez un poco más. Esto deja de ser notorio después de que comienza a producirse la locura de la historia.
---

Review: AAA
In numbers: 7/10

Crítica: AAA
En números: 7/10